Act Now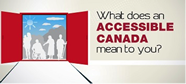 Empower U: Learn to Access Your Disability Rights Training on Canadian Human Rights, the Convention on the Rights of Persons with Disabilities (CRPD) and its Optional Protocol (OP) training aims to increase awareness of how to address discrimination using more familiar Canadian human rights laws such as Human Rights Codes and the newer international Convention on the Rights of Persons with Disabilities (CRPD). This is training for persons with disabilities by persons with disabilities. The training is part of a project funded by Employment and Social Development Canada and implemented by the Council of Canadians with Disabilities (CCD) in collaboration with Canadian Multicultural Disability Centre Inc. (CMDCI), Citizens With Disabilities – Ontario (CWDO), Manitoba League of Persons with Disabilities (MLPD) and National Educational Association of Disabled Students (NEADS). Read more.
Sign Up for our monthly digest
A monthly newsletter from CCD about what is happening in the community
THE COUNCIL OF CANADIANS WITH DISABILITIES SEEKS A HUMAN RIGHTS LAWYER
The Council of Canadians with Disabilities (CCD) is looking for a part-time lawyer to undertake legal research and provide guidance and advice on test case litigation. CCD is a national, cross-disability organization that uses a variety of advocacy activities to remove barriers and promote justice and equality for people with disabilities.
This position starts immediately and runs until March 31, 2023 with the potential for extension. It is a part-time independent contract position. The work is virtual and the selected candidate must provide their own office and computer equipment.
Contract Fee: $20,000
Approximate hours per month: 50
Responsibilities include:
• Assist with the restructuring of the CCD Human Rights Committee
• Revise and update test case selection criteria
• Develop a protocol for selecting and instructing legal counsel
• Provide an overview of human rights and Charter cases currently before the courts that may be of interest to CCD regarding potential intervention or just as a monitoring role
• Assess potential test cases and whether CCD should intervene/participate
• Liaise with other equity-seeking groups to identify issues of mutual interest
• Prepare plain language summaries of key cases in which CCD has participated
• Prepare applications for the Court Challenges Program of Canada for case development and test case litigation as needed
• Conduct legal research as required and
• Carry out other related tasks as assigned.
Qualifications:
• Bachelor of Laws/Juris Doctor/ Not necessary to have a practicing certificate from a Canadian law society
• Knowledge of disability rights and the lived disability experience
• Experience with human rights legislation and litigation
• Experience in providing written and oral plain language
• Ability to work collaboratively with community members in conducting research and developing test case litigation
Application Process:
Please provide a brief resume and cover letter outlining your interest and qualifications for this position. Applications should be submitted by email to April D'Aubin at april@ccdonline.ca. The deadline for applications is November 16, 2022.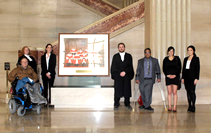 Some members of the CCD team at the Supreme Court of Canada on April 25, 2018 to intervene in S.A. v. Metro Vancouver Housing Corporation. (L. to R. Bob Brown, CCD Human Rights Committee member, Dianne Wintermute, legal counsel (ARCH), Dahlia James, a second year JD candidate at U. of Ottawa and Prof. Ravi Malhotra's Research Assistant and Luke Reid, legal counsel (ARCH) , and Prof. Ravi Malhotra, a member of the Human Rights Committee, Prof. Anne Levesque, Chair of the Human Rights Committee, and Erin Carr, a second year JD candidate.
The Latimer case directly concerned the rights of persons with disabilities. Mr. Latimer's view was that a parent has the right to kill a child with a disability if that parent decides the child's quality of life no longer warrants its continuation. CCD explained to the court and to the public how that view threatens the lives of people with disabilities and is deeply offensive to fundamental constitutional values. Learn more.