Act Now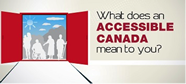 Empower U: Learn to Access Your Disability Rights Training on Canadian Human Rights, the Convention on the Rights of Persons with Disabilities (CRPD) and its Optional Protocol (OP) training aims to increase awareness of how to address discrimination using more familiar Canadian human rights laws such as Human Rights Codes and the newer international Convention on the Rights of Persons with Disabilities (CRPD). This is training for persons with disabilities by persons with disabilities. The training is part of a project funded by Employment and Social Development Canada and implemented by the Council of Canadians with Disabilities (CCD) in collaboration with Canadian Multicultural Disability Centre Inc. (CMDCI), Citizens With Disabilities – Ontario (CWDO), Manitoba League of Persons with Disabilities (MLPD) and National Educational Association of Disabled Students (NEADS). Read more.
Sign Up for our monthly digest
A monthly newsletter from CCD about what is happening in the community
CMHR to feature the most inclusive design in Canadian history
Accessibility sets global example, surpasses Smithsonian guidelines
(Comments made by Stuart Murray, CMHR CEO, at a press conference held by the Canadian Museum for Human Rights (CMHR) on January 29, 2013.)
Good morning everyone and thank you for joining us.
C'est un grand plaisir pour moi d'être ici avec vous ce matin.
It gives me great pleasure to be standing here today with members of the disability community to talk about a very important aspect of our Museum --- INCLUSION.
The most fundamental premise of human rights is that all people are equal and deserving of dignity, respect and fair treatment – simply because they are HUMAN.
As a museum for human rights, we intend to include everyone. We have adopted an approach where universal access and full inclusion are not simply FIT in…. but where they are BUILT in. Not as an afterthought or secondary consideration, but as part of our central design.
L'accès universel et l'intégration totale sont bâtis dans le Musée même.
Today, I am very pleased to announce an approach to inclusive design that will set new Canadian and world standards for accessibility. In our Museum, disability will not be treated as a special condition, but as an ordinary part of life that affects us all.
"Normal" is just a setting on the washing machine. When it comes to human beings, there is no such thing. We all have disabilities or special needs of some sort, or – if we don't right now – we certainly will as we age.
Our commitment is to treat each visitor as a unique individual who deserves an enriching experience. That means using things like multisensory technology and design expertise….so everyone can participate equally – whether blind or Deaf, in a wheelchair, intellectually challenged or culturally diverse.
No other Canadian institution has ever been able to approach accessibility in this way. The Canadian Museum for Human Rights will feature the most inclusive design in Canadian history.
We will meet and exceed Smithsonian guidelines for accessible design – which are currently the benchmark standards for an inclusive Museum experience. We will be raising the bar and, in effect, setting the new standards for the world, setting a global example.
We will meet and exceed the most stringent criteria for accessibility under the National Building Code and for Web-based accessibility standards.
I am also announcing today that we have signed a memorandum of understanding with the Inclusive Design Research Centre at the Ontario College of Art and Design University. This centre of pioneering research will help us develop interact and input devices for our touch-screen and kiosk-based exhibits.
The IRDC's uniquely Canadian approach to digital accessibility, which we are adopting, is quickly becoming a guiding example for the United States government, for the European Union and for many other jurisdictions around the world.
Next year, the doors will open to a new national museum where EVERYONE who enters will feel NOT ONLY a sense of belonging, but will be treated as FULL and EQUAL participants in a project that is dedicated to advancing the rights of all.
Our approach to universal accessibility is possible because of three important factors.
Firstly, we are a start-up operation that is being conceived and built from the ground up. That means we are able to incorporate the concepts of inclusive design at every stage. We do not have to retrofit or "tack on" or accommodate.
Secondly, the timing is right. Technology now exists to take accessibility to a new level that was not possible before. Technology is certainly not the entire solution, but it is helping us a lot!
The third factor is probably the most important of all – which is the involvement of the disability community itself. Persons with disabilities, and their organizations, have challenged us and pushed us and kept our feet to the fire. Their initial concerns have helped guide our current approach.
In 2010, we created an Inclusive Design Advisory Council made up of eight experts, advisors and activists in the field of disability rights from across Canada. One of the council members – Valerie Wolbert – is here with us today. The Council of Canadians with Disabilities has also been an invaluable resource – and their national coordinator, Laurie Beachell, is also here today.
These people provide analysis, identify gaps, and give us feedback on a wide variety of elements of the Museum's development such as exhibit development, visitor services, education and programming, visitor research, digital media and technology, the Website and prototyping. We literally could not do this without them.
I would also like to note that the Museum will feature exhibit content related to people with disabilities, who are most definitely part of the human-rights story. Decisions on WHAT to include was informed by a series of public engagements conducted across Canada, and by academic research and peer review.
While I do not intend to detail every piece of this content this morning, I can tell you that our approach to disability content mirrors our approach to design – it will be INCLUSIVE, woven throughout many galleries. And it will have a strong Canadian focus, based on important work being done at Ryerson University's school of disability studies and consultations with Vecova, a Calgary-based disability rights organization.
I will leave you with this thought:
There must be no barriers to human rights. And there must be no barriers to the conversation about human rights, or taking action in the name of human rights. They are EVERYBODY'S business. In creating a visitor experience that considers and includes the disabled, we build a better experience for everyone.
Le progrès et le changement est un processus, pas une activité limitée dans le temps.
From the first day that we open, everyone who comes through our doors – no matter their background, colour, gender, sexual orientation, ability or ANYTHING else – will be reminded that there is more that we all have in common than the differences that keep us apart.
Thank you, merci beaucoup.