Act Now
Write to your MP supporting the Vulnerable Persons Standard and asking that its terms be incorporated in the law regulating assisted suicide/euthanasia. Read more.
Sign Up for a Voice of Our Own
A quarterly newsletter from CCD.
Social Policy
14.3% of Canadians report having a disability. Canadians with disabilities are more than twice as likely to live in poverty than other Canadians. They face exclusion from quality education, from employment and from participation in their communities. CCD's Social Policy Committee provides leadership on addressing the social and economic exclusion of persons with disabilities.
Recent Work
March 23, 2016
Throughout the life of this government, CCD will be advancing measures, such as the refundable DTC, designed to improve the social and economic conditions of people with disabilities, particularly women and girls with disabilities and others facing multiple forms of discrimination. Read more.
March 1, 2016
When the report, "Medical Assistance in Dying: A Patient-Centred Approach" was released last week, "I was anxious to read it, as CCD has been very active in this issue," says John Rae, Second Vice Chair of the Council of Canadians with Disabilities. "But, to my surprise, it was released only in an inaccessible PDF version that I could not read, and this discriminates against me and all Canadians who cannot read conventional print," added Rae. Read more.
October 13, 2015
CCD asked the Federal Parties to share with Canadians where, if elected, they would expand the Federal Government's leadership role with respect to poverty alleviation, the CRPD and access for persons with disabilities, so that we could make this information known to Canadian voters. "I encourage everyone to think about these responses before they cast their ballot and to vote for the Party that they believe has the best plans for improving access and inclusion for persons with disabilities, urges Tony Dolan, CCD Chairperson. "Accessibility and inclusion benefit all Canadians." Read more.
More on Social Policy
September 30, 2015
September 29, 2015
September 15, 2015
September 10, 2015
September 9, 2015
September 1, 2015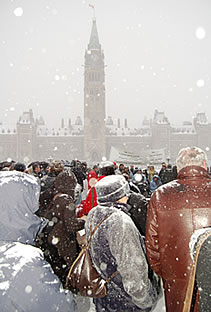 End Exclusion supporters rally in support of an accessible and inclusive Canada.
November 1, 2007
The National Action Plan presents a shared vision for an inclusive and accessible Canada. Read more.