Act Now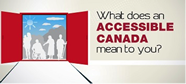 The Government of Canada is leading consultations to inform planned accessibility legislation.
In-person sessions are coming soon to your community. Now is the chance to have your say. Read more.
Sign Up for a Voice of Our Own
A quarterly newsletter from CCD.
Social Policy
14.3% of Canadians report having a disability. Canadians with disabilities are more than twice as likely to live in poverty than other Canadians. They face exclusion from quality education, from employment and from participation in their communities. CCD's Social Policy Committee provides leadership on addressing the social and economic exclusion of persons with disabilities.
Recent Work
April 17, 2018
The Government's announcement will increase the cost threshold for medical inadmissibility to 3 times the previous level, and amend the definition of social services by removing references to special education, social and vocational rehabilitation services and personal support services. Read more.
April 10, 2018
The Council of Canadians with Disabilities (CCD), Canada's national coalition that is working for a more accessible and inclusive Canada, joins with migrant caregivers, HIV and human rights, and other immigration rights advocates to call on Immigration Minister Ahmed Hussen to "do the right thing" and immediately introduce legislation to repeal sections of the Immigration Act that deny permanent residency to an entire family if a member of the family has a disability and deemed to pose an "excessive demand" on Canada's health and social services system. Read more.
January 24, 2018
January 24, 2018 - Today, the Government of Canada announced that more neighborhoods will not be converted to community mailbox service, which is a win; but the loss is that existing community mailbox service continues. The losers are the people in those neighborhoods – seniors and people with disabilities – who will continue to have problems independently retrieving their mail, due to the all too well known barriers in the community-mailbox model: snow, sidewalk conditions, etc. People with disabilities and seniors in neighborhoods with community mailboxes continue to depend on other people to get their mail, which negatively affects their independence and privacy. This is not CCD's vision of an accessible and inclusive Canada.
More on Social Policy
November 17, 2017
February 14, 2017
December 17, 2016
November 25, 2016
November 21, 2016
November 6, 2016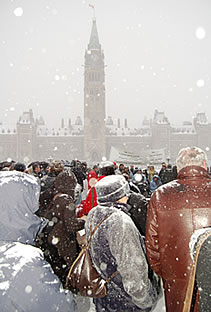 End Exclusion supporters rally in support of an accessible and inclusive Canada.
November 1, 2007
The National Action Plan presents a shared vision for an inclusive and accessible Canada. Read more.