We Need Your Support
Donations are tax deductible and you will receive a charitable tax receipt for 100% of your gift.
Support CCD's work on the Carter case: Help To Live Not Die.
Act Now
You Presence is requested at CASHRA2013.ca Early bird registration ends April 18, so register online. Read more.
Sign Up for a Voice of Our Own
A quarterly newsletter from CCD.
Transportation
Individuals cannot pursue their personal goals without access to transportation. Since its founding in 1976, CCD has been working to remove obstacles to the mobility of persons with disabilities from the modes of transportation within federal jurisdiction—air, rail, inter-provincial bus, and marine. CCD seeks the adoption of enforceable accessibility regulations for these modes.
CCD's Transportation Committee monitors the services provided by transportation carriers, contributes to legislative reform, shares knowledge on access with researchers, challenges discriminatory transportation practices in the courts.
Recent Work
January 31, 2013
Within this document there are both proposals that we support and are pleased to see moving forward and there are proposals that raise significant concerns for us. Read more.
January 27, 2011
Claredon Robicheau summarizes some current issues in the federal mode of transportation. Read more.
January 25, 2011
Marie White and Claredon Robicheau discuss transportation barriers and how CCD is addressing these. Read more.
More on Transportation
June 2, 2010
March 4, 2010
January 20, 2010
October 15, 2009
December 4, 2008
March 1, 2008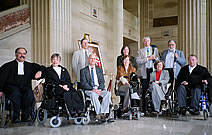 CCD wins VIA Rail case at the Supreme Court of Canada on March 23, 2007.
February 1, 2005
CCD undertakes a comparative international analysis of transportation regulatory frameworks and makes recommendations for Canada. Read more.