CCD is a national human rights organization of people with disabilities working for an accessible and inclusive Canada. Learn more.
Act Now
Write to your Member of Parliament in support of an accessible and inclusive postal service. Read more.
Sign Up for a Voice of Our Own
A quarterly newsletter from CCD.
August 18, 2014
The Canadian Museum for Human Rights (CMHR) has embraced inclusive design.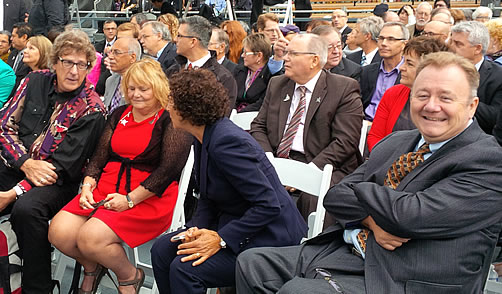 Tony Dolan CCD Chairperson, Melanie Panitch, Yvonne Peters, CCD Human Rights Committee, and Howard Miller attend opening of Canadian Museum for Human Rights.
Read more
November 19, 2014
MPP Christine Elliott will elaborate her vision of how to remove barriers and create a welcoming environment that empowers people with disabilities and their families. Read more
May 16, 2014
The objective of this paper is to analyze the Quebec Law to Combat Poverty and Social Exclusion, passed in 2002, as an example of a democratically co-constructed social policy. This Law is the result of a large and intensive mobilization of Québec civil society over a seven year period. Read more
More on Our Issues
November 19, 2014
November 15, 2014
November 8, 2014
November 8, 2014
November 6, 2014
October 29, 2014