CCD is a national human rights organization of people with disabilities working for an accessible and inclusive Canada. Learn more.
Act Now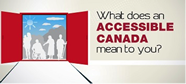 The Government of Canada is leading consultations to inform planned accessibility legislation.
In-person sessions are coming soon to your community. Now is the chance to have your say. Read more.
Sign Up for a Voice of Our Own
A quarterly newsletter from CCD.
May 4, 2019
CCD calls on the Government to accept the SOCI Committee's amendments and to incorporate them into Bill C-81. Read more
April 25, 2019
"Speak Out, as the Canadian Human Rights Commission (CHRC) has titled its 2018 Annual Report, reads to us like a call to action to speak our truth on the discrimination that people with disabilities encounter in Canada," states Jewelles Smith, Chairperson of the Council of Canadians with Disabilities (CCD). "Far too many of us face oppression and discrimination, while going to school, at work and doing the activities that many Canadians take for granted but for people with disabilities often mean navigating barriers, which are often systemic in nature," states Pat Danforth, CCD 1st Vice Chair. Read more
April 2, 2019
I think it is very helpful to have an external expert come and look at things on the ground. I think it will be very instructive for us and she has the ability as an independent UN expert, who is not beholding to anyone here in Canada, to say exactly what she thinks. So, I think she will shine a light on what she considers to be areas of concern. I will be very honest about this and say the fact that the government has invited her to do this, I think, is a sign of good faith on the part of the government, as well. It is a sign of commitment on the part of the government to try and move things forward on the disability agenda. Read more
More on Our Issues
April 11, 2019
April 9, 2019
March 20, 2019
January 25, 2019
December 21, 2018
December 21, 2018