CCD is a national human rights organization of people with disabilities working for an accessible and inclusive Canada. Learn more.
Act Now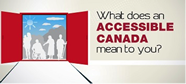 The Government of Canada is leading consultations to inform planned accessibility legislation.
In-person sessions are coming soon to your community. Now is the chance to have your say. Read more.
Sign Up for a Voice of Our Own
A quarterly newsletter from CCD.
December 3, 2017
Today is International Day of Persons with Disabilities, and part of the 16 Days to End Violence Against Women Campaign in Canada. As the Chair of the Council of Canadians with Disabilities (CCD), I have had an exciting and busy year. Read more
November 25, 2017
On behalf of the CCD, ARCH will provide a disability rights perspective to the Supreme Court, and show how the Court's decision will create legal barriers to access to justice for persons with disabilities. ARCH will also argue that the Court should take into account the United Nations Convention on the Rights of Persons with Disabilities when it makes its decision. The Convention is an international law that sets out rights for persons with disabilities, including the right to access to justice on an equal basis as others. Effective access to justice is an important part of making sure that persons with disabilities can participate fully and equally in society.
November 17, 2017
"Disability is the last major characteristic that remains a barrier to settling and building a life in Canada, and the Council of Canadians with Disabilities believes this provision is outdated and discriminatory and must be removed from the Act," says John Rae, 1st Vice Chair of the Council. Read more
More on Our Issues
December 11, 2017
December 6, 2017
November 20, 2017
November 20, 2017
November 13, 2017
November 13, 2017