CCD is a national human rights organization of people with disabilities working for an accessible and inclusive Canada. Learn more.
We Need Your Support
Donations are tax deductible and you will receive a charitable tax receipt for 100% of your gift.
Support CCD's work on the Carter case: Help To Live Not Die.
Act Now
Write to your Member of Parliament in support of an accessible and inclusive postal service. Read more.
Sign Up for a Voice of Our Own
A quarterly newsletter from CCD.
August 18, 2014
The Canadian Museum for Human Rights (CMHR) has embraced inclusive design.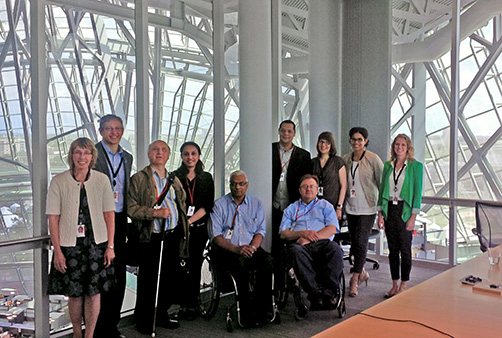 When UN Special Rapporteur on Disability Shuaib Chalklen (seated centre left), who is from South Africa, visited CCD in June 2014, one of the first stops was the Canadian Museum for Human Rights (CMHR), which has adopted a high standard of inclusive design.
Read more
April 16, 2014
A tribute to the late Hon. Jim Flaherty by CCD and CACL. Read more
April 16, 2014
Dr. Prince has written a commentary about the work of the late Hon. Jim Flaherty, which was published in the Times Colonist. Read more
More on Our Issues
September 10, 2014
September 10, 2014
September 9, 2014
September 9, 2014
September 9, 2014
September 9, 2014