CCD is a national human rights organization of people with disabilities working for an accessible and inclusive Canada. Learn more.
We Need Your Support
Donations are tax deductible and you will receive a charitable tax receipt for 100% of your gift.
Support CCD's work on the Carter case: Help To Live Not Die.
Act Now
You Presence is requested at CASHRA2013.ca Early bird registration ends April 18, so register online. Read more.
Sign Up for a Voice of Our Own
A quarterly newsletter from CCD.
November 22, 2011
We have produced this booklet both to celebrate our success and to help others understand the contribution of the disability rights movement in Canada.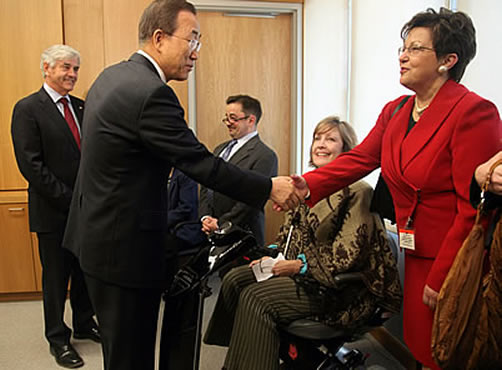 Canadian Foreign Minister Lawrence Cannon, far left, observes as U.N. Secretary-General Ban Ki-moon, second from left, meets members of the Canadian delegation, including CCD's Steve Estey. (AP Photo/Bebeto Matthews)
Read more
April 11, 2012
Although it is too early to pass final judgment on the success of the Québec strategy to fight against poverty and social exclusion, we will attempt in this paper to evaluate the progress made since the adoption of the law regarding the evolution of poverty and inequality in income distribution in Québec. Read more
November 18, 2012
The Moore case says that students with disabilities are entitled to receive the accommodation measures they need to access and benefit from the service of public education. In this regard, the Court said that adequate special education is not "a dispensable luxury". With respect to children with learning disabilities, the Court said that such services serve as "the ramp that provides access to the statutory commitment to education made to all children in British Columbia." Read more
More on Our Issues
December 11, 2013
December 11, 2013
November 30, 2013
November 30, 2013
November 29, 2013
November 29, 2013