CCD is a national human rights organization of people with disabilities working for an accessible and inclusive Canada. Learn more.
Act Now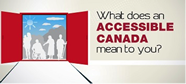 Empower U: Learn to Access Your Disability Rights Training on Canadian Human Rights, the Convention on the Rights of Persons with Disabilities (CRPD) and its Optional Protocol (OP) training aims to increase awareness of how to address discrimination using more familiar Canadian human rights laws such as Human Rights Codes and the newer international Convention on the Rights of Persons with Disabilities (CRPD). This is training for persons with disabilities by persons with disabilities. The training is part of a project funded by Employment and Social Development Canada and implemented by the Council of Canadians with Disabilities (CCD) in collaboration with Canadian Multicultural Disability Centre Inc. (CMDCI), Citizens With Disabilities – Ontario (CWDO), Manitoba League of Persons with Disabilities (MLPD) and National Educational Association of Disabled Students (NEADS). Read more.
Sign Up for our monthly digest
A monthly newsletter from CCD about what is happening in the community
August 8, 2023
An op-ed by Heather Walkus, CCD Chairperson, and Dr. Michael Prince, Lansdowne Professor of Social Policy in the Faculty of Human and Social Development - University of Victoria, has been published in The Future Economy. Read more
September 19, 2023
Steve took on central roles at the Council of Canadians with Disabilities and Disabled Peoples' International, a Canadian based NGO. Read more
August 25, 2023
News from the disability community. Read more
More on Our Issues
September 1, 2023
August 22, 2023
August 22, 2023
August 4, 2023
August 1, 2023
July 28, 2023
Press Release
June 23, 2022
June 23, 2022, (Vancouver, BC) Today the Supreme Court of Canada rejected the BC government's five-year legal campaign aimed at stopping the Council of Canadians with Disabilities (CCD) – a nationally respected disability rights organization – from challenging BC's outdated and unconstitutional forced psychiatric treatment laws. The court not only rejected the government's appeal, but also confirmed that CCD has the legal right to bring the case forward. In an extraordinary move, the Court also ordered that the government pay for all legal costs associated with this unnecessary delay."The Supreme Court unanimously and decisively resolved the standing question in CCD's favour," says Michael Feder, a lawyer with the law firm McCarthy Tétrault who argued the case on behalf of CCD. "This ruling has broad importance for access to justice and for ensuring discriminatory and other unconstitutional laws can be challenged in court." Read more.
Videos
September 30, 2015
After an election is called, you can vote at any Election Canada office across the country.
Weblog
June 15, 2021
On June 1, 2021, the Council of Canadians with Disabilities co-hosted and participated in a roundtable discussion on "The Role of Innovative Technologies in Recruiting and Increasing Retention of Employees with Disabilities" with Facebook and Inclusion Canada. Read more.