CCD is a national human rights organization of people with disabilities working for an accessible and inclusive Canada. Learn more.
Act Now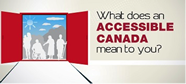 The Government of Canada is leading consultations to inform planned accessibility legislation.
In-person sessions are coming soon to your community. Now is the chance to have your say. Read more.
Sign Up for a Voice of Our Own
A quarterly newsletter from CCD.
July 12, 2018

Multiple news outlets are reporting that Robert Latimer has submitted a letter to the Minister of Justice seeking a pardon or a new trial following his conviction for the murder of his daughter Tracy in 1993.
Latimer has been free on parole since 2010. Contrary to some media reports, Latimer has been able to travel outside Canada since 2015, according to the Globe and Mail.
Disability rights activists are concerned that the pardon request is a "symptom and effect of the continuing devaluation of disabled people" as shown by the legalization of assisted suicide and euthanasia in 2016, according to Amy Hasbrouck, director of Toujours Vivant-Not Dead Yet. She notes that individual choice is supposed to be key to the suspension of homicide laws in cases of assisted suicide and euthanasia. "Yet Tracy was not given a choice."
Dr. Heid Janz, Chair of CCD's Ending-of-Life Ethics Committee, expresses profound dismay at the mainstream media's continuing practice of disseminating entirely erroneous descriptions of Tracy Latimer's condition. "Some reports on Latimer's petition revived the decades' old false description of Tracy Latimer as a bed-ridden quadriplegic," Janz said. "But the fact, documented in all of Latimer's trials, is that Tracy rode the school bus to her school program right up until the weekend that her father murdered her."

June 20, 2018
Today Canada's disability community welcomes the tabling of the federal accessibility legislation, by Minister of Sport and Persons with Disabilities, the Hon. Kirsty Duncan. A key election promise in the 2015 election, Canadians with disabilities, nation-wide, have been deeply engaged in discussion about the new law for the past 18 months, and we are pleased that Minister Duncan has taken this important step before the House adjourns for the summer. By doing this, we now have the summer to study the legislation and ensure that it meets the standards we have recommended to Government. In 2015, the Council of Canadians with Disabilities (CCD) responded to the promised law by making it known that the UN Convention on the Rights of Persons with Disabilities (CRPD), which Canada ratified in 2010, provides a roadmap for the government to follow for the achievement of robust accessibility legislation that will significantly improve disabled people's enjoyment of our human rights. "We have been clear from the beginning of the process that we have no appetite for a "light accessibility law," states Jewelles Smith, CCD Chairperson, who went further to say: "This new law must be robust and comprehensive to achieve what it sets out to do and we look forward to the opportunity to review and work with Parliamentarians as needed to ensure this vital objective." Read more
July 10, 2018
"The Council of Canadians with Disabilities (CCD) was dismayed to learn that Greyhound has announced plans to shut down its operations in parts of Canada, because this withdrawal of service will put in jeopardy the range of safe, independent choices available to the travelling public, including people with disabilities," states Bob Brown, Co-Chairperson CCD Transportation Committee. Read more
More on Our Issues
August 18, 2018
August 18, 2018
August 18, 2018
August 2, 2018
July 16, 2018
June 24, 2018