Act Now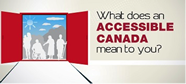 The Government of Canada is leading consultations to inform planned accessibility legislation.
In-person sessions are coming soon to your community. Now is the chance to have your say. Read more.
Sign Up for a Voice of Our Own
A quarterly newsletter from CCD.
CCD National Coordinator Participating in CRA's Disability Advisory Committee Meeting
When the Minister of National Revenue reinstated the Disability Advisory Committee (DAC), she appointed James Hicks, CCD National Coordinator, to the DAC. James is attending the Committee's first meeting today, January, 24, 2017. The Committee's role will be to provide advice to the Minister of National Revenue and the Commissioner of the CRA on the administration and interpretation of the ...laws and programs related to disability tax measures administered by the CRA, and on ways in which CRA can take into consideration the needs and expectations of the disability community as well as increase awareness and take-up of measures for people with disabilities. The Committee will advise the CRA on how it can better inform people with disabilities and various stakeholders about tax measures and important administrative changes. The Committee will also review the CRA's administrative practices and make recommendations on how CRA can enhance the quality of its services for people with disabilities. Stay tuned for further updates.