Act Now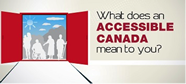 Empower U: Learn to Access Your Disability Rights Training on Canadian Human Rights, the Convention on the Rights of Persons with Disabilities (CRPD) and its Optional Protocol (OP) training aims to increase awareness of how to address discrimination using more familiar Canadian human rights laws such as Human Rights Codes and the newer international Convention on the Rights of Persons with Disabilities (CRPD). This is training for persons with disabilities by persons with disabilities. The training is part of a project funded by Employment and Social Development Canada and implemented by the Council of Canadians with Disabilities (CCD) in collaboration with Canadian Multicultural Disability Centre Inc. (CMDCI), Citizens With Disabilities – Ontario (CWDO), Manitoba League of Persons with Disabilities (MLPD) and National Educational Association of Disabled Students (NEADS). Read more.
Sign Up for a Voice of Our Own
A quarterly newsletter from CCD.
Telling Our Own Story: Canadian DPOs Apply Nothing About Us Without Us Principle to UN Review of Canada's Record on Human Rights
Steven Estey
Canadian history will be made at the UN in Geneva on April 3 and 4 2017. For the first time, the UN Committee on the Rights of Persons with Disabilities will review Canada's implementation of the CRPD. During a country review, the CRPD Committee studies written submissions and dialogues with both government representatives and members of civil society. At the review's conclusion, the Committee will issue recommendations (referred to as 'concluding observations' or COs ) for strengthened implementation of the CRPD in Canada. Since 2015, Canadian disability organizations have been working together, sharing information, grounded in a disability rights analysis, with the Committee. Our goal has been to expand upon what has been submitted by the federal, provincial and territorial governments of Canada. I have observed that, while Canada's report to the Committee tells the truth, it is not necessarily the whole truth, and we have worked hard to paint a more detailed picture of what it is like to be a person with a disability in Canada.
Just as the principle "nothing about us without us" guided our work during the drafting of the Treaty, we've continued to follow the same approach in the development of the Parallel Report. Thus the disability community has been engaging with the Committee throughout the review process. The disability community has submitted questions and reports to the Committee. And now we are mounting a strong civil society delegation representing a diverse range of interests and perspectives, to meet face-to-face with the CRPD Committee in April. We will again use the lens of lived experience to clarify what the federal, provincial and territorial governments of Canada have told the Committee about the human rights of people with disabilities in Canada.
At the time of writing, our delegation consists of: Kerri Joffe (ARCH Disability Law Centre), Randy Steffan (Alzheimer Society Canada), Phyllis Fehr (Ontario Dementia Advisory Group), Neil Balanger (BC Aboriginal Network on Disability Society), Michael Bach (Canadian Association for Community Living), Frank Folino (Canadian Association of the Deaf), Jewelles Smith (Council of Canadians with Disabilities ), Maureen Haan (Canadian Council on Rehabilitation and Work), Michele Biss and Laura Catteri (Canada Without Poverty), Kathleen Pye (Egale), Keiko Thomas and Meaghan Shevell (McGill University), and myself in the role of co-ordinator.
The 18 member CRPD Committee is made up of independent experts from the global disability community. Like all of us, they each have issues about which they are very passionate. Through the List of Issues that the Committee submitted to Canada, which raised a number of questions, we have an indication of topics the Committee wishes to explore. The situation of Indigenous persons with disabilities, for example, figured prominently in the List of Issues. We are fortunate that Neil Balanger, Executive Director of the BC Aboriginal Network on Disability, will be meeting with the Committee, as he will elaborate on how societal responses to the cross-cutting factors of disability and Aboriginal status affect the enjoyment of human rights. These cross-cutting issues, be they related to Indigenous people, women, the LGBT community, children with disabilities, amongst others, will be a focus of our discussions, and it's a real testimony to the power and potential of the CRPD that it provides a forum to bring together advocates from such diverse backgrounds.
To encourage the discussion, CCD, in its role as secretariat for the CRPD shadow reporting process, will publish a series of blog posts to create awareness about how the Committee's review of Canada can serve to reduce barriers and improve inclusion in Canada. CCD invited delegation members to write about what they hope to accomplish by working with the CRPD Committee. These blogs will be posted over the next few days during the period leading up to the review of Canada. Please read and share them widely, building awareness and understanding of the work of the Committee and our delegation will increase our impact, and in turn help us advance our rights.
Please follow us on Twitter to learn more about our work with the Committee. During our meetings, we will use the hashtags #CRPD2017 and #DisabilityRightsAreHumanRights on Twitter and Facebook.