Act Now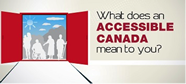 Empower U: Learn to Access Your Disability Rights Training on Canadian Human Rights, the Convention on the Rights of Persons with Disabilities (CRPD) and its Optional Protocol (OP) training aims to increase awareness of how to address discrimination using more familiar Canadian human rights laws such as Human Rights Codes and the newer international Convention on the Rights of Persons with Disabilities (CRPD). This is training for persons with disabilities by persons with disabilities. The training is part of a project funded by Employment and Social Development Canada and implemented by the Council of Canadians with Disabilities (CCD) in collaboration with Canadian Multicultural Disability Centre Inc. (CMDCI), Citizens With Disabilities – Ontario (CWDO), Manitoba League of Persons with Disabilities (MLPD) and National Educational Association of Disabled Students (NEADS). Read more.
Sign Up for our monthly digest
A monthly newsletter from CCD about what is happening in the community
A Missed Wedding, a Landmark Protest and a Legal Victory
On October 31, 1980, I arrived in Ottawa ready to participate in a weekend meeting of the National Council of the Coalition of Provincial Organizations of the Handicapped (COPOH) (now known as the Council of Canadians with Disabilities). I attended this meeting under much protest from my family. My sister was getting married, and here I was, choosing to miss her wedding so I could discuss the Constitution and the inclusion of disability rights.
I was a relatively new member to the Council. But I was outraged by the lack of legal protection for the human rights of persons with disabilities and was therefore eager to work with my colleagues to correct this injustice.
Much of our Council discussion that weekend focused on the federal government and how to shake its refusal to consider the inclusion of persons with disabilities in the proposed Constitutional Charter of Rights and Freedoms. Earlier that fall, Prime Minister Trudeau convened Parliament to consider a resolution asking the British Parliament to patriate the British North America Act. He proposed that part 1 of the Act contain a Charter that would provide Constitutional protection of the rights and freedoms of persons living in Canada. Of particular interest to persons with disabilities was the Charter's "non-discrimination" clause.
This clause guaranteed equality and prohibited discrimination on a number of grounds. However, there was no mention of disability. Our drive to have this clause expanded was supported by a resolution passed at COPOH's first national conference. The resolution called for Members of Parliament to support the entrenchment of the human rights of persons with physical disabilities in any new constitution. We amended our position to include mental disability when we partnered with the Canadian Association of the Mentally Retarded, now the Canadian Association for Community Living (CACL). We started with physical disability, but we recognized the need to include mental disability.
Prior to the Council meeting, COPOH flooded Members of Parliament with telegrams and letters urging them to include disability in the nondiscrimination clause. Unfortunately, just days before the Council meeting, a special advisor to Jean Chrétien, the then Minister of Justice, advised COPOH, that only grounds "that have been long recognized" and which do not require "substantial qualification" would be included in a nondiscrimination clause. Disability, he said, did not fit this criteria.
Council members were alarmed and dismayed by this response, and thus we spent much of our time discussing and debating how to get our message of inclusion taken much more seriously. We finally settled on the need to publicly demonstrate our concern and frustration at being left out of the Constitution-making process. Consequently, instead of returning home to our families and jobs that Sunday evening, we gathered in an Ottawa hotel room to organize the details of a public demonstration, prepare protest signs, and devise a media strategy.
On Monday, November 3rd, 1980, 14 members of COPOH demonstrated on Parliament Hill, chanting slogans and waving signs in an effort to get our message across to government. We attracted significant media because the sight of people with a variety of disabilities shouting for their rights was quite a new concept in Canadian society. Allan Simpson, the then Chair of COPOH, told an Ottawa newspaper that "coalition members were prepared to take their case to the United Nations or to ask the British Parliament to delay patriation of the constitution until their demands were met."
Prior to the protest, I phoned my employer to advise her of my activities. As a strong human rights activist, she supported my participation. She suggested that I not be the "first to throw the blood on the steps" so to speak. However, unknown to me, my protest-loving guide dog pushed her way to the front and the next day our picture was splashed across Canada in a number of newspapers. Fortunately, my employer was very supportive of our cause and I retained my job.
Following the demonstration Ron Kanary (COPOH's Vice Chair) and I were asked to extend our stay in Ottawa to engage in the direct lobbying of key politicians. Many of the politicians we met with were genuinely interested and receptive to our issue and were obviously trying to make sense themselves as to how a Charter would function in the Canadian context. At a minimum, our goal was to obtain an invitation to appear before the Joint Parliamentary Committee, mandated to convene hearings on the proposed Constitution. To this end, our efforts can be deemed a success as shortly after our tour of Parliament, COPOH received the much sought after invitation to appear before the Committee to argue our case.
Our appearance before the Joint Committee marked a turning point for COPOH's Constitutional lobby. The public protest and the appearance before the Committee gave our issue profile and credibility. While we may never know what prompted the eleventh hour change of mind by the government, it is likely that factors such as supportive government representatives and Members of Parliament, the proclamation of the 1981 International Year of Persons with Disabilities and further threats of protests by persons with disabilities on Parliament Hill, all played an influential role in shifting the ground in favour of persons with disabilities. Thus, on January 28, 1981, the Joint Parliamentary Committee on the Constitution unanimously accepted an amendment to the Charter which, at long last, included the ground of both "physical or mental disability" in Section 15, now known as the guarantee of equality in the Canadian Charter of Rights and Freedoms.
Looking back over the past 30 years, I am now truly sorry I missed my sister's wedding. But I still feel I made the right decision to attend that infamous National Council meeting back in 1980. Clearly, our efforts helped to achieve a significant legal victory, which marked a new social consciousness of disability rights. I am deeply honoured to have had the opportunity to play a small role in this important victory.~Yvonne Peters