Act Now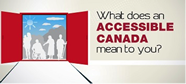 The Government of Canada is leading consultations to inform planned accessibility legislation.
In-person sessions are coming soon to your community. Now is the chance to have your say. Read more.
Sign Up for a Voice of Our Own
A quarterly newsletter from CCD.
Convention on the Rights of Persons with Disabilities
As you are all well aware, Canadian ratification of the Convention on the Rights of Persons with Disabilities (CRPD) is one of the issues that has been on the CCD agenda for some time. Indeed, since 30 March 2007, when Canada signed the CRPD at the United Nations, CCD has been calling upon the Government of Canada to ratify the CRPD. By ratifying the CRPD, Canada agrees to be bound by this historic international treaty on the rights of persons with disabilities. Following ratification, Canada will be eligible to be a full participant in all processes associated with the CRPD, such as the Conferences of States Parties and the meetings of the CRPD Experts.
Recently, Canada participated as an observer in the Conference of States Parties and in its statement at this meeting indicated that it is "giving priority consideration to ratification of the Convention in 2009." CCD is encouraged by this statement but we want to accelerate the momentum for ratification by Canada. To this end, we are asking everyone who supports the human rights of persons with disabilities to write a letter to the Prime Minister of Canada and/or their Member of Parliament calling for Canada to ratify the CRPD before the end of 2009.
The email address for the Prime Minister is pm@pm.gc.ca. Canadians can find contact information for their Member of Parliament at http://canada.gc.ca/directories-repertoires/direct-eng.html.
CCD has also written to the Prime Minister in support of ratification. Read more.