Act Now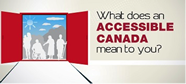 The Government of Canada is leading consultations to inform planned accessibility legislation.
In-person sessions are coming soon to your community. Now is the chance to have your say. Read more.
Sign Up for a Voice of Our Own
A quarterly newsletter from CCD.
CCD Launches New Web Site
CCD—what an amazing organization! Dedicated CCD volunteers champion disability rights, challenging discriminatory practices of corporate Canada and governments. Recently, we had two important victories at the Supreme Court of Canada. As a result, VIA Rail is remedying access barriers in the Renaissance passenger cars and Air Canada and WestJet will accommodate travelers whose disability necessitates the use of additional seats. These decisions convey a significant message—access is the law. A less robust aspect of CCD has been our web site. Okay, we admit it—the old one did not make the grade. Today, we are launching our new site, with features that will keep CCD volunteers, members of the disability community and the public informed about our human rights work in support of an accessible and inclusive Canada. Please take some time to explore the site's new features: the blog where you will hear from different people involved with CCD, an additional newsletter, an RRS feed to keep you current with new developments, action alerts, CCD News, better navigation, improved search capability. With the Action Alerts, we will be calling upon you to help us to get out the word in support of an accessible and inclusive Canada. We all know that Canada, along with the other nations of the world, is facing economic hard times. CCD argues that it is vital for Canada to take measures to ensure that poor people do not bear the brunt of this economic crisis.