Act Now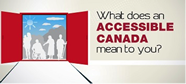 The Government of Canada is leading consultations to inform planned accessibility legislation.
In-person sessions are coming soon to your community. Now is the chance to have your say. Read more.
Sign Up for a Voice of Our Own
A quarterly newsletter from CCD.
6 Issues to Keep in Mind Before Voting for a Candidate
Know what the candidate's position is on disability issues. Do you think this person will champion disability issues when she/he goes to Ottawa?
Entertainment is NO substitute for content. Do not allow charm or affability to cloud your decision. Ensure that your questions are answered directly.
Take stock of the candidate's record. If the candidate's campaign was inaccessible, is it likely he/she will be a disability rights champion in Ottawa?
Examine party platforms carefully. Is the party that you are considering supporting one which has a vision that is inclusive of all Canadians?
Remain true to your own agenda. What are the issues that are important to you and how do you believe they should be addressed? Does the candidate's vision of Canada match your vision?
Don't allow yourself to be used. Don't allow the candidate to patronize you or use your concerns as window dressing for his/her campaign.