Act Now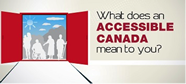 The Government of Canada is leading consultations to inform planned accessibility legislation.
In-person sessions are coming soon to your community. Now is the chance to have your say. Read more.
Sign Up for a Voice of Our Own
A quarterly newsletter from CCD.
CCD Chairperson's Update - Happy New Year!
The Council of Canadians with Disabilities wishes you a Happy New Year!
We are looking forward to working on national accessibility and inclusion legislation and the ratification of the Convention on the Rights of Persons with Disabilities' Optional Protocol.
~ Jewelles Smith
CCD Chairperson