Act Now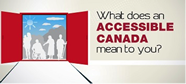 Empower U: Learn to Access Your Disability Rights Training on Canadian Human Rights, the Convention on the Rights of Persons with Disabilities (CRPD) and its Optional Protocol (OP) training aims to increase awareness of how to address discrimination using more familiar Canadian human rights laws such as Human Rights Codes and the newer international Convention on the Rights of Persons with Disabilities (CRPD). This is training for persons with disabilities by persons with disabilities. The training is part of a project funded by Employment and Social Development Canada and implemented by the Council of Canadians with Disabilities (CCD) in collaboration with Canadian Multicultural Disability Centre Inc. (CMDCI), Citizens With Disabilities – Ontario (CWDO), Manitoba League of Persons with Disabilities (MLPD) and National Educational Association of Disabled Students (NEADS). Read more.
Sign Up for our monthly digest
A monthly newsletter from CCD about what is happening in the community
A Voice of Our Own: April 2006
Remembering Eric Norman
On 12 March 2006, the Canadian disability rights movement lost one of its strong leaders, Eric Norman, well-know for his work at the local, provincial and national levels. The Council of Canadians with Disabilities (CCD) was the real winner when its Newfoundland member group COD appointed Eric Norman to the CCD National Council of Representatives. Eric, who was an educator and an administrator in his professional life and a human rights and consumer activist in his volunteer life, brought many important skills to Council: writing and issue analysis, human resources management, a keen disability rights perspective, and so much more. Eric began to participate directly in CCD activities in 1989, when he attended Council's national conference in Toronto and remained active with the organization until the time of his passing. In addition to being the Chairperson of CCD, Eric also served as a Chairperson of CCD's Transportation Committee and a member of the CCD Social Policy Working Group. He also volunteered his time with the Canadian Disability Rights Council (CDRC).
Eric was a key leader in the field of accessible transportation. In addition to chairing CCD's Transportation Committee, he had been a disability community co-chairperson of the Minister of Transport's Advisory Committee on Accessible Transportation (ACAT). While at CCD, Eric focused the majority of his energies on three key issues: inter-provincial busing, access to air travel and VIA rail.
Eric was particularly concerned that users of inter-provincial bus transportation should have access to a mechanism for resolving obstacles to mobility. He spent a great deal of time working in partnership with government officials at Transport Canada to develop a complaints mechanism for the inter-provincial bus mode. When the complaints mechanism was up and running, Eric used the information dissemination mechanisms of CCD and its member groups to ensure that grassroots consumers were informed of the complaints process. As an educator, Eric always took the time to ensure that the people who needed information had access to it.
Eric took the promises made to Canadians with disabilities very seriously. At the time when the Federal Government increased funding to VIA Rail to purchase new passenger cars, the Transport Minister promised ACAT that the cars would be accessible. Eric closely monitored VIA's purchasing activities. Even though he had resigned as Chair of the CCD Transportation Committee by then, Eric remained integrally involved in the VIA Rail matter and kept VIA Rail high on CCD's agenda. He encouraged CCD to take a strong stand against VIA Rail's purchase of inaccessible rail cars, arguing that other carriers would follow VIA's lead if the disability community allowed VIA to put inaccessible passenger cars into service without a fight. Currently, CCD has a case at the Supreme Court of Canada concerning VIA's purchase of inaccessible rail cars.
Eric was also a leader on one of the most long-standing issues in CCD's history-the struggle to have air carriers allow the carriage of both a passenger with a disability and his/her attendant on one ticket. Along with a number of other colleagues with disabilities and CCD, Eric had launched a Canadian Transportation Agency complaint on this issue. CCD will be carrying on with this complaint.
Eric was also very concerned that airlines have been replacing accessible equipment with inaccessible equipment. He encouraged CCD to lay a complaint with the Canadian Transportation Agency. Unfortunately, the complaint was not successful, but CCD continues to seek ways to promote universal design to the transportation industry.
While transportation was a central concern for Eric, it was not his only one. Eric took Canada's Charter commitments to Canadians with disabilities very seriously. He joined the Canadian Disabilities Rights Council and was elected as its Chair. Eric consistently encouraged the disability rights community to make use of the important victory that was won in the courts in the Eldridge case, which determined that governments remained responsible for accommodating people with disabilities even when services are devolved to lesser authorities.
In addition to being an activist, Eric was also a writer and an editor. Always a generous man, he shared these talents with the disability community. When Rawnie Dunn, a British Columbia author with a disability, donated her manuscript Funny You Should Ask to CCD as a fund-raiser, it was Eric who took this project on, editing the material and finalizing it for publication. It is no exaggeration to say that Eric was one of CCD's most classically trained chairpersons. To date, Eric is the only CCD Chairperson who faxed the National Coordinator messages solely in Latin. Eventually, a translation followed as the staff's Latin skills were too rusty for the job.
Eric's leadership was recognized both inside and outside the disability rights movement. In 1996, Eric was one of 13 people with disabilities selected to accompany the Prime Minister of the day, Jean Chrétien, to New York to witness Canada's acceptance of the Franklin Delano Roosevelt Award, which honored Canada's work to advance the rights of Canadians with disabilities.
Eric's leadership will be greatly missed at CCD.
~
"I first met Eric when he took over for me as chair of CCD's Transportation Committee in the early 90's. I was relieved that he took such an active interest in an area that a lot of folks with disabilities believed was settled. Eric knew better. He was instrumental in pushing the national transportation agenda forward. He always appeared calm and was inclusive in his discussions. That was one of his strengths - being able to take our concerns and articulate them into action. I so admired his ability to keep pushing until there was a breakthrough.

Eric was able to motivate people to action. He put himself out in order to serve the greater good. Despite his health being fragile, he showed strength of resolve. I could always count on him to keep me on track and focused on the end result. I am sad he has left us but will hold his resolve to make Canada more accessible. He left big wheels to fill."~ Pat Danforth, Chairperson CCD Transportation Committee

"Eric was my introduction to the disability movement, my first connection to COD in Newfoundland and to CCD in Winnipeg, my mentor and my friend. Eric was always there when I called on him, quick to provide advice and support or to put his hand to a task. Only once did he turn me down - he absolutely refused to appear on a local TV station to cook a meal and share his recipe while discussing disability issues! But we shared a great laugh over it….and over other things as well.

Eric helped me to understand so much about persons with disabilities, the issues that impact them and what justice for them means. He was also quick to show me that he had another side as well, a side that highlighted fun with family and friends, laughter, music and the arts, and an unfailing love for Newfoundland.

Eric gave so much of himself…..to his home province, to persons with disabilities across Canada and to those close to him. It was time for him to rest. Thank you, Eric. You live on in our memories and in our hearts." ~ Mary Ennis, Vice-chair, CCD

"Eric Norman was relentless in his pursuit of equal access to federally regulated transportation. His knowledge of the access standards and policies governing federal transportation systems was exemplary. Eric was committed to making Canada a leader in the development of accessible transportation. He was a humble advocate with both heart and brains, who understood how critical access was to achieving equality. His quiet dignity, commitment to principle and dogged determination will be missed." ~ Laurie Beachell, National Coordinator CCD

"When Eric wheeled into a boardroom, you not only noticed his strong physique, you sensed his controlled power. At social functions, his manners could be impeccable and if there was 'down home music', his clapping hands and smile showed how he loved family gatherings and community. I was privileged to have Eric as my Vice-Chair at CCD and I knew when I left with Eric as Chairperson, they were in good hands. As a friend, his witticisms intrigued me and his wisdom saved me folly. To Roxanne and his family, that he held so dear, I offer my sincere condolences. Rest assured he has been welcomed as a 'good and faithful servant'." ~ Francine Arseanault, a CCD Past-Chair

"Eric never allowed the serious illness and the intrusive treatments that brought him to Toronto to inhibit his joy for life, his love of family and the gusto he shared with us.

The idea of rights for persons with disabilities was quite novel, and to some threatening, when Eric assumed leadership roles within the movement. To Eric it was a question of simple decency. His sense of decency elevated those who heard him speak to climb this level of awareness.

While he has now moved to new heights, to which those he leaves behind only aspire, he has raised so many of us up by his determination and courage. Many thanks to Roxanne and to Newfoundland for sharing him with us. His memorial will be the accessible and inclusive world he dreamt of and inspired others of us to join with him in seeking." ~ David Baker, Legal Counsel CCD Transportation Committee

"Eric's friendship was truly cherished; he conducted life with patience and understanding. He was a man I will never forget for he impacted me so much in our mutual passion of inclusion of all people." ~ Colin Cantlie, Canadian Hard of Hearing Association
The Census is Coming!
CCD encourages persons with disabilities to participate in the census process, as it will provide yet another avenue for clearly identifying the depth and breadth of our community and our diverse needs.
Statistics Canada has provided the following facts about the upcoming Census.
On May 16, 2006, Statistics Canada will be conducting a complete census of the Canadian population.

A census provides a snapshot of the Canadian population at a single point of time.

The 2006 Census is the most changed census in 35 years. A very significant chant Canadians will be able to complete their census forms online.

The online Census of Population questionnaire can be accessed by visually impaired persons by using such technologies as Freedom Scientifics' JAWS Screen Reader Technology.

Online navigation can be completely conducted via the keyboard. The census questionnaire is also compatible with Braille outboard displays.

Individuals with hearing difficulties may complete their questionnaire over the Internet without any special accommodation as no audio sounds, music or speech are used on the online questionnaire.

Completing the questionnaire online can also save time. Online edits alert respondents to missing or invalid responses and automated skips ensure that respondents are not presented with questions that are not relevant to them.

Statistics Canada takes the protection of confidential information provided online very seriously. A secure login process and strong encryption are key elements in helping to prevent anyone from eavesdropping or tampering with the census information when it is completed and sent online.

Statistics Canada provides several options for filling census forms: the online application, large-print paper questionnaires, Braille versions of the questionnaire, as well as telephone options. Respondents can complete the questionnaire via a telephone interview by calling the Census Help Line at 1-877-594-2006, TTY 1-888-243-0730.
VP-Net Spring Institute
A Good Life Until the End: Palliative Care and People with Disabilities
(12-13 June 2006)
The VP-Net Institute will be an opportunity to bring people from the palliative care and disability communities together for two days of brainstorming and dialogue about the needs of people with disabilities at the end of their lives. The Institute will create an opportunity for people working in palliative care and people with disabilities to come together to learn about the experiences and needs of each other and how their decisions and actions affect each other. VP-Net Research team: Harvey Chochinov, Deborah Stienstra, Joe Kaufert, Zana Lutfiyya, Jim Derksen. Research Partner: Council of Canadians with Disabilities.
Key features of the Institute include:
A dialogue between Harvey Chochinov and Jim Derksen
Keynote presentations from Carol Gill, Adrienne Asch, and Judy Heumann
A response to the keynote address from Dr. John Seely
A reflection panel of people who work in palliative care
Responses from the disability community
Dramatic presentation organized by Dr. Heidi Janz
Workshops
Networking
A chance to share research
End of Life Care and Vulnerable Persons (VP-Net) Backgrounder
How can we have a good life right until the end?
Living a good life includes dying in a way that you want. Being able to have the supports and care that you need to die in a way that is comfortable and dignified and meets your own wants and desires is important. However, it is something that is difficult to talk about, in particular because it is something that most people don't want to think about.
Why talk about what you want at the end of your life?
Everyone, whether you're disabled or not disabled, struggles with how to discuss death and dying. The media often portrays living with a disability as something negative, a life that is not worth living. Often people with disabilities are not given choices about how they want to live or die. This makes people who have disabilities more vulnerable at the end of life. They have fewer opportunities to talk about what they want at the end of their life and often don't get to make the most important decisions about how they want to live or die.
What is VP-Net?
VP-Net is a five-year research project, funded by the Canadian Institutes for Health Research that seeks to create safe spaces to talk about these issues. One of the ways to do this is to bring together people whose lived experiences of disability has given them a unique perspective about what it means to be at the end of your life, with people whose job it is to provide support and care for people who may be at the end of their lives, including those in palliative care.
What is palliative care?
Palliative care may include the use of medication to manage pain or other ways of making people comfortable at the end of their lives. Palliative care professionals often think of palliative care as care that takes place in the last few hours of a person's life. Many people who experience disabilities have been at the brink of what may have been the end of their lives many times. Also, the type of care and support they require may mean that they need what many would call 'palliative care' for longer periods of time than is recognized as palliative care by physicians.
What Policies and Initiatives exist around Palliative and End of Life Care in Canada?
Having a good standard of care, including end of life care, is important. The Palliative Care for Support Workers Training Program has trained support care workers in five provinces since 2001. This program is important because it creates a basic standard of care across the country. For more information on this project, you can visit the website of the Canadian Hospice and Palliative Care Association and read the final report.
The Canadian Virtual Hospice (CVH) provides general information about policies and initiatives around palliative and end of life care in Canada. The CVH is an interactive internet-based web site that provides support and facilitates the exchange of information, communication, and collaboration between and among health care professionals, palliative care researchers, those in end of life transitions and their families.
Decision Making Policies:
Under Canada's Health Care Directives Act, individuals can set out what healthcare decisions they wish to be made on their behalf, and who is to make those decisions for them. These are commonly referred to as Advance Directives. The laws on Advance Directives differ by province or territory.
Do Not Resuscitate orders (DNRs) instruct medical professionals not to revive a person if he or she experiences heart failure or stops breathing. Most hospitals and health care programs have their own policies around DNR.
Service Provision Policies:
The Canada Health Act is Canada's federal legislation for publicly funded health care insurance. Palliative and end of life care services are not specifically funded or protected under this Act and palliative care is defined and funded differently in each province or territory.
Symptom Management Policies:
Symptom management includes consultation, prescription drugs, medical equipment, and supplies and is generally covered in hospitals. Not all jurisdictions pay for the costs of prescription drugs outside of hospital settings.
Informal Caregiver Policies:
Through the Employment Insurance Act the federal government has implemented a compassionate care benefit program that would see informal caregivers receiving up to 6 weeks of pay, including job protection, to care for a family member who is in end of life transitions. (See www.hrsdc.gc.ca and refer to Employment Insurance Compassionate Care Benefits.)
For more information about VP-Net you can contact the VP-Net Project Manager:
Lindsey Troschuk
Phone: (204) 474-7347
Fax: (204) 474-6676
Email: troschuk@ms.umanitoba.ca
Website on Disability-Related Policy in Canada Expanded

The website on Disability-Related Policy in Canada (www.disabilitypolicy.ca) developed as part of the Disability and Information Technology (Dis-IT) Research Alliance has recently been expanded to provide most content in French as well as English, and introduce several discussion opportunities.
Feedback needed
DisabilityPolicy.ca looks at the issues and concerns surrounding disability-related policy in Canada. This site can be viewed at www.disabilitypolicy.ca.
This site is intended to serve three main purposes:
To build the capacity of people with disabilities in general and of organizations of people with disabilities more specifically, to respond to issues regarding disability-related policy in Canada.
To be a website that is jointly owned by many organizations of people with disabilities around Canada for the purposes of knowledge-sharing, communication and mobilization.
To allow researchers, writers and the general public to share their knowledge about the effectiveness of Information and Communications Technologies (ICTs) as a tool for engaging the disability community in eDemocracy initiatives.
The website arose from a need identified by the Council of Canadians with Disabilities and Canadian Association of Community Living's joint project Connecting People to Policy. The Dis-IT Research Alliance proposed to take over the website portion of the initiative to facilitate the continuation of the goals of the project.
This site was built by a group of committed volunteers from several different organizations, including: the Canadian Association for Community Living, ARCH: A Legal Resource Centre for Persons with Disabilities, the Council of Canadians with Disabilities, National Federation of the Blind: Advocates for Equality, Canadian Association of Independent Living Centers, and various Independent Living Resource Centre group. On behalf of the Advisory Committee, we would like to invite you to come and browse our new site. Your feedback will be essential in making this website a truly interactive experience for people in the disability community. Please take the time to tell us what you think.
Disabilitypolicy.ca is trying to meet a high level of website design accessibility standards. If you have any suggestions that will help make our site more accessible, please contact us at:
Christine Kelly, Research Assistant (English)
Phone (204) 480-1411, umkell37@ccu.umanitoba.ca
Francis Charrier, Research Assistant (French)
francis.charrier.1@ulaval.ca
Hard-Wiring Inclusion: A Conference about Building an Accessible IT World
The Disability and Information Technologies (Dis-IT) Research Alliance will be holding a conference on accessible/inclusive information technologies in Winnipeg on 26-27 October 2006. It will bring together people with disabilities, policy makers, industry representatives, service providers, researchers, and students to share findings from Dis-IT's research and develop strategies for mobilizing that research knowledge amongst each of those communities. Session themes include:
finding common ground between human rights and bottom lines,
strategies for encouraging the development of accessible/inclusive information technologies,
tools for engaging communities in accessible/inclusive IT,
action workshops for each stakeholder group.
CCD is a partner organization in the Dis-IT Research Alliance, which is funded by the Social Sciences and Humanities Research Council (SSHRC) of Canada. For further information about Dis-IT and the conference, visit http://www.dis-it.ca or contact Dis-IT's Community Co-Director Gary Annable at (204) 947-0303 or ine@ccdonline.ca.
British Columbia Coalition of People with Disabilities (BCCPD)
TIL + PROP = BCITS
Two organizations well-known in BC's disability community have come together in a new society. TIL (Technology for Independent Living) and PROP (Provincial Respiratory Outreach Program) are now under the umbrella of the BC Association for Individualized Technology and Supports for People with Disabilities (BCITS). For many years, both organizations were under the nurturing wing of the BC Paraplegic Association.
PROP and TIL have strong reputations for enabling people with disabilities to live independently in the community through innovative technologies (TIL) and through serving people who need assisted ventilation (PROP).
TIL began serving the community in the early 1970s as a program of the Kinsmen Foundation of BC. TIL's expertise is in home technologies and gadgetry: electronic systems to assist people with severe disabilities to use the telephone, stereo systems, open doors, close blinds, as well as communication systems for people with speech impairments. TIL now serves over 400 clients around British Columbia.
PROP is the newer kid on the block, dedicated to enabling people who need assisted ventilation to meet their respiratory needs while living in the community. The program provides a comprehensive range of equipment and supplies, respiratory therapy, education and peer group support. PROP clients can call a respiratory therapist 24 hours a day.
BCCPD has partnered with PROP to develop their educational materials, including a newsletter, brochures and manuals. Some BCCPD staff members are also members of the new BCITS Board. We look forward to supporting the new organization to continue its invaluable work.
Left to right in back, Anthony Chan, Margaret Birrell (BCCPD Executive Director), Christine Gordon; front left to right, Don Danbrook and Ken Kramer.
ALBERTA COMMITTEE OF CITIZENS WITH DISBILITIES
AISH Lawsuit
Last fall, Edmonton lawyer Phillip Tinkler filed a class-action lawsuit for two AISH recipients, Donald Fifield of Tees and Curtis Roth of Tofield. Fifield had been underpaid more than $10,000 in the 1980s, while Roth's AISH payments were reduced to $40/month in order to compensate for an overpayment.
The lawsuit alleges that the government wrongfully withheld benefits under the Assured Income for the Severely Handicapped Act, the Widows' Pension Act, and the Social Development Act. In December 2005, the government agreed to settle the situation out of court.
The court-approved settlement means that Fifield, Roth and many others who were on AISH, social assistance, or the Widow's Pension between 1979 and 2004 will receive payouts. It is estimated that the payouts will cost the government $24 million and affect 15,000 people.
ACCD is assisting individuals who feel they may be entitled to a claim benefit but who are uncertain about how to proceed.
"Third Way" Health Reforms: Consultation Rushed
On 28 February 2006, Health and Wellness Minister Iris Evans released Alberta's new Health Policy Framework. The framework outlines ten policy directions (listed below) for Alberta's health care system-the "Third Way" system of delivering health care.
Putting Patients at the Center
Promoting Flexibility in Scope of Practice of Health Professionals
Implementing New Compensation Models
Strengthening Inter-regional Collaboration
Reshaping the Role of Hospitals
Establishing Parameters for Publicly Funded Health Services
Creating Long-Term Sustainability and Flexible Funding Options
Expanding System Capacity
Paying for Choice and Access while Protecting the Public System
Deriving Economic Benefits from Health Services and Research
Albertans were asked to respond to the Health Policy Framework during the month of March. Copies of the document were made available on the Health and Wellness website, at public libraries throughout the province, and at MLA constituency offices.
People are voicing their concerns over the hastiness of the consultation process. Before any steps are taken to reform health care in Alberta, people with disabilities and their families need to be given plain, detailed information about proposed changes so we can consider how the changes might affect us. We must be given the opportunity to respond through meaningful consultation.
Minister Evans hopes to introduce the reforms to the legislature this spring. ACCD met with MLAs and Minister Evans in March and the Alberta Disabilities Forum will meet with them in April to bring forward the concerns of Albertans with disabilities regarding health care reform.
ACCD's Negotiating for the Future Curriculum
ACCD is delighted to announce the completion of its Duty to Accommodate curriculum Negotiating for the Future: Accessing Workplace Accommodations. Together with a number of partner organizations (including representatives from the employment, employment training, and post-secondary education sectors), ACCD has developed a curriculum that can be delivered in a workshop format or completed independently.
The curriculum emphasizes the importance of full participation, equity, and accessibility in the workplace and builds on two Alberta Human Rights and Citizenship Commission publications: Duty to Accommodate (2002) and Duty to Accommodate Students with Disabilities in Post-secondary Education (2004).
We had two goals in mind as we developed this curriculum: to improve access to workplace accommodations and to enhance the relationships we foster when we seek support for our workplace endeavors. These goals are accomplished by enhancing
Understanding of workplace accommodations
Understanding of the personal and social factors that affect our ability to negotiate for accommodations
Ability to successfully negotiate for accommodations that will meet our needs
Ability to build strong and effective relationships with employers or prospective employers
Understanding of the role that others play in providing/arranging for accommodations (e.g., employers, office managers, human resources personnel, union representatives, occupational health nurses, etc.)
The curriculum will be available on the ACCD web page later this spring.
2005 CCD Award Winner Announced
Congratulations to Robin Slater-the 2005 recipient of the Council of Canadians with Disabilities Award!
For the past six years, Robin Slater has been a "persuasive and persistent" advocate for people with disabilities in her home town of Lac des Arc and its neighboring communities in the Bow Valley. Her efforts have focused on both local and far-reaching issues. Locally, a "well researched and persuasive" presentation she made to the Canmore Town Council in 2005 led to reduced admission fees for AISH recipients at the Canmore Recreation Centre. At the same time, she has visited Royal Bank branches across the province over the past two years to raise awareness about disability issues.
ACCD is honored to present the 2005 CCD Award to Ms Slater. Congratulations! We wish you continued success in your advocacy endeavors!
An Eye on AISH
Last spring, when the AISH program was reviewed, ACCD was pleased with the reforms that were made-including an increase to the AISH benefit. However, AISH recipients who are a part of the Modified AISH program (about 800 individuals) did not receive this increase. Ever since this discrepancy came to light, ACCD has been advocating for an increase to Modified AISH benefits. We look forward to an increase for Modified AISH recipients this spring.
Fundraising Fun!
ACCD's 10th Annual All Star Hockey Fun-Raiser was a terrific success! Over 1000 people showed up at the U of A Clare Drake Arena on 20 February 2006 to help celebrate this special anniversary event and to enjoy the added entertainment and fun this year.
Along with on-ice stars from the Edmonton Eskimos Alumni, Edmonton Oilers Alumni and Friends, and U of A Pandas, fans were delighted by celebrity host Mark Scholz and award winning anthem singer Alexandra Mackenzie. His Honor, the Lieutenant Governor of Alberta, the Honorable Norman L. Kwong and Her Honor, Mrs. Mary Kwong, greeted the audience and opened the game-by dropping a football for the face-off.
Off-ice action was just as thrilling as on-ice antics! Silent auction bidders competed for great bargains on over one hundred items, great prizes were won in the children's Puck Pull Game, and one lucky fan walked away a little bit richer by winning the 50/50 draw. In the end, the Oilers Alumni and Friends, with goalie Danielle Bles of the Pandas, skated their way to an 8-6 win over the footballers.
ACCD warmly thanks the 85 volunteers and 160 sponsors who helped make the day such a great success!
ACCD Annual General Meeting
ACCD will be holding its Annual General Meeting on Friday, May 26 in Edmonton.
Saskatchewan Voice
VOICE Addresses Abuse Issue
The Voice is continuing to work on the Abuse of Women with Disabilities Project. We have presented workshops designed for first responders in the communities. As well, we will be meeting with government officials in late April to discuss a number of recommendations that we feel the government should be implementing soon. The following are some of the recommendations:
That transition houses in the province all be accessible to all disabilities;
That transition workers be educated on disability;
That funding be provided to transition houses to train and educate their staff;
That an education communication program be developed to inform women with disabilities as well as the general population of the issues.
A project on financial abuse of seniors and people with disabilities is hitting some roadblocks. Currently, we are attempting to interview bank staff as to the policies in place by banking institutions on what training their front line workers have in recognizing financial abuse and what reporting mechanism is in place to report it. So far, our researcher has not been successful in many attempts to gain information.
New Board Members
An exciting time for the Voice, we now have a Board of Directors that is chosen from individuals who applied to participate in our Board. This transition has taken a number of years, but with the expertise and new faces on the Board, it will be an interesting learning experience.
Nova Scotia League for Equal Opportunities
Creating a Groundswell
After being told that Government needs a "groundswell" of public support to enact change to policy or legislation, Nova Scotia League for Equal Opportunities is making sure that groundswell is created. NSLEO is speaking to the public about its three key issues. Much to our delight, the public is interested in our messages.
Affordable, Accessible Housing-NSLEO recognizes the need to have "mainstream" organizations adopt the idea of accessibility for it to truly take flight. The group is promoting both barrier-free housing and visitability. Barrier-free design refers to total accessibility. It probably involves single story construction. Visitability involves a basic level of accessibility. One entry must be without a step and on that level there must be an accessible washroom. Washroom walls need to be reinforced to allow for the addition of grab bars if required. Doorways should be 34-36 inches wide.
NSLEO has been a member of the Affordable Housing Association of Nova Scotia for just under a year. In that time, it has helped educate the committee on the importance of including barrier-free design as a fundamental principle of affordable housing. NSLEO stresses the fact that there is already a shortage of accessible housing in the province - and it is a problem that is getting worse. Adding the stress of an aging population to a province that already has the highest rate of disability in Canada and a crisis looms. The fact that one-third of persons with disabilities live in poverty makes the need for accessible housing to be affordable is obvious. Unless steps are taken immediately to alleviate the situation, persons with disabilities may find themselves behind the eight ball. NSLEO assisted AHANS in drafting a resolution that, if adopted, would add accessibility to the issues the Canadian Housing Rehabilitation Association is working on.

Recognizing the importance of getting housing professionals to accept and promote the concept of visitable housing, NSLEO is trying to target industry leaders. One strategy has been the publication of articles in trade journals such as Planners Pen. Another strategy is to locate persons willing to "champion" the concept in universities such as within Dalhousie School of Architecture.

Recognizing the importance of getting the community to stand behind the concept of visitable housing, vice-chair Ralph Ferguson raised the issue of visitability at a workshop entitled "Healthy Housing, Healthy Communities".

Knowing that ensuring the members of our affiliate groups stay up-to-date on the efforts NSLEO is undertaking on this issue, housing is the feature article in the inaugural edition of the organization's news letter, "Pawprints".
Affordable, accessible transportation-Persons with disabilities in Nova Scotia often cite problems with transportation as one of the biggest barriers they face. Considering this is a province where only a handful of communities have any sort of public transit and where in many areas the only form of "accessible" transportation is the ambulance, that fact is not surprising. NSLEO is working to remedy this situation on a number of fronts:
NSLEO affiliates have worked tirelessly to establish and maintain the Dial-A-Ride or Community-Based Transportation system in Nova Scotia. They will be getting the fame (if not the fortune) they deserve in an upcoming issue of Abilities magazine.

The Community Based Transportation Association is back in action with the acting chair and vice-chair both members of the NSLEO Executive. Nova Scotia Community-Based Transportation Association stresses the need for door-to-door as an option for persons with disabilities.

Persons with mobility disabilities are well aware of the shortfalls in the transportation system. Getting decision makers to understand the implications of this has been difficult. NSLEO was thrilled when one took action. After making a presentation to a committee dedicated to improving affordable, accessible transportation, an opposition MLA decided he should raise the issue in the Legislature. NSLEO was asked to help draft the content of a private members bill aimed at improving affordable, accessible transportation in Nova Scotia.

Delivering a presentation at the "Bringing Transit Home" organized by the Dalhousie School of Planning; NSLEO hopes it will inspire action. Focused on issues within HRM the presentation pushed the audience to consider persons with disabilities as members of society who deserve to be able to choose from a number of transportation systems.
Daily living supports-Before the government of Nova Scotia will consider picking up the tab for a wheelchair, the person needing the chair must approach charities with his or her hand outstretched hoping their goodwill is enough to pay it. When people hear this, they are appalled. NSLEO has been hammering away at this issue since its inception. There has recently been some movement on the issue:
The children's wheelchair recycling demonstration project is chugging along. Nova Scotia League for Equal Opportunities is working to turn it into a universal program.

On 31 December 2005, the province started a new self-managed attendant care program. NSLEO is awaiting word on how well it's working.

There has been consultation with the MS Society about trying to establish a collective Nova Scotian voice working for the establishment of a universal mobility aids program.
Nova Scotia League for Equal Opportunities realizes there are many more issues affecting persons with disabilities that need attention in the province, but focusing on a few at a time enables us to give these issues the attention they deserve.
PEI Council of the Disabled
Summer Tutoring Program-The Council will be taking over a program offered for the past 17 years by another NGO for children with disabilities. The other NGO is in the process of dissolution and the program, that assists over 100 children with disabilities each summer, would not otherwise be offered if the Council had not taken it on. The Summer Tutoring Program is meant to ensure that students with disabilities don't lose ground in their education over the summer months. This has been done by way of the hiring of University Education [and other] students as Instructional Assistants [IA] across the province, who are each assigned a number of students in their geographical area to work with. During the last two weeks of school in June the IAs receive orientation to the program and then meet with teachers of the students referred to the program and receive an individual plan for maintenance of their skills over the summer. The IAs schedule one to three sessions with each student at regular times each week for 8 weeks during the Summer, during which the individual plan is implemented. The program had been a success over the pervious 17 years, serving thousands of children with a wide variety of disabilities in that time. The program is funded by federal and provincial student employment programs, the PEI Ministry of Education and Easter Seals.
Around the Block-The Council's second "Around the Block" project is preparing for its April tour of Island Intermediate and High Schools. "Around the Block" uses a live theatre show to sensitize students to disabilities and disability issues. The script for the show has been developed using the experiences of the project participants this year and last year, most of whom are young people with disabilities. This is our fifth theatre project in five years [including three "Kids on the Block" projects aimed at elementary students]. This year the show will tour across the Island and will also feature a "finale" VIP show at the Arts Guild theatre in Charlottetown that will feature invitees as diverse as the teens from the province's alternative school and the provincial Cabinet. Premier Pat Binns had attended two theatre program VIP shows in past years.
Pre-Employment Program-The Council's new permanent program focussed on the pre-employment needs of people with disabilities is going to be holding its third twelve-week small group session in Charlottetown this spring. The Pre-Employment Program is aimed at those who have no labor force attachment or have been removed from the workforce for the past three or more years as a result of their disability. The program provides life skills and employment readiness skills development, with the intent of preparing participants to enter or re-enter the job market. The first session was held in Charlottetown and the second in Summerside. Participants in the program have a very high retention rate and report high level of satisfaction with it.



Pre-Employment Program participants and staff undertaking program activities.
Alliance for Equality of Blind Canadians
Human Rights in Ontario
Ontario's Attorney General has announced the government's intention to significantly revamp the Ontario Human Rights Commission, to provide complainants with "direct access" to a tribunal. While no Bill has yet been introduced, opposition from equality seeking groups is growing.
Many fear such a system will only make it harder and not easier for complainants to gain redress from incidents of discrimination, and there exists great skepticism as to how, or to what extent complainants will be assisted through whatever new process is enacted.
A growing number of organizations and individuals are calling for an open and wide-ranging consultative process prior to the introduction of any legislation, as it is harder to amend a Bill once introduced.
For more details, visit the website of the new AODA Alliance at:
www.aodaalliance.org/about.
2006 Scholarship Program
This year, the AEBC is offering four $1,500 scholarships to outstanding blind, deaf-blind and partially sighted scholars studying at the post-secondary level. For details, visit: www.blindcanadians.ca/programs/moreInfo.php
Folk Music Fund-Raiser in Toronto
On Sunday evening, 11 June 2006, the AEBC's Toronto Chapter is holding a folk music fund-raiser at Hughs Room in Toronto, which will involve four outstanding performers - Nancy White, Eve Goldberg, Wendell Ferguson and Holmes Hook. For details, visit Hughs Room's website at: www.hughsroom.com, and click on the link to the Full Concert Calendar. We hope to see a lot of folks at this fun evening.
AGM
AEBC's 2006 AGM will take place in Kelowna, BC on Saturday, 6 May 2006, with a leadership seminar and welcoming reception the previous day. For further details, write info@blindcanadians.ca.
NWT Council of Persons with Disabilities
Accessible Housing
On 14 March 2006, a group of persons with disabilities, politicians and others gathered to participate in the sod turning that marked the beginning of construction of an eight-unit barrier free apartment building in Yellowknife. The design and construction of this building is exemplary for the NWT in that it is barrier free and modular and is the result of extensive consultation and partnerships between the Council, the NWT Housing Corporation and the design and construction business. The apartment is expected to be ready for occupancy in October of this year.
Sensitivity Workshops
The Council has completed sensitivity workshops across the NWT in Inuvik, Aklavik, Tuktoyaktuk, Fort Simpson and Nahanni Butte. A 3-day advocacy workshop was held in Wha Ti during which time the participants from each Tlicho community formed their local disability committee.
Local Committees
The Council now has local or regional disability committees in eight communities across the NWT.
Income Security Review
The government of the NWT is completing a review of all of the Income Security Programs that are offered across the territory. For the first time, several territorial non-government organizations, including ourselves, have been invited to participate in the development and direction of the full process of the review.
Summer Programming
The Council's Summer Experience Camp Program for children with disabilities living in Yellowknife has been featured as an example of success in a territorial report/publication on recreational opportunities for children living in poverty. This summer, the program is expected to be growing to a staff of three support workers who will each be accompanying a child with a disability to the summer day camp of the parent's choice.
Accessible Parking
The Council has been busy renewing the accessible parking placards across the NWT. These placards have proven to be a hot commodity with them being the only stolen item from several vandalized vehicles.
National Network for Mental Health
Projects Underway
The National Network for Mental Health (NNMH) has been very busy with a number of initiatives.
One of the two most prominent projects we are working on is the Built Network project (www.nnmh.ca) which is a customer services representative skills development course. This project is very successful and getting those folks who are not EI eligible into or returning to the workplace. This course focuses not only on the customer representative skills development of the participants, but also on the building of self-esteem and self-worth.
The second of the two projects is the Canadian Coalition of Alternative Mental Health Resources (www.ccamhr.ca). This is a coalition of consumer driven organizations from across the country who have come together to create a comprehensive voice on numerous issues involving the mental health consumer/survivor community of Canada.
In addition to our two very large projects, the NNMH has gotten into internet technology in a big way, and is now creating and maintaining websites for consumer organizations at a reduced rate to that of others in the private sector. If your organization would like more information, please contact Dave Gallson at program@nnmh.ca or Constance McKnight at ed@nnmh.ca.
It has been a very busy time for the NNMH, and with the Mental Health Commission of Canada being created by the Federal Government, and with the last report on mental health and mental illness due to be released in May by the Senate Committee on Science, Technology and Social Affairs, it proves to be a busy time in the near future.
A Voice of Our Own
is produced through the resources provided by
Human Resources Development Government of Canada.
may not represent positions held by CCD)
Council of Canadians with Disabilities
926-294 Portage Avenue
Winnipeg, Manitoba
R3C 0B9
Phone: 204-947-0303
TDD: 204-943-4757
Fax: 204-942-4625
Toll Free: 1-866-947-0303
Email: ccd@ccdonline.ca
Website: www.ccdonline.ca