Act Now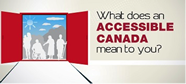 Empower U: Learn to Access Your Disability Rights Training on Canadian Human Rights, the Convention on the Rights of Persons with Disabilities (CRPD) and its Optional Protocol (OP) training aims to increase awareness of how to address discrimination using more familiar Canadian human rights laws such as Human Rights Codes and the newer international Convention on the Rights of Persons with Disabilities (CRPD). This is training for persons with disabilities by persons with disabilities. The training is part of a project funded by Employment and Social Development Canada and implemented by the Council of Canadians with Disabilities (CCD) in collaboration with Canadian Multicultural Disability Centre Inc. (CMDCI), Citizens With Disabilities – Ontario (CWDO), Manitoba League of Persons with Disabilities (MLPD) and National Educational Association of Disabled Students (NEADS). Read more.
Sign Up for our monthly digest
A monthly newsletter from CCD about what is happening in the community
A Voice of Our Own: June 2006
Issue 24 No.3

Sign On
At www.endexclusion.ca, the disability community invites people with disabilities and their allies to tell their stories for the purpose of Building an Inclusive and Accessible Canada and to demonstrate their support of a barrier-free Canada by signing the community's new declaration.
The purpose of sharing stories publicly is to weave together the personal, political, private and public, illuminating the tough personal and political challenges related to making disability rights a reality. John Rae, a CCD Vice Chair, shared this story:
My name is John Rae, and I live in Toronto. I was born with a degenerative eye condition known as retinitis pigmentosa, and now am almost totally blind.

I have been luckier in some respects than many of my disabled brothers and sisters when it comes to employment: I worked steadily for over 25 years before retiring last year.

I had three individuals who believed in me at crucial points in my life. I don't think they considered themselves "mentors", per se, but they certainly fulfilled that role at crucial points in my life.

I met the first when I arrived at university at age 18, and he helped me break away from the kind of over-protective home environment that is the reality for too many persons with disabilities. The second hired me as a Community Worker, and that's when I began to develop what has been a passion of mine for over 30 years.

The third fought hard and succeeded in hiring me into a full-time, permanent government job at a time when I was high in the disabled community. At that time, the Government understandably had a hard time believing I could become the unbiased individual that is required of a civil servant, but it worked out pretty well.

For many years, the Ontario Government has had a central Employment Accommodation Fund. This Fund, which needs to be far better publicized among managers and employees these days, provides needed accommodation for employees with disabilities. For me, the Fund covered the cost of adaptive technology and personal readers.

Through a fund such as this, managers cannot claim that extra costs are a reason for not hiring a person with a disability, as accommodation costs are not borne by their own Program's budget. This kind of program is usually only found in larger organizations, and should be and needs to be well publicized so managers are fully aware of its benefits.
If you are new to story telling, the web site shares ideas on how to begin. The collected stories will be shared on 2 November 2006 in Ottawa at an event planned for Parliament Hill.
The web site invites Canadians to sign the Declaration to Create an Inclusive and Accessible Canada. The Declaration states:
Our Vision of An Inclusive and Accessible Canada is guided by the principles and values of full citizenship through:
Equality
Self-Determination
Accessibility
United in our belief that Canadians with disabilities have equal right to full inclusion and citizenship and that Canadians with disabilities are valued contributing members of our communities;
Emphasizing that disability is part of human diversity and should be celebrated as such;
Concerned that Canadians with disabilities and their families continue to face significant barriers to full citizenship;
Aware that exclusion and a lack of access to disability supports perpetuate the unemployment and poverty of people with disabilities, and their families;
Further aware that exclusion can be compounded by gender, age, aboriginal status, culture, race, ancestry, sexual orientation and other differences;
Recognizing that all levels of government have a duty to facilitate the active citizenship and full inclusion of persons with disabilities;
Inspired by achievements of the past 25 years and the broad consensus that substantive change is required;
Acknowledging the need to work together to develop partnerships between all levels of government, the disability community and civil society;
And therefore, celebrating the 25th anniversary of the International Year of Disabled Persons and the first national Parliamentary report Obstacles, and the many achievements of the last 25 years;
Convinced that a long-term national disability strategy to create change is essential to address the poverty, the lack of disability related supports and the unemployment of Canadians with disabilities;
We commit to Creating an Inclusive and Accessible Canada where all Canadians with disabilities have the disability-related supports necessary to fully access and benefit from all that Canada has to offer.
We commit to working together to remove barriers and ensure the active citizenship and full inclusion of Canadians with disabilities. (Visit the web site to see who has signed the Declaration.)
CCD encourages everyone to do their part to Build an Accessible and Inclusive Canada. Begin with a visit to www.endexclusion.ca, which is the English site, or www.stopexclusion.ca, which is the French site.
VIA Rail Case
The CCD Transportation Committee's VIA Rail case was heard by the Supreme Court of Canada on 19 May 2006. CCD's Press Release and factum is available on the CCD Web site. CCD legal counsel for this case, David Baker presented CCD's arguments to the Court. CCD Transportation Committee Chairperson Pat Danforth was present at the Court to observe the proceedings. CCD is hoping for a positive decision in support of access that will send a strong message to transportation providers in Canada.
A number of groups and organizations intervened in this case, expanding the information available to the Supreme Court. The interveners were: a coalition of organizations consisting of CCD's member group AEBC, Trans Action Now, CACL and CHHA; another CCD member group DAWN Canada; CAILC, the Canadian Human Rights Commission and the Quebec, Ontario, Manitoba and Saskatchewan Human Rights Commission. (Pictured are community members who were involved in the case and present at the Supreme Court.) CCD appreciates the support all the interveners brought to this very important case.
UN Convention Consultation
On 19-20 May 2006, CCD held a consultation to provide input from a disability rights perspective to the Canadian delegation that will be working on the development of the proposed UN Convention to protect and promote the human rights of persons with disabilities at the United Nations (UN) in New York in August. CCD International Development Committee members in attendance were: Steve Estey (Committee Chairperson), David Shannon, Angie Allard, Mary Ennis, Chris Lytle.
Community members in attendance included: Chloé Seradori (COPHAN), Zephania Matanga (African Canadian Disability Community Association), Rachel Ross (NEADS), John Rae (AEBC), Anna MacQuarrie (CACL), Barbara Anello (DAWN Ontario), Jim Roots (CAD), Cathy Moore (CNIB), and Bruce Porter (Social Rights Advocacy Center). The Government of Canada sent a large delegation to observe the proceedings at the community consultation.
Charlotte McClain-Nhlapo (South African Human Rights Commission) and Jeanette Sautner (Department of Foreign Affairs, United Nations, Human Rights and Economic Law Division) opened the session and shared their views on the future challenges facing the proposed convention. The message coming from many UN experts is that the perfect can be the enemy of the good; that is, if convention drafters hold out for perfection on every article, the end result could be either no convention at all or a process that labors on for many years.
The consultation looked at the following articles: Article 2 (Definitions), Article 4 (General Obligations), Article 6 (Women with Disabilities), Article 7 (Children with Disabilities), Article 11 (Situations of Risk), Article 12 (Equal Recognition Before the Law), Article 21 (Freedom of Expression and Opinion and Access to Information), Article 23 (Respect for the Home and the Family).
During the meeting, there was considerable debate about whether or not there should be a definition of disability in the Convention. Some people believe that like the Charter of Rights and Freedoms the Convention does not need a definition of disability. Charlotte McClain-Nhlapo made the point that the convention is almost completely elaborated without a definition of disability. Monitoring is another problematic issue. The question of monitoring is difficult because the UN is revamping its whole monitoring system. Ms. McClain-Nhalpo suggested that a monitoring committee, limited by a sunset clause, be established and after the sunset of the original committee, the proposed convention would merge into whatever new monitoring system the UN develops.
Web Site Launched
At a reception jointly hosted by CCD and DPI on 26 May 2006, Disabled Peoples' International (DPI) launched its new "International Convention on the Rights of Persons with Disabilities" web site. This web site is the home for DPI's new Ratification toolkit. Speakers were Matti Aaltola, Deputy Head of the Canadian Mission for Finland; John Hannaford, Head Canadian Delegation to the U.N. Convention negotiations; and, Laurie Beachell, National Co-ordinator, CCD; Ms. Liana Hattingh, Charge d'Affaires, High Commission for South Africa; and Commissioner Charlotte McClain-Nhlapo, South African Human Rights Commission were among the special guests to the event. DPI's Executive Director, Mary Ennis, provided a virtual tour of the web site.
CCD Will Make New Opportunities For Charitable Giving Available
For many years now some individuals have approached the Council of Canadians with Disabilities to make financial donations for the work of our organization. CCD appreciates these contributions. We believe people would appreciate more immediate and easily available opportunities to make these donations. Accordingly, we will be introducing a new feature to our Internet and other communications. We hope this new feature will make donation opportunities more easily available to those who wish to use them.
The CCD invites all who wish to contribute to our common cause to donate to one of the following two Funds:
THE CCD GENERAL FUND: This Fund supports all the work of the Council of Canadians with Disabilities (CCD): researching, raising awareness, educating, and promoting legislation, policies and programs to improve the status and defend the constitutional and human rights of persons with disabilities.
THE CCD DISABILITY RIGHTS DEFENSE FUND: The Council of Canadians with Disabilities has set up this Fund to provide financial resources to defend and advance the rights of Canadians with disabilities in regard to court and other legal costs.
Donations to either of these funds can be made on a one-time or monthly basis. Those who choose to support the CCD Disability Rights Defense Fund on a monthly basis (minimum amount $5 per month) will be designated Disability Rights Defenders, and receive a quarterly email update on the work we do in the courts. Donors can designate gifts and donations in honor of, birthday or anniversary donations. In a similar way, "In Memoriam" gifts will also be welcomed.
Traditionally people have sent flowers when friends or loved ones die. Recently however, more and more people are choosing to support causes important to their family or loved one as an alternative gesture. For them it's a more meaningful way to mark the event, and better reflects the values of the person who has passed away. Wills and bequests, life insurance, gift annuities, endowment funds, gifts of stocks, are some examples of planned giving. Those with more means or assets may wish to explore these and other ways of planned giving. For this reason, opportunities and information for planned giving will also be provided on our website.
The Council of Canadians with Disabilities is a registered charity. Donations are tax deductible and donors will receive a charitable tax receipt for 100% of their gift(s) to the Council of Canadians with Disabilities. To minimize administrative costs, the Council of Canadians with Disabilities will use the services of Canada Helps for our on-line donation transactions. This is a secure and easy way to give. CanadaHelps.org (CHO) is a not-for-profit charity portal and a registered public foundation that seeks to promote and facilitate philanthropy through online giving. CanadaHelps.org provides a very cost effective (3% of donation) way for CCD to receive and manage donations. More information on how CanadaHelps.org operates can be found on their website at: www.canadahelps.org/donor_start.aspx.
The Council of Canadians with Disabilities is very deliberately using the word opportunities in regard to these donation mechanisms. It is not our intention to do more than offer opportunities for people to donate. We are not contemplating sending fundraising or solicitation letters to anyone by mail or other media.
CCD Holds Annual General Meeting
On 11 June 2006, CCD National Council of Representatives elected a new Executive Committee: Chairperson Marie White, John Rae Vice Chair, Margot Brunner-Campbell Vice Chair, Roy Muise Treasurer, Pat Danforth Secretary, Chloé Serradori, Member-at-Large.
In this edition of the Voice, six Council members are profiled. Others will be profiled in coming editions.
Margot Brunner-Campbell
Margot Brunner-Campbell lives in a northern Alberta. She has worked as a student service provider and academic advisor for fifteen years at Grande Prairie Regional College. She holds a Masters degree in Education Administration from the University of Alberta and is currently continuing her education in the health care field. Margot is currently the president of Alberta Committee of Citizens with Disabilities. For the past two summers, Margot has traveled to China to teach and supervise Education curriculum courses and English as a second language. (Pictured is Margot Brunner-Campbell (background) with Doreen Gyorkos (foreground). Doreen was elected as a Member-at-Large on Council.)
John Rae
John Rae retired in 2005 after a 24-year career with the Ontario Public Service, during which time he was a Consultant with the Centre for Disability and Work, an Education Officer with the former Employment Equity Commission, and finally a Program Officer with the Accessibility Directorate of Ontario.


John has been a board member of many human and disability rights organizations. He has been President of PAL Reading Service, the Canadian Legal Advocacy, Information and Research Association of the Disabled (CLAIR), the Blind Organization of Ontario with Self-Help Tactics (BOOST), the Don Vale Community Centre, and Co-chaired the Coalition on Human Rights for the Handicapped, which secured the first human rights coverage for persons with disabilities in Ontario. (John Rae is pictured on the right.)
In April of 2000, he received the Individual Human Rights Award from the Ontario Public Service Employees Union (OPSEU), and served on several Committees within the Canadian Labor movement prior to his retirement.
In January, 2006, he was elected to the Board of the AODA Alliance, where he brings his 30 years of experience in the disability rights movement to the work of this new organization.
In January, 2003, he was elected to represent the AEBC on CCD's National Council and was elected 1st Vice President at the 2006 AGM.
Contact John Rae via email: rae@BlindCanadians.ca.
Roy Muise
I was first diagnosed and hospitalized with a mental illness in the late seventies, however, it was not until 1990 that I became acutely ill with depression. The next 10 years were spent trying to regain the control over my life that this illness had taken from me. I had many hospitalizations, countless medication changes, and a period of four years where I was not able to work at all. Through it all, I made it a part of my recovery, to learn everything I could about my illness and of various ways to deal with it. I now feel that I have regained control of my life. (Roy is pictured on the right.)
Since 2001, I have been employed at the Consumer Initiative Centre, a program of the Self-Help Connection in Dartmouth Nova Scotia, offering Peer Support. In 2004, I traveled to Georgia to take their Certified Peer Specialist training, becoming the first Certified Peer Specialist in Canada.
I am currently the Board Chair of the National Network for Mental Health and the Chair-elect of the National Consumer Advisory Council of the Canadian Mental Health Association. I represent the NNMH on the Council of Canadians with Disabilities where I have just been elected Treasurer. I also represent the NNMH on the Canadian Alliance for Mental Illness and Mental Health. I am a founding member of the Canadian Coalition for Alternative Mental Health Resources where I am a member of the Policy Committee. Locally, I am on the Board of Directors and past-president of the Halifax/Dartmouth Branch of CMHA as well as the Consumer Involvement Working Group of the Mental Health Branch of the Nova Scotia Department of Health. I played an active role on various committees of the Capital District Health Authority during their recent reform of how Mental Health Services are delivered in the Halifax Regional Municipality. In my spare time, I enjoy reading, walking and cooking.
Pat Danforth
Pat lives in Victoria BC. She has been involved with the disabled person's movement since the early '70s. She is one of the first Board members of the Council of Canadians with Disabilities (CCD) and is a founding mother of the DisAbled Women's Network (DAWN). Pat's background is in human rights and she worked for the Saskatchewan Human Rights Commission for 15 years. She chairs CCD's Transportation Committee and is a member of its Human Rights Committee. She has been a member of the BC Coalition of People with Disabilities Board since 2001. Pat's training includes human resources management, program and policy development, and mediation. Pat currently works with the Victoria Disability Resource Centre as an Employment Consultant.
Members-at-Large on Council
The Annual General Meeting also elected the two Members-at-Large on Council: Terry McIntosh and Doreen Gyorkos.
Terry McIntosh
Terry has been a long time member of the Manitoba League of Persons with Disabilities. In 2005, she was elected to Provincial Council, and currently serves as Treasurer on the Executive.
Terry has lived with her disability all her life and has learned to advocate for herself to live an independent life. She has worked at the Independent Living Resource Center for 20 years. Presently Terry is the Staffing Coordinator for the Qu'Appelle Housing Project.
Terry has been involved on many committees such as the Art Braid Handi-Transit committee, the MLPD Transportation committee, the Cancer Society's Dragon Boat Race Planning committee and Fokus Housing Council.
Terry is well known and respected in the Winnipeg disability community. She has a thorough knowledge of issues important to our community.
Doreen Gyorkos
In 1985 Doreen Gyorkos lost her hearing. As a result of the loss, Doreen sought resources, which were initially unfamiliar and unavailable to her in her community. Through determination to cope with this disability, she was able to eventually access and become actively involved in a number of groups offering support and education to the hard of hearing. Specifically, she has been a member of the Lethbridge Branch of the Canadian Hard of Hearing Association for the past twenty years-for almost all of this time she was association president. The Lethbridge Branch of the Canadian Hard of Hearing Association has been instrumental in getting theatres, churches, city hall and businesses accessible to the hard of hearing.
When Doreen lost her hearing, she was employed with the local school board as a teacher's aide for behaviorally and academically challenged students. She continued this employment, functioning as a severely hearing impaired person by speech reading and adapting as various situations arose.
Doreen has become a certified Level III instructor of speech reading from the Coping with Hearing Loss Independence Program. She is presently an instructor who helps people deal with hearing loss and teaches speech-reading classes, currently teaching a class at the local senior's center.
Doreen has also given presentations to local service organizations and held instructional sessions at the Lethbridge Regional Hospital and lodges and nursing homes to educate people on how to treat a hard of hearing person, what their needs are, and how best to communicate with them.
Doreen is currently serving her eighth year on the board of the Alberta Committee of Citizens with Disabilities (ACCD). She has held the positions of president and secretary, and is currently vice-president, conducting many of ACCD's meetings via teleconference calls. Doreen has served six years as ACCD's representative on the board of the Council of Canadians with Disabilities.
Doreen is presently a member of the Senior Health Board of the Chinook Health Region. She has been instrumental in getting changes made within the Region to assist the hard of hearing patient/resident in making their stay stress free.
CCD Award Recipients
The CCD Award went to:
BCCPD: Tom McGregor
ACCD: Robin Slater
Saskatchewan Voice: Lil Luthje
MLPD: Leonore Saunders OM
COPHAN: Martin Bergevin
NS LEO: Donald Mullins
PEI Council: Pat Rose
COD: Kier Martin
CAD: Elaine Campbell
DAWN Canada: no recipient
NEADS: Mahadeo Sukhai
NNMH: Bill Mussel
TVAC: Gavin Bamber
People First: Shane Haddad
PUSH-ON: Cal Young
AEBC: Denise Sander
NWT Council: Alex Nitsiza
BC Coalition of People with Disabilities
In 2004, BCCPD became a founding member of the Hepatitis C Compassion Umbrella of Canada (HCCUC). In July 2006, we celebrated long-awaited justice for the Canadians who contracted hepatitis C through Canada's blood system and were previously excluded from the government's 1998 compensation agreement. Prime Minister Stephen Harper and Health Minister Tony Clement announced a $1 billion package for the approximately 5,500 "forgotten" hepatitis C victims. Lump sum payments will be made to applicants based on factors such as level of disease, probability of disease progression and loss of income. The compensation package now must be approved by the Courts, and an administrative structure set up to evaluate applications and forward payments. It is estimated that it will take a year for people to start receiving financial assistance.
It has been a very long wait for these hepatitis C sufferers, many of whom have struggled with ill health for more than 20 years. The lack of government response to their plight has been discouraging. The HCCUC was formed to marshall the power of community groups to obtain compensation for excluded victims.
With HCCUC, BCCPD was part of a Canada-wide campaign that resulted in support from over 400 community groups. This success has demonstrated the power of a united community voice.
Alberta Committee of Citizens with Disabilities
People with Disabilities Forced From Homes Due to Lack of Personal Care Attendants
On June 19, Michael Creasey returned home from vacation to his apartment of over ten years to find a message from Capital Health Authority informing him that he will need to move to a room at the Millwoods Shepherds Care Centre, a long-term care facility, immediately or lose home care support services.
Michael and six other residents of Sir Douglas Bader Towers in Edmonton Strathcona were told that they had to leave their homes this week because Bayshore Home and Health, the agency contracted three weeks ago to provide home care for the building, cannot find personal care attendants to work the night shift.
Brian Roloff, a 32-year-old man with quadriplegia, is another resident who has been told he must move to Edmonton Millwoods Shepherds Care. Brian doesn't want to move. "It is hard enough to live with my disability, and I don't want to move to an assisted living facility where I will lose my privacy and independence."
Brian also has a girlfriend who spends a lot of time at his place. He has been told that the amount of time his girlfriend can spend with him at the new facility will be restricted.
Bev Matthiessen, ACCD's Executive Director says this situation is desperate. "I can't imagine what it feels like to be given three days' notice to leave your home, your friends, and your belongings." She hopes there is a better solution than what is being proposed. "I am confident that Capital Health Authority will be able to find a solution that will support these individuals to keep their homes and remain in their communities."
Provincial PDD Board Disbanded
On April 11, the provincial government announced its intent to "enhance the role of the community boards that administer services through the Persons with Developmental Disabilities (PDD) program, while improving the province's ability to better coordinate all the programs that provide support to Albertans with disabilities."
The changes will be legislated under Bill 30, the Persons with Developmental Disabilities Community Governance Amendment Act, 2006. Under the Act, the six existing community-based boards will continue to work with individuals, families, guardians and local service providers to meet identified needs as they have in the past. However, rather than report to the PDD provincial board, the community boards will report directly to the Ministry of Seniors and Community Supports.
In the press release announcing Bill 30, the government states that the new structure will ensure "PDD services are delivered in a fair and effective way throughout the province … and will also promote the coordination of disability programs and services."
ACCD is hopeful that the new structure will effectively address issues persons with developmental disabilities face across Alberta. We also hope that it will be comparable to the Alberta Children's Services program Family Support for Children with Disabilities. This program incorporates a new emphasis on supporting families as they care for their children with disabilities. We look forward to consulting with the Ministry as the new approach is implemented.
City Of Edmonton: ASL and Real Time Captioning Services
The City of Edmonton now automatically provides American Sign Language (ASL) and Real Time Captioning services at all major events held at City Hall and Churchill Square. As well, the use of an Assistive Listening Device is also available upon request for meetings within City Hall.
Services will be provided at other city events, public meetings or open houses, too. For these events, Deaf or hard-of-hearing Edmontonians and their families and friends simply contact the Citizen Action Centre (not the City Department that is hosting the event) to request ASL or Real Time Captioning services.
Meet the New Board
On Friday, May 26, ACCD hosted its Annual General Meeting. At the meeting, we welcomed some familiar and some new faces to our board of directors. We look forward to another active and successful year, as we work to create a society that reflects our three guiding principles: equity, accessibility, and full participation.
President — Margot Brunner-Campbell
Vice President — Chloe Atkins
Secretary — Doreen Gyorkos
Treasurer — Maryetta Thielen
Nominating Chair — Diana Brent
Member-At-Large — Karan Smith
Member-At-Large — Earle Snider
Saskatchewan Voice of People with Disabilities
The transformation has finally taken place; the Voice no longer is represented by specific Chapters, but has been successful in attracting new Board members through a nomination process, which represents a definite change to the makeup of the Board. Congratulations to the three newest Board Members: Gord Gunoff; Marc Brendon and Bryon Palmer. Each one of these gentlemen brings years of experience and expertise and it will certainly be a pleasure working with the new Board.
The Voice would also like to thank three of its outgoing members: Lil Luthje; J.D. McNabb and Jamie Ellis. The combined expertise of these three people can never be replaced and will be missed.
Phase Two of the Abuse of Women with Disabilities is coming to an end. We are in the process of finalizing the project and presenting the recommendations to government on our findings. Phase Two has been very successful. Workshops were presented throughout the province to community groups, transition homes, first responders, government official, and politicians. Presentations to government departments to develop services that include women with disabilities were well received.
Some of the other work we have been doing has been on financial abuse of people with disabilities and seniors. An attempt was made to identify policy of financial institutions on identifying financial abuse. Unfortunately, we were not successful in our attempts to find out what protocol is in place, or if there is an attempt to develop one. Once again, we will have to refocus our efforts and take a different approach on this subject.
Have a good summer!
Manitoba League of Persons with Disabilities
MLPD Holds Annual Meeting
On Wednesday, June 7th, the MLPD held our 2006 Annual General Meeting. This year, the meeting was held in Winnipeg's new Millennium Library in the Carol Shields' Auditorium. Our guest speaker was City Councilor Jenny Gerbasi. Councilor Gerbasi has sat on City Council for the past eight years and has worked diligently on issues related to persons with disabilities, including serving as Chairperson of the City's citizens' committee, the Access Advisory Committee.
We also began a tradition this year of awarding deserving individuals a Human Rights pin for their work in the area of human rights for all people. Seven people were 'pinned' with a Human Rights Star - a symbol designed by the organization developing the Canadian Human Rights Museum. The star reminds us to "Reach for the Stars" and strive for excellence in all we do.
Disabilities Issues Office Holds Public Forum on Disability Supports
The MLPD delivered a presentation at the Public Forum on Disability Supports organized by the provincial Disabilities Issues Office. We stressed that Disability Supports are a citizenship right; that a provincial Disability Support policy that is flexible and creative is needed; there is a need for a long-term disability strategy which includes adequate income levels; and, supports need to be portable and span one's lifetime, and more. Consumer control, affordability, flexibility and responsiveness to individualized needs is key. The MLPD will work to ensure work moves forward to establish improved strategies and policies for Disability Supports.
MLPD Branch To Hold "Music In The Park"
One of our more active and involved provincial branches, the Souris Branch, will hold their annual "Music In The Park" on Sunday, July 2nd. This day is meant to mix fun and entertainment while educating people about access and other issues important to people with disabilities.
Human Rights Case
Several meetings have been held in the past two months with Winnipeg lawyer Sherri Walsh and the Disability Support Coalition of Manitoba regarding the application for the status of "Friend" in upcoming proceedings concerning a Human Rights complaint between an individual with disabilities and the Government of Manitoba, Family Services and Housing. The complaint deals with the discrepancy in funding under the regulations of the Employment and Income Assistance Act, which provides this individual with less funding simply because he lives in the family home. Our position is that this discriminates on the basis of both family status and disability. In terms of establishing discrimination in the sense of disadvantage, we are focusing on the area of "choice". We believe that the discrepancy in funding denies a person with disabilities the right to choose. This disadvantage is compounded when dealing with a person with mental disabilities. Members of the Disability Support Coalition of Manitoba include Community Living Manitoba, Manitoba Down Syndrome Association, Asperger's Association Manitoba, Cerebral Palsy Association, and the MLPD. The hearing will take place in the Fall of 2006.
Persons United for Self-Help in Northwestern Ontario
With the introduction of the Accessibility for Ontarians with Disabilities Act (AODA) 2005, PUSH Northwest is beginning a unique project to assist local businesses in our area to prepare for the increasing accessibility requirements that will be applied to both the public and private sector under the Act.
Our organization has initiated a program that offers property assessments free of charge to any private sector business that wishes to participate. These assessments are conducted by a trained staff member and overseen by a committee of persons with disabilities and architectural professionals, who have designed the program to identify existing barriers and obstacles that would prevent persons with disabilities from having full access to businesses in our community. After each assessment, the business owner is provided with a report that offers cost-effective recommendations for the removal of barriers and suggestions on how to increase the level of accessibility of their premises, in anticipation of the regulations that will come into effect under the AODA.
It is an exciting time for persons with disabilities in Ontario, as the goal under this new legislation is to make all public and private buildings accessible by 2025. Persons United for Self-Help is pleased to be involved in the promotion of the Act and the removal of barriers to inclusion in Thunder Bay and Northwestern Ontario.
Nova Scotia League for Equal Opportunities
Election Results
Though the results of the June 13 Nova Scotia Provincial Election mean that MLAs are returning to a Province House that looks much the same as it did when they left, the campaign itself was an exciting exercise for persons with disabilities.
While a Conservative minority government is what they left as well as what they returned to, Nova Scotians saw a shift in the way persons with disabilities and their issues are treated by the political parties. All three established political parties had a disability component in their platform. With a disability rate of over 20% of the Nova Scotian population, you might assume that the issues affecting persons with disabilities would have been considered a key priority yet no party recognized them as such. In a precursor to the election being called the Conservatives even announced a wheelchair recycling pilot program for adults.
During the campaign rather than approach the parties by itself, Nova Scotia League for Equal Opportunities chose to spearhead a loose coalition of disability organizations. Working with the Kendrick Report Coalition and TEAMWork Cooperative, the former a group of about 70 organizations committed to ensuring life in the community is a viable option for persons with disabilities and the latter a network of 29 agencies involved with employment for persons with disabilities. The group also had guidance from Nova Scotia's Disabled Persons Commission. Each agency played a role characterized by their strengths. NSLEO worked to analyze party platforms, survey the parties on issues, and hold an all-party candidates' debate. At the same time, NSLEO could learn from other initiatives.
The strategy was at minimum moderately successful. Persons with disabilities had some of the issues they deal with addressed by party personnel and disability organizations collaborated with each other. For once, the disability community seemed to be respected as a distinct constituency. Through it all, we are glad we did it. NSLEO will look into the possibility of embarking on a similar endeavor for both the municipal and federal elections.
Partnership for Access Awareness Nova Scotia (PAANS)
While in the midst of the election campaign, NSLEO's cohort Partnership for Access Awareness held its flagship event, a week full of events aimed at increasing awareness of disability-related issues. Access Awareness Week was a resounding success. Eight scholarships for students with disabilities were awarded, five Mel Hebb Hourglass Action Awards for contributions to increasing access were presented, nine grants to assist organizations in hosting events in their communities were allocated, and approximately 150 people attended an outdoor barbecue in Halifax's Parade Square despite rain showers and grey skies. Even more impressive than the numbers is the fact that PAANS is reaching new audiences with a message of inclusion - and that those audiences seem to be listening.
In addition to Access Awareness Week PAANS has been busy putting together strategies for reaching a youth audience. Last year, it set up a Speakers' Bureau to bring persons with disabilities into classrooms of schools across the province. The main objective is to provide students with the opportunity to ask questions of persons with disabilities about how they live their lives, how they cope with their abilities, and how to treat persons who are different from them. This year, we are refining the process by examining ties to the curriculum. Another initiative is the Mentor Program that PAANS hopes to launch in the fall. The program will match students with disabilities with a mentor with a disability. The third initiative features an accessibility survey to evaluate businesses and community spaces to be carried out by children and youth. As they say, today's youth are tomorrow's leaders -we better teach them the value of inclusion while we can.
Annual General Meeting
Two weeks following the election, NSLEO held its AGM, annual awards ceremony, and information-sharing session.
This year's Award Ceremony was led by a presentation by Steve Estey, Chair of CCD's International Committee. Estey spoke on his work with a standing committee of the United Nations developing a Charter of Rights for Persons with Disabilities. NSLEO then recognized the contribution of Jerry Pye in improving the lives of persons with disabilities in the province. Due to our policy of not honoring sitting politicians, NSLEO had to wait for Pye, himself a person with a disability, to retire following nearly 20 years as an elected official. Pye served for 11 years as an alderman for the city of Dartmouth, and eight as a member of the NDP caucus in Province House.
Nova Scotia League for Equal Opportunities then presented five awards to persons with disabilities for their contribution to the community. Award recipients include:
Donald Mullins received the CCD Award of Recognition for his devotion to Disabled Individuals Alliance, NSLEO's affiliate in Halifax, and his work in the community as a whole.
Halifax's branch of VoicePrint Canada received the media Award for their efforts of bring news of the community to people who cannot access printed material.
Gerald Lees was recognized with an NSLEO Lifestyle Award for being "Mr. CNIB in Pictou County".
Earl Flynn was also awarded a NSLEO Lifestyle Award for his passion and dedication to improving access to the community for persons with disabilities.
Charlie MacDonald, former Executive Director of the Disabled Persons Commission, was honored with the NSLEO Award of Recognition for his effort to bring the community together to increase the inclusion of persons with disability in today's society.
On the business side of the meeting, NSLEO made a commitment to pursue Outcomes Measurement for both the provincial organization and the affiliate groups.
If the past determines what the future looks like and given the people sitting around the table, the future of persons with disabilities in Nova Scotia looks promising.
PEI Council of the Disabled

Summer Tutoring Program
The Council's first year offering its Summer Tutoring Program is under way and is proving successful. The program is intended to ensure that students with disabilities don't lose ground in their education over the Summer months. The program had been run by another NGO (which has since dissolved) for 19 years. The program is serving 140 children with disabilities this Summer. The Council hired a Co-ordinator and 13 University Education (and other) students as Instructional Assistants (IA), each of whom work with about ten students in a geographical area. The IAs have between one and three one hour sessions with each child each week, and work on the retention skills most needed by each child. The program had been a success over the pervious 19 years, serving thousands of children with a wide variety of disabilities in that time. The program is funded by federal and provincial student employment programs, the PEI Ministry of Education and Easter Seals. (Pictured above: The Co-ordinator and 13 Instructional Assistants of our Summer Tutoring program.)
Around the Block
The Council's second "Around the Block" project wound up in May, after a successful tour of Intermediate and High Schools across the province. "Around the Block" uses a live theatre show to sensitize students to disabilities and disability issues. The script for the show was developed using the experiences of the project participants over the two years, most of whom are young people with disabilities. A background musical score was added to the show this year, courtesy of the original musical work of one of the participants. A grand finale VIP show was held at the Charlottetown Arts Guild theatre. That performance was recorded for a limited distribution DVD entitled "AtB2". A third "Around the Block" project, which will add musical performances by participants, is planned for 2006-07, if funding is available. That would be our sixth theatre project in six years (including three "Kids on the Block" projects aimed at elementary students). (Pictured above: Performance of Around the Block project.)
Awards
The Council's Annual Meeting on June 17th was the opportunity to present our annual Access Awards, as well as CCD's annual award. Long time Board member Pat Rose was the recipient of CCD's award for this year. Among others, the Board members of the "Education Coalition" which had run the Summer Tutoring program for 19 years, were given an Access award to recognize their long standing support for children with disabilities. The province's largest daily newspaper gave considerable coverage to the awards this year. (Pictured above: CCD Council Representative Tony Dolan presents the CCD award to recipient Pat Rose.)
Coalition of Persons with Disabilities - Newfoundland and Labrador
REGISTER TODAY
for Canada's 1st national
conference on youth homelessness!
BEYOND THE STREET: Youth & Communities Taking Action on Homelessness is Canada's first national conference focused on youth homelessness! This exciting and important event will be held at the Battery Hotel & Suites in St. John's, Newfoundland and Labrador on September 27-29, 2006.
CONFERENCE GOALS
The BEYOND THE STREET national conference promises to be enlightening and unforgettable! This event is all about youth and communities uniting to address youth homelessness. BEYOND THE STREET's expected outcomes are to reinforce existing - and build new partnerships between - community-based homelessness networks, to showcase successful Canadian initiatives to address homelessness that actively engage youth in finding solutions and taking leadership, and to develop strategies and action plans to take back to our communities.
BEYOND THE STREET delegates will be youth (for the purpose of this event, 'youth' is considered to be persons up to 30 years of age) and individuals from youth-serving organizations, shelter and housing providers, policy-makers, academics, charities, governments, and the private sector.
This conference is designed to maximize shared learning, interaction, and collaboration among delegates. This event will bring together key stakeholders to help lay the foundation for ongoing national, regional, and local action to respond to youth homelessness in our country.
CONFERENCE CONTENT
BEYOND THE STREET will profile research, issues, and initiatives focused on youth homelessness from across Canada via plenary presentations, workshops, displays, field visits, performances, and networking opportunities. The following themes will be highlighted:
Engaging Youth: in housing and shelter development, community leadership, and social enterprise
Housing: innovative design and housing and support programs
Youth in Crisis: addressing mental health and addiction's issues, and sexual exploitation
Field Work: youth culture and empowerment, translating learnings between large and small communities, networking, collaborating, and more!
Research in Action: highlighting programs that think outside the shelter box
OPEN SPACE TECHNOLOGY
Open Space Technology, an innovative and inclusive process that recognizes participants as the real experts, will be used at BEYOND THE STREET to allow and encourage delegates to draw upon and learn from one another's passion, experience, and knowledge to help address youth homelessness.
DISPLAY BOOTH SPACE
A limited number of display booth spaces are available to individuals / organizations attending BEYOND THE STREET to showcase your organization, your activities, and your best practices. Delegates may request display booth space via the registration form; requests will be accepted on first come first served basis - don't delay!
CONFERENCE UPDATES
Are you interested in receiving exciting BEYOND THE STREET conference updates? If so, add your e-mail address to a listserv by e-mailing updates@youthhomelessness.ca.
COMMITMENT TO ACCESSIBILITY & OFFICIAL LANGUAGES
BEYOND THE STREET is committed to providing accessibility. The conference venue is accessible as are all planned event activities. Every effort will be made to provide accessibility supports as required by conference participants. Delegates are asked to specify accessibility needs upon completion of registration forms.
BEYOND THE STREET is also committed to creating a working and learning environment inclusive of both Canadian Official Languages. All plenary activities and various workshops will be delivered with simultaneous translation services available. Conference materials will also be provided in both languages.
BEYOND THE STREET HOST & PARTNERS
This event will be hosted by the St. John's Community Advisory Committee on Homelessness in partnership with Raising the Roof, the Urban Core Support Network, Service Canada, and potentially the National Homelessness Initiative.
REGISTER TODAY!
Download Registration Form in PDF
Cliquez ici pour téléchargez la forme d'inscription
Don't miss this important event - see you in St. John's!
For more information on BEYOND THE STREET please visit www.youthhomelessness.ca or contact:
Leslie King
Conference Coordinator
E. leslie@youthhomelessness.ca
P. 709.743.2589
Debra Buchanan
Conference Assistant
E. debra@youthhomelessness.ca
P. 709.738.8390.
Pour des informations supplémentaires appelez Luke Gaulton á 709.738.8390 ou envoyez un courriel à Joel Greene (joel@youthhomelessness.ca).
People First of Canada
will be hosting a Retirement Party for
PATRICK GOLDING


at their
15th Annual General Meeting
in
Winnipeg, Manitoba
on
Friday September 29th, 2006
at the
Victoria Inn
Conference and Meeting Centre
1808 Wellington Avenue
Winnipeg, Manitoba
Pat Golding has retired from People First of Canada.
You are invited to attend a Retirement Party in his honor!
PFC financially supports only the Board of Directors to attend AGMs, therefore, all other invited guests must pay their own travel and accommodation costs to attend the banquet. People First members: We ask you to seek financial supports to attend this event through your local/provincial/territorial chapters.
Banquet tickets are $35.00 per person.
For more details, please contact Mirja at the People First of Canada office at mcole@peoplefirstofcanada.ca or 1.204.784.7362.
Please let Mirja know by September 4, 2006 if you will be attending.
We hope you can come celebrate 15 years of PFC!
______________
HARD-WIRING INCLUSION
A Conference about Building an Accessible ICT World
October 26-27, 2006, Winnipeg, Manitoba, Canada
Presented by the Dis-IT Research Alliance, HARD-WIRING INCLUSION will bring together disability advocates, designers and product developers, manufacturers and service providers, policy makers, and researchers to share knowledge and develop strategies to mobilize that knowledge into action and change.
For people with disabilities, information and communications technologies (ICTs) offer the promise of greater access to information, communication, education, employment, shopping, entertainment, etc. Unfortunately, many ICTs do not create greater access; in fact, many create new barriers. The Disability and Information Technologies (Dis-IT) Research Alliance is studying what needs to be done to ensure that ICTs are accessible to and inclusive of people with disabilities.
To provide plenty of opportunities for dialogue and interaction, most sessions at HARD-WIRING INCLUSION will be moderated panel discussions featuring diverse perspectives from industry, government, the disability community, etc. Conference topics include:
Strategies for encouraging the development of accessible ICTs
Business benefits of designing accessible mainstream technology
Finding common ground between human rights and bottom lines
Tools for engaging communities in accessible/inclusive ICTs
Conference sessions will address the accessibility of a variety of ICTs, including:
Wireless and IP-based telecommunications services
Automated banking machines, point-of-sale terminals and other self-service public and retail technologies
Websites
ELearning technology and courseware
Technology used as workplace accommodations
Who Should Attend?
Representatives of companies that develop, manufacture, or market mainstream or assistive technology hardware, software and services
Activists from self-representational advocacy organizations of people with disabilities
Policy makers from federal, provincial and municipal governments
Businesses that use technology as accommodations for employees and/or customers with disabilities
Rehabilitation professionals and other service providers who assist people with disabilities to obtain technology
Researchers and students in related fields (e.g., disability studies, information technology, computer science, engineering)
Complete details about this conference will be posted at http://www.dis-it.ca in July. For further information, contact Dis-IT's Community Co-Director Gary Annable at (204) 947-0303 or ine@ccdonline.ca.