Act Now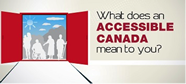 Empower U: Learn to Access Your Disability Rights Training on Canadian Human Rights, the Convention on the Rights of Persons with Disabilities (CRPD) and its Optional Protocol (OP) training aims to increase awareness of how to address discrimination using more familiar Canadian human rights laws such as Human Rights Codes and the newer international Convention on the Rights of Persons with Disabilities (CRPD). This is training for persons with disabilities by persons with disabilities. The training is part of a project funded by Employment and Social Development Canada and implemented by the Council of Canadians with Disabilities (CCD) in collaboration with Canadian Multicultural Disability Centre Inc. (CMDCI), Citizens With Disabilities – Ontario (CWDO), Manitoba League of Persons with Disabilities (MLPD) and National Educational Association of Disabled Students (NEADS). Read more.
Sign Up for our monthly digest
A monthly newsletter from CCD about what is happening in the community
A Voice of Our Own: Special Edition #3
Council of Canadians with Disabilities'
CCD Election Challenge
3 Ways to Vote
There are 3 ways to vote:
by special ballot,
at an advance poll, or
on election day.
The special ballot uses an envelope system that protects the secrecy of the vote.
It allows Canadians to vote by mail or in person at the office of their returning officer. Any elector can use the special ballot. It is useful for persons who have difficulty getting to a polling station.
Voting: A right and a responsibility of citizenship
The Route to an Accessible Electoral Process
Over the years the electoral process has become more accessible.
Since its earliest days, the disability rights movement has been advocating the removal of barriers in the electoral system. There were also consumer initiated human rights cases and Supreme Court challenges geared at removing barriers from the electoral system.
The Canada Elections Act was amended in 1992, 1993, 1996 and 2000. With each amendment, there has been incremental improvement in the process.
CCD monitors access to the federal electoral process.
Information about Access to the Polls
Electors can register at the advance poll, as well as on voting day.
The polls are open for 12 hours on voting day.
Access to Government of Canada buildings to set up polling stations is guaranteed.
All revisal offices, all polling stations, and other spaces used during an election must have level access.
The accessibility of the polling station is reported on the voter information card. This card is sent to every registered voter shortly after the election is called.
Transfer certificates are available up to the Friday before voting day to allow electors with disabilities to use a polling station with level access, if their polling station does not provide level access.
Elections Canada has modified buildings used during elections to ensure level access.
Mobile Polling Stations, Voting at Home
Mobile polling stations can be used in institutions where people with disabilities or seniors live.
A voter, registered for a special ballot, who cannot go to the office of the returning officer, and who cannot mark the ballot due to disability, is entitled to vote at home in the presence of an electoral officer and a witness.
Public Education
Elections Canada has public information to inform people with disabilities about the barrier removal measures that have been undertaken to make the electoral process more accessible. The following information pieces are available from Elections Canada:
Voting in a federal election (plain language format),
Accessibility of the Electoral System (large print, Braille, audio-cassette, diskette formats) and
Other Ways to Vote (large print, Braille, audio-cassette, and diskette formats).
Services Provide by Elections Canada
Elections Canada provides the following services:
Information in alternate format;
Information, email access and special ballot registration forms available on the internet;
A toll-free information line for Deaf people: TTY: 1-800-361-8935;
Documentation developed for persons with disabilities;
Open and closed captioned video tapes for persons who are Deaf or hard of hearing;
Transportation of the ballot box from room to room to facilitate voting in hospitals and certain residential facilities;
Voting template for persons with a visual disability;
Assistance in marking the ballot is available at the polling station (ordinary or advance) at the request of the voter.
For More Information
For more Elections Canada information go to:
www.elections.ca.
Or phone them at:
613-993-2975 or
1-800-463-6868 or
1-800-361-8935 (TTY).
Or write them at:
Elections Canada
257 Slater Street
Ottawa, Ontario
K1A 0M5
Council of Canadians with Disabilities
CCD
926-294 Portage Ave
Winnipeg, MB
R3C 0B9
Phone: 204-947-0303
Fax: 204-942-4625
E-mail: ccd@ccdonline.ca
CCD, a national advocacy organization of persons with disabilities, works to build a disability-positive environment in Canada. Founded in 1976, CCD brings together national, provincial and territorial organizations of persons with disabilities to work on issues of concern to men and women with disabilities in Canada. Participation in the electoral process has been a priority for CCD since its earliest days. The CCD National Council of representatives endorsed the 7 issue areas addressed in this publication.
Share our election plan with others
Our Challenge
There are many ways to educate both the public and candidates during the Federal Election. Some consumers will be running in the election. Others will be working on campaigns. There will also be consumers who will be raising disability rights issues during the election. All these activities are important. The challenge is for consumers to be as visible as possible during the election. This visibility draws attention to the citizenship of persons with disabilities and what we need to achieve full participation. In these pages, you will find a discussion of key issues for consumers to raise during this election and some suggested activities.
Ask Candidates
Do you support a national investment in a Disability Supports Fund?
How do we develop a labor market strategy, addressing disability?
What would you do to eliminate the poverty experienced by persons with disabilities?
Do you support the development of accessibility regulations, not voluntary codes, to improve access to the federal transportation system?
How would you go about making disability a priority in all Federal initiatives?
More specifically, how would you go about making disability a priority in all Federal initiatives on Aboriginal issues?
Are you prepared to support measures that would get people with disabilities out of institutions and living in the community?
How did you make your campaign accessible?