Act Now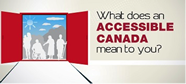 Empower U: Learn to Access Your Disability Rights Training on Canadian Human Rights, the Convention on the Rights of Persons with Disabilities (CRPD) and its Optional Protocol (OP) training aims to increase awareness of how to address discrimination using more familiar Canadian human rights laws such as Human Rights Codes and the newer international Convention on the Rights of Persons with Disabilities (CRPD). This is training for persons with disabilities by persons with disabilities. The training is part of a project funded by Employment and Social Development Canada and implemented by the Council of Canadians with Disabilities (CCD) in collaboration with Canadian Multicultural Disability Centre Inc. (CMDCI), Citizens With Disabilities – Ontario (CWDO), Manitoba League of Persons with Disabilities (MLPD) and National Educational Association of Disabled Students (NEADS). Read more.
Sign Up for our monthly digest
A monthly newsletter from CCD about what is happening in the community
A Voice of Our Own: Special Edition #5
Council of Canadians with Disabilities'
CCD Election Challenge
This Special Edition focuses on the commitments that the New Democratic Party of Canada has made to Canadians with disabilities. The source of information in this publication is past policy papers shared by the Party.
In Special Edition #2, CCD provided a summary of the major parties' positions. In edition #4, CCD focused on the Conservative's commitments. A future Special Edition will focus on the Liberals.
New Democratic Party of Canada
Jack Layton, NDP Party leader, is no stranger to disability issues. His great-grandfather was a blind activist who led the campaign for disability pensions for blind people in the 1930s. Over the years, NDP MPs have been very supportive of disability rights. In the past, the NDP has passed policy resolutions advancing disability rights.
CCD Commentary: We are seeking current initiatives on disability from the NDP.
Transportation
NDP MP Joe Comartin has been one of the disability community's allies on transportation issues.
He has raised the VIA rail issue in the House and elsewhere, helping CCD to keep this issue on the political agenda.
CCD Commetary: CCD applauds the NDP for their past support on disability issues. However, Canadians with disabilities want to know the Party's current thinking on access regulations for transportation carriers operating in federal jurisdiction.
Sending out our critique of the political parties' record on disability issues.
Poverty Eradication
The NDP has helped keep disability on the political agenda by lobbying for a parliamentary subcommittee on people with disabilities. In 2004, NDP MP Peter Julian launched the Time to Act campaign, which drew attention to the struggles of people with disabilities.
The campaign focused on the nearly 3,000 days of Liberal government inaction since the Task Force on Disability Issues tabled its report "The Will to Act". The disability community endorsed the recommendations in "The Will to Act". Peter Julian said, "Four million Canadians or roughly 13% of the population have a disability. They are our neighbors, friends and family and it's time the government empowered people with disabilities to escape poverty and improve their quality of life."
Accessibility
Individual NDP MPs have made a commitment to accessibility. Take for example, MP Peter Julian. Accessibility is a priority for Julian who selected a wheelchair accessible location for his community office and equipped it with an accessible washroom and a TTY phone line for the Deaf. He has encouraged other Members of Parliament to act similarly.
Disability Act
The NDP have indicated support for a national disability act. For example, MP Peter Julian drafted a private members bill that outlines a national disability act.
CCD Commentary: CCD, after a thorough analysis, rejected the "national disability act" approach because it ghettoizes disability, ignores jurisdictional issues and it sidesteps Charter and Human Rights guarantees to people with disabilities. We don't need a new act, we need the will to make existing tools work!
Barrier Removal
The NDP claims to have contributed to a Canadian budget that is: balanced, pays down the debt, contains tax relief for small business, and invests money in people. The NDP claims responsibility for the following investments:$1.6 billion for housing, $1.5 billion for education, $900 billion for the environment,$500 million for foreign aid, $100 million to protect wages in the event of bankruptcy. Totaling: $4.6 Billion.
CCD Commentary: There is no shortage of excellent initiatives being undertaken in Canada. Unfortunately, many contain systemic barriers that prevent the participation of people with disabilities.
CCD wants to know what the NDP has done, and will do, to ensure these initiatives, and future ones, will be accessible to persons with disabilities. Also, disability-related supports are essential for the equality of persons with disabilities. What is the current NDP position on this topic?
From Words to Deeds
In "From Words to Deeds", the NDP identified 5 action priorities on disability:
Barriers to equality of citizenship,
Adequate income support programs,
Tax fairness for Canadians with disabilities,
Labor market programs,
National disability supports.
CCD Commentary: Why aren't the NDP promoting these priorities in this campaign?
In From Words to Deeds the NDP identified many areas where barrier removal should begin. Some of these are:
public information,
make HALS permanent,
assistive technologies,
Canadian Human Rights Commission's complaint process,
the Immigration Act,
refugee determination process,
accessible housing,
National Building Code,
communication standards,
National Parks,
funding for cultural initiatives for people with disabilities,
transportation standards,
monitoring of barrier removal processes.
CCD Priority Issues
CCD is seeking Parties' commitments on:
A National Disability Supports Fund
A Labor Market Strategy for Persons with Disabilities
Poverty Reduction
A Barrier Removal Process
Addressing issues for specific populations, including Aboriginal persons with disabilities and persons with disabilities living in institutions
Accessible Campaigns. (See Special Edition #1 for a full discussion.)
Council of Canadians with Disabilities
CCD
926-294 Portage Ave
Winnipeg, MB
R3C 0B9
Phone: 204-947-0303
Fax: 204-942-4625
E-mail: ccd@ccdonline.ca
CCD, a national advocacy organization of persons with disabilities, works to build a disability-positive environment in Canada. Founded in 1976, CCD brings together national, provincial and territorial organizations of persons with disabilities to work on issues of concern to men and women with disabilities in Canada. Participation in the electoral process has been a priority for CCD since its earliest days. The CCD National Council of representatives endorsed the 7 issue areas addressed in this publication.
Share our election plan with others
Our Challenge
There are many ways to educate both the public and candidates during the Federal Election. Some consumers will be running in the election. Others will be working on campaigns. There will also be consumers who will be raising disability rights issues during the election. All these activities are important. The challenge is for consumers to be as visible as possible during the election. This visibility draws attention to the citizenship of persons with disabilities and what we need to achieve full participation. In these pages, you will find a discussion of key issues for consumers to raise during this election and some suggested activities.
Ask Candidates
Do you support a national investment in a Disability Supports Fund?
How do we develop a labor market strategy, addressing disability?
What would you do to eliminate the poverty experienced by persons with disabilities?
Do you support the development of accessibility regulations, not voluntary codes, to improve access to the federal transportation system?
How would you go about making disability a priority in all Federal initiatives?
More specifically, how would you go about making disability a priority in all Federal initiatives on Aboriginal issues?
Are you prepared to support measures that would get people with disabilities out of institutions and living in the community?
How did you make your campaign accessible?