Act Now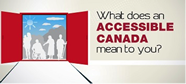 Empower U: Learn to Access Your Disability Rights Training on Canadian Human Rights, the Convention on the Rights of Persons with Disabilities (CRPD) and its Optional Protocol (OP) training aims to increase awareness of how to address discrimination using more familiar Canadian human rights laws such as Human Rights Codes and the newer international Convention on the Rights of Persons with Disabilities (CRPD). This is training for persons with disabilities by persons with disabilities. The training is part of a project funded by Employment and Social Development Canada and implemented by the Council of Canadians with Disabilities (CCD) in collaboration with Canadian Multicultural Disability Centre Inc. (CMDCI), Citizens With Disabilities – Ontario (CWDO), Manitoba League of Persons with Disabilities (MLPD) and National Educational Association of Disabled Students (NEADS). Read more.
Sign Up for our monthly digest
A monthly newsletter from CCD about what is happening in the community
A Voice of Our Own: January 2007
Volume 25 Issue 1
Convention on the Rights of Persons with Disabilities (CRPD)
On 13 December 2006, the United Nations General Assembly adopted the first new human rights convention of the twenty first century, the Convention on the Rights of Persons with Disabilities (CRPD). The Convention elaborates, in detail, the meaning of human rights for persons with disabilities, and as such will be a useful guide around the world for people with disabilities. The Council of Canadians with Disabilities' (CCD) International Development Committee has been working over the last five years in support of the CRPD. The membership of this Committee includes: Steve Estey (Chairperson), Mary Ennis, Angie Allard, Jim Derksen, Yutta Fricke, David Shannon, Jason Mitschele, Chris Lytle, and Mary Reid.
The next milestone for the CRPD is for countries to sign and then ratify the CRPD. The UN is hosting a ceremony on March 30 and all countries of the world are invited to attend and be among the first to sign the Convention. CCD is encouraging Canada to be one of these counties and has undertaken a number of activities to encourage Canada to sign the Convention.
CCD has sent a letter to each party leader requesting that an all party motion be brought to the House supporting signature and ratification of the CRPD. In the aforementioned CCD letter, CCD Chairperson Marie White stated, "As this Convention does not confer any new rights, we do not believe that there are any stumbling blocks that would delay immediate ratification. Moreover, as with all International Human Rights Law the principle of Progressive Realization is embedded in the treaty and thus ensures, where appropriate, that some reforms will be phased in over time. Furthermore, Canada has already made significant progress in rights protection for persons with disabilities with the Charter of Rights and Freedoms, the Canadian Human Rights Act and provincial human rights codes."
On 21 February 2007, CCD, the Canadian Association of Independent Living Centres, the Canadian Association for Community Living and Amnesty International held a Press Conference on Parliament Hill to encourage the Government of Canada to participate in the signing ceremony for the Convention on the Human Rights of Persons with Disabilities. By signing at the UN ceremony, Canada would show its commitment to work toward ratification. The following MPs attended the event and spoke in favor of signing: Ken Dryden and Carolyn Bennett (Liberal MPs), Alexa McDonough and Peter Julian (NDP MPs) and Raymond Gravel (Bloc). Andy Scott (Liberal MP) was in the audience.
MP Alexa McDonough (NDP) guided a motion through the House of Commons Foreign Affairs committee that calls on Peter MacKay to appear before the Committee and explain the steps Canada will be taking to work toward ratification of the UN Convention. This motion passed unanimously.
CCD developed an Open Letter that was sent to Prime Minister Harper about the Convention. The letter is as follows:
An Open Letter to Prime Minister Harper
February 16, 2007
The Right Honorable Stephen Harper
Prime Minister of Canada
House of Commons
Ottawa, Ontario, K1A 0A6
Email: pm@pm.gc.ca
Dear Prime Minister:
We, the undersigned, have followed with pride the excellent work by Canadian officials and civil society members at the United Nations where for the past 5 years Canada has taken a central leadership role in the elaboration of a new Convention on the Rights of Persons with Disabilities.
We applaud Canada's leadership at the United Nations on this issue. Through law reform and jurisprudence, Canada has a long history of making human rights protections meaningful to people with disabilities, and Canada brought this experience to the UN discussions. This important new human rights convention has been the beneficiary of Canada's thirty years of leadership and innovation on disability issues, as well as our strong record in other areas of international law.
Canada's participation in all of the meetings of the Ad Hoc committee to draft this historic document has been exemplary and a source of pride for us all. In light of this expansive history of leadership we were disappointed to learn that your government has decided not to participate at this crucial moment in the life of the new Convention, and we are writing to urge the Canadian Government to reconsider its position and participate in the signing ceremony for this historic Convention on March 30, 2007.
While we appreciate and support the need for ongoing consultations with Provincial and Territorial Governments, in particular with regard to ratification, we believe that the ongoing Federal/Provincial/Territorial consultations undertaken by the Canadian delegation throughout the five-year Convention negotiating process has been sufficient to enable Canada to become a signatory to the Convention. We recognize the need for further consultation in advance of ratification and are hopeful the consultation process will be open and transparent and inclusive of the disability community at the provincial/territorial and national levels.
Prime Minister, people with disabilities, their families and their allies in Canada and around the world have steadfastly supported Canada's participation in the development of the Convention on the Rights of Persons with Disabilities.
With respect, it is time now for your government to support us, by taking its place with other leading countries and signing the Convention on March 30, with a view to ratifying it as soon as possible.
Yours sincerely,
Marie White
Chairperson, Council of Canadians with Disabilities
926 - 294 Portage Avenue,
Winnipeg, Manitoba
R3C 0B9
Tel: (204) 947-0303
Fax: (204) 942-4625
E-mail: ccd@ccdonline.ca
CC - Honorable Peter MacKay
Honorable Bev Oda
Honorable Stéphane Dion
M. Gilles Duceppe
Mr. Jack Layton
Organizational Supporters:
Action Canada for Population and Development, Jane Gauthier, Associate Executive Director
Alliance for Equality of Blind Canadians, John Rae, President
Amnesty International - Canada (English-speaking branch), Alex Neve, Secretary General
Amnistie internationale (section canadienne francophone), André Paradis, Directeur
ARCH Disability Law Centre, Phyllis Gordon, Executive Director
British Columbia Civil Liberties Association, Jason Gratl, President
British Columbia Coalition of People with Disabilities, Al Hanet, President
Canadian AIDS Society, Monique Doolittle-Romas, Executive Director
Canadian Arab Federation, Mohamed Boudjenane, Executive Director
Canadian Association of Community Living, Zuhy Sayeed, President
Canadian Association of Elizabeth Fry Societies, Kim Pate, Executive Director
Canadian Association of Independent Living Centres, Paul-Claude Berube, Chair
Canadian Association of the Deaf, Jim Roots, Executive Director
Canadian Bar Association, J. Parker MacCarthy, Q.C., President
Canadian Bar Association, National International Law Section, Clifford Sosnow, Chair
Canadian Helsinki Watch Group, David Matas, Chair
Canadian HIV/AIDS Legal Network, Joanne Csete, Executive Director
Canadian Injured Workers Alliance, Phil Brake, National Coordinator
Canadian Labour Congress
Canadian National Institute of the Blind, Jim Sanders, C.M., President & CEO
Chinese Canadian National Council, Victoria Shen, Co-President
Christian Blind Mission International - Canada, David McComiskey, Executive Director
Confédération des Organismes de Personnes Handicapées du Québec, Choé Serradori, directrice générale
Council of Canadians with Disabilities, Marie White, Chair
DisAbled Women's Network Ontario, Barbara Anello, Chair
Easter Seals Canada, Max Beck, Chief Executive Officer
Equitas - International Centre for Human Rights Education, Rob Shroshire, Director
Federation of Sisters of St. Joseph of Canada, Sister Margaret Kane, President
Human Rights Internet, Corinne Packer, Executive Director
Independent Living Resource Centre of Calgary, Diane Kreuger, Chair
KAIROS: Canadian Ecumenical Justice Initiatives, Mary Corkery, Executive Director
Kashmiri-Canadian Council, Mushtaq A. Jeelani, Executive Director
l'Arche Canada, Jean Dansereau, President of the Board
L'Entraide Missionnaire, Gerardo Aiquel, Responsable de droits humains
Ligue des droits et libertés, Marie Guylda Thélusmond, Directrice générale
Manitoba League of Persons with Disabilities, Terry McIntosh, Chair
National Association of Women and the Law, Yvonne Peters, Board of Directors
National Educational Association of Disabled Students, Frank Smith, National Coordinator
National Union of Public and General Employees, James Clancy, National President
Native Women's Association of Canada, Bev Jacobs, President
NWT Council of Persons with Disabilities, Cecily Hewitt, Executive Director
Oxfam Canada, Robert Fox, Executive Director
Rideau Institute on International Affairs, Steven Staples, Director
Rights and Democracy, Jean-Louis Roy, President
Showdoman Foundation, Dominique Show, President
UNICEF Canada, Nigel Fisher, President & CEO
Uyghur Canadian Association, Mehmet Tohti, President
Canadians who support the CRPD may want to consider writing to either their MP or the Prime Minister encouraging Canada to be among the first nations to ratify the Convention.
Federal Budget 2007
On 20 February 2007, Laurie Beachell participated in a Pre-Budget Round Table with Minister of Finance James Flaherty. In summary form, on behalf of CCD the following concerns were shared:
Issue: Canadians with disabilities and their families disproportionately live in poverty and lack the supports necessary to participate equally in Canadian society.
Context: Canadians with disabilities and their families are twice as likely to live in poverty than Canadians without disabilities; 56.5% of Canadians with disabilities are currently unemployed or out of the labour market. Poverty and exclusion directly affects the participation of people with disabilities in education, the labour market and their active participation in their communities. While we have made significant gains to reduce the poverty among the elderly and children, little has been done to address the poverty of Canadians with disabilities. Some within the disability community look forward to becoming 65 because they will then be eligible for better income support.
Disability demographics in Canada are changing and growing. With the aging of the population, the percentage of Canadians with disabilities is growing and with advances in medical technology and improved health care systems babies born with complex medical needs and people who acquire disability as a result of injury or disease are living longer than they were even a decade ago.
Traditionally, the issue of income and disability supports have been addressed through social services and therefore, of Provincial/Territorial jurisdiction. However, we believe that disability is best understood as a citizenship issue and that there is shared Federal/Provincial/Territorial responsibility in ensuring that Canadians with disabilities and their families have access to the disability and income supports they require to be full and active citizens. Without access to appropriate income supports or the aids and devices, technologies and personal assistance that they need, too often people with disabilities are condemned to a life of poverty and exclusion.
While there has been progress made to transform outdated systems of supports and services to innovative systems with flexibility and individualization, disability supports policy and programming has, across the country, been constructed as a discretionary item. An incremental, patchwork approach to disability has not worked. It is time for a new collaborative Federal/Provincial/Territorial approach to this issue.
In the last few years, the F/P/T Working Group on Benefits and Social Services has explored a number of options to address these issues. These options appear no longer to be actively considered, the Federal focus has turned to the development of a Federal Disability Act. While this contribution may have some positive results it does not address the immediate need of income and disability supports.
Our Recommendations:
Long Term
Develop, in conjunction with provinces, territories and the disability community, a national initiative to invest new monies in disability support services and poverty alleviation initiatives including an expansion of labour market training initiatives with the goal of ensuring greater economic security for Canadians with disabilities.

Medium Term

In conjunction with Labour Market Ministers, establish specific targets for persons with disabilities within provincial/territorial labour market agreements.
Continue to expand tax measures that both offset the real costs of disability and address the poverty of Canadians with disabilities.
Establish a Procurement Policy for the Government of Canada that would ensure purchase only of accessible technology.

Short Term

Support the recommendations of the Panel regarding establishment of a Disability Savings Plan.
Support and expand the Labour Market Agreement for Persons with Disabilities delivered through provincial/territorial governments.
Support and expand the Social Development Partnership program which funds the voluntary sector and thus ensures that Canadians with disabilities and their organizations are engaged in policy debates that are of concern to them.
A consensus does exist! All levels of government and the public do support new initiatives to address disability issues. Canadians want an Inclusive and Accessible Canada. Disability is an issue that affects everyone at some point in their life.
Conclusion: Properly executed, a new approach to poverty and disability supports is the lever for transformational change. The time for a new approach is now.
End Exclusion
On 2 November 2006, some 300 people assembled in Ottawa to celebrate past achievements on disability issues and to contribute to the policy dialogue on disability issues. Marie White co-chaired this event with Zuhy Sayeed. The day was opened by the Hon. Diane Findley, HRDC Minister, who disclosed her own experiences as a person living with a disability. The morning session was devoted to celebrating the work of the Special Parliamentary Committee on the Disabled and the Handicapped and hearing from people with disabilities about current issues. The afternoon session explored community and government priorities, examining the potential of a federal disability act and a new proposal for addressing the poverty of people with disabilities. In a very moving ceremony, the national partners officially shared the Declaration for an Accessible and Inclusive Canada with Canada's decision makers. CCD's National Council of Representatives, Member Group Executive Directors/ Coordinators and Committee Chairs were in attendance at the event.
The www.endexclusion.ca web site continues in operation and you are encouraged to visit it. The Declaration, the personal stories and the papers on a federal disability act and on poverty are available at the web site. A final report on the event will also be available at the web site.
CCD Has Intervenor Status in Brown Case
The Federal Court granted CCD intervenor status in the Brown case and in February CCD submitted its factum to the court.
The CCD Human Rights Committee recommended that CCD should seek to intervene in Bob Brown's case, which is at the Federal Court and the Council agreed with this recommendation.
What follows is some background on the case:
Bob Brown is a consumer from Ottawa and he uses a wheelchair.
The National Capital Commission (NCC), along with Public Works Canada, constructed the York Stairs which connects the Market area with some other tourist areas in Ottawa.
The stairs are not accessible to wheelchair users, seniors, and others for whom stairs are a problem.
The National Capital Commission included an elevator option but it is not in close proximity to the York Stairs.
The National Capital Commission has not designed this initiative according to universal design standards. Bob Brown felt he was discriminated against by the stairs because he was segregated by the approach chosen by the NCC.
Bob Brown made a complaint to the Canadian Human Rights Commission.
His complaint went to a Canadian Human Rights Tribunal.
The Tribunal found that the York Stairs discriminated against Mr. Brown. In its decision, the Tribunal discussed how meaningful consultation should be undertaken with the disability community.
The NCC and Public Works launched a Judicial Review of the case at the Federal Court.
ARCH is the legal counsel in this case and the CCD Human Rights Committee worked with ARCH on the development of the factum.
Canadian Museum for Human Rights
CCD continues to work in support of the Canadian Museum for Human Rights. CCD's National Coordinator Laurie Beachell has been participating on an advisory committee that is looking at how to present human rights education to the general public.
Princess Auto has become a supporter of the Canadian Museum for Human Rights. All Princess Auto locations across Canada will feature special information kiosks about the Museum and will promote exclusive "Museum" merchandise with proceeds going to the museum. Princess Auto will release a special edition catalogue that will be distributed to 350,000 homes and business across Canada. The goal of Princess Auto is to raise in excess of $100,000 for the Museum and to spread the word about this important initiative.
To learn more about the Museum go to: http://www.canadianmuseumforhumanrights.com/
DPI North American Caribbean Regional Update
The DPI North America Caribbean Region held a conference in December. The event was held in Port of Spain Trinidad. As a part of the meetings a new regional executive council was elected. Membership is as follows:
Chairperson - George Daniel, Trinidad and Tobago
Deputy Chair - Joseph Budd, Grenada
Secretary - Henrietta Davis-Wray, Jamaica
Treasurer - Michael Murphy, Dominica
Information Officer - Steven Estey, Canada
Past Chair - Mary Mitchell-Coombs, Jamaica
A reflection
"A reflection" was written by Chris Lytle, who is a member of CCD's International Development Committee. In the following piece, he shares his personal reflections on working as an intern for Disabled Peoples' International (DPI) in Mauritania. This opportunity was funded by the Canadian International Development Agency (CIDA) International Youth Internship Program."
The thought of being sent off to a place far away held a mystique for me. I had just finished my Masters degree in Critical Disability Studies from York University and while my colleagues were preparing for further trials at the PHD level, I thought that it was time I test my competencies in the field. Although the idea of what I was to experience while in Africa was a far cry from what I actually encountered, I like to think of myself as having enough resolve to take on a responsibility such as working with persons with disabilities in regions that are the focus of international aid and development. I have come to the realization that it is indeed very difficult to separate human emotion from pertinent tasks and awaited resolutions. The point is very simple actually, after landing here in Mauritania, the first thing I saw was the gleam of newly purchased SUVs that were the property of assorted international development projects with the backdrop of a completely sullen urban environment. Already the stark contrast was apparent between aid givers and those in receipt of intervention.
Tambo Camara, of the Pan African Federation of the Disabled, the African regional development branch of Disabled Peoples' International, had told me on our drive from the airport that if I was trying to find Canada, I came to wrong place. He was very right.
My assignment was to create a base of communication for the 5 separate regions in Africa which cover five dozen countries and the breadth of the African continent. In short, I was to establish a more productive communication repertoire with regions that have broken or infrequent communication with the head office. Since some of these areas are only connected by cyber cafés, infrequent email service or even a single lone computer, it was decided that the solution must fit the environment, so a communication hand out was made to instruct individuals how to create advocacy sites using MySpace.com, email and chat forums. A web site was also established at http//africa.dpi.org as a new base of communication with project updates and advocacy information.
Beyond my work, which comprised about 80 percent of my time, was the experiential aspect of constantly being on larium or mefloquine (an antimalarial medication), being situated in an area where, with astounding frequency, animals died and lay for weeks on end. The region of Mauritania, albeit stunning, was hot enough to make my hands prune from sweat alone while sleeping. These aspects were a lot for me to take in but I praise my adaptability for not getting sick, not losing my "professional" composure, and being able to relax when needed.
I am a firm believer that there are real divisions between what we choose to see and what actually occurs in the world, and there are certain things that need to be seen and experienced in order to enact useful change from within. I did not fully appreciate this until I had left but after eight years of learning from books in university how to deal with stereotypes, racism, ablism, sexism and the like, the practical experience put a new lens on the way in which I view interactions.
One cannot expect rights to flourish without being actively employed in areas where there are little to no rights being accorded, just as one cannot stop a patient from bleeding without getting their hands soiled and for persons with disabilities this metaphor extends to a global community. Working with rights and disability is something I feel very strongly about and I knew that I would have to see it there in order to fully appreciate and respect the work that has been done in the past by people there, and the work that needs to be done in future by international cooperation. To end, I was assisting in a large mechanism for advocacy that is comprised of many people. I was glad to be given the opportunity and although I came out the other end with a more profound understanding of what needs to be accomplished in terms of human rights for persons with disabilities, I had many moments of personal limitation, vulnerability and uncertainty. I took those as signs of strength. ~ Christopher Lytle. CIDA Intern, DPI 06/07. Mauritania.
British Columbia Coalition of People with Disabilities (BCCPD)
Provincial Equipment and Assistive Devices Committee (PEADC) Establishes Working Group—Currently, British Columbia has no universal equipment and assistive devices program for people with disabilities. British Columbians who need access to these vital personal supports must try and find their way through a myriad of programs with different eligibility and criteria, whether this is through a variety of provincial ministries or through service organizations. If a person with a disability does not fall into a particular population or category of disability served by these programs, then they fall through the cracks. Accordingly, Statistics Canada reports that people with disabilities in British Columbia have the highest level of unmet need in Canada for equipment and assistive devices.
The Provincial Equipment and Assistive Devices Committee (PEADC), of which BCCPD representative Christine Gordon is co-Chair, is a coalition of more than 30 community organizations that has been working together since 2004 to try to change this situation. A Personal Supports Working Group has been formed which brings together representatives from PEADC and government. The goal of the Group is to develop a provincial plan for the provision of personal supports, with equipment and assistive devices as the starting point. Personal supports are an integral part of the BC government's disability strategy, which is aimed at achieving one of the government's great goals: the best system of supports in Canada for people with disabilities, seniors, those with special needs and children at risk.
One of the first tasks of the Working Group was to forge a vision and shared values base for personal supports. The vision, values and principles that have been developed reflect the aspirations of people with disabilities and the ideals of both the community and government.
The Working Group has also accepted the Participation Model for Personal Supports, a community-driven model for the delivery of supports, which is citizen-centred and features a focus on personal goals, comprehensive personal supports centres and opportunities to use individualized funding for the purchase of equipment and assistive devices. Several community/government Technical Working groups are developing the details of this model with the goal of delivering a proposal to the Cabinet of British Columbia by early autumn 2007.
Alberta Committee of Citizens with Disabilities
Alberta's New Premier Open to Consultation on Disability Issues— In December, 2006, Ed Stelmach became the new Conservative Party leader and premier of Alberta. Ed Stelmach's campaign slogan was "Honesty and Integrity," and ACCD hopes that these words, along with his commitment to social issues, mean that the new premier has the will to advance disability issues in the province.
Prior to the election, ACCD met with nine leadership candidates to talk about disability issues. In these meetings, Mr. Stelmach shared our concerns regarding disability issues, health care issues, and income-support programs in the province. In particular, through his campaign platform, in-person meetings, and interviews, ACCD learned that the new premier:
Supports annual cost of living increases for AISH recipients
Promises to review social assistance rates
Says he'll work with people and groups to see how gaps in disability supports can be closed
Feels it is critical to find immediate shelter for the people without a home
Believes strongly in an inclusive approach to decision-making
Wants to speed up the provision of long-term care and assisted living accommodations to help seniors who are ready to move into these facilities
Is committed to ensure those living in seniors facilities receive the highest possible standards of care
Premier Stelmach is also putting together an advisory committee on affordable housing, a committee that will have representation from the disability community.
ACCD was pleased to hear, in Mr. Stelmach's victory speech, his mention of helping seniors and the disabled in the province. ACCD appreciates his willingness to consult with the community and will be calling on him soon to discuss the commitments he made during the election.
AISH: Disability Awareness Training: In April, 2005, the Government of Alberta announced its support for the report and recommendations presented to the Department of Seniors and Community Supports by the MLA AISH review committee. Renewing AISH: Report and Recommendations of the MLA AISH Review Committee made 11 recommendations for improving the AISH program, many of which were addressed immediately, and others that are still in the process of being implemented.
ACCD is particularly pleased about the work taking place to fulfill the recommendation to partner with disability organizations to provide ongoing training for AISH staff. ACCD Executive Director, Bev Matthiessen, along with Ruth Hofer, Director AISH Program and Policy, Seniors and Community Supports, is co-chairing the AISH Disability Awareness Training Steering Committee. This training is fully supported by the community and Seniors and Community Supports and will be considered part of ongoing training for AISH staff in the future.
The steering committee first met in April 2006. Since that time, they have:
Researched the availability of disability awareness training materials across Canada;
Hosted a pilot workshop provided by reachAbility of Halifax, Nova Scotia in Edmonton in September 2006; and
Worked with reachAbility to customize the training materials for AISH staff based on input received during the pilot workshop.
The workshops for AISH workers and other Seniors and Community Supports staff have been completed. Altogether, ten workshops were hosted across the province, beginning on January 13 in Grande Prairie. By the end of January, sessions took place in Calgary, Lethbridge, Red Deer, Vegreville and Edmonton.
AISH staff will participate in a train-the-trainer session provided by reachAbility in February, allowing these workshops to be offered on an ongoing basis.
The steering committee is now working on the development of a Disability Awareness website for the Seniors and Community Supports staff intranet. This website will provide staff with an easily accessible information resource. In addition, the steering committee will begin to work with reachAbility to revise their web-based e-learning module. The website will be available in March, and the e-learning module will in place in April 2007.
The recommendation to provide ongoing training for AISH staff has been important to members of the disability community for many years. ACCD is pleased to see the Government of Alberta is following through on the recommendations made from the MLA AISH Review.
Extension of Deadline to File Claim under the Class Action Settlement—The deadline to file a claim under the Alberta Income Support Class Action Settlement has been extended to March 31, 2007. This extension was provided because there have been a small number of people so far who have filed claims.
Pilot Project: Speech Generating Communication Devices—A new pilot project through Alberta Aids to Daily Living (AADL) is assisting Albertans who cannot speak.
The project, which runs until March 2009, provides funding to Albertans with severe communication disabilities to purchase speech generating communication devices. These devices will help people live as independently as possible and to participate in their communities.
Albertans of all ages with a severe communication impairment may be eligible to use a speech generating communication device. The impairment must be severe enough that the person cannot be understood by others. Assessments are conducted through designated centers in Edmonton and Calgary. For those already receiving assistance from a speech-language pathologist in their local community, the nearest designated centre will work with the community clinician to arrange an assessment.
After an assessment and trial are completed, the application for funding is forwarded to AADL for review. When an application is approved, the device is ordered by the program's speech-language pathology consultant.
Saskatchewan Voice of People with Disabilities
Income Program in Saskatchewan—For over a decade, the Voice has been lobbying government to develop an Income Program for people with disabilities. From all indications, it sounds like all of the work by us and many other organizations will see fruition. Sources in government have told us that a plan will be announced in 2007.
To work with government on developing an all inclusive program, a committee has been struck. The Saskatchewan Disability Income Support Coalition (DISC) was formed by a large cross section of disability advocates, consumers and organizations across Saskatchewan who are committed to advocating for a respectful, dignified and adequate income support system. DISC members have joined together to speak as one voice, working towards a distinct (or separate) income system for people with disabilities that will be built on our common vision and principles.
Our primary vision is to see an income system that offers both an adequate baseline income for people with disabilities and a user-friendly mechanism to address individual financial needs based on the impact of disability.
As members of DISC we share a common goal, to work towards positive change in the area of income support for people with disabilities in Saskatchewan. As DISC has developed our vision of a distinct income security program for people with disabilities, we have laid out key principles for an improved system:
Adequacy- People with disabilities should have an adequate income that truly meets their needs without the indignity of having to justify their needs. Lifelong disability and subsequent economic insecurity needs to be a consideration. What does DISC consider adequate? A disability income should be enough financial support to meet individual needs, not just basic needs. Our primary aim is to see an income system that offers both an adequate baseline income for people with disabilities and a user-friendly mechanism to address individual financial needs based on the impact of disability.

Hope and Security- People with disabilities must have financial accommodations so that they can live their lives with hope, respect and dignity instead of a system of disincentives.

Person-Centered and User Friendly- People with disabilities should be able to expect a dignified service that focuses on their individual financial needs as its reason for being. Financial accommodation should be easily accessible with consistent, respectful income workers who have the mandate and power to respond quickly to individual discretionary needs.

Higher Income Exemptions- Currently the system encourages an oppressive dependency as opposed to a healthy interdependency. People with disabilities are not adequately accommodated as they move into training or employment. Income exemptions need to be increased to eliminate disincentives to employment and independence. Rapid reinstatement needs to be a working principle that allows people with disabilities to feel secure as they move in and out of employment opportunities.

Consistent Implementation- People with disabilities should be able to expect a portable and flexible income system that meets their individual needs no matter where they choose to live in the province.
Individualized Funding—To date, the latest figures we have for people using the Individualized Funding Program are 69, province wide. Since the beginning, there has been difficulty accessing this program. Presently, people eligible for home care or who have been receiving home care for a number of years are being told there is a waiting list to access Individualized Funding. As well, advocates trying to get clients on the program are not receiving proper assistance by health authority personnel.
A meeting with Cabinet has been requested to discuss this issue, as well as the Minister of Health has been informed of the situation. One recommendation that will be made is that Individualized Funding be taken out of home care and be given its own funding base.
Manitoba League of Persons with Disabilities
Provincial Government Announces Shelter Benefit—In mid-March 2006, MLPD was invited to attend a press conference given by Christine Melnick, then Minister of Family Services and Housing and Minister Responsible for Persons with Disabilities. The press conference announced the introduction of a program called the Manitoba Shelter Benefit (MSB) which began at the end of July 2006. The benefit replaces the current Shelter Assistance for Elderly Renters (SAFER) and Shelter Assistance for Family Renters (SAFFR) programs.
A flat rate monthly benefit of $35.00 is also available to some persons with disabilities who are receiving Employment and Income Assistance, and are living in the private, rental market (not Manitoba Housing) or in room and board accommodation.
According to the provincial government, the eligibility criteria is as follows:
Individuals must be under 55 and have a disability, have a spouse or common-law partner with a disability or have an adult dependent with a disability living at home.
Individuals must live in private, rental accommodation to be eligible for the benefit. Persons with a disability in receipt of income assistance who are living in private, rental accommodation or in room and board may be eligible for the flat rate monthly benefit.
Those not eligible for the benefit include:
Anyone living in hospitals, personal care homes, residential care facilities, shelters or treatment facilities;
Homeowners (including mobile homes);
Anyone renting from the Manitoba Housing Authority or receiving a subsidy for shelter through other housing programs.
Any income assistance recipients not enrolled in the disability case category.
Future Renovations of Manitoba Developmental Centre Opposed By Disability Groups—The Provincial government has made a decision to renovate the Manitoba Developmental Centre (MDC) in Portage la Prairie, rather than tear it down and find alternate living situations for those who still live at the Centre. Both Community Living - Winnipeg and Community Living Manitoba vehemently oppose this decision, as does the MLPD. We feel that this is an opportune time to assist these individuals to live in the community rather than in an institutional setting.
At the end of June, the MLPD attended a Press Conference held by Community Living —Winnipeg, at their office on Maryland Street, in order to let the public know the disability community's feelings and concerns about renovating MDC. Representatives from many disability organizations attended, as well as provincial government officials. A human rights case has been launched.
Lump Sum Payments Permissible for Some Persons with Disabilities on Employment and Income Assistance—During the summer, the provincial government has taken steps to improve the quality of life of persons with disabilities living in institutions or hospitals by allowing them to receive certain lump sum payments without it affecting their EIA benefits. Money such as inheritance, life insurance policies and gifts can be accepted as long as they are put in a trust fund for the purchase of disability-related equipment or services. The lifetime limit cannot exceed $100,000 per person. The fund can be self-managed.
Housing—Recently the Hon. Gord Mackintosh was appointed Manitoba's new Minister of Family Services and Housing and Minister Responsible for Persons with a Disability. We look forward to working with the Hon. Mr. Mackintosh on housing issues that affect persons with a disability.
For individuals familiar with the Assisted Living projects that have been opening for younger people with supported living needs you will be happy to hear that the Housing for Assisted Living project has had a very successful Phase I and has begun work on Phase II for an additional five units of assisted living.
For readers who are familiar with the work done by the Provincial Working Group on Housing for People with Disabilities you will be happy to hear that the recommendations brought forward at that time are being worked on one by one by our government. This summer the newly minted Manitoba Shelter Benefit Program became available. For details or to see if you qualify please check out the web site at: http://www.gov.mb.ca/fs/housing/shelterbenefit.html
Nova Scotia League for Equal Opportunities
Members of NSLEO met with caucus members of the Liberal party, NDP party, and all members of the Provincial government including the Premier Rodney MacDonald, to present research and discuss recommendations for changes to existing policies as well as the development of new ones in the areas of: Accessible/Affordable Transportation, Accessible/Visitable Housing, and Daily Living Supports. NSLEO continues to work with party researchers and government officials to advance the recommendations and ensure inclusion is at the forefront of thinking when new programs, policies and Bills are being discussed for future implementation. Visit the NSLEO Website for copies of the annual position papers.
An Information Sharing Meeting of NSLEO affiliates was held in November where progress to date was reviewed and future initiatives identified. NSLEO also hosted an "Outcome Measurement Workshop" facilitated by Peter Mortimer of the United Way in November. The workshop gave NSLEO and its member groups the framework necessary to develop a plan with more measurable outcomes.
NSLEO is in the process of recruiting new member groups to represent the Halifax Region. With 40 percent of Nova Scotia population in the Halifax Region, the Board feels it is imperative to have adequate representation to ensure concerns are identified and addressed.
On November 3, NSLEO took part in the second of three roundtables taking place throughout the province. The roundtable provided a forum where women with disabilities discussed employment, income priorities, and what needs to happen in Nova Scotia for them to become self-sufficient and to feel like equal members of their communities. The roundtables are being hosted by the Nova Scotia Advisory Council on the Status of Women and several other community partners. The Council hopes to establish priorities and plan action items to improve the economic well-being of women with disabilities in Nova Scotia.
Also, as a member of the Women, Work, and Care Committee hosted by the Nova Scotia Advisory Council on the Status of Women, the committee has been working on researching and addressing issues being faced by women, specifically with regards to care giving and dependant care issues in the province. The committee is, with the assistance of two students from Mount Saint Vincent University, doing research into Respite Service Models and identifying the gaps in the Respite Services in Nova Scotia.
With help from the board volunteers and staff, NSLEO continues to work in addressing the concerns of Nova Scotians with disabilities, ensuring that government policies and programs accurately reflect the needs of persons with disabilities as well as working with other groups to reach a common goal.
Tools for Life: Living, Learning and Working
NSLEO & PAANS (Partnership for Access Awareness Nova Scotia) attended the "Tools for Life Conference & Exhibit" in Greenwich Nova Scotia on October 27th.
The driving force behind the conference was the notion that a wide range of resources can enable and provide opportunities for people to scale new heights, take better care of themselves and to achieve goals they never thought possible. These resources can significantly improve the quality of life, lifelong learning and employment for people of all ages and abilities including those with impairments, disabilities and/or health challenges. The Tools for Life Conference and Exhibit provided the general public and professionals a venue to receive information, supports and tools that enable wellness. It provided consumers, parents, organizations and businesses the opportunity to offer educational sessions, promote a program, service and/or exhibit and learn more about how to address barriers throughout our homes, workplace and community. The conference was a huge success and provided organizations and programs and service provides an opportunity to network and learn from each other. The Tools for Life Conference will now become an annual event!
NSLEO Committee Updates
A Coordinator for NSLEO's Access Awareness Committee "Partnership for Access Awareness Nova Scotia" has been hired. Jamie Campbell is busy preparing for Access Awareness Week 2007 which will take place May 27 - June 2. This year's Theme is: "Accessibility for All: Increase Awareness, Build Pathways, Make our Province Accessible!". PAANS, through public awareness, community partnerships and education, works to foster an environment of equal participation for persons with disabilities within Nova Scotia. For more information on the committee or for event details, scholarship applications and or award nomination forms please visit the website: http://accessawareness.nsnet.org/
The ANS committee, chaired by NSLEO includes individuals, businesses, government representatives and organizations that share a common vision of Nova Scotia as an accessible destination for both residents and visitors alike. The committee has a number of working groups exploring issues of accessibility in the Tourism & Hospitality industry.
The committee has prepared a proposal that asks for the implementation of programs and services to increase accessibility in the industry. A meeting was held with interested members of the NDP Caucus who have stated they fully support the committee's proposal and would bring the issue to the Legislature. The Committee has also met with Honourable Len Goucher, Minister of Tourism, to ask for the Department of Tourism to adopt and implement the Canada Select Program and standards in the accommodation Industry. The Minister has agreed to implement the committee's proposal and the department will endorse and adopt the Canada Select Program with the goal of having it fully implemented by 2008.
"Canada Select" is an industry led, consumer sensitive rating program, developed for the purpose of providing the travelling public with a national consistent standard of quality within categories of accommodation. For more information on the Canada Select Program visit the website: http://www.canadaselect.com/
The Committee also met with Honourable Jamie Muir, Minister of Service Nova Scotia and Municipal Relations to discuss extending their Community ACCESS-ability Grants Program to include small to medium sized businesses. The Community ACCESS-ability program was developed to improve access to community facilities and venues for persons with disabilities. Under this program, funds are available for cost shared grants to community groups for accessibility related capital improvements. Grants are only available to non-profit community organizations, groups, and municipalities. The Committee would like to see some financial aid available to small and medium sized businesses to assist with renovation to include accessibility features. The committee is in the process of setting up meetings with Honourable Hurlbut, Minister of Economic Development, as well as Liberal critics Diana Whalen and Stephen McNeil.
Informational materials have been completed along with the ANS website which can be found at www.accessiblens.ca.
For more information on the Community ACCESS-ability program visit the website: http://www.gov.ns.ca/snsmr/muns/infr/access/access.asp
Are you ready?
The Emergency Preparedness committee has developed a disaster preparedness booklet with tips for persons with disabilities for preparing for an emergency situation. The committee has also been working in conjunction with the Provinces Emergency Management Office to develop an inclusive Emergency training module that will be delivered to partners across the province. The booklet and training will be available in the spring of 2007. Please contact the LEO office for more information.
A Community Partnership Committee has been developed in the Halifax Region which has several sub-committees working on issues that representatives from a variety of consumer led organizations have identified as key concerns of consumers. NSLEO is part of a sub-committee that is currently in the process of working with the Nova Scotia Disabled Persons Commission to do an Environmental Scan of Nova Scotia's programs and services for persons with disabilities and examine what would be essential in an Economic Strategy for persons with disabilities in Nova Scotia.
Nova Scotia Highlights & Government Announcements
Pharmacare
On September 6, 2006 the NS Government announced the introduction of a Low Income Pharmacare for Children program to commence October 1, 2006. The Program is an investment of $1 million this year and $2 million in 2007 that will benefit up to 35,000 children under the age of 18. Families that currently receive the Nova Scotia Child Benefit and have a household income under $20,921 are eligible. Nova Scotia League for Equal Opportunities although pleased with this announcement has met with the leader to discuss extending the Pharmacare program to include low-income families who do not currently have any form of Pharmacare program. The Premier assured NSLEO representatives that a program for low-income families is in the works.
Transportation
On November 24, a federal investment of thirty-seven point five million dollars new funding to improve eleven public transit systems in Nova Scotia was announced by ACOA Minister Peter MacKay and Jamie Muir, Minister of Service Nova Scotia and Municipal Relations. The eight community based transit services which serve disabled and seniors populations in rural Nova Scotia will benefit from the federal funding as will the larger urban organizations like Metro Transit in Halifax Regional Municipality, Cape Breton Transit, and Kings Transit (Kings County and surrounding area). Community based transit services will be able to make application right away for needed funding from an immediate allocation of $172,000 that must be spent this fiscal year before March 31st.
Mr. MacKay also spoke on behalf of Lawrence Cannon, Minister of Transport, Infrastructure and Communities. "Reliable and efficient public transit is key to ensuring environmentally sound, vibrant, and healthy communities."
"We are delighted that the Canadian government is investing in public transit systems throughout Nova Scotia," said Russell Walker, presidentof the Union of Nova Scotia Municipalities. "Larger transit services, which include HRM, Kings, and CBRM, will be able to provide improved services, and rural communities will be able to enhance accessible services to seniors, persons with disabilities, and the disadvantaged."
The eight community based transit services which serve disabled and seniors populations in rural Nova Scotia will benefit from the federal funding as will the larger urban organizations like Metro Transit in Halifax Regional Municipality, Cape Breton Transit, and Kings Transit (Kings County and surrounding area).
Community based transit services will be able to make application right away for needed funding from an immediate allocation of $172,000 that must be spent this fiscal year before March 31st.
This immediate funding is earmarked for and limited to capital spending. It will be allocated depending on the applications received and will also be tied to ridership so that governments and the public are getting the highest value return on the investment.
Eligible capital investments may include the purchase of buses and accessible transit vehicles, the construction of new terminals and maintenance facilities, and the acquisition of improved computerized systems for transit services.
These investments towards public transit infrastructure will also help reduce traffic congestion and improve air quality, as well as help reduce carbon dioxide and other greenhouse gas emissions.
"The Government of Canada recognizes that improving public transit use can help reduce congestion, lower automobile emissions, and make our communities more livable by supporting their economic, social, and cultural development," said MacKay.
"Today's investments will help improve our public transit systems in both urban and rural Nova Scotian communities," said Mr. Muir. "They support healthy, vibrant, sustainable communities, as well as help protect our environment. They also reduce isolation through better access to employment, education, medical services, and community and social events."
The funds include more than $11.7 million from the Canada-Nova Scotia Agreement on the Transfer of Federal Public Transit Funds, and $25.8 million to Nova Scotia through the federal Public Transit Capital Trust.
Service Nova Scotia and Municipal Relations will administer the distribution of these funds, primarily based on ridership. Public transit providers will likely receive funding before March 31, 2007.
Employment & Education
On November 28th, Education Minister, Karen Casey called for a review of the effectiveness of programs and services designed to support students with special needs and determine the impact inclusion has, if any, on the classroom learning environment. The review will also determine whether the funding provided by the department to support special education programming and services has resulted in the intended outcome to meet the educational needs of students with special needs. A two-member external review team will begin its study early in 2007 and report its recommendations to the minister by the end of June.
There has been an increase in disability programs and/or services at many Post Secondary institutions in Nova Scotia, most namely Mount Saint Vincent University, St. Francis Xavier University, Saint Mary's University, Cape Breton University, Acadia University, Dalhousie University and the Nova Scotia Community Colleges. Several of these institutions have also received special project funding to develop and implement new programs and or service delivery that will enhance the level of access/support to students with disabilities.
Saint Mary's University hosted a "Whole Student Conference 2007". The conference focused on meeting the needs of students with disabilities from technology to personal growth and development
Labour Market Agreement for Persons with Disability
The Canada-Nova Scotia Labour Market Agreement for Persons with Disability annual report was released by the province on Dec. 1, in recognition of the International Day of Disabled Persons on Dec. 3. The Canada-Nova Scotia Labour Market Agreement for Persons with Disabilities helps people with disabilities become employed, succeed in their jobs and remain in the workplace. The bilateral agreement provides an opportunity for governments to work together to improve labour market opportunities for people with disabilities in Nova Scotia. The annual report states that between April 1, 2005-March 31, 2006 754 Nova Scotians were services under the Labour Market Agreement for Persons with Disabilities.
PEI Council of the Disabled
Affordable, Accessible Housing Campaign - The Council's "Affordable Homes, Accessible Homes" campaign aimed at improving the supply of accessible and affordable housing in PEI is continuing and had a busy Fall and early Winter:
* Our annual Fall Policy conference in October provided a public kick off point for the campaign. The conference featured panel discussions and speakers on housing supply, government programs, seniors' housing demand, homelessness, and other housing issues.
* Our work in last Fall's municipal election campaign was also focussed on housing. A candidate survey produced over 95% response in Summerside and over two thirds response in Charlottetown. Several media releases during the campaign dealt with housing and brought media coverage and a positive editorial from one of the province's two dailies.
* December saw the release of our annual general public oriented "Disabilities Forum" publication. It is an 8 page tabloid which is distributed to over one hundred high traffic areas across the province. The Forum was focussed on accessible, affordable housing and featured articles by people with disabilities about their experiences, articles about barriers to housing and other related stories. The Forum's articles are also on our web site.
* As a follow up to the municipal election campaign the Council is meeting with the Mayors of the province's 7 largest municipalities. The meetings are characterized as "briefings" for the Mayors and cover accessible, affordable housing as well as public transit and other accessibility issues. Mayors are left with two briefing papers with background information and specific "Options for Public Policy".
* Given the likelihood of both provincial and federal elections in 2007 the Council is meeting with representatives of the Platform Committees of each of the registered Provincial [Progressive Conservative, Green, Liberal, NDP] and major Federal political parties [Conservative, Green, Liberal, NDP]. Similar to the briefings of Mayors, Platform Committee representatives are left with briefing papers [three for provincial, two for federal] with background information and specific "Options for Public Policy". In both cases one of the papers is on affordable, accessible housing, relevant to the particular level of government and the other is on a variety of accessibility issues. There is a third paper for the provincial level on the Disability Support Program.
Tuesday, October 24, 2006
Challenges grow ever larger
By EDITORIAL
The Summerside Journal-Pioneer
If you think living in a wheelchair is hard enough, try finding an apartment that is affordable and accessible.
Far too many Islanders with disabilities live in apartments or other dwellings from which they couldn't escape in the event of a fire.
It can be a grim struggle just to enter a bathtub or shower without suffering an injury.
That was one of the over-riding messages delivered at a provincial housing conference in Summerside, organized by the P.E.I. Council of the Disabled.
That, and the need for municipal candidates to give the plight of the disabled a higher profile, or at least get it on the radar screen.
"Municipal governments can take action to solve some of the problems that we discussed at the conference," said Barry Schmidl, the Council's executive director.
"They just need to develop the political will to do something about it."
Or for voters to push them in the right direction.
The owner of one of the most accessible housing developments on the Island admitted at the conference units that are ideally suited for disabled tenants are probably priced beyond their means.
He said he couldn't afford to charge less than market rates.
So the units, now fully booked, are not available to disabled people who cannot work and must rely on the government for financial support.
Delegates also heard many landlords cannot afford to upgrade their units to a standard that meets the needs of disabled tenants including low counters, wide doors, grab bars and elevators.
That argument carries some weight, but at the same time other delegates said there are a number of programs available to landlords that will cover the cost of necessary renovations.
They simply aren't aware of the programs, or in some cases, couldn't be bothered.
Think this is someone else's problem? Think again.
Sudden, catastrophic illness or injury can strike any able-bodied person, robbing them of their mobility and their independence.
The rental unit or home they've lived in for years can suddenly become a prison.
And there's something else to consider.
Islanders are rapidly aging, with seniors over 65 expected to account for 23 per cent of the population by 2026. That's an increase of approximately 75 per cent.
Eventually, all of us will have to cope with age-related disabilities and we'd better hope our support systems are in better shape than they are now.
Around the Block - The Council's third "Around the Block" project started in November and will run until June 2007. "Around the Block" will use a live theatre show to sensitize Elementary School students to disabilities and disability issues. We have had five previous theatre projects over the last five years [three "Kids on the Block" projects aimed at Elementary School and two "Around the Block" aimed at Intermediate and High Schools]. The script for the show has been developed using the experiences of the project participants, most of whom are young people with disabilities. All six of our theatre projects have been funded by HRSDC. Last year's show covered a variety of schools across the province. The one before was a winner for Best Director at Charlottetown's theatre festival. This year the show will tour across the Island and reach most Island Intermediate and High Schools. Project participants learn employability and life skills as well as how to produce a theatrical performance.
ALLIANCE FOR EQUALITY OF BLIND CANADIANS
AEBC APPOINTS FIRST NATIONAL EQUALITY DIRECTOR--Following a national search, Albert Ruel of Victoria, BC has been hired as AEBC's first National Equality Director.
Born in Prince Albert, Saskatchewan in 1956, and following high school, Albert began work with MacMillan & Bloedel, Plywood Plant in June 1973 and moved to the Paper Mill in November 1974. In May, 1977, he began losing his sight from Retinal Vasculitis, and became totally blind in March 1990 from glaucoma.
During the mid 1980s, Albert was a stay-at-home Dad and did all that is required of that challenging work. He took a woodworking course through Alberni's Adult Education program and built and restored several pieces of furniture. Of course the 1958 Chevy Impala in the garage was his pride and joy, and he devised ways to do much of the work it required. He returned to his job at the Mill in 1985 and resigned in 1992 when he went to work for CNIB in Prince George, BC.
Albert also joined and participated in many community activities, like the local Car Club, and a disability support group that catered to the needs of people with many different disabilities.
"These past 14 years have been a wonderful experience of ongoing discovery for me," says Albert, "as teaching may be the best way to solidify one's own learning.
"For most people blindness generates a fear of extended movement, both within one's home and community, but that doesn't have to be the case. Independence comes from personal desire and increased skill. Remember, life is 10% what happens to you and 90% what you do about/with it."
Albert brings to the position his personal experience with losing vision as an adult, along with 14 years work in the field.
AEBC CALLS FOR NEW ECONOMIC DEAL!
BLIND CANADIANS NEED NEW ECONOMIC DEAL, SAYS AEBC —Blind and otherwise disabled Canadians need a new economic deal, John Rae, President of the Alliance for Equality of Blind Canadians, told the Standing Committee on Human Resources, Social Development, and the Status of Persons with Disabilities on October 24, 2006 in Toronto.
"Despite past initiatives, the rate of poverty and unemployment remains a national disgrace," says Rae.
"The Prime Minister should take the lead and call together business, labour and organizations of persons with disabilities to forge a new level of commitment to reduce poverty, increase employment levels, and develop a new partnership," says Rae.
"We have subsisted in poverty for far too long," says Rae. "It's time Canada stopped tinkering, showed real leadership, and developed a national strategy that will include measurable short and long term objectives that will result In tangible progress."
Some of the elements Rae proposed include:
• Make the federal public service a model employer;
• Develop aggressive outreach recruitment and internship programs to increase workplace representation;
• Expand the numbers of employers covered under the federal Employment Equity Act and Contractors Program;
• Increase the earnings ceiling in social assistance programs, and reduce work disincentives in these programs;
• Assist provinces to institute a program to cover the costs of assistive devices as is already available in Ontario;
• Amend criteria in federal programs to enable persons with disabilities who are not EI recipients to qualify for training programs currently only available to EI recipients;
• Increase the availability of fully accessible public transportation;
To read the Brief that was submitted in conjunction with this presentation,
visit: http://www.blindcanadians.ca/press_releases/index.php?BriefID=38 (opens in a new window).
AEBC DISCUSSES ACCESS ISSUES WITH ONTARIO CITIZENS ASSEMBLY—Ontario has appointed a Citizens Assembly to discuss alternatives to the current electoral process, and AEBC has submitted a Brief discussing a variety of access issues. To read this Brief, visit:
http://www.citizensassembly.gov.on.ca/en-CA/Get-Involved/View-And-Search-Sub-missions/Detailed-View.aspx?ID=1132
AEBC COMMENTS ON FEDERAL TRANSPORTATION ACT— "Being able to travel independently and with dignity is a critical aspect of regular community life. Having access to all forms of transportation is particularly crucial in a nation as large as Canada. Public policy must enhance opportunities for all Canadians, including Canadians with disabilities, to travel unhindered throughout our country."
AEBC's Brief in response to Bill C-11: An Act to Amend the Canada Transportation Act, and the Railway Safety Act and to Make Consequential Amendments to Other Acts focused on what appears to be down-grading of the importance of "accessibility" throughout Canada's transportation system, the need for regular reviews of transportation across Canada, and extensive comments on the effect of smaller cabins on guide dog users and their owners.
To read the brief, visit:
http://www.blindcanadians.ca/press_releases/index.php?BriefID=39 (opens in a new window).

AEBC PUBLISHES NEW MATERIALS—The AEBC's website,
www.blindcanadians.ca (opens in a new window) contains three new publications on employment, mentorship and guide dog concerns. For copies, please contact AEBC's National Office at 1-800-561-4774 or e-mail: info@blindcanadians.ca
National Educational Association of Disabled Students (NEADS)
NEADS' 20th Anniversary National Conference—The National Educational Association of Disabled Students (NEADS) held its 20th anniversary conference "Creating Our Future: On Campus and Beyond" November 10th to 12th at the Delta Ottawa Hotel and Suites. Over 150 delegates from across Canada took part in the proceedings. Workshops included: Job Search Strategies: Competing in the Employment Market, Looking Into the Future of Post-Secondary Education, Creating Leaders for the Future and New Developments in Disability Studies. The conference also featured an exhibit area with the following companies: BMO Financial Group, Scotiabank, TD Canada Trust, IBM Canada, Microcomputer Science Centre, Alliance for the Equality of Blind Canadians, NEADS and the Accessibility Standards Advisory Council - Accessibility Directorate of Ontario.
The conference featured a celebratory 20th anniversary banquet highlighted by terrific speeches from past board members Bruce Mesman, Steven Estey, Stephanie Pollock and Susan Vida, who took us down "memory lane." A new NEADS logo was launched as part of the banquet festivities.
We would like to offer our thanks for generous sponsorship of the conference to the following organizations: Equity Through Education/BMO Capital Markets; BMO Financial Group, Scotiabank Group (Platinum Sponsors); Braille Jymico, CHUM Limited, Delta Ottawa Hotel and Suites, TD Bank Financial Group (Silver Sponsors); Travel Cuts (Bronze Sponsor); and in-kind sponsorship from Jobpostings magazine. This conference was made possible, in part, by grant funding support from the Social Development Partnerships Program (SDPP), Government of Canada. This project was also funded by a contribution from the Canadian Council on Learning.
We are grateful to the members of the 2006 NEADS Conference Planning Committee for their commitment in developing the conference agenda and special events. Committee members are: Kim Gerritsen (Chairperson), Lena Cook, Jason Mitschele, Paulo Monteagudo, Rachael Ross and Mahadeo Sukhai. Jennison Asuncion provided dedicated, ongoing support to the conference team as an advisor and was involved with the planning of the 20th Anniversary Banquet. Thank you to Chris Gaulin who developed and managed our conference website and Jennifer Gaulin who organized and coordinated volunteer services. Golden Planners provided all registration services before and during the conference.
A full conference report, audio files of presentations, a photo gallery and Powerpoints are available on the conference website: http://www.neads.ca/conference2006/en/
NEADS members elect new Board of Directors at twentieth anniversary national conference!—The Board of Directors of the National Educational Association of Disabled Students (NEADS) was elected on Sunday, November 12th in Ottawa during our national conference "Creating our Future: On Campus and Beyond." The following individuals will serve the Association for the next two years:
Alberta Representative - Agnes Tomkow (University of Alberta)
British Columbia Representative - Jewelles Smith (Simon Fraser University)
Manitoba Representative - Tim McIsaac (University of Manitoba)
New Brunswick Representative - Natalie Fougère (Université de Moncton)
Newfoundland and Labrador Representative - Terry McDonald
Ontario Representative - Margaret Shalma (University of Toronto)
Prince Edward Island Representative - Fraser MacPhee (Holland College)
Quebec Representative - Paulo Monteagudo (Bishop's University)
Saskatchewan Representative - Lena Cook
Open Representative - Mahadeo Sukhai (University of Toronto).
Congratulations and welcome to the 2006 - 2008 NEADS Board of directors! We currently have vacancies on the board in Nova Scotia and the Territories and hope to fill these posts early in 2007.
Mahadeo Sukhai has been appointed as Interim President until the board meets to elect its Executive committee at its first Board Meeting in 2007. At that time, Rachael Ross will assume the role of Past-President.
NEADS would like to pass on its gratitude and best wishes to the following individuals who are leaving us after their time on the Board:
Jennifer Finlay - outgoing Vice-President Internal and Nova Scotia Representative
Jason Mitschele - outgoing Vice-President External and Ontario Representative
Kim Gerritsen - outgoing Conference Chair and Alberta Representative
Kristen McLeod - outgoing New Brunswick Representative
Jill LaPlante - outgoing Manitoba Representative
Jennifer, Jason, Kim, Kristen and Jill were excellent board members who served the Association well during their terms of office.
Job Search Strategies Forums Project—The Job Search Strategies Forums Project, which is supported with funding from the Equity Through Education Program of BMO Capital Markets, continues to be a successful initiative. We've held forums in Toronto (October 14, 2005); Edmonton (November 19, 2005), Victoria (February 4, 2006), Montreal (March 18, 2006), Halifax (September 30, 2006) and Ottawa (November 11, 2006, as part of the national conference) and Winnipeg (February 2, 2007). An upcoming forum will be held in St. John's on March 31st. Jennifer Dillon, our project consultant, has done an excellent job in organizing the forums with the assistance of the project committee chaired by Jason Mitschele. Further information and reports on all Job Search Strategies Forums are available from the NEADS website: http://www.neads.ca/en/about/projects/jss/
Equity Through Education Student Scholarships and Campus Group Award Program—We are pleased to announce the new Equity Through Education Student Scholarships and Campus Group Award. Thanks to funding from the Equity Through Education Program of BMO Capital Markets we will be presenting scholarships of $3,000 each to as many as four post-secondary students with disabilities and an award to a campus group or access committee.
NEADS will award one Equity Through Education Award for Campus Groups per year, to be granted to a post-secondary campus group of students with disabilities or access committee addressing disability issues at a Canadian University or College, to support innovative programs/initiatives to improve campus life for students with disabilities. The amount of this award will be determined by a selection committee based on the features and merits of the winning proposal, but will be up to a maximum of $5,000. Applications for the student scholarships and campus group award are accepted until January 15th. Further information on the program and application materials are available from the NEADS website: http://www.neads.ca/en/about/projects/ete2/scholarship/
Julia Munk has been hired as the consultant to this new project to administer the scholarship program, with a board selection committee, and to work on the development of a mentorship initiative.
Representation at Meetings and Events—NEADS board members and staff have represented the association at a number of meetings over the last few months. Here are a couple of highlights. Fraser MacPhee (NEADS' PEI and CCD representative) attended "Building an Inclusive and Accessible Canada" in Ottawa on November 2nd, with Jennison Asuncion, advisor to the NEADS board of directors. This one-day meeting organized jointly by the Council of Canadians with Disabilities and the Canadian Association of Community Living, celebrated the achievements of persons with disabilities as it marked the 25th anniversary of the release of the Obstacles report which was published in 1981 during the International Year of Disabled Persons. Frank Smith attended the Canadian Association of Independent Living Centre's (CAILC) 5th annual celebration of the United Nation's International Day of Disabled Persons on Parliament Hill on November 30th.
Contact Us:
National Educational Association of Disabled Students (NEADS)
Rm. 426 Unicentre, Carleton University
Ottawa, Ontario, K1S 5B6
tel. (613) 526-8008
www.neads.ca ; info@neads.ca
National Network for Mental Health (NNMH)
Numerous Initiatives Underway at NNMH—The National Network for Mental Health is the only non-diagnostic mental health consumer/survivor driven organization in Canada that is national in scope and service delivery.
In recent years, the organization has been involved on a number of fronts that have consumed almost all of the organization's resources. These include, but are not limited to: BUILT Network, the Canadian Coalition of Alternative Mental Health Resources, and the Standing Senate Committee on Social Affairs, Science and Technology and their study of the mental health system in Canada.
The BUILT Network is an economic development project funded through the Opportunities Fund of Human Resources and Social Development Canada. This program is based on a model of customer services representative skills development and is currently operating in 6 project sites, 10 partner sites, and on-line through a course delivery method: (www.builtnetwork.ca)
As an alliance of mental health consumer organizational and community leaders, the Canadian Coalition of Alternative Mental Health Resources works to establish a central clearinghouse of position papers, recovery information and models, and organizational development materials: (www.ccamhr.ca)
"Out of the Shadows at Last", the final report and recommendations on the mental health care system in Canada was released May 09, 2006. The mental health consumer community has been heavily invested in the process of testifying to the "Kirby Senate Committee" since its inception, was ecstatic with the recommendations and observations of the final report, and is currently awaiting a federal announcement supporting the creation of a Mental Health Commission of Canada as was recommended in the final report.
Other activities of the National Network for Mental Health of late include the investigation of creating an accredited Peer Specialist Recovery program, the Mental Health Minutes program that supports knowledge exchange, the International Initiative on Mental Health, and numerous additional undertakings.
Currently, anyone interested in receiving a monthly e-bulletin on the activities of the NNMH and its stakeholder community can sign up to receive the NNMH Bulletin at www.nnmh.ca.
People First of Canada
PFC Held Board Meeting—People First of Canada held a Board Meeting weekend with various committee meetings at the end of February 2007. The Philosophy Training Committee and By-Law Committee met on Thursday, 22 February 2007 and Friday, 23 February 2007. Also a Strategic Planning Session was held on Friday, 23 February 2007, for non-committee members to discuss future plans for People First of Canada. The People First of Canada Board Meeting took place on Saturday 24 February 2007 and Sunday, 25 February 2007 where committee reports and other PFC business were discussed.
Council of Canadians with Disabilities
926-294 Portage Avenue
Winnipeg, Manitoba
R3C 0B9
Phone: 204-947-0303
TDD: 204-943-4757
Fax: 204-942-4625
Toll Free: 1-866-947-0303
Email: ccd@ccdonline.ca
www.ccdonline.ca
A Voice of Our Own
is produced through the resources provided by Human Resources Development Government of Canada.
(Articles appearing in "A Voice of Our Own" may not represent positions held by CCD)