Act Now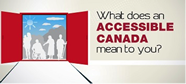 Empower U: Learn to Access Your Disability Rights Training on Canadian Human Rights, the Convention on the Rights of Persons with Disabilities (CRPD) and its Optional Protocol (OP) training aims to increase awareness of how to address discrimination using more familiar Canadian human rights laws such as Human Rights Codes and the newer international Convention on the Rights of Persons with Disabilities (CRPD). This is training for persons with disabilities by persons with disabilities. The training is part of a project funded by Employment and Social Development Canada and implemented by the Council of Canadians with Disabilities (CCD) in collaboration with Canadian Multicultural Disability Centre Inc. (CMDCI), Citizens With Disabilities – Ontario (CWDO), Manitoba League of Persons with Disabilities (MLPD) and National Educational Association of Disabled Students (NEADS). Read more.
Sign Up for our monthly digest
A monthly newsletter from CCD about what is happening in the community
A Voice of Our Own: April 2007
Volume 25 Issue 2
Canada Signs UN Convention on the Rights of Persons with Disabilities
On Friday, 30 March 2007, Canada signed the Convention on the Rights of People with Disabilities (CRPD), the first human rights convention of this century. CCD's Steve Estey, a member of the Canadian delegation to the United Nations (UN), was present at the UN to witness this historic event. Steve is the Chairperson of CCD's International Development Committee.
The Hon. Peter MacKay, Minister of Foreign Affairs, held a press conference in Ottawa to announce Canada's signing of the CRPD. People with disabilities were on hand for this announcement, which was anticipated eagerly. The Canadian disability community worked for five years for the achievement of a CRPD consistent with Canadian values. CCD has conveyed its thanks to Minister MacKay for his leadership on the CRPD.

Dulcie McCallum and Steve Estey observe as Canada's
Ambassador signs the Convention.
By participating in the signing ceremony, Canada became an important role model to other nations, demonstrating how to make rights meaningful for a group that has experienced some of the most severe forms of human rights violations, ranging from forced sterilization to the denial of legal capacity. By involving people with disabilities in the development of the Convention and by being among the first to sign on to the CRPD, Canada sent an important message to other nations of the world regarding an inclusive and principled approach to working with people with disabilities and their organizations.
Canada is an acknowledged leader in human rights and, during the development of the CRPD, Canadian officials played a key role in ensuring that the Convention was built on a strong foundation of equality and human rights. Canada helped deliver to people with disabilities around the world an elaboration of human rights principles, as seen through a disability lens.
The Government of Canada collaborated with disability organizations during the development of the CRPD. Steve Estey and Mary Ennis, another member of CCD's International Committee, participated in Canadian delegations that worked on the development of the CRPD. The Department of Human Resources and Social Development Canada supported the disability community's participation in the development of the Convention. The process benefited from the Canadian disability community's keen understanding of human rights violations and the remedies that are needed to ensure people with disabilities have full enjoyment of their rights.
Canadians with Disabilities Celebrate Supreme Court Decision
On 23 March 2007, the Supreme Court of Canada overturned a decision of the Federal Court of Appeal that allowed VIA Rail to run inaccessible passenger rail cars with impunity. The Court sent a clear message to VIA Rail, and indeed all Canadians, that service inaccessible to Canadians with disabilities will not be tolerated. Canadians with disabilities view this decision as a victory for accessible transportation in Canada. This was a David and Goliath-like battle, where people with disabilities waged a protracted legal battle against VIA, a crown corporation which seemed determined to keep inaccessible passenger rail cars in service. Ultimately, the protection afforded by the Charter of Rights and Freedoms resulted in the Supreme Court taking a strong stand for a rail service usable by both people with and without disabilities.
Unlike VIA Rail, the Supreme Court of Canada, like the disability community, has been convinced that a universal, rather than a segregated, approach to service design is what ultimately will serve Canada the best. With a universal approach, services and products are designed so they can be used by people with the widest range of functional abilities. The impact of a universal design approach is less exclusion, fewer people being left behind, more participation and more opportunity for everyone.
In its decision, the Supreme Court stated,
The fact that there are accessible trains traveling along some routes does not justify inaccessible trains on others. It is the global network of rail services that should be accessible…

The twin goals of preventing and remedying discrimination recognized in Canadian National Railway Co. v. Canada (Canadian Human Rights Commission) cannot be accomplished if the creation of new, exclusionary barriers can be defended on the basis that they are no more discriminating than what they are replacing. This is an approach that serves to perpetuate and exacerbate the historic disadvantage endured by persons with disabilities.

This is not a fight between able-bodied and disabled persons to keep fares down by avoiding the expense of eliminating discrimination. Safety measures can be expensive too, but one would hardly expect to hear their cost justifies dangerous conditions. In the long run, danger is more expensive that safety and discrimination is more expensive than inclusion.

Representatives of CCD, CACL, AEBC and other groups at the Supreme Court of Canada to
participate in the proceedings on the VIA Rail case.
The Renaissance cars, at issue in this case, were available at bargain basement prices because they would not have been allowed on the tracks in the United States, Australia or Europe due to their poor design. The Canadian Transportation Agency (CTA) found that the trains failed to measure up in the following respects: no accessible washrooms in the coach car, the wheelchair tie-down only accommodated a child's wheelchair, the doorways are too narrow, there is insufficient space for a service animal, the so-called accessible suite is in fact inaccessible. The Supreme Court has saved the day and in effect had the courage to say-the emperor is wearing no clothes. Despite the $130 million of taxpayer dollars that has been spent by VIA Rail, the Supreme Court has had the courage to say VIA got it wrong with these cars and must do what is necessary to correct the problem. Unlike the Federal Court of Appeal, the Supreme Court was not willing to accept a rail service where people with disabilities could only travel on the days the accessible cars were in service. Analyzing this problem with an equality rights lens, the Supreme Court of Canada determined that the type of service offered by VIA Rail was counter to the commitments made to people with disabilities in the Charter of Rights and Freedoms.
When then Minister of Transport David Collenette made the announcement that VIA Rail would be receiving $400 million from the Federal government, he promised that any new rolling stock would be accessible to Canadians with disabilities. The Supreme Court's decision will make this promise come true for Canadians with disabilities.
This case has been a long and arduous journey for the disability community. It has expended a great deal of time and resources. While the outcome is all that we have dreamed of, we are asking the Federal Government to take the necessary regulatory action to prevent a similar boondoggle in the future. The disability community is seeking a regulatory framework, similar to what exists in the US, that would prevent inaccessible transportation equipment from ever being purchased or put into operation in Canada. Canadians with disabilities know as well as anyone the scarcity of resources for needed services and infrastructure. It is our objective that when resources are expended that they are being used in a manner that will benefit all Canadians.
Federal Budget Has Good News for People with Disabilities
Budget 2007 included a number of initiatives addressing the concerns of persons with disabilities. Some highlights from Budget 2007 are as follows:
Working Income Tax Benefit (WITB) Disability Supplement
The Budget included a Disability Supplement to the WITB. Working people eligible for the disability tax credit (DTC) will qualify for the WITB's Disability Supplement. Benefits from the WITB will start when the earnings of the DTC-eligible individual reach $1,750.
The disability supplement will increase with individual earnings up to a maximum annual amount of $250. This benefit is available in the 2007 tax year.
Registered Disability Savings Plan
Acting on the recommendations of the Expert Panel on Financial Security for Children with Severe Disabilities, the Budget established a new registered disability savings plan (RDSP) that will begin in 2008. CCD National Coordinator Laurie Beachell was a member of the Expert Panel.
An RDSP will function in a manner similar to a registered education savings plan. An individual eligible for the disability tax credit (DTC), their parent or other legal representative, may establish an RDSP. The DTC-eligible individual will be the plan beneficiary. The plan will consist of three elements:
Parents, beneficiaries and others will be able to contribute to an RDSP. Contributions to an RDSP will be limited to a lifetime maximum of $200,000 and will be permitted up until a beneficiary is age 59.

Annual RDSP contributions will be topped up by Canada Disability Savings Grants (CDSGs) at matching rates of 100, 200 or 300 per cent, depending on family income and the amount contributed, up to a maximum lifetime CDSG limit of $70,000. An RDSP will be eligible to receive CDSGs up until the plan's beneficiary is age 49.

Canada Disability Savings Bonds (CDSBs) of up to $1,000 per year will be provided to RDSPs established by low and modest-income families, up to a maximum lifetime CDSB limit of $20,000, and will not be contingent on contributions. The maximum annual $1,000 CDSB will be paid to an RDSP where family net income does not exceed $20,883. An RDSP will be eligible to receive CDSBs up until the end of the year in which the plan beneficiary attains 49 years of age.
Enabling Accessibility Fund
Budget 2007 created an Enabling Accessibility Fund, which will invest in construction and renovations related to physical accessibility for persons with disabilities. Budget 2007 contributed $45 million over three years for this fund.
Mental Health Commission
The Budget established a Mental Health Commission which will be responsible for developing a mental health strategy.
Social Programs
The Government of Canada estimates it will provide $700 million on initiatives for persons with disabilities, including Labor Market Framework Agreements for Persons with Disabilities, the disability tax credit, and other measures.
Canadian Museum for Human Rights
On 23 April 2007, Prime Minister Stephen Harper announced that Canada's New Government had reached agreement with public and private sector partners to establish the Canadian Museum for Human Rights, as a national museum in Winnipeg. This is the first national museum to be located outside of the National Capital Commission. Jim Derksen, a member of the CCD Human Rights Committee, was an invited guest on hand to witness this historic event in Canada's human rights history.
The Federal Government has committed $100 million to the Museum and joins the other partners who have been working on this project for some time: the Province of Manitoba, the City of Winnipeg, the Friends of the Canadian Museum for Human Rights and the Forks Renewal Commission. The latter four partners have made a commitment to raise $165 million towards the cost of the museum. Manitoba Premier Gary Doer stated, "The Museum will pay tribute to past human rights successes, while helping to educate and teach us about the struggles of today and tomorrow."
Jim Derksen, Clare Simpson, Dr. Nancy Hansen and Laurie Beachell have been attending meetings with the Museum to raise the profile of the human rights struggles of persons with disabilities. CCD will continue to work with the Museum regarding the inclusion of disability issues in the Museum's programming and to promote adherence to universal design throughout all aspects of the Museum.
On 4 May 2007 in Winnipeg, world-renowned interpretive museum designer, Ralph Appelbaum unveiled an updated vision for a Master Exhibit Plan for the Museum. Ralph Applebaum Associates were retained by Friends of the Canadian Museum for Human Rights Inc. (FCMHR) in 2003.
At a public event held at the Winnipeg Convention Center, hundreds of Museum supporters, including members of the disability community, came out to get a glimpse of how the human rights museum might look from the inside.
The Museum is envisioned to be a journey of hope that inspires people to action through education. Although the past will be examined, the focus will be on the present and future to inspire learning and understanding.
Some of the focus areas envisioned by Mr. Applebaum include:
Aboriginal Rights and Human Rights-Elders and other members of Aboriginal communities will tell their personal stories, comment on the treaties and their nations' struggles for human rights;
Canada's Human Rights Journey-A look at the history of human rights struggles and advocacy in Canada, and the development of human rights institutions;
The Human Rights Forum-A range of interactive programs to reveal how personal actions and interactions have an impact on human rights, locally and around the world;
Eye on the World-The level looks at global human rights today with a real-time map of human rights issues, such as poverty or discrimination against women.
Gail Asper, Campaign Chair, spoke about the challenges ahead of making the dream for the Museum a reality by taking the fundraising campaign across Canada to raise the remaining $20 million required from the private sector. "It is time for the private sector to step up to the plate, to contribute the remaining funds to complete the building and content."
Ralph Applebaum has extensive involvement in every facet of museum planning and exhibition design. His work for the United States Holocaust Museum, the American Museum of Natural History, and the The Newseum won every major design award.
CRPD: A rights-based approach
Message from Disabled Peoples' International
Remarks by Venus Ilagan, Chair, Disabled Peoples' International
On Behalf of the International Disability Caucus, on the occasion of A High Level Dialogue, entitled
"From vision to action: the road to implementation of the Convention on the Rights of Persons with Disabilities"
Excellencies, Delegates, Colleagues and Friends,
We people with disabilities from all over the world welcome the Convention as the first legally binding international instrument to adopt a "rights-based" approach to disability. As you would expect, we have very high hopes and expectations for the success of the CONVENTION in the future!

Venus Ilagan
The Convention explicitly addresses disability issues in a human rights context, as opposed to the traditional approaches that cast disability in a medical, charity, or social welfare model. In this very building, we discussed this approach in great depth for nearly five years. Together, we have elaborated a vision of this new approach: the so-called "paradigm shift," so often cited by delegates to the Ad Hoc Committee.
But, we now must ask, what are the implications of this new "rights-based" approach for effective implementation of the Convention?
The Office of the High Commissioner for Human Rights has produced a number of resources examining the meaning of "rights-based approaches" in different contexts. They helpfully identify the following five areas as key elements of a "rights-based approach." I should say at the outset, that we believe these elements are at the core of the new vision set forth by the Convention:
Number 1) A Clear Link to Human Rights - that is, linking disability issues to the full range of civil, political, economic, social and cultural rights, and talking about disability issues using the accepted language of human rights. Such linkages form the very core of the Convention.
Number 2) Accountability - rights-based approaches identify both the rights-holders (that is the people claiming rights) and the duty-holders (or in other words those who have the duty to protect and promote the enjoyment of the right in question). As with other human rights conventions it will be states' party to this treaty that are ultimately responsible to ensure that their citizens enjoy the human rights elaborated in the Convention.
Number 3) Empowerment - rights-based approaches focus on the empowerment of rights-holders. And this is a key point: empowerment is the polar opposite of a charitable approach, where recipients of charity are passive and have no say in what action is taken. The underlying philosophical approach of the Convention is consistent with our vision of empowering persons with disabilities to claim their human rights. As part of empowerment, too, we note that people with all types of disabilities need to be a part of implementation activities, and we encourage governments to reach out to the widely diverse community of people with disabilities, and their families.
Number 4) Participation - rights-based approaches require the full participation of all relevant stakeholders. The Convention requires that governments consult with persons with disabilities and their representative organizations in decision-making processes that affect the lives of persons with disabilities. Here again is a key point for implementation, we wish to draw attention to the central role played by the representative organizations of people with disabilities throughout the drafting process. Many have noted that this was key to the success and effectiveness of the work. We believe that this approach must continue in the implementation phase and urge all governments to include organizations of people with disabilities in any domestic effort in this area.
Number 5) Non-discrimination - finally, rights-based approaches call for specific attention to issues like discrimination, equality, and equity for persons who have been particularly marginalized. Within the disability community this not only means addressing the discrimination faced by persons with disabilities in general, but also the specific and additional discrimination faced by groups within the community, such as women with disabilities, children with disabilities, or indigenous persons with disabilities, all of whom are specifically identified by the Convention. Indeed, there are separate articles for women with disabilities and for children with disabilities, which underscore the central place of non-discrimination in the treaty.
We believe these five elements as identified by the Office of the High Commissioner not only complement the vision elaborated in the Convention, but actually lay out a framework of principles needed for effective implementation of the obligations set forth in the treaty. Although the specifics of implementation will vary across national and regional contexts, we firmly believe that adherence to these five key elements in the undertaking of implementation activities will help to ensure the effectiveness of those activities and achievement of the new vision articulated by the Convention.
This amazing new treaty represents a fundamental shift in the way disability is understood in international law and addressed in people's everyday lives. Though there are undoubtedly challenges ahead, as we sit here in conference room four (4) one final time, we people with disabilities are confident that the international community already possesses the tools, energy and solutions needed to realize the vision of the Convention and make positive changes in the lives of our sisters and brothers over the world. Today in so very many ways is a new beginning, a new era for people with disabilities, and we are eager to work with you all to move forward.
Thank you
A Bird's Eye Look at the 7th DPI World Assembly in Korea 2007
WHEN: 5-8 September 2007
WHERE: KINTEX, Goyang, Gyeonggi-do, Korea
WHAT: Persons with disabilities from around the world will attend sessions to report on the status of people with disabilities in their countries, to discuss progress plans and to pass resolutions.
The theme is "Our Rights, Our Convention, But for All-The Next Steps toward Global Progress in Fulfilling the Spirit of the Convention". This theme contains the message of celebrating the Convention, the newest human rights convention, which is not just for people with disabilities but for all citizens, so that the 2007 Assembly can provide a venue for seeking the next steps towards global progress in fulfilling the spirit of the Convention.
For More Information: www.dpiwa.net
British Columbia Coalition of People with Disabilities
Advocating for Inclusive Education
In early 2007, BC's Minister of Education made a surprise announcement regarding a planned provincial school for children with autism. This school will be offered as a "choice" to parents who wish to remove their children from mainstream education.
BCCPD is working with families throughout BC to fight the implementation of this segregated provincial school. A handful of community representatives attended an invitation-only meeting with the Ministry to "consult" on the plan. However, spokespeople reported that little time was given for discussion of problems with the plan and found that the Ministry had already decided to proceed with the school. No details were provided on what form the school would take.
BCCPD agrees with advocates on this issue that the Ministry has provided no educational rationale to justify a separate school. We also believe that the problems which currently exist for children with autism in mainstream schools-decreasing resources for special education teachers and therapies; insufficient staff training; and others-should be addressed within the public system. All students deserve the benefit of improved services, not just a few who might opt out of a regular classroom.
Alberta Committee of Citizens with Disabilities
Assured Income for the Severely Disabled: Disability Awareness Training
In April, 2005, the Government of Alberta announced its support for the recommendations presented to the Department of Seniors and Community Supports by the MLA AISH review committee. Renewing AISH: Report and Recommendations of the MLA AISH Review Committee made 11 recommendations for improving the AISH program, many of which were addressed immediately, and others that are in the process of being implemented.
ACCD is particularly excited about the work taking place to fulfill the recommendation to partner with disability organizations to provide ongoing training for AISH staff. ACCD Executive Director, Bev Matthiessen, along with Ruth Hofer, Director AISH Program and Policy, Seniors and Community Supports, is co-chairing the AISH Disability Awareness Training Steering Committee. For some AISH workers, this training is a refresher, and for others, it is a first time opportunity. This training is fully supported by the community and Seniors and Community Supports and will be considered part of ongoing training for AISH staff in the future.
The steering committee first met in April 2006. Since that time, they have:
Researched the availability of disability awareness training materials across Canada
Hosted a pilot workshop in Edmonton (September 2006)
Customized the training materials for AISH staff based on input received during the pilot workshop
Hosted ten workshops across the province (Grande Prairie, Calgary, Lethbridge, Red Deer, Vegreville, and Edmonton)
In February, AISH staff had the opportunity to participate in train-the-trainer sessions, allowing these workshops to be offered on an ongoing basis.
The Steering Committee developed a Disability Awareness website for the Seniors and Community Supports staff intranet. This website provides staff with an easily accessible information resource. In addition, the steering committee will begin to work to revise their web-based e-learning module. The website was launched in March, and the e-learning module will be in place in April 2007.
ACCD is pleased to be a part of this worthwhile endeavor. The recommendation to provide ongoing training for AISH staff has been important to members of the disability community for many years.
Affordable Housing Task Force Prepares to Make Recommendations
During the Alberta conservative party leadership campaign last fall, ACCD met with Ed Stelmach to talk about disability issues. At that time he told us that more affordable housing options, including adapted housing, must be created for people with disabilities who live in the community on fixed incomes. Now, as the province's premier, Ed Stelmach has taken the first steps in fulfilling his commitment to low income and homeless Albertans.
On Feb. 1, a provincial government press release announced the formation of the Alberta Affordable Housing Task Force, a committee charged with finding "innovative and practical ways to make affordable housing more accessible and available to Albertans." Throughout February, the task force traveled to nine communities across the province, seeking input and feedback regarding "solutions for homelessness and affordable housing".
ACCD took part in task force meetings in Edmonton and other members of ACCD attended meetings in other locations in the province. Executive director, Bev Matthiessen, commented on the process: "Although we were given very little time to prepare for the presentation, we were able to bring forward our perspective on how critical the situation is for many people with disabilities who face challenges of finding suitable housing. Too often individuals with disabilities live in inaccessible, unsafe, and inappropriate housing because they do not have any other options".
Premier Stelmach asked the committee to submit its report to him by March 19, 2007. The disability community is waiting to see the report, its recommendations, and what action the government will be taking.
If you'd like to find out more about the task force, its membership, or its mandate, visit the Municipal Affairs and Housing website at www.municipalaffairs.gov.ab.ca.
Service Dogs Act (Bill 203) Tabled in Alberta Legislature
Rob Lougheed, MLA Strathcona and Chair of the Premier's Council on the Status of Persons with Disabilities, has tabled Bill 203, the Service Dogs Act in the Alberta Legislature. The Bill will be debated in the month of April.
If this legislation passes in the Assembly, several issues will be addressed. First, the accreditation of service dog training facilities, licensing of service dogs, and the issuing of identification for service dog handlers will be regulated, as was the case for the Blind Persons' Rights Act. Secondly, penalties will be in place for those who misrepresent an untrained or uncertified dog as a service dog. As well, individuals can be penalized if they refuse to allow a certified service dog and handler onto their premises.
Albertans with Disabilities Enjoying Alberta Landscapes
As a member of the Friends of Alberta Abilities Lodges steering committee, ACCD is committed to supporting Albertans with disabilities to access the province's natural beauty.
The William Watson Lodge, located in Alberta's Kananaskis country, is a fully accessible wilderness lodge, offering "people with disabilities the opportunity to experience nature and their family/support groups with time to strengthen the support net" (Friends of Alberta Abilities Lodges). However, the Lodge is heavily used and only has the capacity to serve a fraction of Alberta's more than 330,000 citizens with disabilities each year.
So, in January 2007, the Friends of Alberta Abilities Lodges held a workshop meeting to explore the possibility of developing a similar lodge in northern Alberta. At the workshop, a variety of speakers provided background information on pertinent topics, including:
Future statistics regarding Alberta's population of citizens with disabilities
Health and education benefits of breaking the isolation that often accompanies life with a disability
Features of new or renovated accessible wilderness lodges.
To build on the success of the January meeting, another workshop will be held in May 2007.
Alberta Hate Crime Survey
ACCD sits on the Alberta Hate Bias Crimes and Incidents Committee, along with representatives from the justice sector, government, and other community organizations who are concerned with hate motivated violence.
Formed in 2001, the committee's goal is to build a common vision for systematically addressing hate motivated crimes and develop a provincial wide framework encouraging a collaborative, integrated approach between police, the courts, and community in preventing, enforcing, and responding to hate motivated crime.
Currently the committee is conducting a survey of police, provincial Crown practices, and community members with the long-term goal of improving the prevention and enforcement of hate bias crimes in Alberta.
ACCD has emphasized how important it is to include a consumer perspective in the survey. Individuals who believe they have been affected by hate bias crimes will be given the opportunity to share their experiences, give their impressions of available supports, and tell about their perception of the justice sector's response to hate bias crimes.
Saskatchewan Voice of People with Disabilities
Disability Income Program for People with Disabilities
An income program that isn't attached to Social Assistance is still a dream. In numerous meetings with government officials, it is quite apparent that the will to change is not that strong. Now that we have a community-based committee, Disability Income Support Committee (DISC) all working together on this issue, I do believe that there will be changes, but not in as fast a manner as we would like to see. The committee is continually meeting with government officials to explain the importance of a separate program. Eventually, we will be heard. I think they know we are not going away!
The following are some of the highlights of the budget announcements by the Provincial Government in its budget for people with disabilities.
The 2007 - 08 budget provides nearly $13 million to support the inclusion of people with disabilities
These investments further demonstrate the government's commitment to full citizenship for people with disabilities and its continuing response to the Disability Action Plan.
Budget Highlights
$3 million to recruit and train public health professionals in intensive autism treatment
$1.5 million to enhance children's mental health services
$750,000 to increase the availability of children's therapy services with the goal of decreasing wait times
$300,000 to provide respite services for families with children with complex care needs.
Income Support
$1.5 million enhancement to adult allowances for disabled individuals receiving social assistance
$800,000 to increase Level of Care support rates by $28 per month for 2,400 adults living in assisted care facilities.
Supporting Individuals and Families
$1.5 million enhancement to Community Living Division for supports to individuals with intellectual disabilities
$600,000 enhancement to implement Community Living Division's Redesigned Respite Program for families with children with intellectual disabilities.
Manitoba League of Persons with Disabilities
Community Forum
The Manitoba League of Persons with Disabilities, Inc. recently hosted an information follow-up session on the project Vulnerable Persons and End of Life Care New Emerging Team (VP-Net). This session involved members of the MLPD, participants of a 2005 focus group and other interested persons. Researchers Jim Derksen, Deborah Stienstra and April D'Aubin shared with consumers results of the 4 Canada-wide focus group sessions dealing with a variety of issues including views on vulnerability at end of life, decision making for end of life stage, symptom management, and informal care giving. Fact sheets on each identified issue were distributed and discussed. Importantly, Advocacy Options and implications were also shared on each of the 5 issue areas, leaving participating organizations with concrete Action Steps to immediately pursue.
Provincial Election
Manitobans have a provincial election the end of May, the League will be part of a coalition of disability organizations hosting a community forum on issues relevant to our community.
AGM
The MLPD Annual General Meeting this June will award Steven Fletcher, M.P. the Council of Canadians with Disabilities Award for volunteer contributions to the Disability Rights Movement in Canada.
Nova Scotia League for Equal Opportunities
Nova Scotia League for Equal Opportunities has a new website!
You can now visit us at www.novascotialeo.org
Nova Scotia Disabled Persons Commission

DPC Meeting Sydney Nova Scotia 19 March 2007
The Nova Scotia Disabled Persons Commission held two public consultation meetings in Truro on Feb 22 and in Sydney on March 19 providing an opportunity for persons with disabilities to bring issues of concern to the commission. Members of NSLEO and its affiliate groups, the Disabled Consumers Society of Colchester, and Community Involvement of the Disabled, along with members of the community, were on hand to make presentations on issues and concerns within the disability community. Some of the issues raised included the lack of accessibility within the municipalities' infrastructure, hospitals, lack of, and access to, sign language interpreters, affordable and accessible housing, the need for assistance to maintain and meet the growing demands of employability programs for individuals with disabilities as well as the lack of affordable/accessible housing and lack of supportive and transition housing for individuals with disabilities. There is currently a moratorium on the development of Small Options Housing in Nova Scotia pending a program review that should be completed soon. Many residents expressed feelings of regression in terms of disability issues in Nova Scotia. At the public meeting in Sydney, Nova Scotia much of the discussion was again around the need for assistance to maintain the Collaborative Partnership Networks programs to help individuals with disabilities gain skills to enter, or re-enter the workforce, accessible transportation, accessible housing and the growing number of self-service gas stations within Nova Scotia. The Disabled Persons Commission is in the process of completing reports from the public meetings that will outline a plan of action for some of the concerns brought forth.
Transportation
NSLEO has long been a member of the Nova Scotia Community Based Transportation Association (NSCBTA). The NSCBTA, chaired by David Mooney, is a committee dedicated to addressing the issues of affordable, accessible, available, and inclusive transportation in Nova Scotia. The committee has members representing a variety of groups and demographics within Nova Scotia. The group met recently to identify issues of concern and develop a strategic plan for the upcoming year. NSLEO will continue working very closely with the NSCBTA and will assist with the development of a Transportation Position paper that will be presented to the Provincial Caucus in the fall.
Addressing Poverty in Nova Scotia
NSLEO was invited to attend a two day conference "Framing a Poverty Reduction Strategy for Nova Scotia" hosted by the Community Advocates Network, Community Action on Homelessness, Stepping Stone, and Dalhousie Legal Aid Services. Those invited to attend the conference were consumers, concerned citizens, advocates, community groups and members of a variety of service providers and departments. Using the Newfoundland Strategy developed in 2006 as a guide, the conference worked on identifying the issues and needs that must be included in a poverty reduction strategy for Nova Scotia. The conference was a huge success and concluded with an abundance of valuable information and input. NSLEO's Coordinator, who attended the conference, is a member of the working group who will be working on the development of the Strategy. NSLEO is also working with local groups to advocate for the passing of Bill 74 which is an Act to establish a formal committee to work on the development of a poverty reduction strategy. In the absence of the Bill the community recognizes the need to address poverty now!
Accessible Nova Scotia Committee
Members of the Accessible Nova Scotia Committee met with Minister of Economic Development, Minister Hurlburt, on April 10th to propose the development of a grant program for small to medium sized businesses to assist with the costs associated with increasing accessibility. The committee is also proposing the development of an Accessibility Resource Coordinator who will research, collect and distribute information on Universal Design and accessibility.
Accessible Nova Scotia Website: http://accessiblens.ca/
Accessible/Affordable/Visitable Housing
HALIFAX, March 24, 2007 -Twenty-three units of affordable rental housing have been built at 37 Main Ave. through the Canada - Nova Scotia Affordable Housing Program Agreement. The four-story building includes seven studios, one two-bedroom and 15 one-bedroom units. The building has an elevator and two wheelchair-accessible units. And all units are accessible to visitors with mobility challenges (visitable). The building, called Jacob's Manor has been built as a 'green', energy-efficient building. NSLEO has been advocating for the implementation of "visitable" standards in the construction of housing and apartments and congratulates Rockingstone Developments Incorporated on the design and development.

Ralph Ferguson at Affordable,
Accessible Visitable Housing
Announcement 24 March 2007.
Access Awareness Week in Nova Scotia-May 27 to June 2
NSLEO's Committee: Partnership for Access Awareness Nova Scotia, is in full swing. The theme for this year is: Accessibility for All: Building Pathways to Inclusive Communities. Access Awareness Week will commence on May 28th with the Proclamation Ceremony at Province House in Halifax. Guest Speakers for the ceremony will focus on the value and importance of inclusive recreation. Jamie Campbell, the PAANS Coordinator, has been working hard to collect the annual scholarship, award nominations, and coordinate a poster competition at the Westmount Elementary School. There are events happening throughout Nova Scotia highlighting Access Awareness week. The final event is the Access Awareness Showcase which will be held at Pier 21 in Halifax on June 1st from 11-2. The showcase will include programs and services available that help to remove barriers in our communities. Guest speakers will include Federal MP Alexa McDonough, and Scott Bolton. Please visit the website for more information on the week's events and activities.
http://accessawareness.nsnet.org/
UN Convention on the Rights of Persons with Disabilities
The NS Disabled Persons Commission hosted a Public Meeting and Panel Discussion on the UN Convention on the Rights of persons with Disabilities in Halifax on January 4th. The panelists consisted of 2 members of the Ad Hoc Committee who drafted the ICRPD, Steven Estey and Dulcie McCallum, and local experts who have been involved with the ratification and monitoring of other UN Conventions, Vince Caulderhead (NS Legal Aid), Linda Christiansen-Ruffman (St Mary's University) and Michael Noonan (NS Human Rights Commission). The MP for Halifax, Alexa McDonough, provided opening remarks, and the chairman of the Disabled Persons Commission and Vice-Chair of NSLEO, Ralph Ferguson, acted as moderator. There were approximately 90 attendees, consisting of people with disabilities, people affiliated with organizations representing people with disabilities, government employees and the general public. The event received media coverage from Voiceprint radio and CTV television.

UN Convention Panel 4 January 2007.
Upon Canada's signing of the UN Convention, a celebration to commemorate was held in Halifax on April 3rd where Steve Estey was invited to highlight the work of the Ad Hoc Committee and the events that took place around the signing of the convention. Nova Scotians were very proud of the commitment demonstrated by the Government of Canada.
NSLEO contacted Minister Peter MacKay to thank him for his dedication to this issue.

UN Celebration 3 April 2007.
Minister MacKay is hosting a celebration to commemorate Canada's signing of the convention on May 27th in his Riding of Pictou County. The event will take place from 2:00 pm-4:00 pm at the Museum of Industry. NSLEO staff and Directors have been invited to attend the celebration.
Are you ready?
The Emergency Preparedness committee has developed a disaster preparedness booklet with tips for persons with disabilities for preparing for an emergency situation. The booklet will soon be available on the NSLEO website and available in alternate formats upon request to the NS Disabled Persons Commission.
Bernadette McKeough, Coordinator of NSLEO, along with several other members of the Emergency Preparedness Committee, recently made a presentation to representatives from Canada's Public Safety Commission and the Office of Disabilities Issues on the work the committee has done including a booklet and alternate formats. The Deafness Advocacy Association of Nova Scotia produced a video outlining the contents of the booklet in sign language. The Federal representatives were very pleased with the work the committee and the provincial emergency representatives have done on addressing the issues of emergency preparedness for vulnerable populations.
The staff, Board of Directors and affiliate groups of Nova Scotia League for Equal Opportunities would like to say congratulations and thank you to Laurie, the staff, Board and committee members of the Council of Canadians with Disabilities on the recent victories. Your dedication and commitment is inspiring and encouraging. Thank you for everything you've done and continue to do to ensure the rights of all Canadians with disabilities receive the recognition they deserve. We are honoured to be affiliated!
PEI Council of the Disabled
Affordable, Accessible Housing Campaign
The Council's "Affordable Homes, Accessible Homes" campaign aimed at improving the supply of accessible and affordable housing in PEI is continuing, with a busy winter behind it:
As a follow up to the municipal election campaign the Council has met with the mayors of most of the province's 7 largest municipalities. The meetings are characterized as "briefings" for the Mayors and cover accessible, affordable housing as well as public transit and other accessibility issues.

Mayors are left with two briefing papers with background information and specific "Options for Public Policy".

The Council has been invited to do a similar briefing with the whole Charlottetown City Council, and this is scheduled for May 9th.

The Council has attempted to meet with representatives of the Platform Committees of each of the registered Provincial [Progressive Conservative, Green, Liberal, NDP] and major Federal political parties [Conservative, Green, Liberal, NDP].

The federal Conservatives are the only party that did not reply to our invitations and we have met with the four Provincial and the other three Federal parties.

Similar to the briefings of Mayors, Platform Committee representatives are left with briefing papers with background information and specific "Options for Public Policy".

In both cases one of the papers is on affordable, accessible housing, relevant to the particular level of government and another is on a variety of accessibility issues, including public transit.

There is a third paper for the provincial level on PEI's Disability Support Program and a third one for the federal level on economic supports.
Provincial Election
A provincial election for PEI was called on April 30th for May 28th. The Council is doing a campaign of its own that involves a survey of local candidates, a survey of party Leaders, information on disability election issues and other background information. Similar to other recent federal and municipal elections, the main vehicle for the campaign is the Council's web site, combined with a number of media releases. Typically, page views and visitors to the web site increase dramatically when we run a campaign of this sort and we are expecting this to be the case this time as well. Our issue focus during the campaign is on accessible, affordable housing, accessibility issues [especially including accessible public transit], and the Disability Support Program.
Around the Block
The Council's third "Around the Block" project is on tour, not just around the block, but around the province in the months of April and May. "Around the Block" uses a live theatre and puppet show to sensitize Elementary School students to disabilities and disability issues. The tour culminates with a VIP Show at the Arts Guild main stage in Charlottetown on May 11. In common with the previous five previous theatre projects over the last five years the tour should reach over 2,000 students. The project, and the show, have received excellent media coverage, including a feature story on the CBC supper time news, which is the most watched news show in the province, and a feature interview on the afternoon CBC radio drive time show. The project is funded by Service Canada and the participants are all "youth at risk". Project participants learn employability and life skills as well as how to produce a theatrical performance. (The photo above is of the human and fabric cast members of the Around the Block 3 Show).
ALLIANCE FOR EQUALITY OF BLIND CANADIANS
AEBC CONFERENCE SET FOR VICTORIA
The AEBC's biennial Conference and AGM will take place in Victoria, BC from May 17-20, 2006. The theme of this year's conference will be Universal Design, and its applicability to Canadians who are blind, deaf-blind and partially sighted. For further information, call 1-800-561-4774, or e-mail: info@blindcanadians.ca
AEBC SUPPORTS INCLUSION, OPPOSES "SPECIAL" DVS CHANNEL
On March 27, AEBC President John Rae appeared before the Canadian Radio, Television and Telecommunications Commission (CRTC) in support of AEBC's brief opposing the establishment of a special channel that would provide 24-hours a day of open, described television shows.
As Rae said, "This controversy is not about DVS; we all want access to more of it".
However, as Rae added, "This debate is about two very different ways of providing it, and the role the regulator, the CRTC should play".
The AEBC believes the proposed additional charge of 20 cents a month per cable subscriber would be better spent assisting regular television providers to make their programs more accessible and available through regular programming.
Assistive Devices on the Horizon for British Columbians with Vision Loss
In the summer of 2004, the AEBC Assistive Devices Program Committee conducted a Nationwide survey to determine the unmet needs of Canadians who are blind, deaf-blind and partially sighted, when it comes to the equipment and assistive devices that would increase their independence and quality of life. In 2005, AEBC joined the (BC) Provincial Equipment and Assistive Devices Committee (PEADC) and Linda Bartram immediately filled the vacant co-chair committee position.
One year later, PEADC was working with the provincial government to develop a provincially funded Equipment and Assistive Devices Program, with AEBC playing a lead roll on the community side. As the program was taking shape, the needs of persons with vision loss became more evident to the lead ministry, compelling them to start addressing this gap as a priority. AEBC has recently submitted a proposal, and was awarded a $355,500 grant to develop and administer a low tech assistive devices program for British Columbians who are blind, deaf-blind and partially sighted. This is a pilot project which will be based on the Participation Model being developed for the submission of a broader, cross-disability equipment and assistive devices program this September. The scope of the program (what equipment will be included, eligibility etc.) is still being finalized at this time.
The AEBC will be coordinating a program that will:
Demonstrate the Participation Model for Personal Supports;
Determine the current gaps in community capacity to deliver assistive devices to British Columbians who are blind, deaf-blind or partially sighted; and
Increase community capacity to implement the Participation Model.
At the same time, British Columbians with vision loss will benefit from the provision of at least some of the low tech devices they need.
AEBC CHAPTER HAPPENINGS
In March, a meeting took place in Vancouver, and a new Executive was elected, with Richard Marion as President. An information meeting took place in Edmonton, and a local chapter is expected to be established very shortly.
In November, popular Canadian folk group, Tanglefoot, has agreed to do a benefit concert for AEBC's Toronto Chapter.
New Book Available
Six Degrees of Dignity
True inclusion into society of all persons with a disability
Dignity is the essence of all members of the human family. It is from this message that lawyer and human rights activist David Shannon created his concept for the Six Degrees of Dignity model.


I have never met anyone who has deliberately discriminated against persons with a disability. I have met many people who unwittingly marginalized, denied choice, or caused an individual with a disability to be isolated. I have met even more persons with disabilities who have scratched for dignity, for an assertion of the self, and tried to find decent opportunities in an indecent situation.
Even today, it is all too common to attempt to enter a restaurant, special event, or even the front doors of the Canadian Parliament buildings, only to find that there is no ramp to make it accessible to persons in a wheelchair. For some reason, this is considered acceptable. If there was a sign in front of any of these facilities that proclaimed "no Jews," "no coloured persons," or "no women" were allowed, there would be unprecedented revolt. However, this happens daily to persons with a disability when they attempt to be mobile within our society.
Canadian society is founded on a classical liberal understanding of the self. This perspective regards human dignity as the primary social and personal value. Dignity is realized through an individual freedom that is manifested in meaningful decision making and exercise of individual responsibility. On this basis, the self is regarded as an autonomous, self-determining entity worthy of recognition and respect from others.
The right to dignity for all is explicitly recognized in Canadian law. In practice, however, socio-economic and historical circumstance has conspired to debar a variety of individuals and groups from the concern and respect their nature as persons demands. Prominent among these excluded groups are members of the disabled community who, for reasons to be examined, are marginalized by a society that regularly neglects to recognize their needs, capacities, and merits as individuals.
Dignity for persons with disabilities must be pursued as a meaningful goal that enhances society in general, not just the lives of persons with a disability. Building on current social norms and legal interpretations of rights for the disabled, the Six Degrees of Dignity model identifies some of the social and attitudinal barriers still present in Canadian society. Six factors are needed to reverse social and attitudinal exclusion:
1. Dignity in Public Perception
The negative impact of stereotypical images of disability currently portrayed in mass media and in popular art forms harms both public perception and the individual's sense of dignity. We need broad communication strategies targeted at reversing these discriminatory portrayals, and a better understanding of disabilities.
2. Dignity in the Community
Practical alternatives in the area of personal care and housing are critical to maximize autonomy for persons with disabilities in an environment where their own needs are self-directed and barrier-free. Employment issues need to be addressed, to enhance opportunities for persons with disabilities to contribute their skills and benefit from economic participation.
3. Dignity in Law
The judiciary in Canada-through Section 15, the equality provision of the Canadian Charter of Rights and Freedoms-has provided a cornerstone for the protection of disability rights. Key advances include the legal duty to accommodate those with disabilities, which should be seen as a first step, rather than an end in itself.
4. Dignity in Public Policy
Policy initiatives that have been introduced in recent years-including the Accessibility for Ontarians with a Disability Act-illustrate both opportunities and barriers in developing effective policy to address the needs of the disabled. Improvements are needed, along with a reversal of the negative impact brought by government funding cuts.
5. Dignity of Self
Rational decision making, freedom of choice, self-respect, physical and psychological integrity, and personal empowerment are integral to all persons. Through the removal of social and economic barriers-leading to empowerment and overcoming alienation and exclusion-the dignity of the disabled self can be reclaimed.
6. Dignity in Future
The recently ratified UN Convention on the Rights and Dignity of Persons with a Disability combines the protection of individual and group rights, while creating a framework for positive policy and public perception changes. It provides us, as Canadians, with an ideal opportunity to create a practical model of legal initiative, social change, policy initiative and attitudinal transition-a forward-looking goal that will create a broad, common consensus, and hope for persons with disabilities.
Six Degrees of Dignity is the program for a new way of thinking and acting. Each of the degrees, or components, must work in concert to, in essence, create a symphony of dignity. We must all embrace the notion that our culture will advance when persons with a disability no longer face unnecessary barriers to living more wide-ranging and substantial lives.
The effort requires tenacity and, above all, courage. It takes courage to re-enter one's community when, after a long period of isolation due to a newly acquired disability, the greatest barrier is fear of not being welcome because disability has caused an overwhelming sense of being diminished by difference of physicality. It takes courage also to trust that a prospective employee or colleague will achieve work standards on an equal basis, although one has not previously been integrated-through school, work or social activity-with persons with a disability.
Take the dare, be brave, challenge self-doubt, change public perception, improve community support systems, press the envelope of equality laws, and demand that legislators develop meaningful policies. And dream…dream of a better future, and believe that it is shared by hundreds of millions of other souls across the globe.
---
Lawyer and human rights activist David Shannon is the author of Six Degrees of Dignity: Disability in an Age of Freedom (Creative Bound International, 2007). As a person with quadriplegia, the result of a spinal cord injury at age 18, David has used a wheelchair for the past 25 years. In 2006, he participated in meetings of the United Nations ad hoc committee to draft a comprehensive Convention on the Rights and Dignity of Persons with a Disability, which has been adopted by all member states and ratified by the UN General Assembly. For more information or to order a copy of Six Degrees of Dignity, please call 1-800-287-8610 or e-mail resources@creativebound.com
Council of Canadians with Disabilities
926-294 Portage Avenue
Winnipeg, Manitoba
R3C 0B9
Phone: 204-947-0303
TDD: 204-943-4757
Fax: 204-942-4625
Toll Free: 1-866-947-0303
Email: ccd@ccdonline.ca
www.ccdonline.ca
A Voice of Our Own
is produced through the resources provided by Human Resources Development Government of Canada.
(Articles appearing in "A Voice of Our Own" may not represent positions held by CCD)