Act Now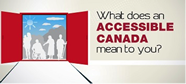 Empower U: Learn to Access Your Disability Rights Training on Canadian Human Rights, the Convention on the Rights of Persons with Disabilities (CRPD) and its Optional Protocol (OP) training aims to increase awareness of how to address discrimination using more familiar Canadian human rights laws such as Human Rights Codes and the newer international Convention on the Rights of Persons with Disabilities (CRPD). This is training for persons with disabilities by persons with disabilities. The training is part of a project funded by Employment and Social Development Canada and implemented by the Council of Canadians with Disabilities (CCD) in collaboration with Canadian Multicultural Disability Centre Inc. (CMDCI), Citizens With Disabilities – Ontario (CWDO), Manitoba League of Persons with Disabilities (MLPD) and National Educational Association of Disabled Students (NEADS). Read more.
Sign Up for our monthly digest
A monthly newsletter from CCD about what is happening in the community
A Voice of Our Own: January 2009
Volume 27 Issue 1
On the CCD Agenda
CCD Member Group Updates
Announcements
---
Canada Deports Chris Mason Because He Has a Disability
Despite his contributions to this country as a worker, Canada deported Chris Mason, a wheelchair user and British citizen who became disabled while in Canada. According to Mason, he was denied permanent resident status because he was perceived as an excessive burden because he had a disability. (Sanders, 2009) A Federal Court Judge supported Immigration Canada's ruling on Mason's case.
Laurie Helgason Speaks Out
Mason was taken into custody by agents of the Canada Border Service at the Winnipeg home of Laurie Helgason, Co-Chairperson of DAWN Manitoba. "I am appalled at what Canada has done to Chris. They weren't even going to let him take his luggage. Or say good-bye to his friends. I thought they were being unusually hard on Chris," states Helgason. "Chris landed in England and immediately became one of the many homeless people in England. His mother just finished driving him to a spinal cord hospital where he is finally getting some help for his many injuries. They are appalled that Canada would send someone in such obvious medical need. We are pursuing help to send all Chris's things to him but it is slow going," continued Helgason, who remains in contact with Mason.
Immigration Act Perpetuates Stereotypical Views
Mason's case is another in a long line of cases illustrating the ableist practices in Canada's immigration system, which has as its primary goal the recruitment of job-ready newcomers. "The Immigration Act perpetuates long held stereotypical views of persons with disabilities as being less deserving and a burden on society," states John Rae, CCD Vice Chairperson. "The current law devalues Canadians with disabilities and does nothing to recognize the contribution persons with disabilities and their families can, and do, make to Canadian society."
CCD Responds
Mason's case renewed outrage in the disability community about Canada's immigration practices. At CCD's Council meeting on January 24, 2009, members decided CCD's Social Policy Committee would work to resolve the discrimination occurring on disability grounds in Canada's immigration system. "CCD is committed to changing a system which promotes the idea that people should be fearful of people with disabilities; because we will over-tax the health and social service systems," states Marie White, CCD Chairperson. "In the Twenties, eugenicists excluded us because we were, in their minds, biologically inferior; today, the bean counters want to exclude us because, in their minds, we will use too many health and social services." The Canadian disability community began addressing this issue following the 1981 Disabled Peoples' International (DPI) founding conference in Singapore. DPI founder Henry Enns toured refugee camps in Asia and upon his return to Canada, he raised awareness within CCD about how Canada was not accepting refugees with disabilities.
Where Are Our Allies?
In 1984, CCD challenged all candidates running in the Federal Election to support Canada's acceptance of 50 or more refugees with disabilities per year. While the disability community has been drawing attention to the ableist practices at Immigration Canada, there has been little support from outside the disability community. Law Professor Ravi Malhotra criticizes the lack of attention this issue has received from social justice activists in English Canada. He writes, "…one issue that has been almost entirely ignored by left organizations and activists, time and again, is the virtual exclusion of people with disabilities as potential immigrants under the Canadian Immigration and Refugee Protection Act. Also ignored are the efforts by disability rights activists to challenge these exclusions." (Malhotra, 2006)
Blind Refugee in Sanctuary
Mason is not the only person with a disability challenging Canada's immigration system. Abdelkader Belaouni, a blind refugee from Algeria, is in sanctuary in a Pointe St. Charles church in Montreal, Quebec. "I'm not hiding from Immigration Canada, but I want to tell them clearly, I will not be presenting myself for deportation. I've been able to achieve autonomy and dignity in Montreal, and I don't want to lose that. My family are my friends here. I am here to defend myself; I am here to defend justice," states Belaouni on the web site about his situation. (See: http://www.soutienpourkader.net/en/index.php)
A Sense of Intense Vulnerability
In a 1998 report, Dr. Judith Sandys described research she undertook on the experience of immigration for ethno-racial people with disabilities. In her report, Sandys states that, "Many people told stories of how long it took for them to be able to immigrate, of being refused initially and having to reapply, of still waiting for a disabled spouse to be able to enter, of family members being required to put up large sums of money to ensure that they would not be a burden. Minister's permits are perceived as especially problematic; denying people access to needed services and contributing to a sense of intense vulnerability." (Sandys, 1998) The Minister's Permit is a discretionary mechanism whereby Immigration Canada can allow people who would otherwise be deemed inadmissible entry into Canada or allow them to remain in Canada. This mechanism can have the effect of prolonging the systemic discrimination in the immigration system; because the Department has a case-by-case method of defusing complaints if they become too public or are making their way through the court system. While individuals may have their individual case resolved, the discrimination in the system remains unchanged.
Bill C-254
On January 27, 2009, Judy Wasylycia-Leis (Winnipeg North MP and NDP Disability Critic) moved for leave to introduce Bill C-254, An Act to amend the Immigration and Refugee Protection Act (exception to inadmissibility). Speaking about Bill C-254 in the House of Commons, Wasylycia-Leis stated, "The bill would put some restraints on the present government which has a tendency to use section 38 of the act beyond its original intentions and to arbitrarily and unilaterally exclude persons living with disabilities. It is a step toward ending the hypocrisy of signing a UN convention on the rights of persons with disabilities while systematically undermining it by falling back on ill-founded stereotypes, as was so graphically illustrated by the deportation of Chris Mason, a Winnipeg resident welcomed to Canada with open arms originally but booted out after becoming physically disabled." (Hansard, 2009)
Some History
The 1859 Act Respecting Emigrants and Quarantine allowed the immigration of people with disabilities who were "likely to become permanently a public charge", if security was provided for their support. The 1910 Immigration Act, which was amended in 1919, became more restrictive, banning the immigration of people with mental disabilities. The 1927 Act included language banning people who were "mentally or physically defective to such a degree as to affect their ability to earn a living." The 1976 Immigration Act introduced the practice whereby people with disabilities could be excluded from immigration because they might place "excessive demands" on health or social services. This practice continued with the 1985 Immigration Act, which had s. 19(1)(a)(ii), and the current 2001 Immigration and Refugee Protection Act, which includes s. 38(I)(c), two very similar sections that establish excessive demands by persons with disabilities on health and social services as a criterion for exclusion from immigration. (Hilewitz v. Canada [2005] 2. S.C.R. 706, 2005 SCC 57)
Immigration Milestones for the Canadian Disability Rights Community
2007—Canada signed the UN Convention on the Rights of Persons with Disabilities which states in Article 18 (Liberty of Movement and Nationality): "b. Are not deprived, on the basis of disability, of their ability to obtain, possess and utilize documentation of their nationality or other documentation of identification, or to utilize relevant processes such as immigration proceedings, that may be needed to facilitate exercise of the right to liberty of movement;"
2005—The Supreme Court of Canada decided the case of Hilewitz v. Minister of Citizenship and Immigration and De Jong v. Minister of Citizenship and Immigration, which has been hailed as a step forward for persons with disabilities. Judge Rosalie Abella said while it is reasonable for Canada's immigration policy to ensure "undue burdens" are not placed on Canada by immigrants, it is not acceptable for the rules to be applied in such a way as to prevent immigration by "all persons who are intellectually disabled, regardless of family support or assistance." Judge Abella found it incongruous that the wealth of the Hilewitz and De Jong families that gained them entry into Canada was not taken into consideration when their children were deemed inadmissible on the grounds that they would place a burden on social services.
2001—The Immigration and Refugee Protection Act replaced the 1985 Immigration Act. The new act left in place prohibitions denying immigration to persons with disabilities that "might reasonably be expected to cause excessive demands on health or social services".
2001—There were unsuccessful attempts to have provincial nominees exempted from "excessive demand" restrictions.
2001—CCD intervened in the Federal Court case of Angela Chesters, who was denied Permanent Residency because she had MS. The case argued that the Immigration Act breached the equality guarantees of the Charter but was unsuccessful.
2000—In 2000 the Department of Citizenship and Immigration exempted Convention refugees and their dependants from the excessive demand clause.
1991—The disability community, through the omnibus reform project, urged amendment of the Immigration Act to address discrimination against immigrants with disabilities but the Canadian government left unchanged provisions that permit the refusal of people with disabilities perceived to be "excessively demanding" on health and social services.
1985—CCD urged Canada to amend the Immigration Act to bring it in line with the equality guarantees in the Charter of Rights and Freedoms.
1984—CCD asked all candidates running in the Federal Election to support Canada's acceptance of 50 or more refugees with disabilities per year.
CCD's Plans
CCD National Council has identified immigration and disability as an issue requiring further research and study. CCD will work to raise the public understanding of this issue and ultimately obtain a change in the law.
Sources
Committee to Support Abdelkader Belaouni Web Site. http://www.soutienpourkader.net/en/index.php retrieved 12 February 2009.
Hansard, January 27, 2009 "Immigration and Refugee Protection Act". http://www2.parl.gc.ca/HousePublications/Publication.aspx?Language=E&Mod....
Hilewitz v. Canada (Minister of Citizenship and Immigration); De Jong v. Canada (Minister of Citizenship and Immigration), [2005] 2. S.C.R. 706, 2005 SCC 57.
Malhotra, Ravi. 2006 "Disability rights and immigration." New Socialist Magazine. http://www.newsocialist.org/index.php?id=715 retrieved 12 February 2009.
Sanders, Carol. "Deported paraplegic claims discrimination." Winnipeg Free Press. January 21, 2009.
Sanders, Carol. "Man fighting deportation wants to get out of jail." Winnipeg Free Press. January 16, 2009.
Sandys, Judith. 1998. "Immigration and Settlement Issues for Ethno-Racial People with Disabilities: An Exploratory Study." http://ceris.metropolis.net/frameset_e.html retrieved 2009.
---
Budget 2009 and People with Disabilities
Federal Budget 2009 included some measures beneficial to people with disabilities. "We will be seeking to meet with the Ministers responsible for the Budget's expenditures to ensure all initiatives are inclusive of people with disabilities," states Marie White, Chairperson of the Council of Canadians with Disabilities (CCD). "We are focusing on the Strategic Training and Transition Fund which will support training for people who are not EI eligible," continued White. Barriers in the labor market prevent some people with disabilities from attaining EI eligibility. "I was at a pre-budget consultation with the Minister of Finance and the message from that consultation was invest in people. This Budget shows the Minister was listening," states White. "This Budget has taken important steps to invest in the well-being of Canadians, including people with disabilities. There is more to be done but this moves in the right direction."
Poverty—A National Disgrace
The poverty of Canadians with disabilities is a national disgrace. The Budget's measures to reduce the tax burden on low income Canadians will mean a little more money for Canadians with disabilities who are among the working poor. "For Canadians with disabilities living on social assistance, this Budget did nothing for them," states White. "CCD is continuing to advance a basic income program which would move people with disabilities out of poverty."
Accessible post-secondary education is one of the keys to inclusion. "We will be monitoring the $2 billion Budget project to retrofit post-secondary institutions to ensure that these modifications provide access for students with disabilities," added White.
CCD is pleased the Budget is investing $20 million to improve access to government buildings. CCD calls for all infrastructure initiatives to ensure full access for persons with disabilities.
As finding accessible housing is a challenge for people with disabilities, the Budget's housing measures are welcome news. Budget 2009 increases the Home Buyers' Plan (HBP) withdrawal limit to $25,000 from $20,000. The increase applies to HBP withdrawals made for the purchase of a more accessible or functional home, where the withdrawal is made for the benefit of a person eligible for the Disability Tax Credit (DTC) and who is related to the individual making the withdrawal.
CCD welcomes the Budget's opportunities and challenges. One future challenge will be expanding eligibility for the DTC because increasingly benefits for Canadians with disabilities require DTC eligibility. Another challenge will be getting our fair share of the opportunities arising from the Budget.
Getting Our Fair Share
With Budget 2009, the Federal Government launched a major spending campaign, investing in social housing, training, and infrastructure. The Federal Government will channel this money to the Provincial Governments and they will be the ones in charge of the many projects that will be developed as a result of the initiatives identified in Budget 2009. Provincial governments need to hear from people with disabilities as they are planning how they will make use of the Federal money which has become available. They need to hear that people with disabilities expect this funding to be used in a way that will create an accessible and inclusive society. Everyone who supports an accessible and inclusive Canada should consider writing to their Premier to raise the following concerns:
Ask how the Province intends to ensure that people with disabilities will benefit from Provincial initiatives supported by Federal Budget 2009. Ask for assurances that no new barriers will be created.
Ask if the Province is including an access requirement in all infrastructure projects.
Ask if all social housing will follow the principles of universal design.
Ask what targets the Province is setting for training people with disabilities.
---
Registered Disability Savings Plan
The Registered Disability Savings Plan (RDSP) is a new investment tool that encourages families and individuals to save for the long- term security of persons with severe and prolonged disabilities.
Some Background
In 2006, Finance Minister Flaherty appointed Laurie Beachell, CCD National Coordinator, to the Expert Panel on Financial Security for Children with Severe Disabilities, which developed the framework for the RDSP. As the title of the Expert Panel indicates, the original focus was on children. The inclusion of a panelist with a strong cross-disability movement perspective served to ensure that the Plan took into account how the plan would benefit adults with disabilities. "More importantly, the Panel advocated for the Disability Savings Grants and Bonds, which ensure that the Plan will benefit low and moderate income families and people with disabilities," states Beachell. In April 2008, the Department of Finance consulted with disability organizations on the draft Canada Disability Savings Regulations.
Eligibility
To be eligible to be an RDSP beneficiary, a person must be:
a Canadian resident,
eligible for the Disability Tax Credit (DTC), and
under 60 years of age.
Grants & Bonds
By opening and contributing to a RDSP, you may be eligible to receive Federal Government contributions via either the Canada Disability Savings Grant or the Canada Disability Savings Bond. To take advantage of either the Grant or Bond available for 2008, you must open an RDSP account by 2 March 2009. You also must be 49 years of age or younger.
A Canada Disability Savings Grant is a supplement that the Government of Canada contributes to a Registered Disability Savings Plan (RDSP). Where the beneficiary's family income is $79,769 or less, on the first $500 invested there will be a $3.00 Government contribution for every $1.00 put into the Plan up to a maximum of $1,500 and on the next $1,000, the Government will contribute $2.00 for every $1.00 contributed to a maximum of $2,000. Where the beneficiary's family income is more than $75,769, on the first $1,000 the Government will contribute $1.00 for every $1.00 contributed up to a maximum of $1,000. (The beneficiary income thresholds are indexed annually to inflation.)
A Canada Disability Savings Bond helps low-income (less than $37,885) families save for the long-term financial security of an eligible person with a disability. The bond is paid into an RDSP by the Government of Canada, even if no contributions were made to the plan. When the beneficiary's family income is less than $21,287 the bond will be $1,000. When the family income is between $21,287 and $37,885, the bond will be a portion of $1,000 determined according to a formula established by the Canada Disability Savings Act. The lifetime limit for the Canada Disability Savings Bond is $20,000 per beneficiary. The Provinces Respond
The following provincial governments have announced that they will exempt the income and assets of the RDSP for the purposes of determining eligibility for provincial financial assistance programs: British Columbia, Alberta, Saskatchewan, Manitoba, Ontario, Quebec, New Brunswick, Prince Edward Island, Newfoundland, Nova Scotia and Yukon.
Where to Get an RDSP
The BMO Financial Group was the first national financial institution to offer RDSPs. BMO began offering the new RDSP investment plan on December 22nd, 2008. RBC has also begun to offer the RDSP. To receive automated email updates on financial organizations offering the RDSP, Grant and Bond, send a request to rdsp-reei@hrsdc-rhdsc.gc.ca.
---
Disabling Poverty and Enabling Citizenship: A Unique Opportunity to Create Knowledge and Make Change
First Anniversary
With the arrival of January 2009, the CCD directed research project, Disabling Poverty and Enabling Citizenship, funded for five years by the Social Sciences and Humanities Research Council (SSHRC), observed its first year anniversary with a full team meeting where the pan-Canadian research team shared the project's initial achievements and planned future work.
Work on Schedule
Benefiting from the skilled leadership of co-principal investigators Yvonne Peters, legal researcher, and Michael J. Prince, Lansdowne Professor of Social Policy, (University of Victoria), the project's themes continue to launch on schedule. Work on the demographic and legal themes began in 2008. Theme 2, which is building knowledge and understanding about income security for Canadians with disabilities and its relation to supports and services, begins its work this year. The project's policy reform phase functions during the final three years, with opportunities for a national forum and symposiums for strategizing on reform options.
Emancipatory Research Exposing Oppression
The project presents an exciting opportunity to generate, through emancipatory research methods, new knowledge about factors contributing to poverty and strategies for ameliorating the economic disadvantage of people with disabilities. (Disability Studies scholar Mike Oliver suggests that emancipatory research "exposes the real oppression and discrimination that people experience in their everyday lives without merely contributing to the classification and control of marginalized groups who seek nothing more than their full inclusion into the societies in which they live.) Additionally, the project is developing new research alliances.
Developing Innovative Resources
In 2008, the Poverty/Disability/Equality Theme, led by Yvonne Peters, a human rights lawyer, and Debra Parkes, a University of Manitoba law professor, created a data base of nearly 400 articles addressing poverty, disability and the legal recognition and enforcement of social and economic rights. The data base will be used in the preparation of a user-friendly annotated bibliography, which, when completed, will be available on the project's web site. "This is the first resource of its kind, for students, lawyers, advocates and community members seeking to understand the relationship between legal rights and the eradication of poverty among people with disabilities," states Yvonne Peters, Co-principal Investigator. The next stage of work includes a statutory and case law review.
Creating a Statistical Profile of Low Income Canadians with Disabilities
In 2008, the Demographic Theme, led by Cam Crawford, CACL Research Director, and Ernie Lightman, a University of Toronto professor, developed a mixed methods approach for creating a statistical profile of Canadians with disabilities with low incomes. One of the planned methods is an online survey. "An advantage of conducting an online survey is that it has the potential to shed more light on the issues at the heart of the research from a wider range of personal situations (e.g., diversity of disabilities, diversity of communities, wider and more varied range of ages, etc.) than would be possible by conducting a few interviews," explain Crawford and Lightman. The project's People First representative Valerie Wolbert encouraged the team to develop research methods that accommodate people with disabilities who encounter barriers when using the internet: inaccessible web sites, lack of plain language, those with low incomes may not have a personal computer. The Theme will publish fact sheets tailored to the needs of disability community members working on poverty.
An Approach to Influence Decision Makers
Following its data collection phase, the Income Security/Social Policy Theme, led by Michael Prince and Michael Bach, CACL Executive Director, will construct various scenarios which illustrate different trajectories which lead people with disabilities into poverty. A team member commented, "This scenario research is very helpful. It is a very useful form of discourse. It can influence decision-makers."
Partnership Research
Developing new research alliances and enhancing capacities in the disability community to address poverty are fundamental priorities for the project. Project researchers will be available to present their findings at the AGMs of partner organizations—People First, National Network on Mental Heath, Canadian Association for Community Living, National Anti-Poverty Organization, Caledon Institute—groups selected by the project for the strategic role they are positioned to play in addressing poverty in the disability community and for their willingness to assist the project with data collection.
Developing Connections with Other Initiatives
Team members are cultivating relationships with other research projects and organizations. For example, Valerie Wolbert committed to share information about CCD's project with a Winnipeg Social Planning Council research project on poverty and Rob Rainer, NAPO Executive Director, will be discussing the project with the Steering Committee of Campaign 2000. Yvonne Peters has been exploring collaborative research initiatives with the Poverty and Human Rights Centre.
Supporting the Community Agenda on Poverty
When developing this project, CCD's priority was to design a project where the research undertaken would further the disability community agenda on poverty and it would be conducted according to a research model consistent with the values of the disability rights community: equality, empowerment, consumer control. Significantly, team discussions begin by reflecting on the question "How will this work advance the agenda of the disability community?" The participation of experienced disability rights activists on the project team—Marie White, CCD; Yvonne Peters, CCD; Laurie Beachell, CCD; Valerie Wolbert, People First; Constance McKnight, National Network on Mental Health—will go a long way to ensure that this project results in strategies to address the problems of today rather than 20 years. "For too long the focus has been getting people in the door. With this project we want to move people with disabilities beyond the door and closer to substantive equality," commented a meeting participant. Achieving this goal will likely mean reform strategies focused on: (1) the state and the private sector, as economic power is largely in private hands, (2) legislative and programmatic measures to advance the economic independence of persons with disabilities, (3) measures to counteract cultural practices and public attitudes that contribute to discrimination against people with disabilities. The project will not be endorsing particular reform strategies as this is the role of organizations in the disability community. To follow the work of the project consult the CCD web site http://www.ccdonline.ca.
Team Members
The full project team includes: Yvonne Peters and Michael Prince, Co-principal Investigators.
Theme 1: Poverty and Exclusion: Cam Crawford and Ernie Lightman (Team Leaders) Marie White (Chairperson, CCD), Sharon Murphy (NAPO), Doug Willms (University of New Brunswick), Constance McKnight (Executive Director, NNMH).
Theme 2: Income Security/Social Policy: Michael Prince and Michael Bach (Team Leaders) Laurie Beachell, Michael Mendelson, Yves Vaillancourt, Lucie Dumais, Valerie Wolbert, Rob Rainer.
Theme 3: Poverty/Disability/Equality: Yvonne Peters and Debra Parkes (Team Leaders), Dulcie McCallum (Lawyer), Laurie Beachell (National Coordinator, CCD), Rob Rainer (Executive Director, NAPO), Bruce Porter (Executive Director, Social Rights Advocacy Centre).
Sources
Mike Oliver. 2002. EMANCIPATORY RESEARCH: A Vehicle for Social Transformation or Policy Development. http://www.leeds.ac.uk/disability-studies/archiveuk/Oliver/Mike's%20paper.pdf retrieved 12 February 2009.
---
Congratulations: Hon. Steven Fletcher Appointed to Cabinet
Following the last Federal Election, MP Steven Fletcher was appointed to the Cabinet as Minister of State (Democratic Reform). Mr. Fletcher is the MP for Charleswood-St. James-Assiniboia. As Linda McIntosh explains in her biography, What Do You Do If You Don't Die: The Steven Fletcher Story, Mr. Fletcher is the world's first C4 quadriplegic to win a seat in a national legislature. CCD extends its congratulations and best wishes to Mr. Fletcher as he continues to make history.
---
Updates from CCD Member Groups
British Columbia Coalition of People with Disabilities
Work Underway on Guide Animal Act
The BCCPD, along with other community partners, have formed a new working group with the goal of reforming BC's Guide Animal Act. BCCPD has produced a working brief on the need for a revised act which was circulated to key organizations who work within the guide animal-user community. The disability community has been seeking reform on guide animal legislation for many years in BC. Two of the main weaknesses in the legislation that the community wants addressed are the inadequate fines for establishments and services that refuse entry to people with guide animals and the lack of ensured access for people with puppies-in-training.
We recently met with representatives from two of the community groups who will be members of the working group and are now ready to begin our work formulating a joint presentation and building community support. We will be working with these organizations among others: the BC Guide Dog Services, Canadian National Institute for the Blind, Access for Sight Impaired Consumers, Alliance for Equality of Blind Canadians and Pacific Assistance Dogs.
---
Alberta Committee of Citizens with Disabilities
ACCD Consulted on New Pharmaceutical Strategy
On December 8, 2008, the government of Alberta announced its new pharmaceutical strategy. Margot Brunner-Campbell, ACCD's board president, responded to the announcement, saying, "Many Albertans with disabilities do not have access to the medications they require. It is critical that Alberta have an effective and compassionate pharmaceutical strategy giving people access to the medications they need in an affordable and timely manner."
When the government first declared its intent to develop a new pharmaceutical plan in the spring of 2008, ACCD quickly became involved with the consultation process. Along with other disability organizations, ACCD contributed to Access to Medications, a position paper produced by the Alberta Disabilities Forum (ADF). The paper outlines the difficulties that persons with disabilities have when "accessing health services and supports, particularly medications." In August, 2008, the paper was submitted to Jonathan Denis, MLA for Calgary-Egmont, who led the MLA-stakeholder consultation process.
Sixteen stakeholder groups, including the Alberta Disabilities Forum, were invited to participate in the formal consultation process. The stakeholder groups represented a range of sectors, including consumers, physicians, pharmacists, employers, benefit providers, and the pharmaceutical industry. On November 18, 2008 Michelle Christensen (MS Society), Tamina Selig (EmployAbilities), and Bev Matthiessen (ACCD) made a presentation to the Standing Committee on Health where they encouraged the committee to consider the unique needs of people with disabilities.
As the pharmaceutical strategy is rolled out, ACCD will monitor its progress carefully. ACCD's Executive Director, Bev Matthiessen, says, "We must be vigilant during the planning and implementation of the pharmaceutical strategy to ensure that people with disabilities are able to access the medications they require." Phase two of the strategy, which includes an expanded role for pharmacists and more cost-effective drug purchasing, is under development.
For more details on the strategy, including fact sheets, recommendations, and background information, visit http://www.health.alberta.ca/initiatives/health-action-plan.html#pharma.
Setting the Direction for Special Education
In November, 2008, ACCD's executive director, Bev Matthiessen, attended a public forum in Red Deer, Alberta to discuss the vision and principles that should govern Alberta's special education programming and delivery. The forum was part of a new initiative by Alberta Education that aims to create "a new special education framework that includes vision, principles, policy, accountability, and funding."
The goal of the program, called Setting the Direction for Special Education, is "to ensure Alberta students with special education needs get the supports they need to be successful." Matthiessen commented on the meeting, saying, "The message we heard loudly and clearly is that parents want their children with disabilities to be fully included in the education system with supports and adaptations, as required. Some children are waiting far too long for the services they need."
The public consultations comprised phase one of the initiative; phase two takes place in February and March, 2009, with another round of consultation—this time seeking public input on options for special education policy, accountability, and funding. In preparation for phase two, ACCD will distribute information from Setting the Direction's Stakeholder Working Committee to the disability community.
To learn more about Setting the Direction, visit the Alberta Education web site at http://education.alberta.ca/department/ipr/settingthedirection.aspx.
Safe Haven: Enhancing Accessibility in Alberta's Women's Shelters
ACCD hosted two workshops in January to pilot our recently developed awareness raising materials for women's shelter staff and management. The materials have been developed with support from the Human Rights Citizenship and Multiculturalism Education Fund.
Delivered on January 12 (in Edmonton) and January 19 (in Calgary), the workshops focused on the unique situations of women with disabilities who access women's shelter services in Alberta.
With this project, ACCD hopes to support two distinct groups: women's shelters in Alberta and the women with disabilities who access their services. We will do this in three ways. First, the Safe Haven workshop will increase shelter workers' awareness about the situations faced by women with disabilities. As well, we will conduct accessibility assessments of shelters (at no cost to the shelter) and discuss our findings with shelter management. Finally, we will provide shelters with a template for assessing and responding to the unique situations of the women with disabilities who access their services.
Brenda Bannerman, an experienced facilitator, counselor, and teacher, conducted the workshops for ACCD. Feedback is being collected from workshop participants, educational experts, and women with disabilities, and we will use this feedback to enhance the presentation before making it available to the public.
Caregiving Services in Alberta: What do Caregivers Need?
Just over a year ago, in December, 2007, the Alberta Disabilities Forum (ADF) received funding from Alberta Health and Wellness to discover and address the challenges facing family caregivers in Alberta. ACCD, as host agency of the ADF, played an important role in all aspects of the project.
The initial phase of the project involved consultation with 15 communities across the province. At these consultations, primary family caregivers and professional organizations described the challenges that caregivers face in Alberta and proposed possible solutions. This phase allowed ADF to approach the community, listen to concerns, encourage participation in the project, and enable caregivers to meet, network, and communicate with organizations and other caregivers in their community. These consultations provided a strong foundation for the second phase of the project.
In the second phase, which is currently underway, family caregivers who are responsible for providing most of the care for a family member with a disability are invited to apply for funding to access respite care services. Families are urged to explore both new and existing services in order to determine which support system will benefit them most.
On September 30, 2009, a final report on the Respite Care Demonstration project will be submitted to Alberta Health and Wellness. The report will include recommendations for a Provincial Respite Care Program.
ACCD Moves to New Home
Late in 2008, ACCD staff and volunteers started the daunting, but much anticipated, task of moving ACCD—lock, stock, and barrel—to our new home in Edmonton's west end. We settled in just in time to celebrate our annual Open House, which coincides with local UN International Day of Persons with Disabilities celebrations.
ACCD's 13th Annual All Star Hockey Fun-Raiser
What's Don Cherry Doing at the Clare Drake Arena in Edmonton?
This family day weekend, we won't have to tune-in to hockey night in Canada to get a glimpse of CBC's Don Cherry.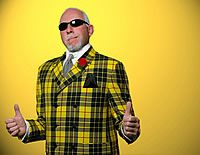 Don Cherry impersonator, Clark Robertson, will host this year's All Star Hockey Fun-Raiser! Providing play-by-play commentary, this family entertainer and professional comedian will keep you laughing right into overtime!
"Don" will be joined by fun-raiser regulars, the Edmonton Eskimos Alumni, the Edmonton Police Faded Blues, and the U of A Pandas and Golden Bears. This year's event promises to be better than ever with prizes, raffles, auction items—and, of course, some terrific hockey!
Adding a new twist to this family day tradition, attendance at this year's event is absolutely free—all you have to do is register online to let ACCD know that you'll be in attendance. When you register, you automatically qualify to win the grand prize—a seven-day cruise by Norwegian Cruise Lines.
Family Day
Monday, February 16, 2009
Doors open at 12:30 pm
Game starts at 1:30 pm
Clare Drake Arena, U of A Campus—Edmonton
Door Prizes * Silent Auction * Shoot on Goalie
Register on-line to qualify for the Grand Prize at www.hockeyfun.dojiggy.com (must be present at the game to win).
---
Saskatchewan Voice of People with Disabilities
Income Program For People with Disabilities Announced
Good News for Saskatchewan Residents with Disabilities! The Provincial Government announced that it will follow through with an Income Program for people with disabilities.
Currently, there have been no announcements on how the program will work or how funding for the program will be structured. There is a Task Team working with government to develop the groundwork for the program. It was the intention of the government to have the program in place by April, 2009, however, during consultation with the community, it was decided to not rush, but, develop a "Saskatchewan" made product that would be agreeable to all. This announcement has taken over a decade to come to fruition, and we really want to see a program developed that is going to work.
The Voice is continuing our work on the "Girl Power Camps" and First Nations/Metis Women's identification of abuse. The Girl Power Camps have been extremely successful and we find young women with disabilities very enthusiastic in assisting in developing materials that will assist others in recognizing abuse as well as developing self esteem. The First Nations/Metis women's committee is organizing a gathering for late April or May that will work with women on and off reserves to act as mentors and assist women who are being abused seek the assistance they require.
---
Manitoba League of Persons with Disabilities (MLPD)
MLPD Begins Implementation of Strategic Plan
During the past several months, the MLPD worked with Jim Derksen who was hired by our organization to lay out a more in-depth strategic planning document. This includes directions to renew and revitalize the organization, ways to involve the membership (and particularly youth with disabilities) in organizational activities to a greater extent and to foster financial sustainability. This plan was approved by MLPD Council in late September and endorsed in October by Manitoba Family Services and Housing which requested that the MLPD develop a more in-depth operational plan to be considered for sustaining funding. The Province granted sustaining funding to MLPD for the next three years. We held two meetings with the membership, one in early November with a core group of members to gain their support for the plan and a general membership meeting on January 30. At the January meeting, we presented the plan to the members for information, obtained their feedback (which was positive) and held a brainstorming session on "hot issues" which are important for MLPD to work on over the next while. These include poverty issues, Handi-Transit, social housing and ethical issues.
Other MLPD Happenings
On October 9, 2008, MLPD participated in a poverty forum together with the Social Planning Council and was involved in the events associated with International Disability Day on December 3, 2008. We will be working with the Province of Manitoba as they explore the development of a new disability strategy on disability to follow up on the recommendations of provincial roundtables held in Manitoba over the past several years.
MLPD Addressing Employment, Poverty, Transportation and Access Issues
The MLPD was one of the endorsing organizations of a letter to the Provincial Ombudsman requesting fundamental changes in administrative policies, regulations and procedures of Manitoba's Employment and Income Assistance program, and we met with the Provincial Ombudsman regarding this letter. We continue our ongoing work on Handi-Transit and other transportation issues, as well as housing, visitability and ethics issues concerning withholding and withdrawing life sustaining treatment (including a response to our October letter from the College of Physicians and Surgeons of Manitoba). On January 5, we will be participating in a Disability Awareness Day at the University of Winnipeg, and we hope we will be able to do the same at the University of Manitoba.
In November, we appointed three new MLPD Council members to fill vacancies created by the resignation of three individuals. The new appointees are: Pauline Mason, Louise McKean and Gary Dyson.
We look forward to the next several months when we will focus on the beginning tasks to implement our new operational plan and more fully involve membership participation for a more vital and responsive MLPD with increased capacity to respond to community issues and needs.
---
Alliance for Equality of Blind Canadians
AEBC Participates in Consultation with WestJet Over One Person/One Fare Implementation
Members of the Access 2 Entertainment (A2E) advisory group met with a representative from WestJet on Friday, November 28th to discuss their implementation plans for the One Person/One Fare (1P1F) ruling from the CTA.
Meeting with the Access 2 partners offered WestJet the opportunity to consult some organizations in the disability community and benefit from the learning the motion picture theatre industry underwent in developing the Access 2 Entertainment program.
The CTA did not provide guidance on how this should be implemented or what criteria should be used to determine eligibility, explicitly leaving it to the airline industry to make this determination. It does not appear as though the major airlines (WestJet, Air Canada) are working collaboratively on this at the moment.
WestJet approached this meeting with an open mind and the understanding that "they didn't know what they didn't know" about interacting with the community of persons with disabilities.
WestJet presented their current in-house plan for implementation: the process, the procedure, and the information that travelers would be required to provide for WestJet to assess eligibility and accommodation requirements.
Access 2 members provided a great deal of feedback on issues that often arise for people with disabilities when dealing with such programs, including:
the need for a dignified, respectful approach to questions and language on forms;
concerns over consumer privacy and the release of medical information; the need to separate "per-flight" accommodation requirements with the eligibility to travel with an attendant generally (e.g. whether or not an individual would use a wheelchair on a particular flight);
concerns over having to continuously re-qualify for the program, particularly for those who have permanent, life-long, stable disabilities; and, most importantly,
the need to base decisions on the basis of functional limitations (i.e."what can't the person do that an attendant would help with") rather than mere medical definitions or diagnoses.
There is one aspect of the 1P1F decision that the A2E committee did not have any real expertise in, and that was the issue of travelers who are obese. The decision mandates 1P1F accommodations for travelers who are 'disabled by their obesity,' but not to those who are 'obese but not disabled by their obesity'. It was pointed out that anyone with more than 30 extra pounds is likely to be classified as 'clinically obese,' but this would hardly necessitate the use of a second seat in most instances. What criteria, then, can one use to determine such eligibility in a respectful and dignified manner? In one sense, a functional approach could still work (e.g. if the person cannot walk for long periods of time and requires a wheelchair in the airport as well), but on the other hand, there may be some who are functionally "fine" but simply too large to fit reasonably within a single airline seat. Input is still needed on this aspect of the program.
While the program that launches on January 9, 2009 may not be perfected, WestJet seems committed to taking our feedback into consideration as it finalizes the details of the more permanent, long-term implementation plan. Further discussions are expected to take place as this process unfolds.
Disability Organizations represented at the meeting:
Adaptive Technology Resource Centre—U of T
Alliance for Equality of Blind Canadians
Canadian Abilities Foundation
Canadian Association of the Deaf
Canadian Hard of Hearing Association
Diversity WorX
Easter Seals Canada
Independent Living Canada
Multiple Sclerosis Society of Canada
A2 Business Partners represented at the meeting:
Cineplex Entertainment
Motion Picture Theatres Association Canada
AEBC Believes the Time is Right to Regulate the "Quiet Menace"
At a time when the auto industry is seeking massive bail outs from the U.S. and Canadian governments, the AEBC believes this is a perfect time to insist on greater regulation of this industry, including the quietness of a growing number of automobiles on our streets:
'Green' cars called threat to blind pedestrians

Hybrid vehicles are too quiet, says city man.

Vincent Ball, Brantford Expositor, Nov. 26, 2008

Setting out from their Buchanan Crescent townhouse for a morning jaunt, Bob Brown and his guide dog, Boone, set a good pace.

It's more like a power walk than a stroll and they work as a team, moving easily around their neighborhood.

"Brantford's pretty good, pretty accessible," the 33-year-old visually impaired man said. "We can get up to Williams for coffee if we want and I can go up to the (Lynden Park) Mall for groceries and back no problem.

"Sometimes I use public transit or the heel-toe express. It depends on the weather."

He enjoys his independence and mobility. But he worries they will be threatened by the growing popularity of hybrid vehicles, which run on gasoline and a rechargeable battery. In battery mode, they are quiet.

Hybrids may be good for the environment but they are not so good for the blind and visually impaired, said Brown.

"When I'm walking on a sidewalk, I depend on my guide dog and my ability to hear traffic," he said.

"If I can't hear a car coming, if it's backing out of a driveway I won't hear it until it's too late.

"I already know what it's like to get hit by a car and I don't want to ever have that feeling again."

He can't go into details about his ac- accident, which happened almost two years ago. But the experience of being hurt and losing his guide dog is enough to compel him to sound the alarm over hybrid vehicles.

He wants the automakers to come up with a way of making the vehicles loud enough so they can be heard by all pedestrians. And if the car companies won't do it voluntarily, Brown said he thinks the government should force this issue through legislation.

"There is some work going on in the United States on this and I think a couple of states are in the process of trying to come up with some regulations, some standards.

"I don't know if there is much happening here in Canada. I think they're taking a kind of a wait-and-see approach."

Brown has been visually impaired since he was about seven. His impairment was caused by retinitis pigmentosa, a degenerative disorder of the retina that, over time, causes severe vision loss.

Brown isn't the only one raising concerns about hybrid vehicles.

John Rae, the first vice-president of the Alliance for Equality of Blind Canadians, called hybrid vehicles a 'major' safety concern for all pedestrians, not just blind and visually impaired people.

Joggers and walkers wearing headphones are all vulnerable because of the quietness of hybrid vehicles.

"We recognize the importance of saving the environment," Rae said. "But we don't see this as an either-or issue.

"We think vehicles can be good for the environment as well as safe."

He's calling on the various levels of government to force the auto industry to come up with a way of making the vehicles safe enough for pedestrians.

Now, with the auto industry looking for taxpayer bailouts to keep it afloat, is the perfect time for the government to get car makers to address the issue.

"We'd like them (the automakers) to do it voluntarily but if they don't we think the government should step in and force them," Rae said. "So far we haven't received much of a response from the auto industry."

Toyota is one of the industry leaders in developing hybrid vehicles and is the manufacturer of the Toyota Prius, one of the most popular and recognizable of hybrid vehicles.

Rae thinks Toyota is a company that could set the standard for other companies to follow.

Nicole Grant, of Toyota Canada's public relations office, said Toyota is always looking for ways to improve public safety, as well as improvements to sustainable mobility.

Toyota seeks to maintain a balance between those concerns as well as other societal issues such as noise pollution and environmental concerns.

"We're always working towards that balance and public safety is at the top of our list of concerns," she said.
AEBC Presents at CRTC Hearings
On November 18, Marc Workman, AEBC National Secretary, represented AEBC at a CRTC public hearing examining the accessibility of telecommunications and broadcasting services for persons with disabilities. For a transcript of his presentation, visit http://www.crtc.gc.ca/eng/transcripts/2008/tt1118.htm.
AEBC Presents at NEADS National Biennial Conference
At the 2008 bi-annual conference of the National Educational Association of Disabled Students (NEADS), held from November 14 to 16, Anthony Tibbs presented a paper on copyright legislation and its bearing on alternative format production. The paper was well received and generated interesting discussion. A summary of the NEADS Conference can be found at: www.neads.ca/conference2008/.
AEBC Seeks Increased Accessibility at Election Time
Following Canada's 40th general election, the AEBC wrote to Canada's Chief Electoral Officer to raise a range of access issues, and will be meeting with Mr. Mayrand in January. Here is the text of AEBC's letter:
Mr. Marc Mayrand
Chief Electoral Officer
Elections Canada
257 Slater Street
Ottawa, ON K1A 0M6

Dear Mr. Mayrand:

Re: 40th General Election

I am writing you on behalf of the Alliance for Equality of Blind Canadians, to raise a number of concerns and issues that arise from electors who are blind who participated in Canada's 40th General Election.

1. ID: The requirement to provide two pieces of identification, one of which included a photo was applied inconsistently. Some voters were only asked for one piece of ID while others including myself were asked for two. Some electors were able to use their CNIB card which contains a photo and others were not.

The requirement to provide two pieces of identification, one of which must contain a photo, often poses difficulties for individuals who are homeless and persons who do not have a driver's licence, especially those who live in provinces that do not yet offer a non driver's driving licence for identification purposes. It also poses some difficulties for blind electors who may not retain copies of bills that come in print.

2. The template: While we are pleased this template contains Braille numbers, one member indicated the ballot slipped out while he was en route to where he was to mark it. Perhaps a clip would make it more secure and prevent it from slipping.

3. Braille Lists of Candidates: Despite the settlement in Ms. Linda Bartram's CHRC complaint, no list of candidates in braille seemed to be available in any polling place. When will Elections Canada follow through on this settlement and provide a list of candidates in braille?

4. Treatment at the Poll: Kelowna, BC:

Ms. Denise Sanders of Kelowna, BC has written to you as follows on what she describes as her "humiliating" voting experience:

October 17, 2008

Dear Mr. Mayrand,

I am writing this letter to inform you of my humiliating experience as a voter who is blind. My friend and I arrived at the advanced polls as we were both going to be out of town on Oct. 14. The greeter asked if we had our voting cards. I replied I had my card and handed it to her. The greeter says to my friend "SHE needs to go to table 606" as if I were not even there or invisible.

My friend guided me over to table 606. The lady at 606 asked my name and said I would need my driver's licence for the gentleman beside her. When the gentleman was free, I moved over and handed him my ID. I asked for a braille list of the candidates. He said we do not have this list. I said are you sure as I was under the impression we were to receive this list. He replied no again. I asked him if he was going to assist me to the booth. He said yes then asked my friend to take me. I interjected and said I asked for your assistance as it is not my friend's responsibility or her business who I vote for. He nervously guided me over to the booth, lined my ballot up in the template with braille numbers, read off the candidates and said he was leaving so I could mark my ballot in private. I folded my ballot and he asked if I wanted him to put it in the box. By this point, I was so angry at how I was being treated that I said ok then left with my friend.

I was very angry and humiliated as I had not been addressed as a human being at the door, tried to be shuffled off to my friend at the table, and did not receive a Braille list of candidates so I could cast my vote in private.

With our current voting system, I was not able to verify my vote as all other Canadians are able to do.

I believe an electronic system is required so I am able to vote independently and verify my vote. I recommend more training is necessary as two out of three workers were very uncomfortable and did not treat me with respect.

I hope my next voting experience will be an improvement over this one.

Yours truly,
Denise Sanders

5. Another incident from Kelowna voter "Sarah":

I believe from what Sarah reported, that Sarah's vote was compromised due to a lack of training by Elections Canada. Sarah asked for the brailled list of candidates names. She was handed a plastic template with numbers, but there was no list to be had. Instead of the officer admitting that she didn't know what to do with the template, or accessing a returning officer for assistance, Sarah was led behind the polling booth by the officer. The officer carried the template in one hand and the ballot in the other. Sarah stated that she was read the list of candidates, the officer asked her who she was voting for, and the officer marked her ballot for her. She was not offered the pencil or given the ballot to mark her own X.

When she came out from behind the polling booth I asked her if she was able to mark her ballot. Sarah remarked that they had marked the ballot for her.

Did the officer put the ballot into the template? Did the ballot stay put in the template? Sarah said she didn't hear the lady put the ballot into the template. Did she fold her own ballot? No. the lady folded the ballot.

The lady was about to drop the ballot into the box, when I remarked to her that Sarah was capable of putting it into the box herself. I asked Sarah if anyone else knew who she voted for? Sarah said the lady did. The lady who marked her ballot assured Sarah that she would not remember who she voted for. We went to report what I felt was a compromised ballot. Outside of being given Elections Canada's address, there were no forms available to lodge a complaint there and then. While Sarah does not assert herself as well as she should, they made some assumptions about her ability and did not provide her with proper instruction. I suppose they thought it was just easier to do it for her!

6. Independent Verification: Of greatest concern to the AEBC is that, again in this election, blind electors could not independently verify how we voted. As you know, this has been a long-standing issue between the AEBC and Elections Canada.

Given the content of Sec. 151 (1) of the Elections Act, would it not be possible to begin using a voting machine right now that enabled electors to use a traditional ballot provided that machine marked an (x) in the appropriate place:

Manner of voting

151. (1) An elector shall, after receiving a ballot,

(a) proceed directly to the voting compartment;
(b) mark the ballot with a cross or other mark in the circular space opposite the name of the candidate of his or her choice;
(c) fold the ballot as instructed by the deputy returning officer; and
(d) return the ballot to the deputy returning officer.

What plans does Elections Canada have to test alternative methods of voting, such as an electronic option, in the next bi election that will make that election totally accessible to all electors?

We would appreciate the opportunity to meet with you to discuss these issues and concerns. I will contact your office in the next few days to request such a meeting.

Yours very truly,

Robin East President, AEBC
2009 Conference Set for Vancouver
AEBC's 2009 Conference, with the theme "Inclusion Today," is set for May 1 to 3 at the Westminster Quay. We will hold workshops on Friday afternoon and most of Saturday on such topics as access to transportation, the landscape of employment, accessible communications, outline of the national strategy, creating a news release, writing a letter, and developing a policy. Voting on resolutions and elections for board positions will begin late afternoon on Saturday and continue on Sunday morning.
The Inn at Westminster Quay is a very unique, boutique hotel as it is the only hotel in the Lower Mainland that is built over the Fraser River offering exciting river views from every guestroom. The facility offers a Fitness Centre, sauna, Jacuzzi and a 2-mile boardwalk on the waterfront. Adjacent to the hotel are the Skytrain transportation system and the Westminster Quay Public Market, with restaurants, food fair, wine shop, clothing outlets, and souvenir shops. The convenience of our location offers easy access to New Westminster's newest attraction the Starlight Casino, the airport, ferry terminals, shopping, and theatres.
For further details, write info@blindcanadians.ca.
---
National Educational Association for Disabled Students (NEADS)
NEADS 2009-2010 Board of Directors Election
NEADS members elect new Board of Directors at national conference! (Ottawa, January 19, 2009)
The Board of Directors of the National Educational Association of Disabled Students (NEADS) was elected on Sunday, November 16th in Ottawa during our national conference "Learning Today: Leading Tomorrow."
The following individuals will serve the Association for the next two years and took office on January 1, 2009:
Alberta Representative - Gregory Lane (University of Alberta)
British Columbia Representative - Kim Howcroft (University of Northern British Columbia)
Manitoba Representative - Tim McIsaac (University of Manitoba)
New Brunswick Representative - Natalie Fougère (Université de Moncton)
Newfoundland and Labrador Representative - Ian Murley (Memorial University)
Ontario Representative - Devon Sivill (Carleton University)
Prince Edward Island Representative - Vacant
Quebec Representative - Julie Tee (Concordia University)
Saskatchewan Representative - Jesse LeClaire (University of Saskatchewan)
Open Representative - Mahadeo Sukhai (University of Toronto)
Territories Representative - Agnes Tomkow (University of Alberta)
Congratulations and welcome to the 2009-2010 NEADS Board of directors! We intend on circulating an Expression of Interest for those interested in representing Prince Edward Island seat soon.
NEADS would like to pass on its gratitude and best wishes to the following individuals who are leaving us after their time on the Board:
Lena Cook, outgoing Saskatchewan Representative
Fraser MacPhee, outgoing Prince Edward Island Representative
Paulo Monteaguodo, outgoing Quebec Representative
Rachael Ross, outgoing Past-President
Margaret Shalma, outgoing Ontario Representative
Jewelles Smith, outgoing British Columbia Representative
Lena, Fraser, Paulo, Rachael, Margaret and Jewelles were excellent board members who served the Association well during their terms of office.
For more information, please contact the NEADS National Office:
National Educational Association of Disabled Students (NEADS) Rm. 426 Unicentre, Carleton University Ottawa, Ontario, K1S 5B6 tel. (613) 526-8008 www.neads.ca
Conference Report Now Available Online
The full report on all of the workshops and plenary presentations from the NEADS November national conference, "Learning Today, Leading Tomorrow" is now available on our website. The report includes speeches from distinguished guest speakers: The Honourable David Onley, Lieutenant Governor of Ontario; Sandi Bell, Commissioner, Canadian Human Rights Commission and The Honourable Steven Fletcher, Minister of State (Democratic Reform). Check it out at: www.neads.ca/conference2008.
The Centre for the Study of Students in Post-Secondary Education at U of T and NEADS Announce New Project Researching Financial Barriers Faced by Students with Disabilities
The University of Toronto's Centre for the Study of Students in Postsecondary Education (CSS) and the National Educational Association of Disabled Students (NEADS) are proud to again announce the creation of an innovative new initiative through a funding partnership with the Canada Millennium Scholarship Foundation and the Higher Education Quality Council of Ontario. This project, "Assessment of Debt Load and Financial Barriers Affecting Students with Disabilities in Post-Secondary Education," is a year-long initiative, concluding in April, 2009.
Students with disabilities incur the second highest amount of debt associated with attending post-secondary education (PSE) in Canada of any student group. Data available on student debt load currently provides limited information distinguishing the type of debt (i.e., costs specifically associated with post-secondary education vs. housing, transportation or credit card debt). Information specific to students with disabilities is also very limited. If more fully available and comprehensive, these data would greatly enhance the ability of disability service providers, financial aid officers and accommodations specialists to ensure that the needs of students with disabilities in post-secondary education are appropriately met. Information on debt loads and financial barriers for students with disabilities in post-secondary education would also assist policy makers in their attempts to support access and success of this student population.
To that end, NEADS and CSS, in collaboration with the Canadian Association of Disability Service Providers in Post-Secondary Education (CADSPPE), will undertake an assessment of the academic/educational debt load and financial barriers of students with disabilities, in comparison to the overall student population. Our interest is in understanding, through various sources, the relative debt incurred by students who report disabilities in post-secondary education, the financial barriers to their education that they experience, and the related impact their relative debt and financial barriers have on their educational experience and decisions.
We are seeking to recruit undergraduate students with disabilities in post-secondary education, who are willing to be interviewed (30-45 minutes maximum) by telephone, to discuss debt load and financial barriers relating to their pursuit of post-secondary education. We are seeking to interview over 90 students from colleges, universities and CEGEPs across Canada. Your help as an interviewee would be greatly appreciated, as it would move us closer to a representative sample of students who share their experiences of financial barriers and educational debt. If you are interested in participating as an interviewee for this project, please contact: Tony Chambers: tchambers@oise.utoronto.ca or Mahadeo Sukhai: mahadeo.sukhai@neads.ca by Jan. 25th, 2009. An honorarium of $10 will be provided to every interview participant.
The objectives of the project are:
To develop and implement an online survey tool to assess the financial barriers and academic debt load of students with disabilities in post-secondary education
To analyze existing data sets to glean additional information regarding debt and financial barriers for PSE students with disabilities in Canadian PSE with a significant focus on the province of Ontario.
To engage in institution-level interviews with PSE students with disabilities regarding their debt and financial barrier dynamics related to their education and disability.
To develop a report identifying key financial issues faced by students with disabilities in post-secondary education, based upon the survey findings, interviews, analyses of current data sets, and literature searches of the appropriate scope.
The National Educational Association of Disabled Students (NEADS) is a consumer-controlled, registered charitable organization with a mandate to encourage the self-empowerment of post-secondary students and graduates with disabilities in Canada. NEADS advocates for increased accessibility at all levels so that students with disabilities may gain equal access to a college or university education, which is the right of everyone. The Association also supports the successful transition of students and graduates with disabilities into employment within their chosen field.
The Centre for the Study of Students in Postsecondary Education (CSS) at the Ontario Institute for Studies in Education (University of Toronto) was established in April 2007 with a mission to design, implement, and disseminate quality, relevant scholarship and programs that advance a broader understanding of student learning, development and success at the University of Toronto and in Canadian post-secondary education. Through the generation of meaningful research and programs, CSS aims to provide a response to the growing demand for empirically derived usable data and analysis that informs policy and practice related to students' experiences and outcomes in post-secondary education.
NEADS Online Calendar
The National Educational Association of Disabled Students has an Online Calendar on our website. It's easy to Add an Event; just fill-out the form and submit a conference or meeting to http://www.neads.ca/en/about/events/.
We want events in the calendar that are happening on your campus, in your community, in your province, or anywhere in Canada that visitors to our website might be interested in.
---
Annoucements
NAPO Has A New Name
Following an unveiling February 3rd, 2009 in Ottawa, we are pleased to announce our new logo and the new public name of the National Anti-Poverty Organization (Organisation nationale anti-pauvreté)—Canada Without Poverty (Canada sans pauvreté)! "National Anti-Poverty Organization" remains the formal name until such time as it can be legally changed, per amendment procedures in the NAPO by-laws and per Industry Canada approval.
These changes are part of our repositioning for the strongest possible contribution to combating poverty, inequality and social exclusion in Canada. Our new name is meant to keep our focus squarely on the ultimate goal, and to inspire others. Our new logo is meant to suggest the rising above and out of poverty, to get above whatever one's poverty line might happen to be, and to then move forward with a better chance of fulfilling one's potential and promise as an individual and as a citizen.
We wish to thank those who were able to join us last night for the unveiling – a mix of low-income citizens and social justice advocates including from the faith, labor and progressive business communities. We also thank MPs Larry Bagnell (Liberal) and Tony Martin (NDP) who were present, and note the regrets sent by a number of other MPs and Senators.
We also wish to warmly thank our colleague organizations and financial contributors for your enduring collaboration and support. Together, we all can and will realize the day when poverty in Canada is made history. Momentum is on our side – keep up the great work!
Our new name and logo are now up on our (still as yet modest) web site. Please also note that staff email addresses have now changed to [first name]@cwp-csp.ca.
---
Passport to Freedom Initiative
Social responsibility and public access rights go hand in hand. One can't be achieved without the other. The only limitations are those that are imposed due to ignorance, perceived threats, and the greatest handicap of all, 'hardening of the attitudes.'
Consequently, in the spirit of cooperation and inclusiveness we are planning to invite people who are directly or indirectly associated with service animals to establish a multi-stakeholder learning community to identify core values and common priorities to stimulate collaborative action. This initiative is intended to create a safe environment in which to foster learning through appreciative inquiry (AI).
According to Louise Chatterton Luchuk, learning communities are the best investment we can make. The anticipated outcome of investing in this learning community would be a nationally recognized Passport to Freedom for Service Animal Teams that could become a best-practice model for the international community.
Individuals facing physical, intellectual, emotional, behavioral, developmental, social and spiritual challenges[1] benefit from the use of service animals. Existing services are tailored to meet the special needs of those served. However, due to long waiting lists many people are choosing to self-train their own service animal. Dogs are not the only animals used as a means for assistance; ferrets, pot-belly pigs, rabbits, miniature horses, capuchin monkeys, and parrots are some of the other animals that are being used.
The type of animal being used is not the focal point; rather, the unique tasks that the animal is trained to do results in the animal becoming an extension of the person, compensating for the tasks the person is unable to tend to on their own.
Service animals in most cases eliminate the need for a human attendant. This interdependent relationship facilitates active living and provides the freedom to participate in one's community. Communities that are not inclusive not only violate a person's right to access, they miss out on the rich contributions that every person makes when they are valued and truly "belong".
Interest and demand for these powerful alternatives to conventional means of remedial assistance are growing rapidly, as animals are not subject to power failure, are environmentally friendly, are economical, and develop an emotional bond with the human, reducing the person's sense of isolation.
Service animals have the capacity to bring communities together as people learn of the impact they have on improving the quality of life of both the handler and the animal. These amazing creatures possess the innate capacity to break the ice, initiating conversations that would not otherwise take place.
Stakeholders will be invited to explore existing infrastructures and resources that will help this initiative to succeed. Resources include, but are not limited to: the accreditation of new and current service animal organizations in accordance with best practices, the certification of service animal teams from organizations and those that are self-trained, credentialing of evaluators, and certification of trainers. The intent is to build on international standards that are currently recognized, such as those for guide dogs for the blind.
New opportunities will undoubtedly emerge as people and organizations re-position themselves. Some may choose to continue with their existing practices, while others may choose to become part of a service animal network where one organization specializes in breeding, others specialize in training, accreditation, and third party conformity assessment to certify service animal teams that qualify for the "Passport to Freedom".
To establish a sustainable community is to work together, while branding the unique talents and expertise of the participants.
Canadian citizens who have a disability deserve to have a voice of their own. At the same time our vision is that multi-stakeholder engagement will inspire a unified voice—one voice. It is not about the disability, it is about the person—it is not about the animal but rather the task at hand.
Your written endorsement and expression of interest to become part of this emerging community is needed to build the capacity of this community's voice so together we can bring this to fruition. You can make a difference.
For more information please contact the undersigned. We look forward to hearing from you.
Submitted by:
Joanne Moss, President CF4AASS
P.O. Box 279
Winchester, Ontario K0C 2K0
jmoss@cf4aass.org
www.cf4aass.org
Terrance Green, National ID Card Project Acting / Team Leader
Green & Vespry Law Offices
200-190 O'Connor Street
Ottawa, Ontario, K2P 2R3
Tel: 613-560-6565 ext. 22 - Fax: 613-560-0545
Email: tjgreen@bellnet.ca
[1] Some of the related disabilities include, but are not limited to: accident injuries, Alzheimer's, amputations, anxiety disorders, Arthritis, Arthrogryposis, Attention Deficit, Autism, Blindness, Cerebral Palsy, deafness, developmental disabilities, Epilepsy, Heart & Stroke, learning disabilities, mental health disabilities, mobility impairments, Multiple Sclerosis, Muscular Dystrophy, Paraplegia, Parkinson's Disease, Poliomyelitis, Sickle Cell Anemia, Spina-Bifida, victims of trauma, and cross-disabilities.