Act Now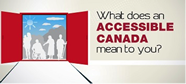 Empower U: Learn to Access Your Disability Rights Training on Canadian Human Rights, the Convention on the Rights of Persons with Disabilities (CRPD) and its Optional Protocol (OP) training aims to increase awareness of how to address discrimination using more familiar Canadian human rights laws such as Human Rights Codes and the newer international Convention on the Rights of Persons with Disabilities (CRPD). This is training for persons with disabilities by persons with disabilities. The training is part of a project funded by Employment and Social Development Canada and implemented by the Council of Canadians with Disabilities (CCD) in collaboration with Canadian Multicultural Disability Centre Inc. (CMDCI), Citizens With Disabilities – Ontario (CWDO), Manitoba League of Persons with Disabilities (MLPD) and National Educational Association of Disabled Students (NEADS). Read more.
Sign Up for our monthly digest
A monthly newsletter from CCD about what is happening in the community
A Voice of Our Own: January 2010
Volume 28, Issue 1
On the CCD Agenda
Member Group Updates
---
On the CCD Agenda
Disability Community Needs PALS in 2011
Statistics Canada's Participation and Activity Limitation Survey (PALS) is the most important and comprehensive source of disability statistics in Canada and is seen as a best practice model internationally. CCD is concerned that Human Resources Skills Development Canada (HRSDC) has not yet committed funding for a PALS for the 2011 census.
It is crucial that PALS continue so that governments and communities have the information and research needed to develop good policy and programs. It should be noted that upon ratification of the UN Convention on the Rights of Persons with Disabilities Canada will be obligated to collect data on the socioeconomic status of persons with disabilities.
PALS and its predecessor HALS have been, and remain, extremely valuable survey tools. No other survey provides the range and depth of statistically reliable information about:
The kinds, causes and severity of disabilities experienced by Canadian children and adults;
The extent of utilization and unmet need for a range of human, technological and built environmental supports needed because of disability;
The need for, and availability of, disability-related accommodations for paid employment and for participation in education and work-related training;
Accessibility measures needed in local and interjurisdictional transportation services (buses, trains, airplanes);
Social and economic barriers experienced by persons with disabilities;
Impacts of disability and of the associated barriers on personal and family incomes and on the social and economic activities of family members;
Direct, non-reimbursed costs paid out-of-pocket by individuals and families for disability-related items and services.
CCD has been urging HRSDC to support PALS 2011. Community members committed to effective disability public policy may also want to write to the Hon. Diane Finley, Minister of Human Resources and Skills Development Canada, and call for the Government of Canada to support PALS 2011.
---
Canadian Human Rights Tribunal Decision Safeguards Access on Voting Day
On 17 March 2008, due to inaccessibility at the St. Basil's Church polling station, Peter Hughes, a voter with a physical disability, had to go down a set of stairs "on the seat of his pants" in order to cast his ballot in a federal by-election. Once again on 14 October 2008, the general election, he experienced barriers at the St. Basil's polling station, located in the downtown riding of Toronto Centre. Mr. Hughes made a complaint to the Canadian Human Rights Commission against Elections Canada about the barriers he encountered. The Canadian Human Rights Tribunal granted Interested Party status to the Council of Canadians with Disabilities (CCD), a human rights organization covering a wide spectrum of disabilities. CCD shared with the Tribunal its views on remedies that would benefit voters with disabilities in future elections.
In James Peter Hughes v. Elections Canada, the Canadian Human Rights Tribunal ordered Elections Canada to "cease from situating polling stations in locations that do not provide barrier-free access". "CCD regards this decision as a victory, because the Tribunal's order compels Elections Canada to keep access considerations front and centre as it conducts elections," states Marie White, CCD Chairperson. Additionally, the Tribunal ordered Elections Canada to alter a number of its practices related to consultation, leasing, policies and guidelines, signage, and training. For example, Elections Canada has been ordered to revise "its standard lease for polling stations to include the requirement that the leased premises provide level access and are barrier-free". The Tribunal also ordered Elections Canada to implement "a process for receiving, recording and processing verbal and written complaints about lack of accessibility." The number of complaints received about accessibility will be publicly reported via Elections Canada's CEO's post-election report to Parliament. "In addition to training, monitoring elections and evaluating accessibility outcomes are critical," states Jim Derksen, a member of the CCD Human Rights Committee.
The Hughes Decision: The Highlights
The Canadian Human Rights Tribunal ordered comprehensive nation-wide improvements and a timetable to comply including:
A cease order that Elections Canada not have any polling stations in any electoral district in Canada that does not have barrier-free access;
Monitoring and consultation with disability groups;
New nation-wide accessibility verification procedures;
New training for all Elections Canada officials including the highest official, the Chief Electoral Officer, and senior management at Elections Canada National Headquarters and staff in all electoral districts;
A new complaints procedure;
Report to Parliament on Polling Station Accessibility complaints;
Improved Accessibility signage at all polls.
---
Disability Issues included in Canadian Civil Society Statement on Haiti
Through the work of CCD International Development Committee member, Yutta Fricke, the "Canadian Civil Society Statement to the Foreign Ministers Meeting on Haiti" was inclusive of disability issues. CCD is communicating with the Prime Minister and the President of CIDA, reminding them of the need for Canada's reconstruction work in Haiti to follow the principles of universal design. What follows is the statement made by groups like CCD to donor countries contributing to Haiti's reconstruction program.
Canadian Civil Society Statement to the Foreign Ministers Meeting on Haiti
Montreal, Canada, January 25, 2010
We recognize and welcome the strong leadership Canada has shown in hosting the Conference of Foreign Ministers. We commend the generosity shown by citizens and donors in a time of crisis. Following the devastating earthquake on January 12, the challenge of rebuilding Haiti is compounded by the cumulative effects of annual hurricanes, the 2008 food crisis, the global financial crisis, environmental degradation, and a violent political history—all of which have denied the majority of Haitian citizens access to their basic human rights. But the international community, as a donor to Haiti over more than two decades, also bears responsibility for ill-conceived and poorly-conducted development, political interference, and unfulfilled promises. This time, the reconstruction of the country must be done in a way that is effective and accountable to all Haitians, addresses their immediate needs, and helps to create a positive environment for long term sustainable development. To achieve this, ongoing international relief efforts and planned support for reconstruction must be based on the priorities of, and led by, Haitians themselves.
Rather than an overly security-centric rebuilding of Haiti, which militarizes aid and undermines Haitian ownership, we urge solidarity, sovereignty, and respect for the rights of Haitians to be the guiding principles of international efforts. We recommend an approach that:
Prioritizes the Delivery of Humanitarian Assistance by Civilian Agencies;
Protects the Human Rights of Vulnerable Populations;
Ensures Haitian Leadership, Ownership and Decision-Making; and,
Focuses on Ending Poverty.
1. Prioritize the Delivery of Humanitarian Assistance by Civilian Agencies
While we acknowledge the challenges posed by the current operating environment in Haiti, aid efforts have been impeded by lack of access to airports and the slow delivery of supplies into the disaster site. The delivery and distribution of humanitarian assistance by civilian agencies should be considered the highest priority and we call on the Government of Canada to:
Advocate strongly for a clear delineation of roles between civilian aid workers and military personnel involved in the relief effort. Military forces currently on the ground are providing crucial logistical and operational support, while civilian agencies have the experience and expertise needed to deliver assistance. Assistance currently being provided by military personnel should be handed over to civilian agencies as soon as possible, leaving the military to focus on providing logistical and operational support.
Work with the US government, the Haitian government, the UN, and Group of Friends to ensure that civilian humanitarian supplies have the highest priority for the arrival, off loading, and dispatching of cargo, at Haiti's airports, ports and land borders.
Support UN efforts to coordinate the current relief operations, while building the capacity of the Government of Haiti to lead and coordinate the reconstruction and recovery efforts.
2. Ensure Haitian Leadership, Ownership and Decision-Making
Haitians, themselves, were the first responders to the earthquake. Although local organizations have been affected by the earthquake, the considerable capacity and skills of Haitians must be respected and included in relief efforts. To this end, we call on the Government of Canada to:
Work to ensure Haitians, wherever possible, are leading relief and reconstruction efforts.
Fund Haitian organizations, particularly women's groups, in relief, recovery, and reconstruction.
Seek opportunities for including the Haitian Diaspora in Canada in relief and recovery efforts, particularly those with French and Creole language skills.
Prioritize the rebuilding of Haitian government ministries and departments that are responsible for providing basic services.
Support Haitian community-driven efforts to improve the educational, food security and livelihood status of Haitian citizens.
3. Protect the Human Rights of Vulnerable Civilians
Haiti's vulnerable populations will require special protection measures. 36% of Haiti's population is under 15. Persons with disabilities, including those newly disabled by the earthquake, will find it difficult to access food, water and shelter. Women and girls are at an increased risk of sexual and gender-based violence. We call on the Government of Canada to work with other donors and civil society to:
Ensure the principles of impartiality, neutrality, independence, and humanity guide the ongoing relief effort and that humanitarian and development activities are consistent with international humanitarian and human rights law.
Prioritize the delivery of humanitarian assistance to vulnerable groups such as unaccompanied minors, the disabled, elderly, and women/girls, and ensure that their needs and priorities are addressed in the planning for Haiti's recovery, reconstruction, and longer-term development. To this end:

Ensure shelter and emergency camps are planned and built with disability access in mind.
Include persons with disabilities and organizations focused on disability rights in all initiatives and stages of relief, recovery, reconstruction, and longer-term development planning.
Establish rapid response mechanisms and measures to ensure the rights of all Haitian children are protected with priorities on preventing child trafficking and a moratorium on new international adoptions.
Encourage all countries contributing to the United Nations Stabilization Mission in Haiti (MINUSTAH) train their personnel on preventing, protecting, and responding to sexual and gender-based violence prior to their deployment.
4. Ending Poverty
Poverty and fragility in Haiti is multi-faceted and includes significant tensions between a wealthier elite and poorer Creole-speaking parts of the population. Much of Haiti's income is allocated to annual debt service payments amounting to some $60-$80 million a year, limiting Haiti's capacity to invest in its own development. Real and sustained recovery and reconstruction will not be possible without addressing Haiti's longer term development as well as environmental and governance issues. We commend the Government of Canada for cancelling, in July 2009, $2.3 million in debt owed by Haiti and call on the Government to:
Advocate for the immediate and unconditional cancellation of all bilateral and multilateral debt owed by Haiti. To this end,

Call on the International Monetary Fund (IMF) to immediately turn the recent US$100 million emergency loan to Haiti into a grant provided without any conditions.
Call on the rest of Haiti's multilateral creditors, in particular The Inter American Development Bank and the World Bank, to immediately cancel outstanding debts.

Ensure longer term assistance addresses both the immediate and structural causes of poverty in Haiti while working to provide relief and reconstruction to areas directly affected by the earthquake.
Continue providing development aid to parts of the country not impacted by the earthquake, but still vulnerable to poverty.
Support environmental programs aimed at agriculture and reforestation.
As Haiti rebuilds, international donors and the Group of Friends, must ensure the voices and the perspectives of Haiti's poor are heard and their rights respected. Haitian ownership and leadership, through the government, civil society, the Diaspora, and the majority—women and men, girls and boys living in poverty, must be central in all efforts.
Canadian Council for International Co-operation
Care Canada
Council of Canadians with Disabilities
Centre for International Studies and Cooperation
Centre for Research on Latin America and the Caribbean (CERLAC)
Development and Peace
Halifax Initiative Coalition
Horizons of Friendship
KAIROS: Canadian Ecumenical Justice Initiatives
MATCH International Centre
Mennonite Central Committee Canada
Oxfam Canada
Oxfam Quebec
Plan Canada
Public Service Alliance of Canada
Social Justice Committee of Montreal
UNICEF Canada
York Haiti Solidarity Committee
---
Barriers Continue in Canada's Transportation System
Despite many years of advocacy by the disability community, people with disabilities continue to encounter barriers in the federally regulated transportation system: air, rail, marine. Some of the barriers are familiar, such as inaccessible passenger rail cars, and there are new problems related to security screening measures at airports. CCD's Transportation Committee continues to keep the need for access regulations on the federal agenda. CCD believes access regulations are a mechanism for eliminating barriers to the mobility of people with disabilities in the national transportation system.
VIA RAIL—Regular readers will be well aware that CCD spent many years in court challenging VIA Rail's decision to purchase inaccessible passenger rail cars. The Supreme Court of Canada found in CCD's favor. In its ruling, the Supreme Court upheld the principle that service providers must not create new barriers which prevent access to people with disabilities. While the decision is having a positive affect on the cars at the heart of the case, barriers remain in other parts of the VIA rail system. Catherine Frazee, a former Chief Commissioner of the Ontario Human Rights Commission and a disability activist, had first hand experience with these barriers as she made her way to the Vancouver Olympics.
Drew Penner writing in Now, describes how transportation barriers affected Catherine Frazee's travel:
Catherine Frazee is headed to the Vancouver Olympics to tell the hidden stories of disability in Canada with her art exhibit, Out From Under: Disability, History and Things to Remember.

Ironically, because of her wheelchair, VIA Rail can't accommodate her travel plans. So she'll be driving to Chicago, taking an Amtrak train to Seattle, and then driving to Vancouver.

The obstacles Frazee faces ahead of the Olympics underscores the many challenges people with disabilities face on a daily basis in Canada. (Drew Penner, "Unlikely art stars prepare for Vancouver Olympics, Olympic art project shocks, illuminates international accessibility discussion" Now, 27 January 2010.)
Unlike Canada, the United States has access regulations, which seem to be having a positive effect, as people with disabilities, like Ms. Frazee, are able to travel by passenger rail car. Since the VIA Rail decision, CCD has heard that Transport Canada considers that access regulations are unnecessary. Ms. Frazee's experience demonstrates that Canada needs access regulations.
Access at the Airport—The Council of Canadians with Disabilities (CCD) met in Ottawa in late January. One of the topics of concern was the impact that new security measures will have on travelers with disabilities. CCD understands the need for security; however, we also believe that Canada's security measures should be implemented in a manner that respects human rights principles and the principles of universal design. We noted from information carried in media stories (http://www.cbc.ca/health/story/2010/01/05/f-airport-scanners-radiation-risk.html) that the Office of the Privacy Commissioner has reviewed the scanners as has Health Canada, with both reviewers finding the devices acceptable from the standpoint of health and privacy.
Unfortunately, our conversations with officials from the Department of Transport, the Transportation Development Centre and the Canadian Transportation Agency regarding the accessibility of these scanners have not provided similar assurances. Instead of being reassured that access had been considered and that this equipment would pose no new barrier to anyone with a disability, CCD discovered that the officials it contacted had no information on the accessibility of body scanners. This is very disappointing. The 2007 Supreme Court of Canada decision in the VIA Rail case upheld the principle that service providers have a responsibility to ensure that no new barriers are created for people with disabilities. CCD is urging the Government of Canada to ensure that Canada's security measures will not adversely impact on travelers with disabilities.
If you are concerned about barriers to the mobility of persons with disabilities in the federally regulated transportation system, share these with the Minister of Transport John Baird.
---
CRPD: A Launch Pad for Action
On 3 December 2009, Canadians with disabilities celebrated the tabling of the Convention on the Rights of Persons with Disabilities (CRPD) in the House of Commons. Shortly, the UN Secretary General will receive Canada's documents and ratification will be finalized. This international human rights treaty upholds:
the equal protection and equal benefit before the law for all people,
the inherent dignity and independence of all persons with disabilities and
the participation of people with disabilities in decision-making affecting them.
The CRPD establishes opportunities for advancing disability rights in Canada and, in this article, CCD explains how the CRPD will help advance our agenda. Of course, these opportunities will not be realized without the disability community's involvement and CCD will be working for a robust implementation of the CRPD.
Increased Political Profile
The CRPD requires states to create a framework for addressing the country's obligations to people with disabilities under the treaty. Article 33 calls upon countries to "designate one or more focal points within government for matters relating to the implementation of the present Convention, and shall give due consideration to the establishment or designation of a coordination mechanism within government to facilitate related action in different sectors and at different levels." Article 35 requires States to submit regular comprehensive reports on measures taken to promote and protect the human rights of people with disabilities. These requirements are timely. CCD's Chairperson Marie White has been saying that social policy in Canada is homeless. The CRPD's call for a focal point, monitoring and reporting will assist the disability rights community re-position disability rights on the political agenda. CCD will be seeking discussions with government on the development of an implementation plan and creation of a monitoring and reporting process.
Law Reform
Once the CRPD is ratified, it becomes a set of minimum standards that countries are obliged to meet over time. In Canada, both the federal and provincial governments will need to reform laws and practices that do not meet the demands of the CRPD. For example, campaigners against institutionalization hope the CRPD's support for community living will hasten the closure of institutions in Canada. "The CRPD is a tremendous step forward, because it creates a substantive framework for improving the status of Canadians with disabilities and it will be the focus of our work for many years to come," said Marie White, CCD Chairperson.
The CRPD recognizes the important role of the organizations of people with disabilities in policy development and reform. Article 4.3 calls for active consultation with persons with disabilities through their representative organizations. The CRPD confirms that there are two engines to propel law reform forward: the government focal points called for in Article 33 and the representative voice of people with disabilities (Article 4.3). "While we have been taking time to celebrate that Canada is coming on board as a CRPD ratifier, soon we will be knocking on government doors seeking a collaborative dialogue on how Canada will implement the CRPD, said Marie White.
International Engagement
As a country that has ratified the CRPD, Canada will participate in the conferences of States Parties and the meetings of CRPD experts to review progress. At these meetings, Canada will contribute to the development of disability rights jurisprudence. Canada is an international leader on disability issues and participation in these fora will enhance our national reputation.
Attitude Change
Through the CRPD, the global community recognized the equality of people with disabilities and rejected the medical model approach to disability. It adopted a human rights approach to disability issues and acknowledged that barriers are socially created. In the hands of the disability community, as well as governments, the CRPD will be an important tool for educating mainstream society about both the barriers faced by Canadians with disabilities and the human rights approach to removing barriers.
Community Mobilization
The CRPD presents a unique opportunity to stimulate increased activity on disability issues by both people with disabilities and the general public. Other international events have been a catalyst for action on disability issues. In 1981, the International Year of Disabled Persons (IYDP) galvanized people with disabilities and their organizations to partner with governments, community organizations and people without disabilities to remove barriers. (The availability of federal funding for community IYDP projects contributed to the 1981 experience.) The CRPD could serve as a stimulus package for barrier removal in Canada.
An Invitation to Build an Inclusive and Accessible Canada
CCD celebrates the 3 December 2009 announcement on ratification by the Government of Canada. We are eager to begin implementation. We encourage all Canadians to join us in undertaking initiatives that will make Canada an accessible and inclusive country that fulfills the promise of the CRPD.
---
Member Group Updates
BC Coalition of People with Disabilities (BCCPD)
Woodlands School New Westminster BC: Settlement Agreement reached for compensation but 500 Survivors are left out
After speaking up for years about the abuse they suffered at Woodlands School in New Westminster BC, Survivors of the institution finally have a Settlement Agreement for compensation with the Province. The Agreement will provide eligible Survivors with compensation of $3,000-$150,000 for the sexual, physical or psychological abuse or injuries they suffered at Woodlands on or after August 1st, 1974.
Compensation applicants will not have to go to court; they will submit written materials which will be reviewed by a judge to decide whether they are entitled to compensation and if so, how much. The compensation will not impact the income supports (disability benefits or basic social assistance) that people receive from the province.
The BC Coalition of People with Disabilities (BCCPD) is pleased that some former Woodlands residents will have their abuse recognized after years of waiting, but we are very disappointed for the approximately 500 former residents who the government says are ineligible for compensation because they were at the institution before August 1974. The oldest, most fragile residents who have waited the longest to have their abuse recognized are effectively being told that nobody cares about what they went through in what was supposed to be a safe place.
The government says people who lived at Woodlands before August 1st, 1974 cannot seek compensation because it was impossible to sue the Province before that date, except in exceptional circumstances. The BC Supreme Court and BC Court of Appeal ruled in the government's favor and the Supreme Court of Canada refused to hear the Survivors' appeal.
The BCCPD continues to work with the Survivors to urge the Province to include all victims of abuse. The Survivors have been through so much; devastated that part of their community has been excluded from the Agreement, they are again asking the government to do the right thing.
If you are a Woodlands Survivor:
Law firm Klein Lyons (604-874-7171) is counsel for the Survivors. David Klein and his colleagues have worked tirelessly for former Woodlands residents. Contact them about applying for compensation through the Settlement Agreement.
---
Alberta Committee of Citizens with Disabilities (ACCD)
Beds Remain Open at Edmonton Psychiatric Hospital
Alberta Hospital Edmonton is a fully accredited psychiatric hospital that provides services to approximately 1,700 patients and their families each year. In late 2009, the Government of Alberta announced plans to close acute care beds at Alberta Hospital and transfer people into community based services. Since then, a steady outcry from stakeholders, advocates, medical professionals, city officials, and the police department has moved the government to re-evaluate its plan.
In response to the outcry, Premier Ed Stelmach formed an advisory committee tasked with making recommendations, based on consultations with stakeholders, which would inform Alberta Health Services (AHS) policy when mental health patients relocate into the community. Then, in January, the Premier revealed his newly shuffled cabinet and appointed Gene Zwozdesky as the Minister of Health and Wellness.
Alberta Health Services accepted the advisory committee's recommendations. Geriatric psychiatric patients who are currently receiving care at Alberta Hospital will be admitted to Edmonton's new 150-bed Villa Caritas facility as soon as construction is completed. Once these patients are moved, 100 beds will be closed at Alberta Hospital, with 146 beds remaining open, indefinitely.
AHS is now in the process of developing a province-wide mental health strategy. Until this strategy is announced, AHS has no further plans for bed closures at Alberta Hospital.
ACCD supports a move from institutionalized care to community based care, as long as the proper supports are in place. We are hopeful Alberta Health Services' new mental health strategy will protect the health and well-being of Albertan's with mental illnesses as changes to the health care system are being made.
Alberta's Service Dogs Act
On January 1, 2009, Alberta's Service Dogs Act came into effect. The Act ensures that people with disabilities can bring their service dogs with them wherever they go. This includes taxi cabs, public buildings, and rental accommodations—all places where pets generally aren't allowed. To determine how the act has benefited service dog users, ACCD contacted Dogs with Wings, a non-profit organization that specializes in training service dogs for Albertans with disabilities.
Dogs with Wings' Executive Director, John Wheelwright, praised the new act. He says it has improved the lives of service dog users by guaranteeing rights and removing barriers, such as landlord discrimination, and refusal of service by people who are uneasy about having animals in their establishments. He was quick to add that Albertans have traditionally been pretty good about accommodating service dogs and their users, but there has always been the occasional complaint.
Part of the benefit of the Service Dog Act is its simplicity. The clauses within the act are straightforward and easy to understand, which has resulted in very little dispute over interpretation. That being said, there have been a few interpretation anomalies, such as determining if the act applies to dogs in training. But, as Wheelwright pointed out, "these problems affect trainers more than users." All in all, it appears the act is a success.
PDD's Budget Revision: Less Money than Expected for Service Providers
Last April, when the Government of Alberta announced the provincial budget for 2009-2010, families and individuals who receive supports through Persons with Developmental Disabilities (PDD) were pleased that money to help service providers recruit and retain staff was included in the budget. The announcement stated that PDD's budget would be $604 million, an increase of $33 million from the previous year, or 5.8%. Of that $33 million, $24.2 million would be dispersed to PDD service providers for recruitment and retention purposes.
Having more money in the system for recruitment and retention would relieve considerable stress from people who use PDD services, especially those who rely on personal care attendants. On average, care attendants earn between $11 and $15 per hour. During Alberta's recent boom years, this wage was not competitive enough for people to retain skilled and knowledgeable workers, since employers in other industries were paying equal or greater wages for work that was often far less demanding. Constant turnover meant added stress and frustration for people with developmental disabilities and their families, as they repeatedly tried to build relationships and routines with a steady stream of care providers.
In light of the current fiscal crisis, government has made the tough decision to scale back PDD's funding in the fourth quarter of this fiscal year. Now, instead of $24.2 million in funding over the course of the year, $14.4 million will be provided to service providers across Alberta, in the form of a one-time cash injection. The money must be used by service providers for recruitment and retention purposes such as training costs or bonus payments to frontline staff.
When ACCD contacted PDD to get more details on this situation, we were told the cuts to budgets are meant to help the program withstand economic uncertainty. There is a worry that deeper cuts could be coming in next year's budget; layoffs might be necessary to balance wages against future budget shortfalls.
Nevertheless, ACCD is concerned about what these cuts to PDD budgets will mean for people with developmental disabilities and their families.
ACCD urges the Government of Alberta to work alongside people with developmental disabilities, their families, and service providers to come to an agreeable resolution for Albertans with developmental disabilities and their families.
Report of the Minister's Advisory Committee on Health: A New Legislative Framework for Health
Work on Alberta's new Legislative Framework for Health began under the watch of former Health Minister, Ron Liepert. This framework was developed through consultation with health care providers, unions, health care associations, and other organizations and individuals. ADF played a role in the consultative process by presenting to the committee's members a series of recommendations for a health care system that meets the needs of Albertans with disabilities.
The following are excerpts from the Minister's Advisory Committee on Health's final report. For the complete report, please visit: www.ministersadvisorycommitteeonhealth.ca.
On September 1, 2009 Alberta's Minister of Health and Wellness, the Honorable Ron Liepert, established the Minister's Advisory Committee on Health to provide input on the legislative reforms necessary to "update current health legislation in a manner that will facilitate current and future health system initiatives". The Minister of Health and Wellness asked this Committee to establish a new legislative framework that will enable Alberta's health system to:
Remove barriers to accessing health care.
Promote wellness.
Promote ambulatory and community-based care.
Enable the public health system to respond to emerging issues on a timely basis.
Encourage evidence-informed innovation.
Establish clear lines of accountability.
Legislative frameworks set the tone and direction of regulations, policies and best practices. That is why this legislative framework makes specific recommendations to ensure the principles and intent of the new Alberta Health Act apply to all health legislation and regulation, and provides clear direction to policy makers and health governing bodies and regulators.
SUMMARY OF RECOMMENDATIONS
1. Articulate a Set of Principles that must be Sustained and Maintained Throughout Alberta's Health System
Alberta's health system needs a set of clearly articulated and understood principles that can be sustained and maintained across all legislation, system changes, regulation, policy, and service delivery. The principles should be consistent with principles contained within the Canada Health Act—public administration, comprehensiveness, universality, portability and accessibility—and what these principles have come to mean to Canadians—a publicly funded health system that is accessible to all regardless of ability to pay. Alberta's health system principles should be as follows:
Put people and their families at the centre of their health care.
Be committed to quality and safety.
Ensure equitable access to timely and appropriate care.
Enable decision-making using the best available evidence.
Be focused on wellness and public health.
Foster a culture of trust and respect.
2. Legislate an Alberta Health Act For the Future
The Government of Alberta seeks to create an Alberta Health Act that sets the overall direction and provides an enabling framework for the health system. The Alberta Health Act would establish the fundamental principles on which the system operates and provide the flexibility and scope necessary to deal with the demands in health today and the future. This Act would be the lens through which other health legislation, regulation and policy would be viewed in order to ensure clarity, consistency, and alignment. The Alberta Health Act should have the following key components:
The principles for health care and services in Alberta outlined in recommendation one.
Identification of roles, responsibilities and accountabilities for key players in the health system.
Clear and consistent definitions that apply across all health legislation.
Provision for an arm's-length entity to ensure use of best available evidence in decision-making.
Provision for an Alberta patient charter to be developed in consultation with Albertans.
Consolidation of core health acts that deal with publicly funded services.
3. Ensure Ongoing Citizen Engagement in the Development of Legislation, Regulation and Policy
The public and stakeholders must be meaningfully engaged in decision-making throughout the health system. This includes:
Public involvement in setting priorities for health services and developing the Alberta patient charter.
Developing a transparent process to ensure the alignment of existing and new legislation, regulation and policy with the principles and intent of the Alberta Health Act.
Public representation in the ongoing process of ensuring evidence-based decision-making.
Validating the proposed framework to guide future directions for the health system.
This scope of engagement is a critical check and balance mechanism for the Committee's recommendation that the Alberta Health Act be enabling, framework legislation.
4. Develop Clear Directions to Guide Legislative, Regulator, Policy and Program Delivery Changes Across the Health System
Direct links should be drawn between the new legislative framework and the more detailed regulations, policies and practices that would follow from it.
The Committee therefore recommends that:
The Alberta Health Act ensures that health governance bodies are aligned with its principles and intent.
All other health legislation in Alberta is aligned with the intent and principles contained within the Alberta Health Act.
Other provincial legislation that impacts the health of Albertans is aligned with the Alberta Health Act.
A clear guide is developed to align decision-making on legislative, regulatory, policy and program delivery changes throughout the health system.
---
Saskatchewan Voice of People with Disabilities (SVPD)
Income Program for People with Long-term Disabilities
People with significant, long-term disabilities no longer have to rely on social assistance following the launch of the province's new Saskatchewan Assured Income for Disability program (SAID).
More than 3,000 people who are eligible for the new program have been invited to enroll by the Ministry of Social Services, as part of the program's implementation, with the first benefits to be paid for the month of December. So far, more than 2,000 people have already enrolled in the new program.
"For the first time, Saskatchewan people with long-term disabilities have their own separate income program," Social Services Minister Donna Harpauer said. "As requested by the disability community, the new program has fewer reporting requirements and will be less intrusive than social assistance."
The SAID program was designed in collaboration with members of the disability community and will provide an income for people with significant, long-term disabilities that is separate from the Saskatchewan Assistance Program (SAP). Financial benefits and amounts will remain the same as those currently provided through SAP. However, people enrolled in SAID will not have to re-verify their disability status on a routine basis. Enrollees in SAID will also continue to receive Supplementary Health Benefits. Participation in the new program is voluntary. People on social assistance with significant, well-documented, long-term disabilities are eligible for SAID, and have been invited to enroll, if they:
live in residential care or family care settings with an assessed level of care of two or higher; or
Live in a Social Services or Mental Health Services group home.
A Program Implementation Advisory Team (PIAT), comprised of members of the disability community, has been established to provide advice on the implementation and development of the new program. PIAT members continue to meet with agencies and clients to gather feedback on the processes being used for the implementation of SAID. The team is also working with ministry officials to draft terms of reference for a staff training strategy, and for an assessment process that may be utilized in the future development of SAID.
Voice Producing TV Program "Living in Harmony"
The Voice is hosting a television program through our local cable company highlighting persons with disabilities in the community; their achievements; issues that affect persons with disabilities, such as poverty and homelessness. We have produced 5, which are already being aired and will produce another 7 in the month of February.
---
Manitoba League of Persons with Disabilities (MLPD)
Council Update
The MLPD continues to be very active in the community advocating on behalf of its members on a number of issues. One of these issues is Bill C-384 which would legalize euthanasia in Canada. The MLPD joined with the Council of Canadians with Disabilities this fall in its opposition to assisted suicide and euthanasia because of the adverse impact it would have on persons with disabilities. Persons with disabilities would bear the negative social consequences of any legislation that allows the killing of people perceived to be suffering.
We continue to be very concerned over the announcement by Greyhound Bus Lines to cancel passenger bus service in Manitoba and Northwestern Ontario. If the company decision is not reversed it will result in persons with a disability having fewer transportation options and thus having a more difficult time in getting around the province. We find this totally unacceptable! The MLPD will continue to monitor the situation and will respond in the best interests of all Manitobans with a disability. The Transportation Committee continues its work with Handi-Transit to deal with issues around scheduling, driver training, vehicle safety, etc.
The MLPD completed the "Thumbs Up" program in October, 2009 which centered around the accessibility of downtown businesses in Winnipeg, and we are currently looking at ways to expand the program to other locations. The "Thumbs Up" program focused on recognizing businesses and services within a community, that have consistently made an effort to make their facilities accessible, safe, and user friendly for individuals with mobility disabilities. It is a positive and voluntary program that awards a place or a service a 'Thumbs Up' decal, after an evaluation has been completed. The Thumbs-Up project produced a helpful hints booklet and an accessibility checklist to assist businesses in making their facilities more accessible to persons with disabilities.
In January, the MLPD participated in the public consultations to provide input on issues and stories in the area of disability to be included in the Canadian Museum for Human Rights. We also offered points on museum accessibility.
The MLPD will be participating in the Sinclair inquest which will take place over a three-month period beginning in February 2010. We plan to be present in the courtroom as observers and to speak with the media when the opportunity presents itself, about the implications of the Sinclair case for people with disabilities in Manitoba. Brian Sinclair was an Aboriginal man with a disability who died in the emergency room without receiving treatment after waiting 34 hours.
As the result of a grant from the United Way of Winnipeg, Zana Joyce has been engaged on contract to assist the MLPD in developing fund raising proposals and conducting workshops for members interested in developing proposal writing skills.
In December, 2009, we held an open house for MLPD members. We said goodbye to Libby Zdriluk, a part time MLPD staff person, who is returning to full time study. We thank Libby for her dedication and commitment on behalf of MLPD.
It is with sadness that we announce the sudden passing of Pauline Mason, an MLPD Council member. We will miss her commitment and dedication to MLPD and her work on the Membership Committee.
The MLPD continues to implement the strategic plan which it unveiled almost a year ago and is looking to its future with great optimism.
---
PEI Council of People with Disabilities
Council Developing A Business Continuity Plan
The past few months have been busy at the Council as we continue to offer our core programs such as: Employment Services, Community Access, Designated Parking Permits and Snoezelen Room. Each year several thousand Islanders living with disabilities turn to the PEI Council of People with Disabilities for these services, and we are pleased that we are a well utilized community-based resource. To ensure that we are here for those who access our services, we are in the process of developing a Business Continuity Plan. The committee is made up of staff and Board members and the process is nearly complete. With the ongoing threat of pandemics and other business disruptions, we felt developing the plan would ensure that our operations will always be able to run smoothly.
Celebrating International Day of Persons with Disabilities
The Council hosted an event this year with a focus on celebrating our unique gifts and talents. Over seventy people attended to hear members of PEI People First read essays and poems they wrote as a result of a daylong creative writing workshop. Also Judy Macleod, Employment Specialist, for the Council, wrote and performed the song Towards the Dream which calls for all Canadians to demand equal rights for persons with disabilities. In attendance that day was the Hon. Olive Crane, Leader of the Opposition on PEI. Ms. Crane was so impressed with Judy's song that she took a copy of the lyrics and read them during her opening remarks in the Provincial Legislature. All present were very impressed and moved by the creativity of Judy and the members of People First.
Also in the Legislature that day the Minister of Social Services and Seniors, Hon. Doug Currie, announced the creation of a Disability Action Council. The Disability Action Council (DAC) is comprised of 19 members from various areas of the community including businesses, non-governmental organizations, government departments and advocacy groups. The DAC will be accountable to the Minister of Social Services and Seniors, and will be required to provide the Executive Council an annual progress report. One of the first priorities of the DAC will be to assist with a social marketing campaign focusing on the six themes contained in the Disability Services Review. It will work to raise awareness, promote inclusion and opportunities, highlight the contributions people with disabilities make to their communities and change public attitudes.
"I am pleased to announce that Marcia Carroll will chair the Disability Action Council. Marcia, Executive Director of the PEI Council of People with Disabilities, brings with her a wealth of knowledge and years of advocacy for persons with disabilities. I am certain that the Council will be highly effective under her leadership," said Minister Currie.
Supporting Children and Youth with Disabilities
Over the summer months we completed the third year of the Summer Tutoring Program. This year's program was another success, as Instructional Assistants provided one to one programming for 160 children with disabilities across PEI. The Summer Tutoring Program is a retention program that insures the students retain the information they learned in the previous school year. This provides the students with a solid foundation of skills as they progress to the next grade level. Each student has an individualized plan that is developed by the schools' Resource Teachers and implemented by the Instructional Assistances. Over 2500 tutoring hours were completed and strong relationships continue to be developed with all schools across the province.
The Employment Team at the Council is also building partnerships with the Department of Education by being an active member of the planning committee of the Transition Expo. The expo was an all day event that brought together all the service providers for youth and children with disabilities. Well over 100 families attended, many of which visited the PEI Council of People with Disabilities booth. The Council is also involved with transition planning with youth. The support starts when students with disabilities enter grade 10 and can be extremely helpful in barrier removal as students move from high school to post secondary education or employment.
Around the Block 6
Once again the Council, in partnership with Services Canada, is launching the Around the Block 6 Program. Ten youth with disabilities will complete a tour of Intermediate and Senior High Schools across the province. Around the Block 6 will use a live theatre show to sensitize students to disabilities and disability issues. The script for this year's show was developed using the experiences of the project participants over the past eight years, most of whom are young people with disabilities. A background musical score was added to the show last year, courtesy of the original musical work of one of last year's participants and will be used again this year. The program is based on a peer assisted learning model and also includes an antibullying message. This year alone over 3000 students will see the show and a grand finale VIP show will be held at the Charlottetown Arts Guild theatre.
---
Coalition of Persons with Disabilities–Newfoundland and Labrador (COD)
Unaccessible is Unacceptable
After having been brought to our attention, COD has been actively engaged in addressing the issue of a lack of wheelchair accessible washrooms within our acute care health facilities. We have participated in several media interviews to bring attention to this issue and have garnered much needed public support. In the House of Assembly on December 3, 2009 Minister of Health and Community Services, Hon. Jerome Kennedy recognized the deficiency and stated that he looks forward to working with COD regarding the issue.
In January, representatives of COD met officially with the Minister of Health and Community Services, Honourable Jerome Kennedy, to discuss a method of rectifying this inequity. Minister Kennedy and several senior departmental officials present at the meeting were very enthusiastic in developing a realistic approach to gradually upgrade our acute care facilities to include private and semiprivate rooms with washrooms of universal design.
COD has offered their full support and cooperation in working with the Regional Health authorities and the Government of Newfoundland and Labrador to eliminate this barrier.
COD will be meeting with Minister Kennedy and other officials later this month to review preliminary data and cost analysis.
Recently, COD had included a request for funding to commence renovations in 2010 during pre-budget consultations with the Minister of Finance, Honourable Tom Marshall.
Disability Awareness Resource Training (DART)
During the past year several private companies and governmental departments have approached the Coalition of Persons with Disabilities (COD)-NL expressing interest in having staff receive disability awareness training. Since last fall we have been working in close partnership with the Independent Living Resource Centre (ILRC) in Winnipeg to develop a tailor made DART curriculum for Newfoundland and Labrador.
After several months of research and development COD-NL has a multimodule Disability Awareness Resource Training (DART) curriculum. On February 15th 2010, the COD DART Team will commence training nearly 100 management, staff and operators of the Metrobus Transit system. Currently we are in negotiations with several other institutions to deliver this invaluable training.
For more information regarding DART please contact Executive Director Mark Lane at 709-722-7011 or executivedirector@nf.aibn.com.
'Significant Step' Toward Inclusion
NL Legislature improves wheelchair accessibility
On December 3rd 2009, the UN International Day of Persons with Disabilities, many members of the disability community attended the House of Assembly to hear firsthand the announcement of a Provincial Advisory Council on the Status of Persons with Disabilities.
On June 1, the Williams Government officially opened the new Disability Policy Office, which was created to promote inclusion of persons with disabilities in all aspects of society, while helping government departments ensure their policies and programs are inclusive and barrier-free. The opening was met with tremendous approval from the community of people with disabilities, as it represented a new era of partnership between government and the community.
This partnership has been strengthened by the establishment of a new Provincial Advisory Council for the Inclusion of Persons with Disabilities. This council is comprised of 17 members and features cross-disability representation from all regions of the province. This will help ensure government fully appreciates all perspectives within the community of persons with disabilities.
Having had such tremendous interest and a large number of members attend, COD realized that there was only two wheelchair accessible seats in the entire public gallery, far too few to accommodate those in attendance that particular day. Following the event, COD board member Michelle Murdoch took it upon herself and wrote to Premier Williams outlining her concern.
Within weeks Ms. Murdoch received a response from the Speaker of the House, Mr. Roger Fitzgerald informing her that they have renovated the House, providing room for 10 wheelchairs in the public gallery. "COD is very pleased with the outcome and the quick response that was received from government", said Executive Director, Mark Lane. "This is a prime example of how change can be effected when the community and government work together to eliminate systemic barriers".
---
Alliance for Equality of Blind Canadians (AEBC)
AEBC to Meet in Montreal in 2010
The AEBC's 2010 Conference and AGM will take place at the Days Hotel & Conference Centre, 1005 Rue Guy, Montreal over the long weekend of May. This year, we will feature workshops on the media, accessible mainstream products, library services, filing human rights complaints, and considerable time is being set aside for discussion on our organization's future direction. For the latest information and updates on the conference, please visit http://www.blindcanadians.ca/ourfuture.
Public Health Agency of Canada fails visually impaired Canadians on H1N1-Karygiannis charges
CCD is always urging us to meet with our members of Parliament or Legislature. This Release results from one such meeting between Donna Jodhan, AEBC's 2nd Vice President, and her MP:
TORONTO, ONTARIO—The Honorable Jim Karygiannis, Member of Parliament for Scarborough-Agincourt, has expressed great concern about the length of time the Public Health Agency of Canada has taken to provide important H1N1 information to visually impaired Canadians.

"Canada's Public Health Agency did not immediately make available H1N1 information guides in Braille." said Mr. Karygiannis. "It is outrageous that it took two months to get vital information on this public health emergency to visually impaired Canadians that other Canadians are able to readily access."

In October, Donna Jodhan, a constituent of Mr. Karygiannis, who is visually impaired, contacted the Public Health Agency of Canada requesting H1N1 information in Braille because she could not access the information on the Agency's website.

"At first, I was told an H1N1 information guide in Braille was not available and there were no plans to produce a Braille guide—but I persisted." stated Ms. Jodhan. "Visually impaired Canadians have every right to have the same access to all information that is available to every other Canadian."

"Governments and agencies have a moral and ethical responsibility to provide information on issues that can potentially compromise the public's health in an accessible, responsible, comprehensive and expeditious fashion." Mr. Karygiannis stated. "Clearly, the Public Health Agency of Canada failed in its responsibility. No Canadian should be forced to go to the lengths my constituent did to receive this information."

On December 17, 2009, Ms. Jodhan received a Braille copy of the H1N1 information guide. The Public Health Agency of Canada has not provided information on H1N1 in a multilingual format on its website.
Update on AEBC's Briefs
The following new brief has been posted to AEBC's Web site: Status of the Accessibility for Ontarians with Disabilities Act. In October 2009, the Alliance for Equality of Blind Canadians presented a brief on the implementation status of the Accessibility for Ontarians with Disabilities Act (2005), and our concerns and recommendations for improving its effectiveness going forward.
URL: http://www.blindcanadians.ca/press_releases//index.php?BriefID=55
John Rae has recently updated and expanded his paper on access to museums and art galleries, and it will soon appear on the AEBC's web site. To read the new version, visit: http://blindcanadians.ca/press_releases//index.php?BriefID=54
Work Continues on Making Web Sites More Accessible
December 19, 2009

Hon. Madeleine Meilleur
Minister of Community & Social Services
Hepburn Block
6th Floor, 80 Grosvenor Street
Toronto, ON M7A 1E9

Dear Minister,

Re: Ensuring Web Sites Are Fully Accessible And Usable

The article, "Web accessibility no longer an afterthought," by Tom Krazit (reproduced in full below), makes the case for ensuring Websites everywhere, including those in Ontario, are fully accessible and usable by all persons, including persons with disabilities.

The article reads in part:

"There are no explicit laws that companies design Web sites to be accessible to the disabled, but many disability experts and Web companies believe that portions of the U.S. Americans with Disabilities Act of 1990 do apply to the Internet, despite having been written several years before the Web emerged as a mainstream phenomenon.

And in order to do business with the U.S. government, companies must comply with Section 508 of the Rehabilitation Act, which insists that electronic and information technology products sold to government agencies be designed with disabled employees in mind, and that government services produced by contractors consider disabled citizens in equal measure."

It is time the Ontario Government showed real leadership and enacted a strong, enforceable Information and Communications Accessibility Standard that will mandate true Website accessibility.

This should include a provision that no longer will the Government purchase any technology that isn't usable by all persons, as this only creates new barriers to obtain employment in the OPS, something which is so badly needed.

On a related topic, despite the Ontarians With Disabilities Act of 2001, I continue to receive communications from the Government of Ontario that are only in unreadable PDF. In addition, the recently released Auditor General's Report appears electronically only in PDF. Yet part of its content is directly relevant to the disabled community.

The ODA and AODA were intended to develop systemic remedies to the barriers we continue to face, thereby eliminating the need to file human rights complaints in each instance of discrimination we encounter. Clearly, we remain a long, long way from achieving this elusive goal, and regrettably, we are being forced to consider using the human rights commission route to seek the elusive goal of Website accessibility. If the OPS isn't showing the way, how can it expect the rest of the public and private sectors to do their part!

Please give us a clear timetable for when the OPS will include a text equivalent for any instance when a PDF file version is used.

Sincerely yours,

John Rae
1st Vice President
Alliance for Equality of Blind Canadians

Web Accessibility No Longer An Afterthought

by Tom Krazit
CNET News, Dec. 14, 2009

Yahoo's Victor Tsaran knows how much time Web designers spend agonizing over color and font-width choices when laying out an application. So when he started Yahoo's accessibility push two years ago, he had a tough time arousing sympathy for engineers grousing about how much extra time was needed to create accessibility features.

Fortunately for Tsaran, Yahoo's accessibility manager, he's running into that problem less and less. Web designers are starting to take accessibility as seriously as button placement or heading layout when they develop their products, improving the Web experience not only for people like Tsaran—who lost his sight at the age of five—but for Web users in general.

"We're seeing a lot more awareness and involvement in Web accessibility than we did a few years ago, particularly among big companies," said Judy Brewer, director of the Web Accessibility Initiative (WAI) at the World Wide Web Consortium. "It's becoming a solid business expectation that Web sites need to meet the needs of all users."

At the two biggest Internet companies in the world, accessibility is seen as an increasingly important part of what they do. Yahoo requires every new hire to receive accessibility training from Tsaran and Alan Brightman, senior policy director of special communities. And it books engineering teams for tours of their Accessibility Lab.

Google recently rolled out a service that will let YouTube users add captions to their videos, and believes that as the Web moves more from an era of presentation to an era of two-way "data-driven" communication, accessibility becomes even more important, said Jonas Klink, accessibility program manager.

Web accessibility has come a long way in the decade since many of these proposals were first floated. It's still a challenge, however, for the Web community to remember that as it pushes forward with exciting new technologies like HTML5 that could reinvent the Internet experience, it must keep in mind the needs of those who can't type 60 words per minute, operate a mouse like a scalpel, or see the unobtrusive pop-up windows that point to the next destination on the page.

"As the Web gets more and more dynamic, the accessibility requirements get more and more interesting, and sometimes challenging, to implement," Brewer said.

The challenges:

There are about 60 million people in the U.S. who can't use a computer to get on the Internet in the normal fashion, said Yahoo's Brightman. For those people, a mix of screen reader software, keyboards with special buttons, and even motion-sensing Web cameras must take the place of the mouse and QWERTY keyboard.

Special computer input software:

Sites that don't play nicely with special input methods cause accessibility problems that can easily be avoided.

That can cause problems for Web designers who rely too heavily on mouse navigation, or who design pages with special multimedia whiz-bang effects that look cool only to the people that can see them. "There can be an assumption of homogeneity on the Web," said Naomi Bilodeau, technical program manager for Google.

Users of screen readers—software that essentially reads out loud a description of text, links, and buttons on a page—are confounded the most by Captchas and Flash Web pages, according to a recent survey of screen-reader users conducted by WebAIM.

But simple things like photos or images can also create problems if the Web publisher doesn't add alt text to those photos, or relies primarily on images as a way of explaining what is happening on the page. And as Web designers push forward with Javascript and AJAX-based technologies that overlay Web content over the primary Web page, there's great potential to confuse screen readers.

The good news is that most of these problems aren't as much technology issues as design issues; content created with things like Flash can be made accessible if designers start off with that principle in mind.

"There are a bunch of things (in Web design) that are not features," said Nicholas Zakas, principal front-end engineer for Yahoo's home page, meaning that while you can jazz up a page all you like with additional features, there are certain things that should be standard fare. "Performance is not a feature, internationalization is not a feature, and accessibility is not a feature."

However, features can make the Web more accessible. As mentioned, Google recently rolled out automatic captioning software for YouTube videos, making it much easier for deaf people to enjoy the world's largest collection of cute cat videos.

In all seriousness, the automatic captioning technology is being rolled out first on YouTube's Educational channel, allowing deaf or hearing-impaired people to take advantage of distance learning programs or other educational systems. It's most definitely a work in progress, (check out this YouTube video of a lecture by a University of California at Berkeley professor by clicking on the "cc" tab, the left arrow, and then "Transcribe Audio") but with refinement could really add to the amount of knowledge that can be consumed by disabled people.

"I wanted this so badly (that) it's good enough, I don't care if there are some bad captions," said Google's Ken Harrenstien, a deaf software engineer who played an instrumental role in bringing the project to life.

The reasons:

There are no explicit laws that companies design Web sites to be accessible to the disabled, but many disability experts and Web companies believe that portions of the U.S. Americans with Disabilities Act of 1990 do apply to the Internet, despite having been written several years before the Web emerged as a mainstream phenomenon.

And in order to do business with the U.S. government, companies must comply with Section 508 of the Rehabilitation Act, which insists that electronic and information technology products sold to government agencies be designed with disabled employees in mind, and that government services produced by contractors consider disabled citizens in equal measure.

But these are businesses, after all: Yahoo's Brightman estimated that there's about $220 billion in discretionary spending available to disabled people. Making a Web site accessible to as many people as possible isn't just the right thing to do, it also makes business sense, he said.

Also, with a rapidly aging population in many parts of the world—notably the U.S.—accessibility requirements will become useful for today's crop of baby boomers as they grow older. People over 65 are increasing their use of the Internet, according to Nielsen , and features designed for accessibility could aid those who aren't technically disabled but wouldn't mind a little extra help.

46.3 percent think Web is getting more accessible

The Web is becoming more accessible for people with disabilities, but it's far from complete: 46.3 percent of screen reader users think the Web is getting more accessible.

The future:

The immediate challenge for those working on Web accessibility is to ensure that accessibility standards are not trampled in the rush to finalize the HTML5 collection of standards that Google and other Web browser companies are currently debating. Brewer said it's "extremely important to be sure that HTML5 can support accessibility fully," and her group is working closely with the other parts of the W3C to realize that goal.

But beyond that goal, Web accessibility advocates have reason to feel optimistic about their cause. Long-awaited technologies like sophisticated speech recognition are finally coming to fruition after decades of joking about how such capabilities were just two years away. And 46 percent of respondents to the WebAIM survey reported that Web content has become more accessible in recent years.

"Anybody should be able to use anything on this page," said Yahoo's Zakas, keeper of the all-important Yahoo.com page. "If anybody can't use it, it shouldn't be there."

Tom Krazit writes about the ever-expanding world of Internet search, including Google, Yahoo, online advertising, and portals, as well as the evolution of mobile computing. He has written about traditional PC companies, chip manufacturers, and mobile computers, spending the last three years covering Apple.

Web accessibility no longer an afterthought | CNET News
The Dangers of the Quiet Car Again…
Electric cars a little too quiet; Japan mandates built-in sounds to alert pedestrians

Edmonton Journal, Jan. 16, 2010

The Japanese government is drawing up legislation to make a new generation of electric cars speak, beep or even mimic the sound of galloping horses or running water.

The introduction of hybrid and electric cars, which make very little noise, has raised concerns of an increase in accidents involving pedestrians—particularly the very young and the elderly.

A ministry of transport panel is working on guidelines for a minimum noise level for such vehicles and has invited ideas from the public for a standard warning noise—prompting suggestions for automated verbal warnings, the sound of an indicator ticking or even horses' hooves.

Nissan Motor Company is among the companies to have set up project teams to explore the most appropriate sounds to attach to their new vehicles.

The company is not wedded to the idea that the noise must be mechanical, according to Pauline Kee, Nissan's spokesman.
---
Canadian Association of the Deaf (CAD)
Canadian Deaf Education Fund
The board of trustees for the CDEF approved funding for court action to support the right of a Deaf girl to attend the Sir James Whitney School for the Deaf in Belleville, Ont. This girl is culturally and linguistically Deaf. Her deafness is located in the brain instead of in the aural nerves, which meant audiograms showed near-normal hearing in the ears. The Ontario Government evaluated her application only on the audiograms and rejected her again and again. We won the court action to require the Government to take other factors into consideration such as the applicant's culture and language and possible brain-deafness. This success will open up provincial schools to more Deaf students. Congratulations to the lawyer, Scott Simser, the parents, and Jim Roots for this success!
On-line Consultation: Convention on the Rights of Persons with Disabilities
The Government of Canada is using on-line consultation to seek the views of Canadian disability communities about the ratification of the United Nation Convention on the Rights of Persons with Disabilities. On the behalf of CAD and its affiliates, I submitted our view in July. We recognize especially the five articles (2, 9, 21, 24, and 30) of the Convention that relate to Deaf issues. The disability organizations are urging the federal government to ratify the Convention on December 3, 2009 (International Disability Day).
End Exclusion 2009
Frank Folino was CAD's representative to "End Exclusion 2009—A Roundtable Dialogue on Disability Poverty / Enabling Citizenship" in Ottawa on October 1, 2009. The objective was to highlight concerns about poverty especially in the disability community.
Apology from ICED
The CAD wrote a letter to the Vancouver Organizing Committee of the International Congress of Educators of the Deaf and to all delegates around the world. This letter strongly requested a public and official apology from the 21st International Congress on Education of the Deaf for the action taken at the 1880 Milan ICED and the terrible effects these actions have had on Deaf communities and individuals around the world over the past 130 years, and also asked them to recognize and accept the resolution adopted by the World Federation of the Deaf at its 15th Congress in Madrid in 2007. Claire Anderson, Conference Chair, received this letter and forwarded it to their committee. We are also working closely with the B.C. committee that is negotiating with the ICED Organizing Committee on the wording of the apology; we would like to take this opportunity to wave hands to these Vancouver leaders for their strong-minded work on this important issue! Keep watching the CAD website for further information!
---
National Educational Association of Disabled Students (NEADS)
NEADS Website: New and Improved!
The National Educational Association of Disabled Students (NEADS) has revamped its website. The home page now includes dynamic, changing content in the following categories: "Quick Question", "Featured Video," "Link of the Day", "NOWS (NEADS Online Work System) Jobs" and "Upcoming Events." We have also recently launched our 2010 Conference website for "Learning Today, Leading Tomorrow" with up-to-date information on our national conference which will take place in Winnipeg from November 12-14, 2010.