Act Now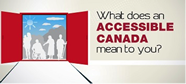 Empower U: Learn to Access Your Disability Rights Training on Canadian Human Rights, the Convention on the Rights of Persons with Disabilities (CRPD) and its Optional Protocol (OP) training aims to increase awareness of how to address discrimination using more familiar Canadian human rights laws such as Human Rights Codes and the newer international Convention on the Rights of Persons with Disabilities (CRPD). This is training for persons with disabilities by persons with disabilities. The training is part of a project funded by Employment and Social Development Canada and implemented by the Council of Canadians with Disabilities (CCD) in collaboration with Canadian Multicultural Disability Centre Inc. (CMDCI), Citizens With Disabilities – Ontario (CWDO), Manitoba League of Persons with Disabilities (MLPD) and National Educational Association of Disabled Students (NEADS). Read more.
Sign Up for our monthly digest
A monthly newsletter from CCD about what is happening in the community
A Voice of Our Own: August 2010
Volume 28, Number 3
On the CCD Agenda
CCD Member Group Updates
---
On the CCD Agenda
Annual General Meeting 2010
Executive Committee—The Council elected a new Executive Committee. The newly constituted Committee consists of:
Tony Dolan, Chairperson
Roy Muise, Vice Chair
Susan Ralph, Vice Chair
Claredon Robicheau, Secretary
Mary Ennis, Treasurer
Terry Green, Member-at-Large
Marie White, Past Chairperson
Committee Chairs—The Council re-appointed Committee chairs for a one-year term.
Dean Richert and Anne Levesque, Human Rights Committee Co-chairs
Rhonda Wiebe and Dean Richert, Ending of Life Ethics Committee Co-chairs
Marie White, Social Policy Committee Chair
Steve Estey and Mary Ennis, International Development Committee Co-chairs
Pat Danforth, Transportation Committee Chair
John Rae and Gary Birch, Access to Technology Committee Co-chairs
---
CCD Award
The following recipients were announced:
BCCPD — Jeanette Andersen
ACCD — Hilda Campbell and Lorrie Goegan
SK Voice — Margie Bort
MLPD — Daniel Halechko
COPHAN — Marc-André Burelle-Favron
NS-LEO — Steven Estey
PEI Council — Bernie Wilson
COD — John Collins
CAD — Martin Bergevin
DAWN-RAFH Canada — Dr. Michelle Owen
NEADS — Mahadeo Sukhai and Jennifer Dillon
TVAC — Terry Vachon (Mrs.)
CWD–O — Terrance Green
AEBC — Irene Lambert
---
Deadly Compassion
16 June 2010, Ottawa, ON—People with disabilities are not strangers to the fact that nondisabled people cannot imagine life with a disability. They tell us that they would rather be dead than living with a disability. This is because disability is equated with pain, suffering, and dependency. At times, this attitude translates into a deadly compassion, where it is seen as a kindness to help a person with a disability to die. As a result, people with disabilities are being harmed. On 16 June 2010, two Canadians with disabilities, Rhonda Wiebe and Jim Derksen, appeared before the House of Commons Committee on Palliative and Compassionate Care on behalf of CCD to explain how deadly compassion puts us in harm's way and to suggest how to improve the medical care and public policy environments, as both are affected by this insidious stereotype.
"When our colleague the late Mike Rosner, a Manitoban with disability, went to hospital with pneumonia, he expected treatment to cure his illness. However, his doctors offered to make him comfortable while nature took its course," stated Rhonda Wiebe, Chair of CCD's Ending of Life Ethics Committee. "Members of the disability community had to advocate on his behalf to get him the treatment he needed." People with disabilities are challenging the insidious stereotypes that bring harm to people with disabilities. We are challenging cultural practices that cause our society to abandon its fundamental respect for the dignity and human rights of people with disabilities. "We are speaking out to challenge the labels, to preserve our dignity and challenge how others see us," stated Wiebe.
We appeared before the Committee to defend ourselves in the public policy environment on several fronts. First, CCD opposes any process to amend the Criminal Code to legalize assisted suicide. Second, we oppose any policy, such as the Manitoba College of Physicians and Surgeons Statement on Withdrawing and Withholding Life Sustaining Treatment, which uses a lack of ability as a criteria for ending life. Third, we seek the greater participation of people with disabilities in the education of medical professionals so that we can challenge stereotypical thinking about people with disabilities and the development of palliative care services. Fourth, we seek health care, including palliative care, that accommodates the needs of people with disabilities. For example, people with disabilities in palliative care need to have access to their own personal care attendants and technical aids. Presently, there are barriers that make it difficult for people with disabilities to access the necessary range of disability-related supports when in the medical system.
CCD shared a brief outlining its position with the Committee and the paper, titled, Canadians with Disabilities–We Are Not Dead Yet, is available on CCD's web site at http://www.ccdonline.ca/en/humanrights/endoflife/euthanasia/Canadians-with-disabilities-we-are-not-dead-yet.
---
Dignity for All Update
Poverty Elimination Bill Introduced!—On Thursday, June 17, 2010 NDP MP Tony Martin tabled private member's Bill C-545, An Act to Eliminate Poverty in Canada. Not only does this bill speak to a tremendous need in this country, it also reflects significant civil society consultation and multi-party collaboration. Congratulations to Mr. Martin, and thanks to MPs Mike Savage (Liberal) and Yves Lessard (Bloc) for their support of this legislative initiative.
Built on a strong human rights framework, the bill emphasizes income security, housing and social inclusion as core priorities. "The purpose of this Act is to impose on the federal government the obligation to eliminate poverty and promote social inclusion by establishing and implementing a strategy for poverty elimination in consultation with the provincial, territorial, municipal and Aboriginal governments and with civil society organizations."
The introduction of Bill C-545 marks a significant step towards fulfilling the second goal of the Dignity Campaign (a federal poverty elimination act). The campaign and all of its supporters now have the summer to begin rallying public awareness of and support for the Bill, prior to its reading in the fall legislative session!
DfA support continues to grow. 350 groups and over 5500 individual Canadians have endorsed the campaign. Among these supporters are 57 MPs and 12 Senators, representing 17% of all Parliamentarians. Special thanks to Alderman Joe Ceci and the City of Calgary for leading the effort to secure the recent endorsement of the Federation of Canadian Municipalities!
On behalf of the DfA campaign, have a wonderful summer! Please take some time to spread the word about Bill C-545 (Poverty Elimination) and make sure your MP is ready to get behind Bill C-304 (Housing) in the fall.
---
CCD Member Group Updates
BC Coalition of People with Disabilities
Thanks to funding from the Law Foundation of BC, BCCPD has completed a special project to provide free community legal education about the Registered Disability Savings Plan (RDSP). We have created resources for a specific audience: people who receive social assistance and have little or no money to save. Because of a generous grants and bonds program offered by the federal government, and BC's Ministry of Housing and Social Development rules on RDSPs, there are ways that people on social assistance can see significant benefits from an RDSP over time. So, we want to encourage as many people as possible to open one, if they are eligible.
The just-completed project includes a 50+ page guide that explains who is eligible, how the grants and bonds work, the Disability Tax Credit and special considerations for people receiving social assistance in BC. Project resources also include a Powerpoint presentation, four short videos (available on YouTube and in DVD format) and our RDSP Help Sheet has been updated in English and Traditional Chinese. We also trained 60 community workers on how to assist people with setting up an RDSP.
Through a partnership with Planned Lifetime Advocacy Network (PLAN), we are also providing one-to-one assistance to people interested in the RDSP. All of our RDSP resources are available free of charge from our website at www.bccpd.bc.ca/rdsp.htm and organizations can order a free RDSP Kit.
---
Alberta Committee of Citizens with Disabilities
Project Update: Barrier-Free Health and Medical Services in Alberta
ACCD is making significant progress on our newest project, Barrier-Free Health and Medical Services in Alberta. Our project team sent questionnaires to 1020 medical practitioners throughout the province, and we are currently gathering input through an online questionnaire. We have also conducted community consultations in Vegreville, Rocky Mountain House, Lethbridge, Grande Prairie, Edmonton, and Calgary. ACCD will use the information gathered from the surveys and community consultations to identify types of barriers—physical, attitudinal, or otherwise—that hinder full access to health and medical services in Alberta for people with disabilities.
This project will benefit any Albertan who, at some point in his or her life, might acquire a short- or long-term disability, seniors and those with age-related disabilities, and any person who accesses health and medical services in Alberta.
For more information on this project, please contact Melita at 780-488-9088.
The Shaping of an Alberta Health Act
On September 1, 2009, former Health Minister, Ron Liepert, appointed a 16-member advisory committee to make recommendations on how to improve Alberta's health care system. The committee looked at ways to promote innovation and develop suitable responses to emerging health issues faced by Albertans. The Minster's advisory committee made several recommendations, the most significant being the need for a made-in-Alberta health act that streamlines a complex web of health care legislation and regulation, some of which date back to the period between the 1900s and 1960s. The government accepted the advisory committee's recommendations, which also include the following:
a 5-year funding plan that provides stable and predictable funding for health;
strategies to reduce wait times and increase access;
and new legislation that reflects the views of Albertans that will guide the system into the future.
On January 12, 2010, Alberta's current Health Minister, the Honourable Gene Zwozdesky, appointed Edmonton-Rutherford MLA, Fred Horne, to lead a province-wide consultation process. (Mr. Horne was also co-chair of the Minister's Advisory Committee on Health). Aimed at Albertans and health professionals, the province-wide consultations are seeking input on how best to implement the recommendations in the report submitted by the Minister's Advisory Committee on Health, including the development of new health legislation. Stakeholder input will also be used to develop a patient charter that clearly states what patients can expect of the health care system.
This is an important opportunity for Albertans with disabilities to have their say. ACCD attended the June 28th consultation in Edmonton and made sure our voice was a part of the province's shaping of health care legislation. Community consultations are scheduled to wrap up on July 15th, in Red Deer.
ACCD's New Video on the Web
ACCD's new promotional video is on the web! The video is available in high and low resolution formats, making the video accessible to users with varying internet connection speeds. Join us on our website and learn more about who we are and what we do. www.accd.net.
Certificate of Recognition
In January, ACCD started a program that recognizes the outstanding efforts and achievements of post-secondary students with disabilities. Guidelines for our Certificate of Recognition program were submitted to 34 colleges and universities across Alberta. According to the guidelines, students must be nominated by faculty and staff, and certificates will be mailed to nominees at the end of fall and winter terms. Since ACCD launched the program, we have received 45 nominations and mailed out a corresponding number of certificates. Congratulations to all of the nominees for your hard work and dedication to your academic pursuits!
The Registered Disabilities Savings Plan
Representing Human Resources and Skills Development Canada, ACCD is now offering information sessions in Alberta on the Registered Disabilities Savings Plan. The RDSP is a long term savings plan to help Canadians with disabilities and their families save for the future. To open an RDSP, a person must be approved for the Disability Tax Credit, be a resident of Canada, have a Social Insurance Number, and be under 60 years of age.
The Disability Tax Credit is a non-refundable credit that reduces the amount of income tax that an individual with a severe and prolonged disability may have to pay. A qualified practitioner must certify that an individual has an impairment that is both severe and prolonged, with effects in one of these categories:
Impairment with mental or physical functions that has lasted, or is expected to last, for a continuous period of at least 12 months;
marked restriction in a basic activity of daily living;
life-sustaining therapy; or
the cumulative effect of significant restrictions.
The lifetime contribution limit for an RDSP is $200,000, with no annual limit. Anyone who obtains the written permission of the plan holder can contribute to the RDSP. Contributions are not tax-deductible and are not included in income when paid out of an RDSP.
The Canadian government may pay a matching Canada Disability Savings Grant of up to $3,500 a year on contributions. The Government may also pay a Canada Disability Savings Bond of up to $1,000 a year into the RDSPs of low- and modest-income Canadians. The bond is paid into an RDSP even if no contributions were made to the plan.
For more information regarding the RDSP, or RDSP information sessions, contact ACCD's office at 780-488-9088 in Edmonton or toll free at 1-800-387-2514.
Government Announces Next Phase of Setting the Direction for Special Education
On June 11, 2010, The Alberta Disabilities Forum (ACCD is ADF's host organization and one of its 43 member organizations) attended the Government of Alberta's official announcement for the next phase of Setting the Direction for Special Education in Alberta. Since phase 1 began in 2008, ADF has consistently contributed its voice to this initiative.
With a goal of improving outcomes for students with special education needs, the Alberta government announced it is preparing to implement its response to 12 recommendations contained in the Setting the Direction Framework, a document ADF helped develop through participation on a stakeholder's working group. The framework includes the provision of improved learning and teaching resources, more professional development for teachers and educational assistants, and developing a regional service delivery model to support all students.
The framework identifies three key strategic priority areas – curriculum, capacity and collaboration – and recommends a vision of an inclusive education system that re-positions special education within the broader education system. An inclusive education system provides a values-based approach to accepting collective responsibility and achieving accountability for all students, including those with special and diverse needs.
The framework, guided by the Setting the Direction Steering Committee, was developed through input gathered from more than 7,000 Albertans during three phases of public consultation. Over the course of consultations, stakeholders and the public expressed high expectations for significant change in how supports and services are provided to children and youth with special and/or complex needs. Education, in partnership with Health and Wellness and Children and Youth Services, will work to reduce duplication across multiple mandates and increase the effectiveness of supporting students and their families.
The Government of Alberta will support stakeholders and service providers as Setting the Direction is implemented over the next few years. A Provincial Advisory Committee, made up of stakeholder and government representatives, will advise government in its ongoing work to facilitate a smooth transition to an inclusive education system.
Meet the Board!
ACCD's 2010-2011 board members are:
Dave Storey, President (Grande Prairie)
Weslyn Mather, Vice President (Edmonton)
Maryetta Thielen, Treasurer (Milk River)
Raymond Royer, Secretary (Edmonton)
Earle Snider, Nominating Chair (Edmonton)
Donalda Erickson, Bursaries and Awards (Lethbridge)
Karol Gouschuk, Director (Calgary)
Judy Hellevang, Director (Calgary)
Doreen Gyorkos Director (Lethbridge)
What a team! We're looking forward to a great year.
---
Saskatchewan Voice of People with Disabilities
Abuse of Persons with Disabilities: "Silent Voices" Education, Intervention and Prevention Conference will take place in Saskatoon in October from the 13th to 15th at the Radisson Hotel. There will be 12 workshops all addressing issues around abuse of persons with disabilities. Women; First Nations/Metis; men; Sexting/Texting; Youth; and Seniors will all be addressed.
Keynote speakers from Washington State as well as Wisconsin will be attending, along with presenters from other provinces in Canada as well as Saskatchewan.
Limited funds will be available for consumers wishing to attend, as well as funding available for attendants travelling with consumers. Registration material will be available in early July, in the office as well as online through our website.
The Annual General Meeting was held June 12th in Regina, welcoming two new Board members, Jennifer Cohen and George Thomas.
---
Citizens With Disabilities – Ontario (CWDO)
Removing the Boundaries
by Laura Davis/CWDO Correspondent
When you think of an artist what comes to mind? Is it a painter, musician or dancer? The word "artist" is a broad term and can include painters, musicians, dancers, actors, writers, photographers – the list goes on. They are involved in film, radio and television, and many talented artists have disabilities.
This past winter Citizens With Disabilities – Ontario (CWDO) held an arts contest, inviting all of its members to express what "Accessibility Means" to them, through graphics, poems and/or prose. CWDO is the Ontario representative at the Council of Canadians with Disabilities (CCD). The contest was sponsored by its Creative Arts and Recreation Committee to encourage strong, positive portrayals of what full accessibility would be like. The winners and their works are posted at http://www.cwdo.org.
I talked with first place winner, Alicia D'Souza, whose piece "The Hand That Holds Mine" expressed her desire to see the "able" and "disabled" worlds merged into one. She says:
"Before I received any support for "The Hand That Holds Mine" through my obstacles, it took a lot of educating on my part to explain my challenge to family and friends and for them to open their minds to an unconventional way of thinking. I hope my art and poem says to the community at large, that whether you can see someone's challenge or not, it's still there and it's not going anywhere."
The artist went on to say, "To achieve an accessible environment for people with disabilities, we need that hand of support and understanding from society before we can move forward."
Understanding is the key. I know what it feels like to be misunderstood. At a recent public event, I went to see international speaker Nick Vujicic. He was born without limbs. As I took my seat, an usher informed me I was a fire hazard, so my walker needed to be removed. No thought was given to my safety. If there were a fire, I would have no means of escape, as the usher had just taken my "legs". No amount of arguing on my part convinced the man I was disabled. He pointed to the lady in the wheelchair beside me and said, "She needs her chair. You can still walk." Indeed, I can still walk, but I'm more likely to fall and without my walker I'm as slow as a snail. In which case, I would be a fire hazard, especially to those behind me!
Wenyi Li, the second place winner in the CWDO Art Contest, submitted a poster entitled, Embrace Accessible – Equality, Diversity & Quality. Li has an invisible disability – a learning disability. This striking, visually appealing poster calls on everyone to embrace all aspects of disability. The poster quotes this startling fact from the Ministry of Community and Social Services – "About 1.85 million people in Ontario have a disability. That's one in seven people. Over the next 20 years as the population ages, the number will rise to one in five Ontarians. Ontario needs to be more accessible to people with disabilities. It makes good sense – economically and socially."
Knowing that one in five Ontarians have a disability, would hopefully cause some to change their thinking about the disabled community, but must we wait twenty years for those changes? As these artists have shown, people with disabilities can contribute significantly to society, especially when barriers to our full participation are removed. As D'Souza states, "Art has always been to me a space with no boundaries or walls and where your imagination defines you."
Art in all its forms enlightens, liberates and stretches the imaginations of people everywhere. We enjoy visiting the latest exhibits in museums, catching plays at the theatre or strolling through the art gallery. Hearing our favorite singer or rock band is a treat too, especially if we can get good seats. But as people with disabilities, we are often relegated to the back, out of the way.
In a world that forces those with disabilities to live as "disabled" people, a little imagination and merging of the minds can go a long way in helping D'Souza's art and others like her, become a reality.
Discrimination a Serious Concern for Mental Health patients – says OHRC
By Laura Davis/CWDO Correspondent
TORONTO/ON – Housing is a human right, yet people with mental health disabilities are often discriminated against when trying to find a place to live. They frequently find themselves harassed in the areas of employment and basic services as well. For this reason, the Ontario Human Rights Commission (OHRC) has identified mental health as a key priority in establishing a human rights and mental health plan to guide their activities.
Chief Commissioner Barbara Hall says, "Negative societal attitudes and systemic inequalities like poverty, and lack of access to treatment and services, create barriers for people with mental health disabilities, particularly when they try to find work or a place to live. The Commission is committed to working with its partners and members of the community to get rid of this discrimination."
Under the Ontario Human Rights Code, persons with mental health disabilities are protected from discrimination and harassment in the areas of employment, accommodation (housing), goods, services and facilities, contracts, and membership in trade, union or occupational associations. They are covered by the Code if they experience reprisal for these basic human rights.
Doug Millman has felt the sting of discrimination. He was unaware he had a mental illness – until several stressors in his life, led him to a complete nervous breakdown and suicide attempt. After his release from the psychiatric ward of a local hospital, he returned to work as soon as possible. However, his initial return-to-work trial, proved to be too stressful and consequently he ended up taking several "mental health" days. This resulted in a meeting with his Director, who told him that his absenteeism rate was significantly higher than the company average and that this was grounds for dismissal.
After his Short Term Disability (STD) and Long Term Disability (LTD) leaves were exhausted, he was terminated without a disability pension. After filing a grievance, Millman found the steward to be both insufficiently motivated and educated to pursue the case vigorously. He eventually applied for and was approved to receive the Federal Disability Pension. Once approved, he re-applied for his company disability pension; was approved; and received six months in back-dated benefits.
Millman says of his experience, "Nobody, especially somebody with clinical depression verging on the suicidal, should ever have to undergo such an ordeal."
The decision to identify mental health as a key priority by the OHRC is a welcome one and long overdue. How they will educate the public sector remains to be seen, but it is a positive step forward.
---
National Educational Association of Disabled Students (NEADS)
NEADS Releases science and technology guidebook
Ottawa – May 15, 2010: The National Educational Association of Disabled Students (NEADS) is proud to announce the completion of a two-year initiative, "Enhancing Opportunities for Post-Secondary Students and Graduates with Disabilities in Science and Technology Related Fields," supported through a funding partnership with the Imperial Oil Foundation. The result of the project work is a comprehensive guidebook: "Success in STEM: Studying and Pursuing a Science or Technology Career as a Post-Secondary Student With a Disability." The guide is now available from the office in print and CD versions. A web version, in a variety of formats, is now available on the NEADS website: www.neads.ca
While research has been conducted on factors affecting the inclusion of the general student population in science and technology-related programs, very little work has been done to highlight the issues and challenges faced by students and employees with disabilities within this sector. Furthermore, the identification of role models or success stories in science and technology is not encouraged – every student and educator, or every employer and employee, facing these issues may well believe that they are the first, ever, to do so. Our new Success in STEM guidebook meets our initial project goals and is a unique and invaluable resource for students, teachers, service providers and employers.
The National Educational Association of Disabled Students (NEADS) is a consumer-controlled, registered charitable organization with a mandate to encourage the self-empowerment of post-secondary students and graduates with disabilities in Canada. NEADS advocates for increased accessibility at all levels so that students with disabilities may gain equal access to a college or university education, which is the right of everyone. The Association also supports the successful transition of students and graduates with disabilities into employment within their chosen field.
With a goal to being an active member of the community and to building a life-long learning system in Canada that ranks among the best in the world, Imperial Oil has been contributing to communities across Canada since 1880. In 2009, Imperial Oil contributed about $22.2 million to various programs across Canada. Supporting organizations where we live and work, the company emphasizes investment in education of math and sciences, environment, and civic and community programs where we have employees or business operations.
For more information about the project or to obtain a copy of the guide, please contact the NEADS National Office:
National Educational Association of Disabled Students (NEADS) Rm. 426 Unicentre, Carleton University Ottawa, Ontario, K1S 5B6 tel. (613) 380-8065 www.neads.ca
NEADS and BMO Capital Markets Announce Winners of Equity Through Education Student Awards
Ottawa, Ontario, May 7, 2010: The National Educational Association of Disabled Students (NEADS) and BMO Capital Markets are pleased to announce the 12 outstanding winners of the 2010 NEADS Equity Through Education Student Awards Program.
The winners in the University Undergraduate Studies category are Naomi Harrington (Computer Science and Psychology combined major, University of Victoria), Devin Ryan (Computer Science, Business option, Lakehead University), Katie Raso (Communication, Simon Fraser University), Alexandra Papaiconomou (Law, University of Western Ontario), Katherine Taylor (Psychology, French Minor, University of Lethbridge), Tawnie Wilson (Communications and Women's Studies combined, University of Windsor). Recipients in Graduate Studies category are: James Bell (MA Criminology, University of Toronto), Jessica Dunkley (Faculty of Medicine, University of Ottawa), Kelly Fritsch (Ph.D Social and Political Thought, York University), Chelsea Mohler (Masters of Health and Rehabilitation Science, University of Western Ontario), Barbara Schober (Doctor of Philosophy/History, University of British Columbia). The winner of the Equity Through Education Student Awards in the College/Cegep Studies category is Larissa Haluszka-Smith (Occupational Therapist Assistant/Physiotherapist Assistant, Centennial College). All recipients will be receiving $3,000 each to support the costs of their tuition and student fees.
"NEADS congratulates the 2010 winners of the NEADS Equity Through Education Student Awards, said Dr. Mahadeo Sukhai, NEADS Past-President, and Chair of the selection committee. "There were many excellent candidates and 375 applications for this year's competition. The dedication, perseverance and achievements of this year's winners embody the spirit of the Awards program. We wish them all the very best in their studies, and look forward to watching their successes in the future. We are grateful to BMO Capital Markets for its generous funding of the Equity Through Education Student Awards."
About BMO's Equity Through Education Program
www.bmocm.com/equitythrougheducation
Equity Through Education®, is a charitable initiative launched by BMO Capital Markets in 2005 to help people realize their educational ambitions by giving them the means to pursue those goals. Some of the proceeds from Equity Through Education, which has raised a total of $6.6 million to date, are used to fund several NEADS initiatives including Job Search Strategies Forums across Canada, the Equity Through Student Awards Program, and development work on our job site, the NEADS Online Work System: www.nows.ca
For more information on the NEADS Equity Through Education Student Awards program please contact the NEADS office: National Educational Association of Disabled Students (NEADS), Rm. 426 Unicentre, Carleton University, Ottawa, Ontario, K1S 5B6, tel. (613) (613) 380-8065, www.neads.ca or Kim Hanson, Media Relations, BMO Capital Markets, kim.hanson@bmo.com, (416) 867-3996.