Act Now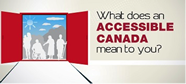 Empower U: Learn to Access Your Disability Rights Training on Canadian Human Rights, the Convention on the Rights of Persons with Disabilities (CRPD) and its Optional Protocol (OP) training aims to increase awareness of how to address discrimination using more familiar Canadian human rights laws such as Human Rights Codes and the newer international Convention on the Rights of Persons with Disabilities (CRPD). This is training for persons with disabilities by persons with disabilities. The training is part of a project funded by Employment and Social Development Canada and implemented by the Council of Canadians with Disabilities (CCD) in collaboration with Canadian Multicultural Disability Centre Inc. (CMDCI), Citizens With Disabilities – Ontario (CWDO), Manitoba League of Persons with Disabilities (MLPD) and National Educational Association of Disabled Students (NEADS). Read more.
Sign Up for our monthly digest
A monthly newsletter from CCD about what is happening in the community
A Voice of Our Own: October 2010
Volume 28 Number 4
On the CCD Agenda
CCD Member Group Updates
---
On the CCD Agenda
Along with the Social Planning Council of Winnipeg and Campaign 2000, CCD was one of the conveners of the Winnipeg Roundtable, titled "The Provincial and Territorial Road to Poverty Eradication" held during the Council of the Federation, which occurred on 4 August 2010. The Council of the Federation was formed in 2003 by Canada's Premiers to promote collaborative intergovernmental relations.
Because all the Premiers were meeting in Winnipeg, the conveners organized the Roundtable to draw the Premiers' attention to the disproportionate levels of poverty experienced by Aboriginal peoples, persons with disabilities, lone mothers, racialized minorities, and recent immigrants and to call upon the Premiers to put planning for poverty eradication on the agenda of the Council of the Federation. The Roundtable called upon the Premiers "to honor their responsibilities and put planning for poverty eradication on the agenda of the Council of the Federation." On disability poverty, the Roundtable urged that, "Federal and provincial governments must find ways of working together to develop a joint strategy for addressing the disproportionate poverty experienced by people with disabilities."
The Statement went on to point out that, "Governments must develop frameworks for immediate and longer term investments in disability-related supports that address poverty and exclusion. Immediate measures include improved access to education and training, income security programs which enable a higher retention of net earnings, the expansion of EI sick benefits, and tax reform. Over the longer term, the development of a basic income support program for those who will not soon enter the labor market is essential. Particular attention must be paid to youth, Aboriginals with disabilities, and those moving out of institutions."
---
Steve Estey, Chairperson of CCD's International Development Committee, attended the Convention on the Rights of Persons with Disabilities (CRPD) Conference of States Parties. As it has ratified the CRPD, Canada is now eligible to participate in these conferences. CCD has been very concerned about how the CRPD will be implemented in Canada. Interestingly, implementation is also on the radar of UN agencies. During the conference it was explained that the Office of the United Nations High Commissioner for Human Rights has undertaken a study on the structure and role of national mechanisms for implementing and monitoring the CRPD. The study examined the intent of Article 33 of the CRPD. At the Conference it was stressed that for implementation governments need to have in place an effective mechanism, including a focal point system and a coordination structure. CCD will continue to monitor Canada's implementation of the CRPD.
---

Can you imagine living on less than $10,000 a year? Many Canadians assume that people with disabilities are well provided for. Few, unless they have a family member with a disability, understand that disability and poverty are largely synonymous - disability can lead to poverty and poverty can lead to disability. Many a newly disabled Canadian has been shocked to learn that the average Canada Pension Plan Disability Benefit is only $810.70 a month and that is only if you meet stringent eligibility requirements. The myth of robust disability pensions means that:
Canadians who become disabled and unable to work are unprepared for the financial hardships which are ahead of them.
Few beyond the disability community have been calling for social policy reform that would eradicate disability poverty.
Many born with disability live their whole lives in poverty, or long to become 65 because benefits are better for seniors.
In light of the reality of disability poverty, CCD welcomes the recent report by the House of Commons' Standing Committee on Human Resources, Skills and Social Development and the Status of Persons with Disabilities (HUMA), titled "Federal Poverty Reduction Plan: Working in Partnership Towards Reducing Poverty in Canada", which calls for a comprehensive plan and funding to address poverty. The disability community has developed its own National Action Plan on Disability that outlines short and long-term recommendations for improving the economic and social position of people with disabilities. Chief among these is making the Disability Tax Credit refundable for those who do not have a taxable income. This recommendation is echoed in the Parliamentary Committee Report.
"We are pleased that the MPs who developed the "Federal Poverty Reduction Plan" report were guided in large part by the disability community's National Action Plan," stated Tony Dolan, Chairperson of the Council of Canadians with Disabilities, a national human rights organization of people with disabilities. "Their report contained important recommendations that have the support of Canadians with disabilities. These recommendations are a step in the right direction," stated Marie White, Chair of CCD's Social Policy Committee. "CCD eagerly awaits the Government's response to this report and hopes that its response will be an improvement over its September 2010 response to the Senate Report on Poverty. The Government response to the Senate Report failed to recognize that poverty eradication requires a broad spectrum of measures from the Federal Government that goes way beyond employment measures," stated Laurie Beachell, CCD National Coordinator.
The "Federal Poverty Reduction Plan" report has also been welcomed by the antipoverty community. Campaign 2000 and its partners in the antipoverty movement praised the new report. Wayne Helgason, Chairperson of the Board of the Canadian Council for Social Development, said, "The HUMA Committee is recommending that First Ministers begin talks to create a new federal transfer program—a federal poverty reduction fund. This was something antipoverty groups called for this summer in our Winnipeg Statement on Poverty Reduction and we're pleased that MPs were listening."
Aboriginal people have also commended the report. For example, Damon Johnston, Aboriginal Council of Winnipeg stated, "We commend members of the HUMA committee for their recommendations that address Aboriginal poverty, including lifting the 2 per cent cap on federal spending increases on reserves, providing adequate funding for First Nations child welfare agencies, and developing targets to reduce poverty for Aboriginal people in collaboration with our organizations and governments." The disability community's National Action Plan has emphasized the need to address the poverty of Aboriginal people with disabilities.
If you want to see the eradication of poverty in Canada, consider contacting your Member of Parliament and encourage him/her to support the recommendations in the HUMA Report.

Recommendations of Interest to the Disability Community
Recommendation 4.3.1--Given the lack of consistency in the definition of disability and eligibility across federal disability programs, the Committee recommends that the federal government ensure that those who qualify for the Canada Pension Plan Disability automatically qualify for the Disability Tax Credit. The Committee further recommends that the federal government initiate discussions with the provincial and territorial governments to bring some consistency and coherence to the definitions of disability used by programs in all jurisdictions.
Recommendation 4.2.2 --The Committee recommends that the federal government double the budget for the Vocational Rehabilitation Program and begin to measure the long-term impact of this program on the success of clients' return to work and the total economic benefits associated with these outcomes.

Recommendation 4.2.3 --The Committee recommends that the federal government extend EI sickness benefits up to 50 weeks for those who suffer from a prolonged and serious illness.
Recommendation 4.2.4 --The Committee recommends that the federal government increase the duration of the EI compassionate care benefit from six to 12 weeks and provide access in cases of serious illnesses other than palliative care cases such as episodic disabilities.
Recommendation 4.2.5 --The Committee recommends that the federal government create a federal basic income program for persons with disabilities and support a disability-related supports program to be delivered by the provinces and territories.
Recommendation 4.2.6--As a first step in addressing the needs of the poorest of Canadians with severe disabilities, the Committee recommends that the federal government amend the Income Tax Act to make the Disability Tax Credit a refundable credit and ensure that new federal benefits for persons with disabilities are not clawed back from those receiving social assistance payments.
Recommendation 4.2.7--The Committee recommends that the federal government increase funding for the Opportunities Fund; expand the terms and conditions of this program to support effective long-term interventions and skills development opportunities, especially with respect to essential skills training; and take concrete steps to raise awareness and promote the program to potential clients, employers and service providers.
Recommendation 4.2.8--The Committee recommends that the federal government include specific allocations and targets for persons with disabilities in Labor Market Agreements and Labor Market Development Agreements.
Recommendation 4.2.9--The Committee recommends that the federal government invest infrastructure funds in accessible and affordable public transportation so as to ensure that all Canadians with or without disabilities, no matter where they live, have access to transportation.
Recommendation 4.2.10--The Committee recommends that the Canadian Transportation Agency meet at least annually with its Accessibility Advisory Committee and that it actively involve the Advisory Committee in the development of its monitoring and compliance methodology.
Recommendation 4.2.11--The Committee recommends that the federal government revise its decision not to fund the Participation and Activity Limitation Survey in 2011 and commit to providing financial support for this valuable policy and research tool on an ongoing basis.
---
In Ottawa, at a national forum called End Exclusion 2010, people with disabilities and their allies challenged the myth that people with disabilities are "well taken care of in Canadian society." Participants spoke out about the realities of living in poverty with a disability. People with disabilities, researchers and policy analysts shared new knowledge and policy alternatives to existing Canadian income security programs. End Exclusion is coordinated by the Council of Canadians with Disabilities (CCD), the Canadian Association for Community Living (CACL), and Canada Without Poverty (CWP)
For the past two and a half years, CCD has been coordinating a research project, Disabling Poverty/Enabling Citizenship funded by the Social Sciences and Humanities Research Council (SSHRC). This project brings together university-based social scientists and grassroots disability activists and their organizations to develop innovative policy models for addressing the poverty of Canadians with disabilities. End Exclusion 2010 launched one of these models – the Basic Income Plan for Canadians with Severe Disabilities – developed by Michael Mendelson, Ken Battle and Sherri Torjman of the Caledon Institute and Ernie Lightman of the University of Toronto.
Together we can create a more Inclusive and Accessible Canada.
---
New knowledge is emerging from the Council of Canadians with Disabilities' (CCD) research project—Disabling Poverty/Enabling Citizenship. This initiative is a unique collaboration between disability groups and academic researchers. Yvonne Peters, CCD, and Dr. Michael J. Prince, University of Victoria are the Principal Investigators for this strategic initiative, which is undertaking work in three themes:
Poverty and Exclusion, which is examining the relationship between poverty and disability for the purpose of developing a demographic profile;
Income Security and Policy Reform, which is mapping the connections between income security and disability-related supports, as well as examining federal tax and income programs and
Poverty/Disability/Equality which is assessing the effectiveness of the Charter of Rights and Freedoms and other mechanisms in protecting the economic and social rights of persons with disabilities.
CCD is publishing the initial research results on its web site. In this article, CCD shares highlights from the Poverty and Exclusion theme, which is directed by Cam Crawford and Ernie Lightman. Can Crawford researched and wrote the report, "Disabling Poverty/Enabling Citizenship: Understanding the Poverty and Exclusion of Canadians with Disabilities", which this article summarizes.

What does poverty look like in the disability community?

Overall, people with disabilities are twice as likely as people without to be in households with low incomes. People with disabilities who live in rural communities, however, are half as likely as their urban counterparts to live in poverty.
Somewhat surprisingly, there are no major differences in the extent to which women vs. men with disabilities live on low incomes. 21.3% women with disabilities are in households with low incomes and among their male counterparts, 19.6%.
The high rate of poverty among people with disabilities remains high throughout the working years, but drops significantly and remains low in the retirement years. Government programs for seniors seemingly play a role in reducing poverty among seniors with disabilities.
Aboriginal persons with disabilities are much more likely than people who are neither from visible minorities nor Aboriginal persons to live in poverty.
Rates of low income are very high among lone parents with disabilities and among people with disabilities who live alone or with unrelated others.
As the level of formal educational certification increases, the extent of poverty among people with disabilities decreases. Higher educational attainment, however, does not remove the likelihood of poverty among people with disabilities, which remains considerably higher than for people without disabilities irrespective of level of educational certification. Those who have access to work-related training are much less likely to be living on low household incomes than people who have not received such training.
Even where working, people with disabilities are more likely than people without to have low incomes. Where they are unemployed or not in the labor force, the rates of low income among people with disabilities are higher still. About a third of people with disabilities who live on low household incomes last worked over a year ago or have never worked.
Among those who are working, the rates of poverty are lowest where the employer operates at more than one location, has 500 or more employees and where the workforce is unionized or otherwise covered by a collective agreement. Only about a fifth of workers with disabilities are in such employment situations.
People who have recently been active in the labor force and who consider that they have been discriminated against in employment because of disability are nearly twice as likely to be in low-income households as people who do not believe they have been subjected to employment discrimination.
The likelihood of living on low household income increases with the severity of disability. Among people with disabilities in low-income situations, more than half have a severe to very severe level of disability compared with only slightly more than a third of those who are not living in low-income households.
People with disabilities who are in low-income households are more likely to say they need help with everyday activities because of disability and that they receive only some or none of the help they require.
Nearly half (49%) of people with disabilities and low incomes report their general health as fair or poor, compared with only about a third (32.9%) who are not in low-income households.
CCD's objective with this research is to develop a case for specific policies and programs which will lift people with disabilities out of poverty. If you would like to read the full demographics report and/or reports from the other themes, please visit the project's web page at:
http://ccdonline.ca/en/socialpolicy/poverty-citizenship
---
With assistance from CCD, Elections Canada tested a new assistive voting technology during the 29 November 2010 By-election in Winnipeg North. This technology allows voters with disabilities to mark their ballot independently. Some of the accessibility features included in the device are: tactile controller with Braille buttons, rocker paddles, sip-and-puff attachment that allows voters to select options using their breath, audio with volume and speed control to hear choices through headphones, high-contrast screen with zoom to enlarge font size, audio and/or visual review function to confirm the candidate choice before printing. Elections Canada has contracted with CCD for this work. Accessible voting has been a CCD priority since the organization's earliest days, so this initiative is very welcome.
---
CCD Member Group Updates
Health Education, Advocacy and Leadership (HEAL): an exciting new concept from the BC Coalition of People with Disabilities
In the Summer 2009 issue of our magazine, Transition, we introduced a new framework for exploring wellness and independence among people with disabilities. HEAL is an acronym for Health Education, Advocacy and Leadership. Shelley Hourston, program director at BCCPD's Wellness & Disability Initiative and AIDS & Disability Action Program notes, "My theory is that each of these threads—health education, advocacy and leadership—are especially powerful in developing a personal sense of wellness because they benefit others as well as ourselves."
Earlier this year, we published the first HEAL publications: five guides for people living with HIV and AIDS. Written from a HEAL perspective, each provides information from experts and researchers as well as people living with HIV or AIDS. Each guide offers "keys" or facts, research findings, and experiences or insights about living with one or a combination of chronic health conditions. Each key has a resource link in the back of the guide so readers can learn more about the topics that interest them.
And we've now embarked on the first year of a three-year project to develop and evaluate a coaching program based on the HEAL framework. We are currently reviewing research and strategies from a variety of coaching models and look forward to piloting our own model in 2011.
Transition magazine and the HEAL guides are available for download from the Publications section of our website: www.bccpd.bc.ca/publications/.
---
Project Update: Barrier-Free Health and Medical Services in Alberta
ACCD continues to make progress on our newest project, Barrier-Free Health and Medical Services in Alberta. Last time, we reported on the distribution of questionnaires to 1020 medical practitioners throughout the province and our online questionnaire, as well as community consultations in Vegreville, Rocky Mountain House, Lethbridge, Grande Prairie, Edmonton, and Calgary.
Since then, we have measured physical accessibility through accessibility audits in health and medical facilities throughout the province. We are now in the process of arranging the data we collected into case studies.
We are confident these studies will provide unique insight into access to health and medical services in different areas of Alberta.
This project will benefit any Albertan who, at some point in his or her life, might acquire a short- or long-term disability, seniors and those with age-related disabilities, and any person who accesses health and medical services in Alberta.
For more information on this project, please contact our offices at 780-488-9088.
The Alberta Health Act: An Update
On September 15, 2010, Conservative MLA Fred Horne released his report on the new Alberta Health Act and patient health charter. The report, which was prepared by MLA Horne and an 8-member advisory committee, makes recommendations to the Government of Alberta regarding the key components that should be included in the Alberta Health Act. Albertans have identified priority actions that must be taken as the government proceeds to make future decisions regarding the publicly funded health care system.
The proposed draft health charter is an acknowledgement that health is a partnership among individuals, families, communities, health professionals, organizations that deliver health care services, and the government. The draft charter lists criteria regarding the following categories:
what patients can expect of the health system;
patients' obligations towards the system; and
what Albertans who are working towards being healthy citizens can expect of the government as it develops fiscal, economic, and social policies.
The report also recommends that the government establish a Health Advocate. This person would report to the Health Minister and would be mandated to do the following:
Provide education on the Health Charter and what it means for people and the health system.
Help people determine the appropriate resolution mechanism through which they can have their concerns addressed and resolved.
Provide assistance to Albertans in accessing appropriate resolution mechanisms in the health system through the use of education, guidance and referral.
Advocate on behalf of citizens who bring forward concerns under the Health Charter.
Review and report on individual Health Charter-related issues that are not addressed by current resolution mechanisms.
Report annually to Albertans.
Finally, the report presents the breadth of views expressed by Albertans from 23 communities across the province. Input was also received through a public survey, over 85 written submissions, and through meetings held with stakeholders.
To read Fred Horne's report, visit Your Alberta Health Act at http://www.health.alberta.ca/initiatives/your-health-act-whats-new.html
ACCD's New Video: What is Consumer Directed
As a consumer-directed organization of and for people with disabilities, ACCD is dedicated to ensuring that we have a say in how, why, when, and where disability services and programs are provided.
ACCD's new video, which explains what consumer directed means, is now available for viewing on our website. Through the perspectives of board members, friends of ACCD, and our executive director, the video delivers the history of the consumer movement, a definition of the consumer-directed philosophy, and the personal perspectives of people who are consumers of programs and services for people with disabilities.
To view this video, visit www.accd.net.
Municipal Elections in Alberta
Every three years, on the third Monday in October, municipal elections are held across Alberta. On October 18, 2010, citizens of Alberta will once again be casting their ballots in municipal elections, choosing representatives whom they feel will best address their concerns on a variety of issues.
ACCD is urging Alberta's disability community to get engaged and to raise their issues with political hopefuls across the province. Municipal politicians have the power to do a lot, like raise taxes, implement affordable housing projects, improve roads and sidewalks, and impact the look of communities through the maintenance or construction of parks and green spaces, among many other things. Voting in municipal elections is one extremely effective way for people with disabilities to have their say regarding how things are done locally.
We often hear people say that one vote will never make a difference, especially not when so many others are casting their votes, too. ACCD has been reminding people that many elections are decided by very few votes, and in some instances, a single vote determines the winner. In other words, every vote counts!
What's more, candidates are eager to hear people's concerns, and some might not even be aware of an issue until a member of the community addresses it with them.
On October 18th, we are confident Albertans with disabilities will be out in full force to cast their votes!
---
Silent Voices Conference
October 13 – 15th is coming soon, therefore, we have been busy organizing. We are running twelve workshops on varying topics addressing abuse. Hopefully, this conference will be a stepping stone in raising awareness of the need to address abuse of persons with disabilities.
Nancy Fitzsimons, will be talking about rural issues, for instance, it can be lonely, frightening and unsafe to live in a rural setting.
Janet Menezes will be talking about her experiences since leaving an abusive husband and how she has endeavored to advocate on behalf of women and children who are victims of domestic abuse.
Mary Oschwald from Portland, Oregon will be talking about men with disabilities being abused and the many barriers men experience, including social expectations, lack of awareness of abuse and shame.
The Poverty Tour
Disability Income Support Committee, (DISC) hosted a media event in October. The "POVERTY TOUR" emphasized the need for additional dollars in the SAID, (Saskatchewan Assured Income for Disabled). To date, we have a new program; however, there has been no change in the program, just the name on the cheque.
---
Twenty-five Percent of Candidates Respond to Disability Election Questionnaire
Twenty five percent of the 51 candidates for Winnipeg City Council and Mayor responded to the Manitoba League of Persons with Disabilities' Election Questionnaire. Only Judy Wasylycia-Leis responded from the candidates running for Mayor. There has been no response from the current Mayor concerning the issues of people with disabilities in Winnipeg, even though MLPD has left messages with his campaign office.
The MLPD questionnaire that was sent out on October 14 by email included questions on problems with the Handi-Transit Bus system, problems with access to low floor regular transit buses, lack of accessible, affordable housing for people with disabilities and the need to ensure that the City of Winnipeg Universal Design policy is used on our roadways and sidewalks.
Five sitting City Counselors replied to the MLPD Questionnaire-- Gord Steeves, Grant Nordman, Jeff Browaty, Scott Fielding and Harvey Smith. Steeves' response to a question about problems with Handi-Transit services was "unfortunately, the demand is greater than the service can handle at this time. Our system of ensuring that the service is provided to those who need it most needs constant vigilance."
The MLPD will be vigilant with the new City Council to ensure that there are resources provided to Handi-Transit for those who need it. Over the past few years, riders have been cut from the Handi-Transit rolls, with Handi-Transit citing too much demand and abuse of the system.As a result, MLPD has heard from many persons with disabilities who are not receiving any bus service at all, because they cannot move safely on inadequately ploughed sidewalks and bus stops to ride the regular bus.
In response to MLPD's Questionnaire, Counselor Harvey Smith suggested that he would meet with MLPD before the next budget meeting and bring the concerns of MLPD to city committees and Council Meetings.
Overall, the candidates who responded to the Questionnaire called for more accessible, affordable housing for people with disabilities in Winnipeg, and for increased training for Handi-Transit drivers and regular transit bus drivers in working with people with disabilities. A few candidates committed to ensuring that there is better snow clearing so that people with disabilities and seniors can travel on city sidewalks and streets safely in the winter. MLPD will work with all candidates elected on October 27th to ensure an accessible Winnipeg for all.
Council Update
The MLPD continues to be very active in the community advocating on behalf of its members on a number of issues. One of these issues was Bill C-384 which was to legalize euthanasia in Canada. The MLPD joined the Council of Canadians with Disabilities in opposing assisted suicide and euthanasia because of the adverse impact it would have on persons with disabilities. Bill C-384 was re-introduced into the House and was defeated in April 2010.
The MLPD Housing Committee conducted a survey of community organizations to update information gathered in 1998. The survey (the results of which are currently being analyzed) provides an overview of how well Manitobans with disabilities are meeting their housing-related needs and is assisting us in our advocacy efforts. In addition, the MLPD was part of a coalition of community organizations which filed a complaint with the Manitoba Ombudsman about the Employment and Income Assistance system in Manitoba. In May, the Manitoba Ombudsman, Irene Hamilton, released her report which contains over 60 recommendations related to disability. The coalition of organizations involved in the complaint is currently following up with government on the report.
We were pleased to learn that the Province of Manitoba has reached an agreement with Greyhound Bus Lines to provide interim financial support for a one year period so that passenger bus service in Manitoba and Northwestern Ontario will not be disrupted. Negotiations are underway between Greyhound and the provinces on a long-term resolution to the challenges facing bus transportation and Ross Eadie attended a consultation on inter-city bus service in Lac du Bonnet in June. The Transportation Committee continues its work with Handi-Transit to deal with issues around scheduling, driver training, vehicle safety, etc.
MLPD Names New Provincial Coordinator
On June 1, 2010, Diane Driedger was named the Provincial Coordinator of MLPD. Diane brings a wealth of experience to the position. She has 30 years of experience working in disability rights organizations at the provincial, local and international levels in Jamaica, and Trinidad and Tobago. She recently completed a Ph.D. in Education from the University of Manitoba.
She first started working in the disability movement at MLPD 30 years ago as a summer student. In her new position, she is looking forward to working with the members of MLPD to advance the equality of persons with disabilities. She will be focusing on improved access to transportation, developing a strategy with government to increase the number of accessible and visitable housing units for persons with disabilities, and addressing issues that lead to poverty for persons with disabilities, such as lack of employment opportunities.
MLPD Annual General Meeting
The MLPD hosted its annual meeting on June 3, 2010 at the Millennium Library. The meeting enabled participants to share their stories of their involvement with disability advocacy groups as an impetus to spark renewed interest in advocacy with the MLPD. Ms. Sharon Blady brought greetings on behalf of the Hon. Jennifer Howard, Minister responsible for Persons with Disabilities. The CCD award was presented to Daniel Halechko, and those present approved the slate of MLPD Council members for 2010-2011. New Council members are Louise McKean, Daniel Halechko, Nick Ternette, and Justine Kiwanuka. At the first Council meeting following the AGM, Council elected the following individuals to the MLPD Executive: Harry Wolbert and Terry McIntosh (Co-Chairs), Paula Keirstead, (Vice Chairperson), Daniel Halechko, (Secretary) and Justine Kiwanuka, (Treasurer). Committee chairpersons were also named.
Manitoba Access Awareness Week and Forum on UN Convention
The Province of Manitoba proclaimed May 30 to June 5, 2010, Manitoba Access Awareness Week (MAAW). MAAW raises awareness of the barriers people with disabilities face that impact their full participation in society and promotes the removal of these barriers by celebrating people with disabilities, organizations and businesses that are providing leadership in making Manitoba a more inclusive society.
In 2010, MAAW activities were overseen by a Steering Committee chaired by the Manitoba League of Persons with Disabilities (MLPD) and composed of representatives from community organizations and the Disabilities Issues Office (DIO), Province of Manitoba.
A number of events took place throughout the week. The MLPD hosted a MAAW kick-off on Sunday, May 30, 2010 at the Forks which highlighted key accomplishments in the area of accessibility over the past ten years. The Hon. Jennifer Howard, Minister responsible for Persons with Disabilities, brought greetings on behalf of the Province of Manitoba, while Chris Sobkowicz (Coordinator of the City of Winnipeg Access Advisory Committee) addressed the gathering on behalf of Councilor Jenny Gerbasi, Chairperson of the Access Advisory Committee. Ross Eadie and Harry Wolbert hosted the event, and the Scott Tones (a group of musicians which includes persons with disabilities) provided excellent music to round off festivities. A MAAW Awards celebration took place on June 3, and Clare Simpson, MLPD Council member until June 2010 received an award to recognize her outstanding contribution to the disability community.
On June 10, 2010, the MLPD and the Disabilities Issues Office convened a forum on the United Nations Convention on the Rights of Persons with Disabilities. This forum examined how the CRPD will help strengthen disability rights in Manitoba. Steve Estey, Human Rights Officer with Disabled Peoples' International and Chairperson of CCD's International Committee provided an overview of the UN Convention, and participants discussed possible roles for organizations such as MLPD in reporting progress on the implementation of the Convention and monitoring this progress.
---
Council Update
The Council continues to be busy as we continue to offer our core programs such as: Employment Services, Community Access, Designated Parking Permits and Snoezelen Room. In June we had our AGM with well over 100 Islanders in attendance. A new Board of Directors was elected which will generate new ideas to build on our current foundation of client centered services and community development through partnerships and collaborations. Although it is always exciting to bring on new Board members, it is also difficult to say good-by to old friends and colleagues like Bernie Wilson and Paul Estey who gave many years of service to the Council Board. Sadly, we also said good-by to long time Board member Pat Rose who passed away in July. Pat always brought her gentle spirit and kind heart to all her endeavors. She was a calming presence at the Board table and was willing to mentor others and lead by example. She will be truly missed. In her memory the PEI Council of People with Disabilities purchased a painting of a beach near Pat's beloved Sours.

We continue to grow and as a result we have hired a full-time Fund Development Coordinator and have developed a three year strategy that will help sustain the organization and diversify our funding streams. This is an exciting time for the Council as it will allow us to develop programs and services based on the needs of Islanders with disabilities. The new programs and services will no longer be restricted or limited by Government Funding criteria. Our Fund Development Coordinator developed the strategy in consultation with the Executive Committee and it is now approved by the Board of Directors

Supporting Children and Youth with Disabilities

Over the summer months we completed the fourth year of the Summer Tutoring Program. This year's program was another success, as Instructional Assistants provided one to one programming for 150 children with disabilities across PEI. The Summer Tutoring Program is a retention program that insures the students retain the information they learned in the previous school year. This provides the students with a solid foundation of skills as they progress to the next grade level. Each student has an individualized plan that is developed by the schools' Resource Teachers and implemented by the Instructional Assistants. Over 2500 tutoring hours were completed and strong relationships continue to be developed with all schools across the province.

Once again the Council, in partnership with Service Canada, completed the Around the Block Program. Ten youth with disabilities have completed a tour of Intermediate and Senior High Schools across the province. Around the Block used a live theatre show to sensitize students to disabilities and disability issues. The script for this year's show was developed using the experiences of the project participants over the past nine years, most of whom are young people with disabilities. A background musical score was added to the show last year, courtesy of the original musical work of one of last year's participants and was used again this year. The program is based on a peer assisted learning model and also includes an anti-bullying message. This year alone over 3000 students saw the show and a grand finale VIP show was held at the Charlottetown Arts Guild theatre. The participants learned life skills and pre-employment readiness skills – we are pleased to announce that all participants move into employment upon completion of the program.

Council addressing Access to Services

At the request of the Provincial Government, Council staff reviewed and gave feedback to the Department of Community Services on a handbook they are developing for their Social Services programs. Council staff assured that the information was in plain language and the content was not offensive or discriminatory. We look forward to seeing the final proof as we know it will be a helpful tool for Islanders who have to access services from the Department.

Meetings were also held with officials from Eastern College to ensure that they were making accommodations for students with disabilities. A review of their policy was completed and a strong partnership is being developed by Eastern College staff and the Council Employment Team to ensure that students with disabilities are receiving the support they need to be successful in acquiring post secondary educations.

We have also been holding meetings with the CEO of the Public Services Commission of PEI to address the systemic barriers that exist in the hiring of Islanders with disabilities to work for the Provincial Government. We are in the early stages but we now have a better understanding of the process and a commitment from the Commission to explore the issues and develop solutions.
---
NSLEO Works with Provincial Partners to Deliver Critical Information on Emergency Preparedness
In 2003, after Hurricane Juan tore through Nova Scotia, the disability community formed a partnership to address the need for specific information to prepare for an emergency. In January 2007, this committee published an emergency preparedness booklet entitled Are You Ready? – a guide for persons with disabilities to assist in preparing to survive in one's home for the first 72 hours of a disaster or emergency situation. The members of this committee include community-based disability specific and cross disability organizations, provincial and municipal EMOs, and provincial government departments.

The publication of this resource was to be followed up by the delivery of a provincial train-the-trainers program which was designed to teach instructors with disabilities the material contained within the booklet so they could deliver it to their disability-specific communities. Unfortunately, competing priorities on many levels delayed the delivery of this program. However, we are very pleased to announce that the committee will be moving forward with this component of the emergency preparedness plan in September of 2010.
This committee also feels strongly that the disability community has a critical role to play during an actual disaster. Not only can we facilitate emergency preparedness in the disability community, but we can also facilitate emergency response by and for persons with disabilities if an emergency happens. The committee is currently working with provincial and municipal emergency management organizations to establish an advisory role in the event of a disaster or emergency.
Partnership for Access Awareness Nova Scotia (PAANS) Increases Scholarship Awards
During our annual Access Awareness Week activities, one of our most prominent programs is the scholarships for students with disabilities. This program, in partnership with our generous sponsors, awards scholarships to students across the province entering post-secondary studies. Our sponsors include RBC Financial Group, Scotiabank, TD Canada Trust, Casino Nova Scotia and Casino Sydney, and Bell Aliant. Through their generous and ongoing support of this program, we were pleased to award 11 scholarships ranging in value from $1000.00 to $3000.00. This year, we welcomed two new sponsors, TD Canada Trust and Bell Aliant, and we were able to increase our awards by $4500.00. PAANS is thrilled to be able to support students with disabilities to pursue their educational goals, and we sincerely appreciate the partnership with our sponsors that makes this program such a success.
---
CREA's 4th Global Sexuality, Gender and Rights Institute: Exploring Theory and Practice

As the President of COD, I attended a residential course called CREA's 4th Global Sexuality, Gender and Rights Institute: Exploring Theory and Practice, June 12-19, 2010 in Istanbul, Turkey.

Creating Resources for Empowerment and Action (CREA) is an organization that envisions a just world, free of poverty, violence, discrimination, and inequality, where the human rights of all people, especially women, young people, and sexual minorities are recognized. CREA is based in New Delhi, India and works locally, regionally and internationally.

The thirty participants involved were women and men from all over the world interested in advancing human rights. This was the most intense learning experience I have had: I cannot express how powerful it was to hear such diverse perspectives and to realize that what I always believed to be true was challenged by others and then questioned by myself.

Janet Price, a disabled woman from the United Kingdom, presented for two days on issues concerning disability. You may notice I said a 'disabled woman' and that is how Janet wishes to be identified. She spoke of how in some parts of the world the disability communities identify themselves as 'disabled people or persons' because they believe society disables them from full access to a whole range of items non-disabled people may access. Janet acknowledged, as well, that other communities say 'persons with disabilities' to recognize the person first and disability second.

There are two different views - neither is right and neither is wrong. Likely there are other ways women and men with disabilities identify themselves in other parts of the world. The key is tolerance of differing points of view and understanding that other ways of speaking are just as valid as our way of speaking here in Canada.

Any questions about this please feel free to email me at:
mmurdoch@nl.rogers.com. Michelle
---
Annual Conference/AGM Sets Direction for AEBC
The 2010 AEBC Conference/AGM was held from May 21 to 23 in the heart of downtown Montreal. The weekend was kicked off on Friday evening with a thoughtful and impassioned keynote address by Anna MacQuarrie, Director of Government Relations and Strategic Initiatives with the Canadian Association for Community Living, on the UN Convention on the Rights of Persons with Disabilities. Attendees also enjoyed engaging workshops on human rights, using the media, technology, and access to library services.
Elections took place for four positions on AEBC's National Board, and the 2010 AEBC National Board is comprised of the following members:
Robin East - President, 1 year
John Rae - First Vice President, 2 years
Donna Jodhan - Second Vice President, 1 year remaining
Nancy Riley - Treasurer, 2 years
Marc Workman - Secretary, 1 year remaining
Charles Bailey - Director without Portfolio, 1 year remaining
Anthony Tibbs - Director without Portfolio, 2 years
Several important resolutions were debated and passed this year. Among them was a resolution endorsing AEBC's participation in a coalition of national organizations representing blind, deaf-blind, and partially-sighted rightsholders, and another resolution that established three priority issues for the National Board
website accessibility
access to library services
access to point-of-sale devices and
household products
For a list of all the resolutions passed this year, please visit http://www.blindcanadians.ca/governance/resolution_list.php?year=2010
Every year, AEBC bestows two awards; the CCD Award went to Irene Lambert of Montreal for her many years of active involvement in the disability rights movement, and the Volunteer of the Year Award was given to Richard Quan of Toronto for his leadership in building the Toronto Chapter.
Many parts of this year's conference were recorded, including the keynote address, the president's report, elections, resolutions, and several workshops. If you would like to receive a CD containing the recordings from this year's AGM, simply contact: info@blindcanadians.ca.
Much time was devoted to reviewing AEBC's past work, and developing AEBC's direction for the coming year. Four priority areas were identified and committees established to work on website access, library services, and access to household products and point of sale devices.
AEBC Supports Important Charter Case
Members of the AEBC were present when Donna Jodhan's important Charter case on website access was argued in Federal Court, September 21-23, and now we await the Judge's decision.
She's done asking, now she's fighting for equality

Prime Minister Stephen Harper's relationship with democracy has come under increasing scrutiny during his tenure. Little things like circumventing Parliament and Canadians' right to know come to mind.
You can add to that Ottawa's obstinate refusal to provide Canadians who are blind with equal, interactive access to government websites for everything from pensions to passports.
Thanks to a tech-savvy MBA who also happens to be blind, the issue will be aired in federal court, hopefully later this year.
The case, which will test this country's commitment to Charter rights for all citizens, including those with disabilities, is exactly the type of legal challenge that could go right up to the Supreme Court, costing taxpayers untold millions.
It's hard to understand why. Affordable technology to rectify the situation is readily available. And just two months ago, Canada ratified the United Nations Convention on the Rights of Persons with Disabilities, pledging equal, open access to everyone no matter how they move, communicate or process information.
Yet Ottawa seems determined.
The genesis of this case goes back more than a decade, when Donna Jodhan, who earned her MBA at McGill University, wanted to apply for jobs with Statistics Canada and other federal departments.
To her dismay, she found the online application process wasn't accessible to her because she is blind. When she repeatedly tried to point this out, she says she was rebuffed if not ignored.
Finally, she sought legal counsel.
Bakerlaw, a firm that specializes in human rights issues, took the case. But it wasn't the only entity with legal expertise that thought Jodhan's argument had merit.
She received funding from the Court Challenges Program of Canada, set up to help those who would not otherwise have the means to bring forward "important court cases that advance language and equality rights guaranteed under Canada's Constitution." (Stephen Harper would later cancel the Court Challenges Program, but not before it had agreed Jodhan's case fell within its mandate.)
In her suit against the government, she is not asking for any monetary compensation. She just wants Ottawa to work with technical experts and Canadians who are visually impaired to make sure that government application forms for jobs, pensions, passports and other key services are accessible.
"The way things are it's as if we just don't count, as if we're not important enough to bother with," she says. Yet a 2003 federal task force on access to information for print-disabled Canadians tallied the numbers at 3 million "or about 10 per cent of the population."
Also on board as an adviser for Jodhan in her court case is Jutta Treviranus, director of the University of Toronto's Adaptive Technology Resource Centre.
The real problem is not that the technology isn't readily available and affordable; it's that when it comes to interactive web technologies the government's road map is flawed, says Treviranus.
In the statement of facts it plans to present to the court, Ottawa says "the Treasury Board adopted internationally recognized web accessibility standards through the Common Look and Feel Standards for the Internet in May of 2000."
Sounds good on paper but Treviranus says the way those standards are written makes them counterproductive when it comes to designing interactive websites accessible to Canadians who are blind. A Treasury Board spokesperson declined to comment on the court case.
Jodhan started an online petition to Parliament asking it to ensure that all government websites are interactively accessible by Dec. 31 this year. (Go to www.petitiononline.com and search on GCWAP.) Online is the only accessible way for Canadians who are blind to participate. But she says she has been told the government will not accept online petitions.
Not my kind of democracy.
(Helen Henderson, The Toronto Star, May 8, 2010)
AEBC Spearheads National Organizations of Blindness Organizations
In September 2010 the National organizations of and for the Blind, Deaf-blind, and Partially Sighted officially agreed to form a coalition that would focus on common national issues. The name of this National voice of the blind is: Coalition of Blind Rights Holder Organizations of Canada (CBRC)

The purpose of this coalition is:
To bring organizations of blind, Deaf-blind, and partially Sighted people together to speak with a unified voice.
To create a strong and collective voice of blind, Deaf-Blind, and partially sighted rightsholders of Canada.
To advocate on issues of common concern to blind, Deaf-blind, and Partially Sighted people of all ages.
To communicate within the coalition the issues brought forward by the
Member and associate organizations of the Coalition.
To develop and implement a plan of action on issues chosen by the coalition.
A short list of priorities was approved and is listed below:
National Library
Point-of-sale devices
Access to household products
Website accessibility
Election accessibility
Quiet cars
CRTC
Sports Canada
Robin East of the Alliance for Equality of Blind Canadians was elected as the coalition's first Chair.
Founding Organizations:
AEBC -Alliance For Equality Of Blind Canadians
CBS - Canadian Blind Sports
CCB - Canadian Council Of the Blind
CNSDB - Canadian National Society Of The Deaf-Blind
GDUC - Guide Dog Users Of Canada
CNIB - Canadian National Institute For the Blind
AEBC Keeps Up the Heat on Accessible Elections
Blind man wants better voting tools
CBC news, May 13, 2010
A Saskatoon man is calling for a better system to allow people with a visual impairment to vote with certainty and secrecy, conditions he says are currently lacking at provincial election time.
Robin East, who is legally blind, says he has only two options to mark a ballot: have someone help him, or insert his ballot into a sleeve that has Braille on it, and hope his mark is correctly aligned.
"There's holes where the circles of the ballot would have where you mark," East said about the sleeve system. "You ... have to feel those holes and try to figure out which one you're at."
East says the system is open to mistakes.
"You hope that the ballot doesn't slip and so on and so forth," he said. "So there's all kinds of problems with that."
East says there are other systems that could be used in a provincial election.
He notes that the city of Saskatoon used a terminal called Automark in the 2009 civic vote.
"A machine takes the ballot ... I put on a pair of headphones, it reads out the information for me," East explained. "I know exactly which candidate I want to vote for [and] it marks the ballot for me."
The device also confirms the voter's selection.
"It prints it on the ballot, it spits it back out and then I can put it in the ballot box," East added. "So the technology is here. There's no reason to not allow this to occur."
Saskatchewan's Justice Minister, Don Morgan, said he wants to know more
about options for blind voters, and what different systems cost.
The next provincial election, the first on a pre-set date, will be Nov. 7, 2011.
AEBC Opposes Attach on Employment Equity
An Open Letter to the Right Honorable Stephen Harper:
Dear Prime Minister:
Re: Stop the Attack on Employment Equity
As Canadians who believe in a discrimination-free society, the Alliance for Equality of Blind Canadians is writing to express grave concerns regarding recent comments made by the Hon. Stockwell Day, President of the Treasury Board, who insinuated that the Federal Employment Equity program is barring qualified Canadians from job opportunities in the federal public service.
We are equally dismayed by similar comments made by the Hon. Jason Kenney, Minister of Citizenship, Immigration and Multiculturalism, who stated that all Canadians should have an equal opportunity to work for their government based on merit, regardless of race or ethnicity, as if to suggest that unmerited candidates from equity seeking groups are taking over all the jobs of qualified white candidates, thanks to the Federal Employment Equity measures. If this were truly the case, statistics would tell us that whites are no longer being hired by the federal public service. No one has had the gall to suggest this.
The truth, as you are well aware, is the opposite. Employment equity programs are designed to foster merit-based hiring by helping to remove barriers to employment. All too often, qualified candidates from racialized communities do not get hired because of their race or ethnicity, and the representation rate for persons with disabilities remains far, far below our percentage of the population.
The government's own latest figures show more women, First Nations peoples and visible minorities worked in the public service last year than the year before, but the number of people with disabilities stayed the same.
As of March 2009, women made up 54.7 per cent of the federal workforce,First Nations peoples made up 4.5 per cent, visible minorities made up 9.8 per cent, and people with disabilities made up 5.9 per cent. Yet the percentage of people with disabilities in the population as a whole is about 14%.
The current legislative framework that supports employment in the federal public service is found in the Employment Equity Act, 1995, in s. 15 (2) of the Canadian Charter of Rights and Freedoms, and in provincial human rights legislation and policies. The purpose of this framework is to ameliorate the historical and current marginalization of members of designated groups – not only in hiring practices, but also in promotion and retention practices as well.
Yet nearly 25 years since the Employment Equity Act was first put in place, serious under-representation continues of workers from the Aboriginal communities, visible minorities, women, and people with disabilities in all levels of the federal public service, the single largest employer in Canada.

Contrary to the Ministers' assertion, employment equity has helped, but much more is needed to bring more persons with disabilities into the public service of Canada and other workplaces across the country.
What new steps is your Government contemplating, to assist us out of the chronic level of poverty that is the lived experience of far too many Canadians with disabilities?
We need new programs targeted at increasing our level of workplace representation.
The AEBC, as a consumer organization of rightsholders, is anxious to
participate in any such discussions.
Yours truly,
Robin East
President, AEBC

Celebrating Us!
By John Rae
Notes for an address at the 7th Annual Simply People celebration at Nathan Phillips Square, Toronto, Tuesday, July 20, 2010.
Tonight is for us, and about us! Tonight is a time for us to celebrate our accomplishments and to redouble our efforts to bring about true equality for all persons with disabilities in Canada and around the world.
This year, Canadians with disabilities are celebrating Canada's ratification of the UN Convention on the Rights of Persons with Disabilities (CRPD). While it may not provide us with a lot of new rights, it sets out in far greater detail than any human rights code or the Charter of Rights and Freedoms ever did what a truly accessible and inclusive Canada can look like, in important areas of life that are critical to our participation in the economic, political, cultural and social life of our communities - transportation, employment, education, communications, access to information, etc. The Convention also requires Canada to collect and disseminate data and to submit a comprehensive report to the Secretary-General of the United Nations within two years after ratification and every four years thereafter on measures taken, and civil society is to be directly involved in the development of these reports. This means involving us!
The development of this Convention traveled a unique path. It took the least amount of time of any UN Convention to be concluded, and it involved far more participation from civil society than ever before. That means involvement by us, and many groups representing persons with disabilities participated actively in the negotiations at the UN that resulted in this Convention. There are important lessons to be learned from having this kind of direct participation in developing any new initiative that directly affects our lives.
Last year, the President of the Alliance for Equality of Blind Canadians, Robin East, developed a new way of addressing our needs and aspirations. He coined the new phrase, "rightsholders." We are Rightsholders! What does he mean?
Too often, governments like to lump all of us, consumers, parents, service providers, etc. under the same umbrella of "stakeholders," and while all of these groups may very well have a "stake" in the outcome of a new piece of legislation, policy or program, we are the ones most affected. We are different, and must see ourselves as "rightsholders," and not just another group of mere stakeholders. What this means is that we must occupy the primary and preeminent place at any table that is discussing anything that directly impacts our quality of life.
You are all familiar with the favorite phrase of the disability rights movement, "Nothing about us without us!" Now that Canada has ratified the UN Convention, it is critical that we rights holders participate as directly in its implementation as we did in its design, to ensure that it makes a tangible difference in the lives of all Canadians with disabilities, to make it become Canada's national disabilities Act.

By contrast, the much heralded Accessibility for Ontarians with Disabilities Act (AODA) continues to move at a snail's pace. After over five years, only one of the initial five accessibility standards has been issued as a regulation, though more are expected later this year. It is hard to imagine that Ontario is even close to being on track to achieve full accessibility by the far off date of 2025, and it is hoped that Canada's ratification of the UN Convention will spur some renewed commitment and action to the AODA.
It is too often argued by representatives from governments and the obligated sectors that they "would like to do the things we want and need, but these changes will simply cost too much." We have countered that the real barriers are not cost, but a lack of political will and a question of priorities.
The Ontario Human Rights Code has covered persons with various disabilities since 1982. Governments, the public and private sectors have had over 25 years to make their premises, websites, products and programs fully accessible. How much more time do they need? If they have ignored their responsibilities and dragged their feet over all these years, stop blaming us - stop blaming the victims. It's simply not our fault.

After the preposterous expenditure of an estimated 1.3 billion (that's billion) on security for the G-8 and G-20 Summits, and countless millions of dollars on our involvement in the war in Afghanistan, persons with disabilities never want to hear the cost excuse ever again ... never again! Resources are not unlimited, but whenever a government really wants to do something, it seems to magically find a way to finance its priorities.
So what am I asking you to do?
Write letters to the Editor of your local newspaper, raising disability issues;
Ask all candidates for Mayor and Council in the upcoming municipal election about their platforms, and what they commit to do to advance our agenda;
Get more involved in the disability rights movement. Join a group like the Alliance for Equality of Blind Canadians (AEBC), Citizens With Disabilities Ontario (CDWO) and sign up to receive updates from the Accessibility for Ontarians with Disabilities Act alliance, or find the consumer organization in your area that best represents your issues and ideas.
In closing, I want to mention just one more point. Many of us who have been on the front lines, in the leadership of our movement for many, many years are getting old and growing tired. We need you to get more involved. We need your energy, skills and new ideas. We cannot expect the system to hand us our rightful place, our history teaches us that it rarely does! Moving our agenda and achieving our goals is up to us. We must make it happen.
Some of you will be familiar with the phrase "Full Participation and Equality." It's an excellent phrase. It's not a new phrase. It was the theme of the International Year of the Disabled Person (IYDP) way back in 1981.
Since then, we have come a part of the way up this road, but we still have far, too far to travel. Today, we seek legislation and new programs that will lead to that elusive goal, but today we must spend far too much of our time preventing the introduction of new barriers.
It's time governments, the private and public sectors recognized our value, and commit to work with us to realize the IYDP motto.
We want our rights. When do we want them? Now!

---

CAD Update
By Doug Momotiuk, President
CAD wrote a letter of support about the concerns on non-qualified ASL-English interpreters hired by the Ministry of Attorney General in the Province of Ontario, in which we strongly recommended that it requires a skill screening, and hiring appropriate qualified interpreters who specialize in legal area.
I attended the Association of Visual Language Interpreters of Canada (AVLIC) Conference in Ottawa where I gave the presentation and greetings for the Joint Agreement that was signed by Canadian Association of the Deaf, Canadian Cultural Society of the Deaf, and AVLIC at the special historical event. This following meeting was taken to discuss several issues including the need of community interpreters and education settings for the qualified interpreters.
We had the CAD's Leadership Forum and Annual General Meeting in Vancouver, BC on July 12-13, 2010. We thanked Sarah Hrycenko, chairperson and her team of committees and volunteers for having their successful host of the recent Deaf Canada Conference on July 12-17, 2010 in Vancouver. Everyone enjoyed seeing the heritage and diversity of Deaf people and speeches / workshops that were matched to "In Solidarity, We Act".
On July 20th, 2010 in Vancouver, there was the audience of nearly 800 delegates from around the world at the International Congress of Educators of the Deaf (ICED). At this opening ceremony, they witnessed that the agreement, New Era of Collaboration was signed by four representatives; Claire Anderson of ICED, Doug Momotiuk of CAD, Markku Jokinen of World Federation of the Deaf, and Wayne Sinclair of BC Deaf Community. The agreement rejects the Milan 1880 resolutions which banned the use of sign language in educational programs for deaf children; expresses ICED's regret at the damage; accept & respect all languages including Sign languages and all forms of communication.
Hon. Dr. Darin King, Minister of Education, announced the closure of Newfoundland School of the Deaf (NSD). It violates both the UN Convention and the ICED's New Era Agreement, both of which confirm the need of Deaf schools and education in Sign language. The CAD wrote the open letter that we strongly requested to urge the Government of Newfoundland and Labrador to take immediate actions to reserve the decision on the closure of the NSD
The CAD provided the 5 points including recognition and promotion of the use of Sign languages (ASL & LSQ); affirmation of the Deaf children to Sign language in education to their own Deaf schools; implementation of Video Relay Service (VRS) to ensure wider accessibility to interpreting services. They were distributed to the provinces across Canada during the Deaf Awareness Week, the third week of September.
---
DisabilityAwards.ca
DisabilityAwards.ca is your portal to awards and scholarships for students with disabilities studying at Canada's colleges and universities.
You can register to search through our extensive database of scholarships, bursaries and grants you are specifically eligible for. Once you have created a profile, you will be able to perform tailored searches, save awards, and receive notifications of new awards. You will also find information on government student loans and grants organized by province.