Act Now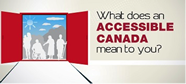 Empower U: Learn to Access Your Disability Rights Training on Canadian Human Rights, the Convention on the Rights of Persons with Disabilities (CRPD) and its Optional Protocol (OP) training aims to increase awareness of how to address discrimination using more familiar Canadian human rights laws such as Human Rights Codes and the newer international Convention on the Rights of Persons with Disabilities (CRPD). This is training for persons with disabilities by persons with disabilities. The training is part of a project funded by Employment and Social Development Canada and implemented by the Council of Canadians with Disabilities (CCD) in collaboration with Canadian Multicultural Disability Centre Inc. (CMDCI), Citizens With Disabilities – Ontario (CWDO), Manitoba League of Persons with Disabilities (MLPD) and National Educational Association of Disabled Students (NEADS). Read more.
Sign Up for our monthly digest
A monthly newsletter from CCD about what is happening in the community
A Voice of Our Own: Fall 2012
On the CCD Agenda:

Member Group Updates:

On the CCD Agenda:
On November 9, 2012, the Supreme Court of Canada (SCC) handed down a landmark decision on disability rights. CCD intervened in the BC Court of Appeal and the SCC. The Moore case says that students with disabilities are entitled to receive the accommodation measures they need to access and benefit from the service of public education. The Moore decision is an important victory for CCD. Moore (SCC) reaffirms that human rights law requires service providers to make their services accessible to persons with disabilities. This means that where a barrier is identified, the service provider must provide accommodation to overcome that barrier, unless to do so would cause an undue hardship. Our challenge is to turn these important court decisions into positive results in the daily lives of persons with disabilities. Read more.
Member Group Updates:
35th Anniversary
In 2012, BCCPD is celebrating our 35th year. Our founding was rooted in the principle of "nothing about us without us." We have grown and changed as all groups must if they are to survive. In 1977, our founding mission statement was to "be a representative of BC's disabled; to push for changes in co-operation with our government, and to educate the public as to our abilities as well as clarifying our disabilities." Today it's "to support people with all disabilities to live with dignity, independence and as equal and full participants in society." We're also more service-oriented and, through our Advocacy Access program alone, we assist hundreds of people with disabilities every year to obtain supports. We've learned the importance of building community through working closely with other organizations. It's a very different world now than when the BCCPD was founded 35 years ago. How different will we be in the next 35 years? What programs and projects will we operate? How will we be funded? It's hard to imagine, but one thing we can be sure of is that the BCCPD will continue to be rooted in the ideal of "nothing about us without us." And, we'll continue to work together with our community partners to expand our horizons and our effectiveness. Read more about BCCPD.
Awareness Campaign
ACCD has started an awareness campaign about the barriers Albertans with disabilities face in accessing medical and diagnostic health services, as many doctor's offices, diagnostic clinics, and medical equipment are not accessible. We formulated 7 key messages for our awareness campaign:
Education and training should be provided to doctors and other healthcare professionals about people with disabilities and disability-related issues.
Increased collaboration between doctors, people with disabilities, and the health care system to find solutions to accessible health and medical services for people with disabilities.
The Alberta Family Care Clinics and Primary Care Networks must be accessible to Albertans with disabilities.
Only accessible medical equipment should be purchased for the benefit of all Albertans.
Doctors' offices, diagnostic clinics, and medical equipment should be included in the Alberta Building Code.
The College of Physicians and Surgeons' Standards of Professional Behavior and Good Practice Expected of Alberta Physicians should include a duty to accommodate standard.
The Government of Alberta should fund only services that are accessible to all Albertans, including people with disabilities.
By September 30, 2012, ACCD had presented to over 15 MLAs who agreed that Albertans with disabilities should have access to health and medical services. The meetings with MLAs will be continued as our goal is to meet with at least 50% of Alberta's MLAs. Read more about the ACCD.
Girl Power/YES
SVOPD wrapped up the last of our Girl Power/YES camps under the current funding last July with the 14th camp for young men and women with disabilities. There is much need for them still and, as funding permits, we will be offering them again ASAP.
Voice Works on SAID
We have continued to work with the government to bring in the new SAID (Saskatchewan Assured Income for Disabilities) program. Presently 7500 Saskatchewan residents of the province have been enrolled into the program and are receiving an average increase of $200 per month compared to when they were on assistance. This, in conjunction, with the dignity of the new program, are such positive and encouraging steps. Read more about SVOPD.
Provincial Coordinator's Report
Five MLPD committees are now meeting. The latest two committees to become active are the Fundraising Committee, co-chaired by Jess Turner and Shayani Fernando, and the Employment and Income Security Committee chaired by Daniel Halechko.
In November, MLPD met with Peter Bjornson, Minister of Entrepreneurship, Training & Trade to present him with the recommendations from the Poverty and People with Disabilities Workshop.
For the Primary Health Care Project, MLPD held five focus groups to hear consumers' stories about the primary health care system and how it is serving their needs as people with disabilities. We also sent out our Primary Health Care Survey. Currently, Dr. Nancy Hansen from the University of Manitoba and I are compiling the final report for Manitoba Health concerning how the needs of people with disabilities are being met. ~ Diane Driedger Read more about MLPD.
Connect with CWDO
CWDO actively promotes the rights, freedoms and responsibilities of persons with disabilities through community development, social action, and member support and referral. Our primary activity is public education and awareness about the social and physical barriers that prevent the full inclusion of persons with disabilities in Ontario. Follow CWDO on Twitter . Join the CWDO community on Facebook. Read more about CWD-O.
Caucus Presentation
NS LEO's Annual Presentation and Recommendations to the Nova Scotia provincial caucus identifies priority areas where improvements are needed to build an accessible and inclusive Nova Scotia. The priorities are: a Nova Scotia Disability Strategy, Employment Support and Income Assistance Regulations (ESIA), Employment, Housing, Equipment, Hospital Bed Shortages for Home Use, Elections Nova Scotia. Read more.
Afterthoughts-a film on Accessibility
COD-NL released "Afterthoughts-a film on Accessibility", which documents barriers preventing people with disabilities accessing public buildings and parking lots. Michelle Murdoch, President of COD-NL says "Accessibility is a very important part of the inclusion of people with disabilities. An accessible barrier free environment is the first step towards fulfilling the right of people with disabilities to participate in all areas of community life". View the film on YouTube at Part 1 and Part 2 .
Provincial Strategy
This year, the Government of Newfoundland and Labrador released its provincial strategy, "Access, Inclusion, Equality", which Premier Kathy Dunderdale said "was one of the most important and transformative initiatives we have undertaken". Strategic Direction # 3 of the Strategy is Accessibility for All in the Built Environment. COD-NL has been pushing the Newfoundland and Labrador government to strengthen the Building Accessibility Act by modernizing and enhancing provincial building standards to improve accessibility for all, regardless of their physical abilities. Read more about COD-NL.
NEADS Receives Funding from the Government of Canada to Hold Employment Forums in BC
NEADS entered into a contribution agreement with the Government of Canada in British Columbia to hold three, one-day "Strategies to Employment" Forums in Victoria, Vancouver and Kelowna during the 2012-13 academic year. This project is funded, in part, by the Government of Canada's Youth Awareness program, with just over $78,000 to support the costs of planning and implementing these events. The employment forums will be held in Victoria on October 13th at the Victoria Marriott Inner Harbour, in Vancouver on November 9th at the Hilton Vancouver Metrotown and in Kelowna in February or March, 2013 – location and date to be confirmed. Read more about NEADS.
AGM Report
The National Network for Mental Health (NNMH) held its 2011/2012 Annual General Meeting (AGM) on Thursday, September 20, 2012 via teleconference and webcast. Check out the Annual Report and read more about NNMH.
Self-advocates Receive Queen Elizabeth II Diamond Jubilee Medals
Congratulations to the medalists: Catherine Fortier, Quebec; Shane Haddad, Saskatchewan; Jean-Claude Jalbert, New Brunswick; Aaron McGowan, Yukon; Peter Park, Ontario; Richard Ruston, Ontario; Roy Skoreyko, Alberta; Gail St. Croix, Newfoundland and Labrador; David Weremy, Manitoba; Paul Young, Nova Scotia; Heidi Mallett, PEI. Read more about People First of Canada.
50th Anniversary
2012 is an important anniversary for TVAC, because 50 years ago the thalidomide tragedy occurred. Thalidomide in pill form became available in Canada in late 1959 and was licensed for prescription use on April 1, 1961. Although Thalidomide was taken off the market in West Germany and the United Kingdom by December 2, 1961, it remained legally available in Canada until March 2, 1962, a full three months later. It was still available in some Canadian pharmacies until mid-May 1962! In her commentary Theresa Vachon, TVAC President, states, "At the dawn of their 50th anniversaries, the Canadian Thalidomide survivors are facing important challenges, such as premature physical degeneration, loss of autonomy, the appearance of new functional limitations, increasing need for accompanying services, specialized technical aide, remaining employed, just to name a few. …TVAC work[s] with heart and assiduity to address these challenges with the goal of ensuring a quality of life for the members. " Read more about TVAC.