Act Now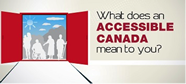 Empower U: Learn to Access Your Disability Rights Training on Canadian Human Rights, the Convention on the Rights of Persons with Disabilities (CRPD) and its Optional Protocol (OP) training aims to increase awareness of how to address discrimination using more familiar Canadian human rights laws such as Human Rights Codes and the newer international Convention on the Rights of Persons with Disabilities (CRPD). This is training for persons with disabilities by persons with disabilities. The training is part of a project funded by Employment and Social Development Canada and implemented by the Council of Canadians with Disabilities (CCD) in collaboration with Canadian Multicultural Disability Centre Inc. (CMDCI), Citizens With Disabilities – Ontario (CWDO), Manitoba League of Persons with Disabilities (MLPD) and National Educational Association of Disabled Students (NEADS). Read more.
Sign Up for our monthly digest
A monthly newsletter from CCD about what is happening in the community
CCD A Voice of Our Own - Spring 2013
On The CCD Agenda
CCD and DAWN–RAFH Co-present to Finance Committee about Bill C-462
On 7 May 2013, Carmela Hutchison, representing both DAWN-RAFH Canada and CCD, was called as a witness by the House of Commons Finance Committee regarding Bill C-462, An Act restricting the fees charged by promoters of the Disability Tax Credit and making consequential amendments to the Tax Court of Canada Act. During her presentation, Carmela commented that CCD and DAWN support the intent of Bill C-462 and agree that people with disabilities should have their rightful entitlement protected from unfair fees charged by financial promoters. "Disability Tax Credit eligibility is a critical issue for people with disabilities as it has become the gate for determining eligibility for a variety of benefits. Thus, we must ensure unencumbered and fair access," said Carmela.
During her presentation, Carmela drew the MPs' attention to DAWN-RAFH's/CCD's recommendation that "…the Government of Canada …negotiate a fair fee for completion of the forms."
Carmela also noted that "CCD and DAWN are very concerned with the need to protect people from exploitation and outright financial abuse."
DAWN-RAFH has recently launched a great new accessible web site. Read more about DAWN-RAFH.
Toujours Vivant-Not Dead Yet (A project of CCD)
Suicide Celebration Instead Of Suicide Prevention
By Amy Hasbrouck, of Toujours Vivant-Not Dead Yet
23 April 2013 - Sue Griffiths of Winnipeg, MB is the latest person to publicize her desire for assisted suicide, and to have her efforts celebrated by the press.
Her plea for parliament to re-open the assisted suicide question was widely reported as she prepared to go to Dignitas, a clinic in Switzerland that helps people kill themselves.
Ms. Griffiths has Multiple Systems Atrophy, a degenerative neurological condition which causes pain in about half the people who have it. Photos show her standing, walking and using her hands; she is certainly not a person who is "physically unable to commit suicide without help." She is described as a person who is in charge of her life, but she apparently wants to have someone else take charge of her death.
The reasons she gives for wanting to kill herself are related to disability, needing help with personal care and other daily activities, having to use adaptive equipment, losing independence. The subtext is that, as a person with a disability, she believes she will be less worthy, less dignified, less than fully human.
In point of fact, disability is NOT a fate worse than death. When people become disabled, they must grieve the loss of abilities they had, just as a parent might grieve the loss of a child, or one grieves the loss of one's home after a natural disaster. But no one would suggest it's a good idea for the bereaved parent or survivor of a natural disaster to commit suicide, much less that s/he be helped to die.
We have a policy to prevent suicides, and rightfully so. We apply this policy to people whose despair arises from social as well as psychological stresses; bullied adolescents, LGBT people who've been persecuted, Aboriginal people struggling with poverty and loss of cultural heritage, and survivors of domestic violence. People with disabilities who lack services and supports to live in their homes and be integrated in their communities face the same discrimination and social stressors. Suicide prevention policies and services should be applied equally to disabled and non-disabled people, without bias or prejudice about the quality of life with a disability. And society must begin to address the underlying discrimination and stigma that create the conditions in which people with disabilities live.
We should really be asking: Why is no one trying to stop Susan Griffiths from committing suicide? Does the media orgy around Griffiths story mean that we believe the everyday realities of living with a disability are reason enough to get help to die? And should the media rise to the bait every time a person with a disability flaunts their suicide in the public square.
Updates about CCD Member Groups
BC Coalition of People with Disabilities
In BC: Supporting Increased Participation for People with Disabilities and an Annual Earnings Exemption for Provincial Disability Benefits Recipients
By Jane Dyson
The BC Coalition of People with Disabilities (BCCPD) has, for the past year, been meeting with senior staff of the Ministry of Social Development, the BC ministry with jurisdiction over provincial disability benefits. Four other community organizations have also been participating in these meetings: Canadian Mental Health Association - BC Division (CMHA-BC), Community Legal Assistance Society (CLAS), Inclusion BC (formerly the BC Association for Community Living - BCACL) and the Social Planning and Research Council of BC (SPARC - BC).
This community-government partnership is called the Supporting Increased Participation (table) for people with disabilities, or SIP. Our SIP meetings have been very productive and we believe they are an excellent model for government and community relations in which all stakeholders communicate in an open way to share information and problem solve.
In BC, people who receive provincial disability benefits – the Persons with Disabilities benefit (PWD) – are entitled to an $800 monthly earnings exemption. This is the amount PWD recipients may earn through working each month without losing any of their benefits. We have been proposing for some time that the PWD earnings exemption be calculated annually, rather than monthly. We believe this change will provide PWD recipients with more flexibility and may enable more people to work, or to work more. An annual earnings exemption model, for example, would be particularly beneficial to people with episodic conditions such as Fibromyalgia or Bi-Polar disorder who may be able to work more hours for a relatively short period of time, but who, with the monthly system, see their income clawed back if they do so.
In June 2012, the Province announced the introduction of an Annual Earnings Exemption (AEE) system. As far as we can tell, this is the first time it has been introduced in North America. The only other jurisdiction we could find with a similar model was Australia. (Canada Pension Plan Disability has an annual amount that recipients may earn, but we are referring to provincial/state systems rather than federal). Because this annual model is the first of its kind, government in consultation with SIP implemented a pilot for the first year in which PWD recipients who had previously reported higher earnings were invited to participate. The pilot started in January 2013. SIP is working with the Ministry to determine how the new system is working in preparation for its full implementation next year.
We are encouraged by the number of PWD recipients who have chosen to pilot the AEE and by the Province's introduction of this progressive policy which we believe will help increase the participation of people with disabilities in the community. The SIP table continues to meet regularly to discuss provincial disability benefits and we are hopeful this partnership will result in the introduction of more positive policy changes in the future.
Read more about BCCPD.
Alberta Committee of Citizens with Disabilities
Design Characteristics of an Optimal Doctor's Office
The Alberta Committee of Citizens with Disabilities (ACCD) is carrying out a joint research project with the Interdisciplinary Health Research Academy at the University of Alberta to identify design characteristics of an optimal doctor's office, diagnostic clinic, and medical equipment.
Barrier-Free Health Website
ACCD's Barrier-Free Health and Medical Services Campaign website – barrierfreehealth.ca – is available to promote barrier-free health services in Alberta.
Barrier-Free Design in Alberta
The Alberta Disabilities Forum Barrier-Free Design working group completed a position paper titled, Barrier-Free Design in Alberta: Summary of the Issues, available at www.adforum.ca.
ACCD Celebrates 40 Years of Success!
ACCD came into existence forty years ago to provide the voice of persons with disabilities who wanted to be equal citizens and gain control over their lives.
Government's New Roadmap for Change
The Government of Alberta has launched Alberta's Social Policy Framework which will direct the future of Alberta's social policy and programs. Visit www.socialpolicy.alberta.ca for more information.
Premier Alison Redford Attends Alberta Disabilities Forum Meeting
Premier Alison Redford was one of the guest speakers at ADF's general forum meeting in March.
Ron Wickman 2012 CCD Award Winner
Ron is an Edmonton-based licensed architect who has expertise in barrier-free design for housing that accommodates the needs of people with disabilities.
Read more about ACCD.
Saskatchewan Voice of People with Disabilities
Awareness and Education
The Saskatchewan Voice of People with Disabilities (SVOPD) has been working on awareness and education these past few months, networking and giving seminars/workshops on issues that are important to people with disabilities in our work towards positive social change within the province.
We continue to update our social media to keep our clients and friends apprised of trending issues in disability. We have a Pinterest, Instagram, Facebook, Twitter, YouTube, FourSquare and Flickr to connect with our consumers on. We are continuing to seek funding and plan for summer and hosting more of our Youth Empowerment Camps for young women and men with disabilities.
Here are our links:
Pinterest: http://pinterest.com/SVOPD/
Instagram: http://pinterest.com/SVOPD/
Facebook: https://www.facebook.com/SaskVoice
Twitter: https://twitter.com/SVOPD
YouTube: http://www.youtube.com/user/SaskVoice
FourSquare: https://foursquare.com/svopd
Flickr: http://www.flickr.com/photos/svopd
Read more about SVOPD.
Manitoba League of Persons with Disabilities (MLPD)
Closing the Gap, Disability Rights Pendant
Hilary Druxman, a Winnipeg designer, has created the "Closing the Gap" disability rights pendant for the MLPD and the DisAbled Women's Network (DAWN) Manitoba as a fundraising tool.
"This simple, but meaningful pendant represents closing the gap of understanding between people with disabilities and the non-disabled world," said Diane Driedger, MLPD's Provincial Coordinator. The pendants can be purchased online at hilarydruxman.com.
Read more about the MLPD.
Citizens with Disabilities-Ontario (CWDO)
CWDO 7th Annual General Meeting 2013
CWDO will be holding its 7th Annual General Meeting (AGM) on 17 June 2013, beginning at 7:30 p.m. in Auditorium 1, IDEAL, Online Conference Centre. At the AGM, CWDO will provide a report on its accomplishments for the past year, review its annual financial report and elect directors.
Read more about CWDO.
Nova Scotia League for Equal Opportunities (NSLEO)
NSLEO Public Forum, 16 March 2013 (Stellarton, NS)
On 16 March 2013, NSLEO held a public forum in Stellarton, NS which provided an opportunity for approximately 50 members of the disability community to identify issues of concern. NSLEO asked participants: What does an accessible community look like, what are the constraints and challenges and what needs to change? Participants identified affordable, accessible housing, accessible public transportation, employment and improved attitudes about disability as key components of inclusive communities. Following the public meeting, the NSLEO Team met to address the recommendations from the public meeting.
Read more about NSLEO.
PEI Council of People with Disabilities
A New Service for Rural Youth with Disabilities on PEI
The PEI Council of People with Disabilities has introduced a Pilot program in partnership with Service Canada, 'Employability: Essential Skills Boot Camp', designed to provide a tangible service for youth living in isolation in rural areas and who have previously had little or no access to employment services or educational opportunities that are available in the bigger centers. The program is intended to help those who have progressed through the school system but have not found employment since, or entered into post secondary education with the result that any essential skills they did gain in school are long forgotten or are outdated. This program identifies the essential skills the individual lacks and either re-introduces and trains the individual or refers them on to a professional who can. The duration of the program will depend on the participants' requirements. This is an entirely new program concept, developed specifically to redress this emerging problem of a lack of essential skills by identifying the skills needed to gain employment.
Project Objectives
As a result of the success of the PEI Council of People with Disabilities (PEICOD) Youth Awareness Project administered during March through September 2012, a similar project was carried out in Prince County.
The purpose of the project was to identify employers' perceptions about accommodating persons with disabilities in the workplace; to examine why the participation rates are so low; and to identify what supports could be put in place to encourage employers to consider this untapped labour pool.
The project was a success. It was implemented and evaluated over a 12-week period from January 7th 2013 to March 31st 2013. Over 200 employers and service groups were contacted. 7 presentations and 38 surveys were completed by employers and 60 participants attended the March 8th Youth /Employer Forum in Summerside.
Read more about the Council.
Coalition of Persons with Disabilities–Newfoundland and Labrador
Scholarship Program
The Coalition of Persons with Disabilities – Newfoundland and Labrador (COD-NL), in partnership with Scotiabank will provide one $1000.00 scholarship to a high school student, with a disability who will be entering a post-secondary program in September 2013.
Scholarship candidates must:
Be graduating from high school and entering post-secondary.
Be a Canadian citizen with a disability.
Be entering a Canadian post-secondary institution.
Not be related to a member of the COD-NL Board of Directors.
The Scholarship Program is administered by a Selection Committee, comprised of representatives from the COD-NL Board of Directors, Scotiabank and other disability community partners. The criteria considered in awarding the scholarship include the academic achievements of the candidate, their level of community engagement, and a well-defined career path and career goals.
The scholarship will be awarded to the successful candidate in September, upon receipt of proof of registration from the appropriate post-secondary institution.
Application forms may be obtained from: Coalition of Persons with Disabilities–Newfoundland and Labrador.
Read more about COD-NL.
NWT Disability Council
2013 First Annual Grand Prix – Soap Box Races
Racing Age Brackets -6-7 years, 8-10 years, and 11-12 years.
Each slot is $150.00 and includes the soap box kit, registration, and a t-shirt. Due to demand, slots are on a first come –first serve basis and all slots sold out in the first 48 hours. However, there is still opportunity for people to volunteer or become an event sponsor.
Race date: Sunday, 9 June 2013. Races to take place all day from 9:00 am until 5:00 pm. Go to www.nwtability.ca for details.
Read more about the Council.
Alliance for Equality of Blind Canadians
AEBC's New Board of Directors
The Alliance for Equality of Blind Canadians' (AEBC) 2013 conference and annual general meeting were held in Toronto, April 26th to 28th, 2013. At the AGM, the following positions were available for election to the board: President; 2nd Vice-President; Secretary; and Director (2 years).
The new 2013-2014 AEBC board is as follows:
President: Anthony Tibbs (2 years)
1st Vice-President: Lui Greco (1 year remaining)
2nd Vice-President: Donna Jodhan (2 years)
Treasurer: Charles Bailey (1 year remaining)
Secretary: Dar Wournell (2 years)
Director Without Portfolio: Stephen Ricci (1 year remaining)
Director Without Portfolio: Sharlyn Ayotte (2 years)
Read more about AEBC.
National Educational Association of Disabled Students (NEADS)
Donate Now to Support NEADS National Scholarship programs for Students with Disabilities!
The NEADS National Student Awards Program ($3,000 award) and the Holly Bartlett Memorial Award ($1,000 award) recognize outstanding Canadian college and university students with disabilities for their academic and community achievements, and their potential to succeed in their chosen career. The programs have awarded 57 tuition scholarships to deserving college and university students with disabilities over the past six years. Please help us support full access to education for students with disabilities in Canada by donating to these awards online now: Any level of donation can make a difference.
Read more about NEADS.
National Network for Mental Health
Highlights of Work by NNMH
The National Network for Mental Health (NNMH) has had much success over the years. Here are some of the highlights and outcomes of the NNMH, worked on diligently over the years by its staff, volunteers and Boards of Directors:
Facilitated and supported the establishment and growth of consumer networks across the country.
The NNMH demonstrated strong advocacy around stigma and discrimination. Also, the NNMH advocated the need for a mental health strategy in Canada.
The NNMH was instrumental in leading a call to action for the implementation of the Mental Health Commission of Canada (MHCC). The NNMH provided support on a number of levels that included: website development, consultation, networking, etc. accomplished through: fee for service contracts, cross pollination of leadership, communication with our constituency about MHCC activities, and through consultation.
Read more about NNMH.
People First of Canada
A Return to Community
On 11 March 2013, the Alberta government announced the closure of the North and South facilities at Michener Centre, a residential facility for people with developmental disabilities located in Red Deer and operated by the Persons with Developmental Disabilities (PDD) Central Region Community Board.
The announcement by the Honourable Frank Oberle, Associate Minister of Services for Persons with Disabilities, confirmed recognition by the government of Alberta that all people, including those with developmental disabilities, have a right to live and be included in community. The Canadian Association for Community Living (CACL) and People First of Canada (PFC) applauded the announcement. The remaining 125 individuals at Michener Centre take their rightful place within community.
"The closure of Michener Centre brings this country one step closer to ensuring that all people are supported to exercise their right to live in community," stated Shane Haddad, President of PFC. "I commend the Alberta government for doing the right thing. People belong in community – not institutions!"
"As a member, and former Co-chair, of the CACL PFC Task Force on the Right to Live in Community, I congratulate the government of Alberta for this decision," said Norm McLeod. "Further, as an Albertan, I am very proud that we, as a province, have finally indicated that institutions will no longer play a role in the lives of persons with intellectual disabilities."
Read more about PFC.