Act Now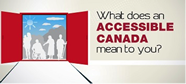 Empower U: Learn to Access Your Disability Rights Training on Canadian Human Rights, the Convention on the Rights of Persons with Disabilities (CRPD) and its Optional Protocol (OP) training aims to increase awareness of how to address discrimination using more familiar Canadian human rights laws such as Human Rights Codes and the newer international Convention on the Rights of Persons with Disabilities (CRPD). This is training for persons with disabilities by persons with disabilities. The training is part of a project funded by Employment and Social Development Canada and implemented by the Council of Canadians with Disabilities (CCD) in collaboration with Canadian Multicultural Disability Centre Inc. (CMDCI), Citizens With Disabilities – Ontario (CWDO), Manitoba League of Persons with Disabilities (MLPD) and National Educational Association of Disabled Students (NEADS). Read more.
Sign Up for our monthly digest
A monthly newsletter from CCD about what is happening in the community
CCD Voice of Our Own - Spring 2014
On the CCD Agenda
Jim Flaherty Champion of Canadians with Disabilities Dies
Conservative Plan for 2014 Takes Action on Employment for Persons with Disabilities
Steven Fletcher Is Wrong: Assisted Suicide Not A Form of Love
The disability community in Canada has lost a true champion with the death of the Hon. Jim Flaherty. CCD extends our condolences to his family. As one of Canada's longest serving Ministers of Finance Jim Flaherty never forgot or ignored the needs of Canadians with disabilities. Even during the most difficult of economic times in 2008, Minister Flaherty kept disability issues on the agenda and he continued to move forward initiatives that would address the disproportionate poverty of Canadians with disabilities. He will be missed in our community. He made a difference.
With Action Plan 2014, the Conservative Government continued to address the employment barriers of people with disabilities, particularly people with developmental disabilities – a long overlooked pool of potential workers. Significant is the fact that the Conservative Government will be providing $15 million over three years to the Canadian Association for Community Living (CACL) for their Ready, Willing and Able initiative, an important new jobs strategy.
"I applaud both the Government of Canada and CACL on this initiative which will see more people with developmental disabilities join the ranks of the employed, which is where they should be. Increasing the diversity of Canada's workforce will benefit both employers and employees through the addition of new talents," stated Tony Dolan, Chairperson of the Council of Canadians with Disabilities (CCD). In addition, $11.4 million over four years will be invested in vocational training for people with Autism Spectrum Disorder. "Job seekers with disabilities were one of the winners in yesterday's budget and this win is long overdue. CCD commends Finance Minister Flaherty for committing funding to make employment more accessible to and inclusive of people with developmental disabilities."
CCD also commends the Government of Canada for its ongoing work to make the Registered Disability Savings Plan (RDSP) accessible and inclusive. For example, with this Budget, the Government announced its intentions to work with banks on low cost bank accounts for beneficiaries of the RDSP. CCD will be watching to see how government and financial institutions remove other barriers in the RDSP.
The Budget also delivered a tax break for Canadians with disabilities. There will be a GST/HST exemption on training that helps an individual cope with his or her disability.
These are important steps forward on the journey toward a fully accessible and inclusive Canada. CCD commends the Government of Canada for progress to date, and looks forward to working in partnership with the Government of Canada on those barriers, which are very well known in the disability community - poverty, inaccessibility, and lack of disability-related supports.
The Council of Canadians with Disabilities (CCD) is speaking out against MP Steven Fletcher's Private Member's Bills on assisted suicide because legalized assisted suicide threatens the lives and dignity of people with disabilities and the elderly. In a media interview promoting his Bills, Mr. Fletcher questioned, "Where is the love, where is the compassion," and CCD answers that neither love nor compassion for people with disabilities are to be found in assisted suicide.
In making the case for assisted suicide, Steven Fletcher presented the frightening image of people drowning in their own phlegm. He neglected to inform the public of existing options, such as palliative sedation, which are available to alleviate extreme forms of suffering. Ethical options of symptom management seek to kill the pain, not the patient.
Since it intervened in the Sue Rodriguez case at the Supreme Court, CCD has been analyzing the effect of assisted suicide on people with disabilities, by monitoring other jurisdictions where it has been legalized. As CCD spokesperson Jim Derksen has written, "Most people think the eligibility criteria for assisted suicide is terminal illness and constant pain that cannot be relieved, but these are very slippery and difficult concepts. The concept of pain as expanded under permissive assisted-suicide legislation in European countries such as Belgium and the Netherlands includes existential and emotional pain. Broad definitions of terminality and pain include disabilities that do not necessarily prevent people from living full lives."
Member Group Updates
---
A Vision for BC
BC Premier Christy Clark said that her government's vision is "to have British Columbia be the most progressive jurisdiction for the people and families living with disabilities in Canada." The Premier instructed the Minister of Social Development and Social Innovation (MSDSI) to develop a White Paper and host a provincial summit on how to reduce barriers and increase accessibility for British Columbians with disabilities.
The White Paper consultation began on December 3rd, the International Day of Persons with Disabilities. The same day, MSDSI launched its White Paper website where people could submit their comments on how government, business and communities can decrease barriers for British Columbians with disabilities. On January 15th, over 100 participants including the BCCPD attended an open discussion in Vancouver which asked "What would BC look like if it was the most progressive province for people living with disabilities?"
The disability community, like any community, has a diversity of opinions – that's at it should be. Some are cynical about the White Paper and ask why MSDSI is committing resources to seek input about issues that people with disabilities have been speaking out about for years.
The BCCPD believes the White Paper provides an opportunity for the disability community to share its opinions and ideas. The BCCPD and its partners in the Disability Without Poverty Network (Canadian Mental Health [BC Division], Community Legal Assistance Society, Inclusion BC; SPARC BC) are using these consultations to renew our call for an increase to provincial disability benefit rates to a minimum of $1,200 per month. We're urging the Province to link the rate to the cost of inflation and to implement a rent assistance program similar to the Province's Shelter Aid for Elderly Renters (SAFER) program for people with disabilities living on low income. We're also calling on the Province to stop the claw back of family maintenance payments to PWD recipients.
Making BC the most progressive jurisdiction for people with disabilities will require many more changes. BCCPD is urging the Province to listen and act on the White Paper participants' input on what will make BC the most progressive province in Canada for people with disabilities.
---
ACCD on the Web!
Website: www.accd.net
Facebook: www.facebook.com/ACCDisabilities
Twitter: www.twitter.com/ACCDisabilities
Transforming the PDD Program
Alberta Human Services recently released a 2 year plan outlining the purpose, process, success and transformation of the Persons with Developmental Disabilities program. After much negativity and confusion surrounding the release of their original plan for PDD changes, the government of Alberta has developed a strategy to work with the public, stakeholders and service providers to improve the services provided by PDD. The full article can be read at www.accd.net.
Alberta's Family and Community Engagement Councils
Alberta Human Services is replacing the Child and Family Service Authorities (CFSA) and Persons with Developmental Disabilities (PDD) boards with Family and Community Engagement Councils. These new councils will be made up of community members from different backgrounds and capabilities, and will serve to provide a voice for Alberta's citizens on social-based issues. The full article can be read at www.accd.net.
Federal Budget Focuses on Employment
The Government of Canada has released the 2014 federal budget, which outlines several plans to improve services for Canadians with disabilities. Since 2009, the government has been following an Economic Action Plan by focusing on creating jobs and growing the Canadian economy. This model of planning is clearly demonstrated in the 2014 federal budget. The full article can be read at www.accd.net.
ADF Web Site
The Alberta Disabilities Forum has entered the future! After months of preparation, our brand new website is ready for you to enjoy and we would like to thank all those who contributed to this project for your hard work. Please visit www.adforum.ca to see for yourself!
ADF Staff Announcement!
Alex Kuznetsov, the Provincial Coordinator of ADF, has announced that he will be moving on to pursue a new career opportunity. Alex has been a valuable asset to ADF and ACCD since 2011 and we wish him the best of luck in his new position.
Jackie Beaton is the new Provincial Coordinator of ADF. Be on the lookout for the April edition of our Action News bulletin to learn more about our new staff.
Take Action for Barrier-Free Health and Medical Services
Sign up at www.barrierfreehealth.ca to support removing barriers to make health and medical services in Alberta accessible for persons with disabilities.
---
An Open Letter to All Hotel Owners and Operators!
We are all appreciative of the changes you make to your establishments. We appreciate the upgraded facilities that make it easier for people with disabilities and seniors to utilize your premises. There is a concern however, how many times have you consulted with people that the facilities are being designed for? For example, the height of the beds. If you use a wheelchair, there is no way you will be getting in the high beds, and still the rooms are being advertised as being accessible. It becomes very costly when you pay for a hotel room and then sleep in your chair because you can't get in the bed! Please consult our office for a consultation, it makes more sense to become informed of acceptable changes before
upgrading than after!
We Are Expanding Our Service!
Saskatchewan Voice of People with Disabilities Inc. (SVOPD) is planning to expand services. We understand the social and economic barriers that people with disabilities are faced with and recognize the unique opportunity to develop programs and services to respond to current and emerging needs within the disability community.
In Saskatchewan we do have a significant array of existing supports to help people with disabilities. These range from income support to health services, employment supports, and other beneficial services. We believe that current service delivery in the disability community is still in its growth stage and that we are uniquely positioned to successfully implement services and pro-grams that address these related issues for people with disabilities.
SVOPD recognizes that since the closure of the Welfare Rights Centre, there is a significant gap in ser-vices delivered within the community. The needs are greater than ever before.
SVOPD has proposed a service expansion to respond to lack of hu-man services in the community.
Client Financial & Support Services will be an additional layer of service delivery complimenting current service and programs with SVOPD.
It is designed to offer client financial services, personal skill development health and wellness education and community engagement opportunities for people with disabilities. Par-ticipants of these programs will be people who are currently accessing income support programs or receiv-ing income through employment or pension earnings.
The program will provide financial management services, personal skill development, access to recreation and healthy lifestyle programming for people with disabilities within our community. In particular the program will support individuals and/or families who have demonstrated an inability to manage their financial resources responsibly to ensure basic needs are met such as food and shelter. The programs will also support and offer skill develop-ment to improve quality of life and inclusion. This is the mandate of SVOPD and a responsibility we all share to reduce the risks of exclu-sion and abuse of people with disa-bilities.
Our goal is to provide responsive services for by forging partnerships, engaging other community services to effectively manage the needs of mutual consumers.
Outcomes of such services will:
Increase inclusion in the com-munity
Increase in financial responsibility with people on the in-come support programs
Increase in participation and accessibility of community pro-grams
Our unique ability to provide these services and/or programming and our successful track record in service delivery makes us an enviable choice for this type of service delivery.
For more information please contact our office: 306-569-3111 Toll Free:
1-877-569-3111 OR email: voice@saskvoice.com
Girl Power
SVOPD is proud to announce we will be hosting 2 Girl Power camps: May 24 & 25 in Regina and May 31 & June 1 in Saskatoon!!!
These camps are for young women 14-29 with any disability.
Please find attached to this e-mail the poster with eligibility requirements and the application form.
As always there is no charge for this event.
Applications are due one week prior to the camp you are applying for but feel free to get them in sooner as space is limited!!
Please share with anyone who may be interested!
---
Accessibility Standard for Customer Service
The Accessibility for Manitobans Act (AMA) became law December 5, 2013. Under this landmark legislation, the province is introducing a clear and proactive process for the prevention and removal of barriers that affect Manitobans with disabilities. The building blocks of the legislation are accessibility standards that apply to public and private sectors and target 5 areas: customer service, information and communication, transportation, employment and the built environment.
Like in Ontario, where similar legislation already exists, the accessibility standards will be developed to achieve real results, in stages. Stakeholders who must comply with the standards will be invited to provide their input on how to achieve these standards including the timelines that will allow them to plan for any associated costs.
Representatives from Manitoba's disability community, The Retail Council of Canada, Manitoba Hotel Association, Manitoba Restaurant and Foodservices Association, and Association of Manitoba Municipalities are participating in a Customer Service Standard Development Committee that is responsible for developing the first priority area: an Accessibility Standard for Customer Service. This standard will address business practices and training needed to provide good customer service to people with disabilities.
---
Canada Post Decision to Halt Door-to-door Delivery of the Mail
CWDO has concerns regarding a recent decision by Canada Post to phase out door-to-door delivery of the mail over the next five years. As an organization we believe that persons with disabilities should have access to community service such as mail delivery because it offers us a level of independence and the ability to look out after our own affairs.
CWDO has recently sent a letter to Mr. Deepak Chopra, CEO Canada Post making several recommendations to improve the consultation process with persons with disabilities as well as developing strategies to ensure that people with severe disabilities still have access to their mail.
We hope that all CWDO members take an interest in this issue and contact their local Member of Parliament to express their concern regarding the lack of consultation this proposal as currently received.
---
Three Scholarships for Students with Disabilities
The Coalition of Persons with Disabilities - NL (COD-NL) is pleased to announce three scholarships for students with disabilities graduating from high school and entering post-secondary in the fall of 2014.
COD-NL would like to acknowledge our partners Scotiabank and Husky Energy for making these scholarships possible.
Please direct any questions directly to me at the COD-NL office. My phone number is 709-722-7011 and email is kwhite@codnl.ca
Completed applications with all required documents must be received at the COD-NL address above no later than 4pm on March 31, 2014.
The Scholarship winner will be notified by May 1, 2014.
---
All Hands on Braille Program
Monday July 28th- Friday August 1st, 2014
Ages 8-12,
The All Hands on Braille Program aims to improve the braille literacy of blind and low vision children through a one-week summer curriculum that is fun, creative and comprehensive.
All Hands on Braille provides intense focused 1-on-1 Braille immersion by emphasising the importance of Braille through a fun, creative and comprehensive curriculum that includes Braille and other essential blindness skills as well as the arts, science and recreation. At All Hands on Braille; students participate in confidence-building activities with blind peers and are mentored by independent, professional blind adults. Most importantly, they will experience the beauty of Braille first-hand. The All Hands on Braille program will take place at the CNIB Lake Joseph Centre.
Accommodations
Located in the heart of Muskoka, in MacTier, Ontario (2 hours north of Toronto), CNIB's Lake Joseph Centre is a fully accessible lakefront facility that provides a unique blend of recreation and vision rehabilitation in a safe, inclusive environment with activities such as on-site programming (canoeing, kayaking, waterskiing and sailing) and evening programs.
---
DAWN-RAFH Canada Working to Increase Access to Justice for Women with Disabilities and Deaf Women Who Are Victims of Crime
In recognition of National Victims of Crime Awareness Week April 6-12, the DisAbled Women's Network of Canada / Réseau d'action des femmes handicapées (DAWN-RAFH Canada) is launching a campaign aimed at informing women with disabilities and Deaf women about their right to report abuse and to have their abusers tried in court.
Entitled "We Can Tell and We Will," the campaign includes a Public Service Announcement (PSA) which depicts two women with intellectual disabilities and one with a communication difference describing abuse and stating that abuse is unacceptable. The PSA encourages women with disabilities to report abuse and informs them that there are advocates who can support them to do so.
DAWN-RAFH Canada's campaign is designed to bring attention to the precedent-setting decision by the Supreme Court of Canada, a court case referred to as the D.A.I. case. It involved a woman with an intellectual disability who reported that her step-father had sexually assaulted her. The provincial court disallowed her testimony on the grounds that she was not competent to testify because she could not demonstrate that she understood the meaning of an "oath" or a "promise" in order to tell the truth. As a result, the accused was acquitted.
The case was appealed at the Supreme Court of Canada, with DAWN-RAFH Canada and the Women's Legal Education and Action Fund (LEAF) acting as interveners. The Interveners stated that women with mental disabilities (including intellectual disabilities, brain injury and mental health issues) should be able to testify against their abusers, even if they can't explain what truth or promise means. The Court agreed, stating that witnesses need only to be able to communicate the evidence. In February 2012, the Supreme Court ordered a new trial.
According to DAWN-RAFH Canada, 83% of women with disabilities will be sexually assaulted in their lifetime. "It is therefore imperative that women with disabilities know how to identify abuse, know that they have a right to report it, and know that there is support for them in the justice system when they do so," said Bonnie Brayton, National Executive Director of DAWN-RAFH Canada. "These are critical steps to take so that we can stop the appalling level of abuse that women with disabilities experience."
LEAF's Legal Director Kim Stanton says that the decision confirms the importance of access to justice for sexual assault complainants with mental disabilities. "Prior to this decision, the court excluded testimony from people with mental disabilities, which exacerbated their victimization and allowed their abusers to continue the abuse with impunity."
To help women with disabilities who are victims of abuse become aware of their rights, DAWN-RAFH Canada's public education campaign includes the PSA, as well as an information sheet about abuse. They will also share the recommendations they submitted to the Department of Justice on how to make the proposed Victims Bill of Rights inclusive of the needs of people with disabilities.
More information about this campaign can be found on DAWN-RAFH Canada's website. Funding for the campaign was received from the Victims Fund of the Department of Justice Canada.
DAWN-RAFH Canada is a national, feminist, cross-disability organization whose mission is to end the poverty, isolation, discrimination and violence experienced by Canadian women with disabilities and Deaf women.
---
NEADS Accepting Applications for National Student Awards and Holly Bartlett Memorial Award: Deadline April 15, 2014
(Ottawa, February 10, 2014) The National Educational Association of Disabled Students (NEADS) is now accepting applications for the NEADS National Student Awards Program and the Holly Bartlett Memorial Award. These awards are offered to encourage full access to post-secondary education for persons with disabilities enrolled in undergraduate, graduate or professional degree programs at recognized Canadian universities, or in certified diploma programs at Canadian colleges. Six outstanding applicants, who meet the criteria of the Student Awards Program, will be receiving an award in the amount of $3,000 to support the costs of their tuition and student fees. One deserving applicant will receive the Holly Bartlett Memorial Award in the amount of $1,000.
Funding for the NEADS Student Awards is provided this year by our sponsors Scotiabank (1), Imperial Oil (3), Industrial Alliance Insurance and Financial Services (1) and private donors. "We are very proud of the NEADS Student Awards Program, and our 62 recipients over its first seven years," said Dr. Mahadeo Sukhai, NEADS' Senior Advisor and the director of the student awards program. "This program is the first of its kind in Canada, and was created to recognize overall excellence among students with disabilities in all aspects of post-secondary education. Our winners to date all embody the very best qualities of academic and community involvement. We hope that the program continues to grow, and we look forward to this year's crop of outstanding applicants."
"Holly Bartlett was loved by all who knew her", said Frank Smith, NEADS' National Coordinator. "It was my privilege and pleasure to work with Holly while she served on our Board of Directors. Holly's accomplishments, in a life that was way too short, were phenomenal. We believe that the Holly Bartlett Memorial Award is a fitting tribute because it will help other students with disabilities realize success in post-secondary education. This is the fourth year for the Award in Holly's memory." NEADS has given out 3 Holly Bartlett Awards since the inception of this program.
For more information, please contact the NEADS office: National Educational Association of Disabled Students (NEADS), Rm. 426 Unicentre, Carleton University, Ottawa, Ontario, K1S 5B6, tel. (613) 380-8065, or go directly to our NEADS Student Awards/Holly Bartlett Memorial Award website:
http://www.neads.ca/en/about/projects/ete2/scholarship/ or http://www.neads.ca/en/about/projects/ete2/scholarship/holly.php
---
Judge Makes Recommendations to Prevent More Tragedies at M anitoba Development Centre
Ann Hickey was born on July 4, 1959 and entered the Manitoba Developmental Center (MDC) in Portage La Prairie in January, 1970 when she was 10 years old. She died on March 29, 2011 after she slid down in a wheelchair and was choked by the seatbelt. She was 51 years old. Ann's primary diagnosis was "profound mental retardation". She also had a number of medical conditions, including epilepsy, osteoporosis and bilateral leg edema (abnormal buildup of fluid in the ankles, feet, and legs), and at the time of her death she was recovering from injuries she sustained in a fall.
The Public Interest Law Centre represented People First of Canada - Manitoba at an inquest into Ann's death held in Portage la Prairie that ended in June, 2013. Today the inquest report by Judge R.L. Pollack was released.
During the inquest, People First called Dr. James Gardner as an expert witness. Dr. Gardner has decades of international expertise in the field of intellectual and developmental disabilities and concluded that Ann's death could have been prevented.
Judge Pollack recommended in his report that better communication and instructions to staff are needed at MDC to prevent further tragedies. He reiterates that staff members on duty the night Ann strangled were not aware that the plan was for her to be walking more, that she was not in her own wheelchair at the time, and she was supposed to be monitored for sliding in her wheelchair. All of this was critical information in Ann's safety and wellbeing.
People First acknowledges the changes that have been made to improve resident safety since Ann's death. However, they agree with Judge Pollack that more needs to be done to reduce the likelihood of similar deaths in the future.
People First was also pleased that Judge Pollack encouraged MDC to consider additional recommendations made by Dr. Gardner to further improve its policies and operations.
People First believes that although the inquest report contains several recommendations to reduce the likelihood of similar deaths at MDC, institutionalization of persons living with intellectual disabilities should no longer be an option.
"People First knows that people should not be in institutions and that they cannot be cared for the way they need, and deserve to be. Ann Hickey is just one example of how the institutional setting tries to provide personal care and assistance, but just can't," said Valerie Wolbert, President, People First of Manitoba.
"Despite the commitment of full citizenship and inclusion within this country, many thousands of our fellow citizens like Ann who have intellectual disabilities remain trapped in institutional environments - environments that were designed decades ago in response to a lack of appropriate community based supports and services," said Shelley Fletcher, Executive Director, People First of Canada – Manitoba. "People First believes that people have the right to voice and choice in deciding where they will live in the community. People should be given the opportunity to experience a full range of options for housing and make their own decisions (with appropriate support if necessary) as to what best suits their wants and needs. Decisions on where someone will live should be based on a person centered model, not simply on what is available."
"We feel that Judge Pollack made very thoughtful recommendations and laid out a clear path for the Manitoba Development Centre to follow ," said Beverly Froese, Attorney with the Public Interest Law Centre. "Although these inquest recommendations are not binding, People First certainly hopes the government adopts them to ensure that what happened to Ann doesn't happen to anyone else still living at the MDC."
"Of all the people I've met who have survived living in an institution, and I have met a lot, I have never met anyone, not one single person, who has asked to go back." Patrick Worth, founding member of People First of Canada, who lived in an institution.
Find out more about People First of Canada – Manitoba at: http://www.peoplefirstofcanada.ca/contact_us_en.php
Background
When the night staff came on duty at 11 p.m. the night of March 25, 2011, Ann Hickey was still awake and wheeling herself around the unit in a wheelchair. Earlier that day she had been very active and walking on her own. Staff placed her in a wheelchair that was not her own at about 7:30 p.m. so they could start getting the other residents ready for bed.
There were only two staff on duty on the Westview area of MDC that night and they were responsible for the care of approximately 26 residents. Neither staff were aware that Ann had a history of sliding in a wheelchair and that she was in a wheelchair that was different from her own.
Just before midnight, while the night staff were busy attending to other residents, Ann was left unattended for about 10 to 15 minutes. When staff went to look for her, they found her in the corner of the dayhall. Ann had slid down in the wheelchair and the seatbelt was around her neck. Staff performed CPR and Ann was taken by ambulance to the Portage District General Hospital, where she died on March 29, 2011.
An autopsy determined that the cause of Ann's death was bronchopneumonia resulting from pressure on her neck from the wheelchair seatbelt.
Over a year before her death, Ann Hickey had been identified for discharge to the community. The only barrier to her leaving MDC and moving to a home in the community was a lack of resources for an appropriate placement.
History - Manitoba Development Centre, Portage La Prairie
Isolating people with intellectual disabilities in large institutions denies choice and restricts their freedom. For the past 40 years across North America, institutions like MDC have been closing, with former residents now in living in homes in the community. Decades of social science research shows that with proper planning and supports, all people with intellectual disabilities can live healthier and happier lives in the community, regardless of the severity of their disability, the complexity of their needs, or whether they have spent their entire lives in an institution. MDC is one of the few large residential institutions for persons with intellectual disabilities remaining in the country. In the 1970's, MDC had a population of over 1,200 residents. At the time of the inquest there were still 221 individuals living at MDC.
In November 2011, following an in-depth investigation by the Manitoba Human Rights Commission of a complaint filed in 2006 by Community Living-Manitoba and a mediation process, a settlement was reached with the Government of Manitoba. The settlement also involved the Public Trustee, who is substitute decision-maker for the vast majority of long term residents at MDC.
The settlement provided for the discharge of the 49 people on the transition list at the time to move into the community over the next three years. (one quarter of all MDC residents).
Any other residents placed on the transition list would be discharged as soon as possible after that.
As of November 2013, 16 people have moved into the community.
A further 8 residents on the transition list are expected to move by May 2014. Housing has been identified as a barrier to achieving second year target.

Disability Awareness Week is 2-8 June 2014. Four different awards will be presented to highlight contributions to access and inclusion, volunteerism, and human rights.