Act Now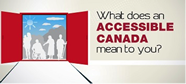 Empower U: Learn to Access Your Disability Rights Training on Canadian Human Rights, the Convention on the Rights of Persons with Disabilities (CRPD) and its Optional Protocol (OP) training aims to increase awareness of how to address discrimination using more familiar Canadian human rights laws such as Human Rights Codes and the newer international Convention on the Rights of Persons with Disabilities (CRPD). This is training for persons with disabilities by persons with disabilities. The training is part of a project funded by Employment and Social Development Canada and implemented by the Council of Canadians with Disabilities (CCD) in collaboration with Canadian Multicultural Disability Centre Inc. (CMDCI), Citizens With Disabilities – Ontario (CWDO), Manitoba League of Persons with Disabilities (MLPD) and National Educational Association of Disabled Students (NEADS). Read more.
Sign Up for our monthly digest
A monthly newsletter from CCD about what is happening in the community
CCD Voice of Our Own - Annual General Meeting Edition
On the CCD Agenda
Annual General Meeting (AGM) 2014
CCD held its AGM on June 7 June 2014 in Winnipeg, Manitoba.
Annually, CCD presents the CCD Award to recognize an outstanding contribution to the Canadian disability rights movement. Each CCD member group nominates a recipient of the award. At CCD's AGM, the recipients are publicly recognized. The CCD member groups present the awards to the recipients.
The following recipients were announced at this year's AGM:
• BC Coalition of People With Disabilities - Tom McGregor
• Alberta Committee of Citizens with Disabilities - Scott Timothy Hamilton
• Manitoba League of Persons with Disabilities Inc. - Hon. Jennifer Howard
• Citizens with Disabilities – Ontario - Jeffrey Stark
• PEI Council of People with Disabilities - Blake Scott
• Coalition of Persons with Disabilities Newfoundland and Labrador - Cecilia Carroll
• NWT Disabilities Council - Esther Braden
• Alliance for Equality of Blind Canadians - Albert Ruel
• Canadian Association of the Deaf - Boissonneault-Witcher-Benoit (BWB)
• DisAbled Women's Network of Canada / Réseau d'action des femmes handicapées (DAWN-RAFH Canada)– Maria Barile (posthumously)
• National Educational Association of Disabled Students - Natalie Fougère
• Thalidomide Victims Association of Canada - Bernadette Bainbridge
Steve Estey and Jean Beckett formed the Nominating Committee and guided CCD's elections.
At the Annual General Meeting, the National Council of Representatives elected CCD's Executive Committee:
• Tony Dolan, Chairperson
• Pat Danforth, First Vice Chair
• John Rae, Second Vice Chair
• Anne McPhee, Treasurer
• Carmela Hutchison, Member-at-Large
John Rae and Bonnie Brayton are the new Members-at-Large on the CCD Council. Council expressed thanks to Steven Estey whose term as Member-at-Large on Council concluded in June.
Bonnie Brayton
Bonnie Brayton is the youngest of five children from a small village in Northern Quebec. Her earlier career successes were in the private sector in Sales and Marketing, as an Entrepreneur in both the for profit and not-for-profit sector and includes almost ten years in the Educational Sector, primarily in Administration, Human Resources and Fundraising at McGill University before joining DAWN Canada in 2007.
Bonnie Brayton has been the National Executive Director of DAWN-RAFH Canada (DisAbled Women's Network of Canada( www.dawncanada.net) since May 2007. DAWN Canada has focused on advancing the rights of women with disabilities and Deaf women for almost 30 years in Canada and Internationally.
Bonnie co-founded the first $5/day After School Program for children in the English Montreal School Board in 1998. Ms. Brayton served on the Board of CCDS (the Canadian Centre for Disability Studies) as their Quebec Representative for 3 years. Ms. Brayton is the President of Coup de Balai - Clean Sweepers, a social economy organization (www.coupdebalai.com ) providing home care services to people with disabilities and seniors in her community in Montreal.
Bonnie is also the Vice-Chair of the FEMINIST ALLIANCE FOR INTERNATIONAL ACTION (http://www.fafia-afai.org/ )and a member of the Steering Committee of La Maison Parent-Roback , a Quebec feminist collective in Montreal (http://www.la-mpr.qc.ca/) where the DAWN-RAFH Canada head office is located.. She also serves on the Women's Advisory Committee at the Centre for Policy Alternatives.
Bonnie lives in Montreal with her partner Delmar Medford. She has two adult daughters, Leah and Virginia.
John Rae
John Rae represented the Alliance for Equality of Blind Canadians on Council from 2003 until 2012, and served in various capacities on the National AEBC board for 13 years, including four and a half years as National President.
During his time with the Council of Canadians With Disabilities, John served as CCD's Treasurer and 1st Vice Chair of Council. John remains involved with CCD, and currently serves as a Member of CCD's Social Policy Committee.
John Rae brings a unique combination of government, labour and community experience to all of his involvements. John has been involved in Canada's disability rights movement since 1975, is a Past President of the AEBC, was co-chair of the committee that led to human rights coverage for persons with disabilities in Ontario, and has served as a Board and committee member of numerous human rights, labour and disability rights organizations at the local, provincial and national levels.
John took early retirement from his job with the Ontario Government's Accessibility Directorate of Ontario in 2005, and is currently a Board member of ARCH Disability Law Centre and Injured Workers Consultants legal clinics, a member of the Canadian Labour Congress's Disability Rights Working Group, and a member of the Canadian Human Rights Museum's Accessibility Committee.
It is my belief that John's experience in the areas of organizational design, policy development, and human resources are particularly useful to the Council of Canadians with Disabilities in our current political and funding climate. In particular, I believe that he possesses all of the skill sets that the nominating committee has identified as being desirable for these candidates.
The following will chair CCD's committees:
Pat Danforth – Transportation
Steve Estey- International Development
Anne Levesque- Human Rights
Dean Richert/Rhonda Wiebe – Ending of Life Ethics Committee
Social Policy – Marie Ryan
At the AGM, CCD's Committees shared the highlights of their activities during 2013-14.
Human Rights Committee - On behalf of CCD, the Human Rights Committee monitors legal cases that may have an impact on the rights of Canadians with disabilities and, when warranted, CCD undertakes test case litigation. In addition, the Committee participates in the national conversation about human rights, contributing a disability rights perspective. This report summarizes the activities undertaken this year to advance the full enjoyment of human rights by persons with disabilities.
Ross Eadie and the Canadian Human Rights Commission (CHRC) v MTS Inc. - CCD continues to monitor Ross Eadie's human rights complaint against MTS Inc. As you will recall from last year, in collaboration with the Access to Technology Committee, the Human Rights Committee has decided that CCD should seek Interested Party status in Ross Eadie's complaint to the CHRC. Mr. Eadie's complaint involves an inaccessible MTS service, set top boxes for televisions. A set top box is a device that enables a television set to become a user interface for various services and also enables a television set to receive and decode digital television broadcasts. The set top boxes offered by MTS are not usable by persons who are blind or vision impaired.
Mr. Eadie's complaint has been referred by the CHRC to the Canadian Human Rights Tribunal (CHRT). If the hearing takes place, CCD will apply for interested party status. CCD believes that a positive decision in this case would be a step toward improving access to information and communication technology for blind and visually impaired Canadians. Presently, the respondents in Mr. Eadie's case are pursuing a number of procedural matters, so CCD has not made its application to the CHRT.
Public Education about the Moore Case - On November 9, 2012, the Supreme Court of Canada (SCC) handed down a landmark decision on disability rights. The Moore case says that students with disabilities are entitled to receive the accommodation measures they need to access and benefit from the service of public education. In this regard, the Court said that adequate special education is not "a dispensable luxury". The Court acknowledged that such measures serve as "the ramp that provides access to the statutory commitment to education made to all children in British Columbia." CCD has undertaken a number of activities to increase awareness of the excellent decision that the SCC handed down in the Moore case and to advance Canadians' understanding of how the decision can be used to advance inclusion of people with disabilities. For example, Committee members Yvonne Peters, Gwen Brodsky and Ravi Malhotra shared their views on the decision during a panel organized by the University of Ottawa's Human Rights Research Centre and the University of Ottawa Disability Law Association.
Collaborating with CCD's International Development Committee – The Human Rights Committee and the International Development Committee have an overlapping interest – the Convention on the Rights of Persons with Disabilities (CRPD). The Canadian Association of Statutory Human Rights Agencies (CASHRA) is planning to develop a report addressing Canada's record on equality and nondiscrimination since ratification of the CRPD. Anne Leveque, Committee Co-chair, joined representatives of the International Committee, on conference calls, where CASHRA was seeking advice from CCD on the framework for its report.
Continuing Legal Education – The Committee has been investigating the possibility of conducting Continuing Legal Education sessions on disability rights law for members of the legal profession as a fundraiser for CCD.
Congratulations to Yvonne Peters on New Appointment – The Government of Manitoba has appointed Yvonne Peters as the Chairperson of the Manitoba Human Rights Board of Commissioners. Yvonne is the former Vice Chair of the Board. As this appointment demonstrates, Yvonne is held in very high regard by the human rights community and her expertise is widely acknowledged throughout Canada. Due to the heavy demands placed upon her by this new role at the Commission, Yvonne has stepped down as co-chair of the Human Rights Committee but remains a member.
International Development Committee - This year, the Committee undertook work on behalf of CCD to advance understanding of and compliance with the Convention on the Rights of Persons with Disabilities (CRPD). This report provides a brief summary of the key activities undertaken.
Canada's First Report (Convention on the Rights of Persons with Disabilities (CRPD)) – In February, Canada submitted its First Report to the UN Committee on the Rights of Persons with Disabilities. CCD is starting the process for developing, in collaboration with other organizations, the civil society response.
Participating in UN Meetings - Steve Estey, Chairperson of CCD's International Development Committee, participated in the 6th Conference of States Parties to the CRPD in New York, 17-19 July 2013. (CCD will be participating in the 7th Conference.) Yutta Fricke, a member of CCD's International Development Committee, participated in the UN General Assembly's High-level meeting on disability and development (HLMDD) that was held in New York on 23 September 2013. The theme was "The way forward: A disability-inclusive development agenda towards 2015 and beyond."
Universal Periodic Review - CCD wrote to the Department of Canadian Heritage to reiterate the position that Canada must take the opportunity of responding to the Second Universal Periodic Review to announce and launch an implementation plan process as required under Article 33 of the CRPD.
International Human Rights Consultations – CCD has participated in a number of consultations with Foreign Affairs on international human rights. CCD has raised the importance of Canada playing a continued leadership role during United Nations' meetings, such as the Conference of States Parties. Such consultations provide the opportunity for useful exchanges between the Department of Foreign Affairs and civil society organizations.
National Human Rights Consultations – The Canadian Association of Statutory Human Rights Agencies (CASHRA) brought together Canadians at their national conference to examine human rights from a variety of perspectives. One session was called "Do 1 Billion People Have the Right to Inclusion" and Steve Estey and Vangelis Nikias, CCD CRPD Project Manager, shared how the CRPD can assist people with disabilities achieve inclusion.
Working with the Organizations of People with Disabilities – CCD has provided a perspective on the CRPD to a range of organizations in the disability community and at events held by community members. For example, Mad Pride Week, the Disability Rights for Citizens project, the Ethno-Racial People with Disabilities Coalition of Ontario (Black History Month), IDEA, MLPD sought out CCD's expertise on the CRPD..
Educating Students – CCD has been explaining to students how the CRPD relates both to their educational pursuits and their future careers. Future lawyers, social workers, international development workers, and others increased their knowledge of human rights in the context of disability.
Collaborating with Other Equality Seekers – CCD participated in the Women's Forum des Femmes 2013, to explain how Article 6, which focuses on women and girls, offers guidance to States Parties as to what needs to be achieved for women and girls with disabilities to experience disability.
Working with International Agencies – CCD has been working collaboratively with Amnesty International, the Canadians Council for International Cooperation, and the Christian Blind Mission Canada and networking with a range of organizations that have experience developing shadow reports for UN bodies.
Media Relations– On the International Day of Persons with Disabilities, CCD explained the relationship between the CRPD and the International Day. For example, CKCU ("Welcome to My World") invited participation from CCD.
Disability and Development - For many years, CCD had been encouraging CIDA to adopt a policy on disability and development to ensure that people with disabilities are included in Canada's development work. CCD met with Canadian International Development Agency (CIDA) to discuss the Agency's work on disability and development. CCD pressed for Canadian engagement and leadership at UN meetings on the CRPD and Millennium Development Goals. When CCD met with CIDA, the Agency was undergoing transition, because the Government of Canada has merged CIDA and Foreign Affairs.
Disabled Peoples' International (DPI) – CCD continues as DPI's Canadian member.
Assisting a DPI Member – CCD undertook a successful fundraising campaign on behalf of KAMPI, CCD's counterpart in the Philippines. The fundraising was done to assist people with disabilities affected by natural disasters (Typhoon Haiyan and Bohol earthquake), which occurred in the Philippines last year.
CRPD Awareness Project Extended – The Interchange Program agreed to extend Vangelis Nikias' position with the CCD until the end of December 2014.
Adding New Perspectives – The Committee welcomed two new members: Rita Sampson and Harvey Goldberg.
Social Policy Committee - CCD's Social Policy Committee works to make access and inclusion a reality for people with disabilities as we lead our day-to-day lives. We are young people, moms and dads, students, job seekers, professionals, athletes, artists, retired people. Sometime during their lifetime every Canadian, either personally or through a family member, will have personal experience of disability. We have important skills and gifts to contribute to Canada and the Social Policy Committee works to remove barriers which hinder our involvement in this great country. This report summarizes our key activities this year.
MPs Met with CCD on International Day of Persons with Disabilities - On 3 December 2013, Ministers Kenney and Flaherty hosted a breakfast on Parliament Hill where Members of Parliament had the opportunity to meet with leaders from the disability community. Marie Ryan, the Chairperson of CCD's Social Policy Committee, emceed the event and the speakers were Minister Flaherty, Minister Kenney, Tony Dolan, CCD Chairperson, and Laurie Larson, CACL President. At the breakfast, Ministers Flaherty and Kenney were joined by the Hon. Peter McKay, the Hon. Steven Fletcher, the Hon. Kelly Leitch, the Hon. Carolyn Bennett, Judy Sgro, Mike Sullivan, Manon Pereault and others.
Canada Post – In December, Canada Post announced its plan to discontinue door-to-door mail delivery in favor of communal mailboxes located in householders' neighborhoods. This announcement came in the midst of one of the worst winters on record, while Canadians were fighting snow and bitterly cold temperatures. Immediately upon hearing Canada Post's announcement, Canadians with disabilities knew that the communal mailbox would become another barrier to inclusion. Many Canadians residing outside of urban areas, such as Tony Dolan, CCD's Chairperson, already have communal boxes and shared information about how they cannot independently pickup their mail. CCD has been speaking out about the problems that communal mailboxes pose for people with disabilities. The following have heard from CCD on this issue: the Hon. Lisa Raitt, the federal cabinet minister responsible for Canada Post, the Standing Committee on Transport, Infrastructure and Communities, Deepak Chopra, Canada Post CEO, CUPW, and the print and broadcast media.
Fair Elections Act – CCD was invited to appear before the House of Commons Committee reviewing how the Government wants to reform rules governing Canadian elections. CCD expressed concerns about the Fair Elections Act's intention to:
eliminate identity vouching at the polls and the use of the Voter Identification Card as a valid form of ID,
limit Elections Canada's role in public education promoting engagement in the electoral process,
make changes to campaign funding rules favoring wealthy candidates and
put the enforcement arm of Elections Canada under the Justice Department.
CCD also now participates on Elections Canada's new Accessibility Advisory Committee.
Working Toward an Inclusive Labor Market – From the time we are teenagers until retirement age, a job is an integral part of life for Canadians. Regrettably barriers, which are all too well understood by members of the disability community, continue to prevent many people who want to work from finding a job. CCD's Social Policy Committee prepared "Transforming Systems - A New Approach", which presents a number of priorities and steps that we believe should be taken to make Canada's labor force more inclusive and accessible, and in October shared it with the Federal/Provincial/Territorial Ministers responsible for employment.
Disability Tax Credit - Carmela Hutchison, a member of the CCD Executive Committee, appeared before the House of Commons Committee on Finance hearing on Bill C-462, which seeks to restrict the fees charged by promoters of the disability tax credit. While before the Committee Carmela stated, "We support the intent of Bill C-462 and agree that people with disabilities should have their rightful entitlement protected from unfair fees."
Canada Pension Plan Disability (CPP-D) – On behalf of CCD, Laurie Beachell participates on a CPP-D Roundtable. He participated in a series of consultations about functional assessment models and how they could be used in determining eligibility for CPP-D.
Disabling Poverty/Enabling Citizenship – This research project funded by the Social Sciences and Humanities Research Council is winding down its work. Michael Prince has synthesized all the research produced by the three teams during the life of the project. In 2014, the disability community will receive from the project a number of policy options for consideration.
Gender Identity – CCD endorsed a letter in support of Bill c-279 (Gender Identity), which encouraged Senators to support the Bill which will ensure equal protection under the law from discrimination and hatred based on gender identity.
Immigration - CCD is participating on a working group that is studying how to mount a legal challenge to the excessive demand provisions in the Immigration Act.
Federal Budget Consultations – CCD made a submission to the yearly budget consultations undertaken by the Standing Committee on Finance. CCD addressed poverty reduction measures and improving employment opportunities of people with disabilities.
Working for An Accessible Built Environment - With the assistance of Brian Everton, an expert on universal design, CCD participated in the online public consultation on proposed changes to the National Model Construction Codes.
Standing Senate Committee on Banking, Trade and Commerce - Study on the ability of individuals to establish a Registered Disability Savings Plan (RDSP) – CCD testified before the Senate Committee to explain how to improve the RDSP.
Statistics Canada's Real Time Remote Access Service (RTRA) - CCD's Social Policy Committee has been looking into how the RTRA could help CCD improve its access to demographic information on people with disabilities in Canada. The RTRA is an on-line remote access facility that allows researchers to run, in more or less in real-time, data analyses on survey master files (microdata) located on Statistics Canada's secure servers. The RTRA allows researchers to submit SAS programs in order to obtain descriptive statistics from a broad range of household social surveys and administrative data collections.
Once a researcher has an account they will be able to submit programs creating customized data tables through a unique system designed to return information to the user as quickly as possible. The RTRA system is fully automated and does not require any manual intervention from a Statistics Canada employee to run the request or verify outputs for confidentiality. A typical submission will take about an hour to process and return to the researcher, for a large volume of tables in one submission the timeline will be longer as it would if the researcher were to process the data on their own computer.
SDPP-D – Laurie Beachell has been participating in consultations on the funding program which has funded CCD and 17 other national organizations. SDPP-D is winding down over a two-year period. The Social Policy and Executive Committees have been urging the development of a new program that would fill the enormous gap created by the loss of the SDPP-D.
Transportation Committee - The CCD Transportation Committee focuses on barrier prevention and removal in the federally regulated transportation system – air, rail, marine, interprovincial bus. CCD has been witnessing an erosion of access and has been endeavoring to halt this back sliding. This report summarizes some key activities undertaken by CCD in support of an accessible and inclusive transportation system.
The Canadian Transportation Agency (CTA) is the tribunal and economic regulator for the modes of transportation in federal jurisdiction. The CTA's mandate includes economic regulation, dispute resolution and accessibility. With respect to accessibility, the Agency seeks to remove undue obstacles to the mobility of persons with disabilities by:
developing regulations, codes of practice and standards,
communicating with the transportation industry and the community of persons with disabilities,
resolving individual accessibility-related complaints,
ordering corrective measures as required.
CCD works to assist the CTA address the concerns of the disability community in an effective manner. For example, CCD participates on the Canadian Transportation Agency's (CTA) Advisory Committee on Accessible Transportation, where it provides advice to the CTA on how to improve the level of accessibility in the federally regulated modes of transportation. Transportation Committee Chairperson Pat Danforth represents CCD on the Advisory Committee.
This year the Agency consulted CCD about how it goes about removing obstacles to the mobility of persons with disabilities. CCD shared with the Agency recommendations to make it easier for people with disabilities to have their complaints about undue obstacles addressed. CCD also provided input to the CTA on the automated self-service kiosks for check-in and ticketing.
The Committee monitors the decisions rendered by the CTA on complaints about undue obstacles to mobility. There has been some concern expressed by the Committee regarding the fact that the CTA has not been making the type of decisions that send a strong signal to carriers that they are obliged to provide access for all.
CCD regularly reminds carriers and the public about the decision in the VIA case, where the Supreme Court of Canada clearly said – no new barriers!
To raise the public's awareness about barriers to mobility in the federally regulated transportation system, CCD speaks out in the media. An example of where CCD spoke out in the media was in response to the experience of a PEI woman with a mobility disability. She was left stranded by Air Canada (AC) at the Montreal airport because AC's Washington chair, which is used to assist passengers with mobility impairments access an airplane, was not working. CCD offered its viewpoint to the media. Pat commented, "There were lots of alternatives out there. The alternative that this airline chose, which was not to let this woman go home, is sad and as far as I can tell it's a violation of the Canadian Transportation Act. The Charlottetown airport is a small airport. If one airline doesn't have a piece of equipment, often it can borrow a piece, instead a woman was inconvenienced, she was humiliated and she was left in a very vulnerable position not being able to go home."
CCD also spoke out when Itzhak Perlman, a famous violinist who is also a person with a disability, was abandoned at the Toronto airport. Air Canada committed to investigate the incident.
Ending of Life Ethics Committee – During the past year, Dr. Donald Low, Edward Hong and Susan Griffiths, all people with disabilities, made emotional public pleas for the legalization of assisted suicide. While CCD recognizes the personal distress that these individuals and others feel as they face the ending of their lives in very difficult circumstances, CCD, nevertheless continues to oppose the legalization of assisted suicide. In our analysis, legalized assisted suicide would put people with disabilities and seniors in harm's way and the practice of assisted suicide would serve to stigmatize people with disabilities as a group in that all people legally assisted to die would be people with disabilities. This report provides a brief summary of key activities taken during the year in opposition to assisted suicide and euthanasia, focusing primarily on CCD's collaborative activities with other organizations, litigation, law reform and public outreach.
Collaborations with Other Organizations – Assisted suicide and euthanasia are issues which concern many in the disability community and the Canadian public. CCD has been working collaboratively with groups in both communities to preserve legal prohibitions against assisted suicide.
In the disability community, the Canadian Association for Community Living is an organization that has been particularly focused on opposing assisted suicide. CCD has been working closely with CACL. CCD and CACL have been co-intervening in the Carter case, which is addressed below.
The Euthanasia Prevention Coalition (EPC) is another organization that is litigating against euthanasia and assisted suicide and conducting public education. Hugh Scher, a former chair of the CCD Human Rights Committee, is counsel for EPC. CCD and EPC regularly exchange information. Like CCD, EPC has been an intervener in the Carter case.
Law Reform – Prior to the election call in Quebec, Bill 52 (An Act Respecting End of Life Care), was making its way through the legislative process. The Bill seeks to redefine assisted suicide as part of the continuum of health care, thus locating assisted suicide in the health system, which is under provincial jurisdiction and by-passing the Criminal Code of Canada, which is in federal jurisdiction. Along with CACL, People First, and DAWN-RAFH Canada, CCD urged the Attorney General of Canada, the Hon. Peter MacKay, to seek a judicial review and determine if Bill 52 infringes on the constitutional authority of the Government of Canada in relation to the Criminal Code of Canada prohibition against assisted suicide. The letter to the Minister was signed by Tony Dolan (CCD), Laurie Larson (CACL), Carmela Hutchison (DAWN-RAFH), and Shane Haddad (People First).
The Hon. Steven Fletcher (Conservative MP/Charleswood—St. James—Assiniboia Manitoba) and Manon Perreault (NDP MP Montcalm Quebec) moved and seconded two Private Member's Bills (C-581 and C-582) in support of assisted suicide. Private Members' Bills queue to go before the House. Due to the position of these bills in the queue it is unlikely that they will be voted upon, thus, they are more a media issue than a legislative issue. Representatives of CCD spoke out against Bill C-581 and C-582.
Litigation - Since the Sue Rodriguez case, CCD has been opposing assisted suicide. In partnership with the Canadian Association for Community Living (CACL), CCD has been intervening in the Carter case, a BC case which is seeking to overturn Canada's Criminal Code prohibitions against assisted suicide. In the Carter case, the BC Superior Court struck down the law prohibiting assisted suicide, but in October, the BC Court of Appeal (BCCA) ruled against this decision. CCD and CACL applauded the BCCA and urged the Supreme Court of Canada (SCC) not to grant an appeal, arguing that the SCC has already considered the matter in Rodriguez and made the correct decision, maintaining the illegality of assisted suicide.
CCD was disappointed when in January the SCC allowed an appeal of the BCCA ruling in Carter v. Canada (Assisted Suicide). CCD and CACL intervened in the leave to appeal application to the SCC to get the disability rights arguments before the Court at an early stage. CCD and CACL will be seeking leave to intervene in the appeal, which is slated to be heard in the fall. David Baker is legal counsel for CCD and CACL.
Public Outreach – Everyone at end of life has some form of disability, thus, we should not be surprised to find that there are some people with disabilities among those calling for assisted suicide. Sometimes these are people newly disabled by progressive chronic conditions. The media find their stories compelling and as a result we witnessed considerable media attention being paid to the public statements made by Susan Griffiths, Dr. Low and Edward Hong. A range of people associated with CCD have been speaking out in the media to explain that legalized assisted suicide would negatively alter public perceptions of people with disabilities and that legalization would put people with disabilities in harm's way, as there is a high likelihood of abuse. For example, when Susan Griffiths views on assisted suicide were being covered by the media, the public also heard why legalized assisted suicide should be resisted from Dean Richert (CBC), Amy Hasbrouck (Canada AM, Winnipeg Free Press, Ottawa media, CFRA Ottawa), Laurie Beachell (Canadian Press, Winnipeg Free Press, CTV), Ruth Enns (CBC), Alex Schadenberg (AM 900 Hamilton).
The week that the Hon. Steven Fletcher's introduced his Private Member's Bills on assisted CCD received many calls from the media seeking our views. The following are some examples of the media work that CCD undertook in response to Bills C-581 and C-582: Heidi Janz (Calgary Herald), Catherine Frazee (Toronto Star), Jim Derksen (Global National).
Catherine Frazee also had an article published in the Montreal Gazette in response to Mr. Hong's call for the legalization of assisted suicide.
Jim Derksen has also addressed assisted suicide in Geez magazine.
Toujours Vivant/Not Dead Yet – A private anonymous donor has made a charitable donation to CCD which is to be used to support Toujours Vivant/Not Dead Yet which has been established as a project of CCD under the direction of the Ending of Life Ethics Committee. Amy Hasbrouck is the staff person for TV/NDY. TV/NDY is actively conducting public education from a disability rights perspective on assisted suicide and euthanasia. Quebec's Bill 52 has been a particular focus for TV/NDY.
Expanding the Committee – Carmela Hutchison, Nancy Hansen, and Heidi Janz, joined the Committee this year.
Access to Technology Committee –We have all heard about the digital divide and how people with disabilities are at risk of being on the wrong side of that chasm. CCD has found a novel way to have an impact on technology – the Canadian Museum for Human Rights (CMHR). Since the CMHR's announcement, CCD has been working to ensure that it is accessible and inclusive. As a result, the Museum formed an Inclusive Design Advisory Committee of which CCD is a part and the CMHR has publicly made a commitment to be Canada's most accessible museum. The CMHR has been working on the design of accessible information kiosks and it is hoped that the Museum's kiosks will influence the kiosk industry.
Canada Post –CCD has also raised our concern about the digital divide in relation to Canada Post's announced ending of door-to-door mail service. There appears to be an assumption that people can get their mail other ways, but poor people, many of whom have a disability do not have the same level of access to electronic means of communication as do their wealthier neighbors.
Broadcast Accessibility Fund - CCD has registered with the Broadcast Accessibility Fund. This meant that CCD could vote in the election of the two independent accessibility directors of the Broadcasting Accessibility Fund. The other accessibility directors are elected by the communities of persons with sight, hearing, mobility and cognitive impairments.
The Broadcast Accessibility Fund will:
Act as an independent funding body for innovative projects that provide platform-neutral solutions to promote accessibility of broadcasting content in Canada;
Fund only projects that are incremental to the existing Canadian regulatory obligations of the broadcasting dustry;
Fund practical and cost-effective solutions that increase accessibility in broadcasting.
British Columbia Coalition of People with Disabilities: Pat Danforth
Alberta Committee of Citizens with Disabilities: David Storey
Saskatchewan Voice of People with Disabilities: George Thomas
Manitoba League of Persons with Disabilities: Carlos Sosa
Citizens with Disabilities – Ontario: Terrance Green
Confédération des organisms de personnes handicapées du Québec: Richard Lavigne
PEI Council of People with Disabilities: Anne McPhee
Coalition of Persons with Disabilities Newfoundland Labrador: Kelly White/Gerry Weir
Alliance for Equality of Blind Canadians: Anthony Tibbs
Canadian Association of the Deaf: Doug Momotiuk/Frank Folino
DisAbled Women's Network Canada: Carmela Hutchison
National Association of Disabled Students: Natalie Fougère
National Network for Mental Health: Jean Beckett
Thalidomide Victims Association of Canada: Gregor Wolbring
People First of Canada: Calvin Wood
NWT Disabilities Council: Denise Mckee