Act Now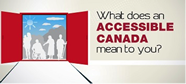 Empower U: Learn to Access Your Disability Rights Training on Canadian Human Rights, the Convention on the Rights of Persons with Disabilities (CRPD) and its Optional Protocol (OP) training aims to increase awareness of how to address discrimination using more familiar Canadian human rights laws such as Human Rights Codes and the newer international Convention on the Rights of Persons with Disabilities (CRPD). This is training for persons with disabilities by persons with disabilities. The training is part of a project funded by Employment and Social Development Canada and implemented by the Council of Canadians with Disabilities (CCD) in collaboration with Canadian Multicultural Disability Centre Inc. (CMDCI), Citizens With Disabilities – Ontario (CWDO), Manitoba League of Persons with Disabilities (MLPD) and National Educational Association of Disabled Students (NEADS). Read more.
Sign Up for our monthly digest
A monthly newsletter from CCD about what is happening in the community
CCD Voice of Our Own - Spring 2015
On the CCD Agenda
Member Groups

On the CCD Agenda
Steve Estey, Chairperson of CCD's International Committee, will be attending the Eighth Session of the Conference of States Parties (COSP8) at the United Nations in New York. The theme of this year's Conference is "Mainstreaming the rights of persons with disabilities in the post-2015 development agenda". For many years, CCD collaborated on development projects with member organizations of Disabled Peoples' International.
CCD will also be participating in a side event on data collection, titled "Developing National-level Disability Data Strategies" that has been organized by the Canadian Association for Community Living (CACL).
"Developing National-level Disability Data Strategies" will provide participants an opportunity to learn more about current challenges related to designing national data collecting tools that are based upon the social model of disability. Invited panelists are: Steve Estey (Canada), Nancy Milroy Swainson (Canada), Juan Pablo Salazar (Colombia), Adele Furrie (Canada), and moderator Tim Stainton (Canada) The side event will take place on 10 June 2015 at the United Nations in New York.
In February, the Supreme Court of Canada lifted the ban on assisted suicide. Assisted suicide threatens the human rights of persons with disabilities. It is now critical for people with disabilities to speak about safeguards needed so we are not offered assisted suicide as an option when services and supports are lacking. CCD has been undertaking a number of activities in preparation for the conversation on safeguards. Many of these activities have been greatly enhanced by the work done by Toujours Vivant – Not Dead Yet.
Toujours Vivant-Not Dead Yet (TVNDY) is a project of CCD's Ending of Life Ethics Committee. Disability activist Amy Hasbrouck is the project's staff person. Amy reports that TVNDY has recently undertaken the following activities:
On April 26, TVNDY presented at a webinar sponsored by Citizens with Disabilities Ontario. The archived webinar is not yet online. Watch for it at http://www.cwdo.org/d/category/sections/news/webinars/archived-webinars
On May 13, TVNDY presented a workshop at Vie Autonome Montréal / Independent Living Montréal on assisted suicide. A video of the presentation will be made available on my youtube channel.
TVNDY's weekly online discussions are available for viewing on the YouTube channel, at: https://www.youtube.com/channel/UCMxJd8vID7g4pB7ugZOxbuw
TVNDY's interview with Gabriel Bouchard is now available with English subtitles and French captions also on our youtube channel, or you can find the link on TV-NDY's facebook page.
Updates are frequently (at least 1 per day) posted to TVNDY's facebook page, at facebook.com/toujoursvivantnotdeadyet .
TVNDY will be presenting at the Hope Ireland conference on June 6 in Dublin.
Member Group Updates
Disability Alliance BC
Disability Alliance Executive Director Appointed to Order of BC
Jane Dyson, Executive Director of Disability Alliance BC, has been appointed to the Order of BC for 2015.
"For 26 years, the Order of British Columbia has recognized the remarkable accomplishments and efforts by extraordinary British Columbians," said Lt.-Gov. Judith Guichon. "This year we honour British Columbians from a variety of fields, each recipient illustrating the positive difference just one person can make in the lives of many."
"The Order of British Columbia recognizes British Columbians whose positive impact is felt throughout the province and, in some cases, the world," said Premier Christy Clark. "This year's recipients have utilized their talent and passion to make a difference. On behalf of all British Columbians, I want to thank them for their dedication, and all they do to make B.C. a wonderful place to live, work and raise a family."

Alberta Committee of Citizens with Disabilities
ACCD on the Web!
Continuing Care in Alberta
Continuing Care front-line staff have been affected by a decision to cut 120 full-time positions for Licensed Practical Nurses. Many of these staff have been asked to reapply for part-time positions, with reduced hours and benefits. Covenant Health representatives say the changes will improve patient care and provide adequate staffing for peak care times during the day.
After system-wide changes were made to the Continuing Care program in 2013, the Alberta Disabilities Forum initiated a Home Care working group. The working group has advocated for improvements to the quality of home care services, staff training and remuneration, as well as increased transparency and stakeholder input into decisions that affect Albertans who need home care.
To learn more about the work that ADF has done regarding home care, visit www.adforum.ca/publications or email adf@accd.net.
Iris Saunders – CCD Award
Congratulations to the family of the late Iris Saunders, whose contributions to Alberta's disability community are being honoured by the Council of Canadians with Disabilities Award posthumously.
Iris was the driving force for EmployAbilities for over 28 years and throughout her career, she fought tirelessly for inclusion of people with disabilities.
Iris was recognized across Canada for her lifelong passion, dedication and innovative ideas that brought awareness to the untapped workforce of people with disabilities.
Iris' passing has left a large void in the world of people with disabilities. ACCD is honoured to present the CCD Award to the Saunders family.

Saskatchewan Voice of People with Disabilities
Saskatchewan Increasing SAID
Saskatchewan's most vulnerable will benefit from continued investment in support programs for children, youth and their families. As well, the Ministry of Social Services' 2015-16 Budget will address the needs of people with disabilities and those in need of housing. "The province is increasing benefits to the Saskatchewan Assured Income for Disability program. (SAID) for the fourth consecutive year with an additional $5.7 million. In June 2015, those in residential care will receive an increase of $20 a month; individuals and couples will see increases of $50 and $55 respectively. Approximately 13,000 households will benefit."

Manitoba League of Persons with Disabilities (MLPD)
Preserving Our Voice: MLPD's Oral History Project
MLPD has celebrated its 40th anniversary: the League was founded in 1974 as one of the first disability rights organizations in Manitoba. That's a long history and the MLPD Council is working to ensure it is not forgotten. Using oral history methods, MLPD will be preserving the voices of MLPD members and staff who were active during the organization's early days. Carlos Sosa is the researcher for this project and he has taken a leave of absence from the MLPD Council for the duration of the project.
The MLPD Oral History project is important because it will increase knowledge about the lessons learned by early disability rights organizers. We will be sharing that knowledge with members and the general public to enhance awareness of disability history, the MLPD and our accomplishments.
The Government of Manitoba (Culture, Heritage and Tourism), the Oral History Centre (University of Winnipeg), the Allan Simpson Memorial Fund, and the Canadian Centre for Disability Studies are contributing resources to this project.
The Oral History Centre defines oral history as "a method of historical inquiry and analysis that includes life histories, storytelling, narratives, and qualitative research." The Centre goes on to explain that interviewers work with community members so they can "tell, record, and archive their life stories or their memories of a specific event, person, or phase in their life". To learn more about oral history, visit the Oral History Centre website.

Citizens with Disabilities Ontario (CWDO)
National Webinar on Assisted Suicide
Citizens with Disabilities Ontario (CWDO) conducted a webinar on assisted suicide, which took place on 26 April 2015. Some of the guest speakers were: Catherine Frazee, former Chief Commissioner of the Ontario Human Rights Commission; Jim Derksen, member of CCD's Ending of Life Ethics Committee; Amy Hasbrouck, activist and founder of Toujours Vivant/Not Dead Yet and Scott Allardyce from CWDO. People with disabilities from across Canada gathered online to discuss this important topic. Transcripts and presentations have been posted on the CWDO website. The complete webinar will be posted in a few weeks.

P.E.I. Council of People with Disabilities
Too Many Not Respecting Parking Spaces Reserved for People with Disabilities
P.E.I. needs better enforcement around the use of disabled parking spaces, says the P.E.I. Council of People with Disabilities.
Other provinces have much harsher penalties for illegal use of parking spaces reserved for people with disabilities, says Marcia Carroll. (CBC)
Executive director Marcia Carroll told CBC News enforcement is especially important in winter, when many drivers want a spot closest to the door.
"People need to know that the designated spots are for permit holders only and they need to respect that and honour that," said Carroll.
"We believe more effective enforcement needs to happen there needs to be stricter fines and people's cars need to be towed away but that's not what happens on P.E.I. if you park in a blue spot. You get a ticket and you can go pay it and that's the end of it."
Carroll said other provinces have much harsher fines for drivers who use disabled parking spaces without the proper permits, as high as $500. In P.E.I. fines range from $25 to $50.
It's an issue Carroll's organization has talked about with various levels of government for years now, but she doesn't expect the problem to go away unless there are harsher penalties.
Carroll said parking lot owners can also help by making sure snow is cleared so people see the blue paint that marks the spots.

Nova Scotia League for Equal Opportunities
Caucus Presentation 2015
NS LEO made a presentation to the Nova Scotia caucus. It is available on line at http://www.novascotialeo.org/#!newsaandevents/c10d6
Coalition of Persons with Disabilities Newfoundland and Labrador
New Inclusive Emergency Planning Resources Unveiled
The Provincial Government and the Coalition of Persons with Disabilities Newfoundland and Labrador today unveiled two new emergency planning resources, including a planning guide and a personal information kit for persons with disabilities. These new resources are part of an emergency preparedness initiative undertaken by the coalition last year and supported financially by the Government of Newfoundland and Labrador.
"Through the Provincial Strategy for the Inclusion of Persons with Disabilities, our government has made great efforts in making what we do each day more inclusive of persons with disabilities. Both emergency planning resources announced today are a great demonstration of private, community and public organizations working together to ensure that barriers are removed for persons with disabilities. I commend the partners that supported their development and encourage all first responders, municipal planners and anyone who might assist a person with a disability during an emergency to read the inclusive planning guide. I also encourage all individuals with a disability to utilize the new personal information kit and have it easily accessible to emergency responders. Our communities and residents will be safer as a result of the resources unveiled today." The Honourable Clyde Jackman, Minister of Seniors, Wellness and Social Development, and Minister Responsible for the Status of Persons with Disabilities.
The initiative was first announced in October 2014, and is aimed at better equipping municipal planners and first responders and helping persons with disabilities prepare for an emergency. The guide titled Shared Responsibility An Inclusive Emergency Planning Guide: A Resource for First Responders and Community Leaders, and the new PREP (Personal Resource for Emergency Preparedness) Kit was an idea developed by the coalition in cooperation with many partners.
"Overall emergency preparedness is a shared responsibility. The valuable new resources unveiled today will support emergency planners and emergency first responders to assist and more accurately anticipate the needs of persons with disabilities during an emergency or crisis. Effective and inclusive emergency planning is important in keeping our communities and residents safe. Our government will continue to work with our many emergency management partners province-wide to further advance planning efforts, now in a more comprehensive and inclusive way." Honourable Darin King, Minister of Justice and Public Safety and Minister Responsible for Fire and Emergency Services Newfoundland and Labrador.
Work to develop the guide and PREP kit was steered by a 22 member task force of individuals with expertise and experience in emergency preparedness and matters concerning persons with disabilities. The Provincial Government provided $30,000 to support the project.
"With the increase in emergency situations, the coalition wanted to ensure everyone was prepared to do their part. We wanted first responders and community leaders to have information about inclusive planning and response. We also wanted persons with disabilities, themselves, to be prepared. The coalition would not have been able to do this without financial support from the Provincial Government and the support of our many task force partners. With the resources being unveiled here today we are helping ensure inclusive emergency preparedness happens and helping ensure people's safety. Jerry Weir, President Coalition of Persons with Disabilities Newfoundland and Labrador
The guide and PREP kit will be made available online and in print and alternate formats upon request. Individuals wishing to attain copies are encouraged to contact the Coalition of Persons with Disabilities at 7097227011 or email info@codnl.ca.
More information about general emergency preparedness can be found at www.gov.nl.ca/fes or www.getprepared.gc.ca.
QUICK FACTS
The Honourable Clyde Jackman, Minister of Seniors, Wellness and Social Development and Minister Responsible for the Status of Persons with Disabilities, joined representatives of the Coalition of Persons with Disabilities in St. John's today to launch a new inclusive emergency planning guide and a Personal Resource for Emergency Preparedness kit, both aimed at reducing barriers for persons with disabilities. Shared Responsibility An Inclusive Emergency Planning Guide: A Resource for First Responders and Community Leaders, and the PREP kit were development by a 22 member task force of individuals with expertise and experience in emergency preparedness and matters concerning persons with disabilities. The Provincial Government provided $30,000 in support of the Shared Responsibility initiative and is focused on ensuring emergency preparedness, response and recovery efforts meet the needs of persons with disabilities.

Alliance for Equality of Blind Canadians
Announcing AEBC's New 2015-16 Board
At the 2015 AEBC National Conference and Annual General Meeting in Halifax, Nova Scotia, a new AEBC national board of directors was elected. The new board of directors is as follows:
Dar Wournell as President for two years,
Sharlyn Ayotte as First Vice President for one year,
Alan Conway as Second Vice President for two years,
Robert Hebert as Treasurer for one year,
Maryse Glaude-Beaulieu as Secretary for two years,
Stephen Ricci as Director for one year,
Leo Bissonnette as Director for two years.
Consumer movement of the blind targets Canadian government and regulated organizations over consumer access
Kelowna, BC - June 1, 2015 - Far too often, blind, deaf-blind and partially sighted Canadians ask for documents in accessible formats and these requests remain inaccessible, unheard or unmet. The Alliance for Equality of Blind Canadians (AEBC) is spearheading a national awareness campaign leading up to Canada Day called 'I Am Your Customer' that will highlight the need for accessibility solutions for blind, deaf-blind and partially sighted Canadians so that we may participate fully as informed customers in the marketplace throughout Canada.
Targeting Canadian government and regulated organizations, The AEBC is asking all blind, deaf-blind, and partially sighted Canadians to reach out to government departments, banks, telecom companies, credit card companies from June 23, 2015 through June 30, 2015 and ask for documents in accessible formats of their choice.
The AEBC is hopeful the 'I Am Your Customer' campaign, will impact the lives of many and make a difference, giving blind, deaf-blind and partially sighted Canadians a louder voice and in return, bring accessibility awareness to Canadian government departments and regulated organizations so that they reassess their accessibility strategies and provide their information in various formats that we can read independently.
"Although Canadians have a right to information under the Canadian Charter of Rights and Freedoms, and Human Rights Legislation, there are still barriers to obtaining information about products, programs and services within the marketplace in accessible formats and across channels", says Dar Wournell, President of the Alliance for Equality of Blind Canadians.
With the tagline 'One Voice. More Choice', the AEBC campaign is already taking off on social media. The AEBC is asking blind, deaf-blind and partially sighted Canadians to take the pledge by tweeting and updating Facebook statuses with 'I just took the @blindcanadians #IAmYourCustomer #AEBCpledge #CanadaDay. Join me! http://www.blindcanadians.ca'.
Open to all blind, deaf-blind and partially sighted people and our supporters, the organization highlights the importance to have as many Canadians engaged in our campaign as possible. Dar Wournell explains, "It's not only for those of us who are blind, but we want the Canadian government and other organizations to understand the importance of accessibility of information, communications and technology that ensures greater choice in the digital market. Having accessible documents and other information in large print or Braille, at the touch of your fingertips, gives you independence and the ability to access your personal information without having to give it away to a total stranger who could take your information and use it without your knowledge and put us and organizations at risk of identity theft and fraud."
"I'd even go further to state that Point of Sale (POS) devices at stores with touch screens are not accessible without speech for someone who is blind, deaf-blind or partially sighted, as we must divulge personal information to a total stranger by handing them over your pin code to your bank or credit card; it certainly is not safe when you can't verify the total amount of your purchase," adds Wournell.
Providing access to products, programs, services and technology such as point of sale devices, ATMs and other digital systems should be seen as a "win win" situation for both our community and for merchants," said Sharlyn Ayotte, AEBC's 1st Vice President and a successful entrepreneur , "as it will make it easier for us to participate fully and independently in the marketplace as informed customers. But it is even bigger than that, as it opens up new opportunities for innovation for affordable and accessible products and services which work for all of us as mainstream solutions. Just ask Apple Corporation"!
About AEBC
The Alliance for Equality of Blind Canadians is a national not for profit organization, founded in 1992, that is dedicated to promoting the increased inclusion of blind, deaf-blind and partially sighted Canadians in all aspects of social life, from employment to participation in elections. Our members, comprised of blind, deaf-blind and partially sighted consumers and supporters nation-wide, participate in working groups and committees, engage local city-based chapters and engage in public awareness and education activities on a daily basis. Our mission is to increase awareness of rights and responsibilities, so blind, deaf-blind and partially sighted individuals can have equal access to the benefits and opportunities of society.

DAWN-RAFH Canada
Happy Mother's Day?
by Bonnie Brayton, National Executive Director, DAWN-RAFH Canada
This year on Mother's Day DAWN-RAFH Canada, in collaboration with Guelph University's Centre for Families, Work and Well Being released Fast Facts on Mothering and DisAbility, the first in a series of pieces designed to raise awareness of the many issues and barriers that mothers with disabilities and Deaf mothers face.
On Sunday, Huffington Post also published an informative article on some of the challenges facing "Parents with disabilities", featuring interviews with me and Jewelles Smith among others.
Several of our own staff here at DAWN-RAFH Canada are mothers and so we've also lived some of these challenges. Aisha Ka, our Administrative and Finance Coordinator is a Deaf woman. Aisha, who is presently on maternity leave, described how different her experience of childbirth was with her first child, who was born before she received cochlear implants. No supports were provided to facilitate communication and she had to rely completely on her spouse to speak for her throughout the birthing experience and hospital stay.
In reality, very limited research on mothers with disabilities in Canada has been undertaken. There is an excellent report done by West Coast LEAF in 2014 entitled ABLE MOTHERS: The intersection of parenting, disability, & the law which provides a holistic view of the many barriers that women with disabilities experience and that place them and their children at risk in the context of child custody and parental rights.
And there has been some good qualitative research done over the years, including DAWN-RAFH Canada's report, The Only Parent in the Neighborhood, but it had a broader focus and more recently DisAbled Mothering – Building a Safer Community for Mothers with Disabilities by Jewelles Smith which was focused on access to shelters and transition houses.
Beyond that, there are a small number of individual academics and academic institutions who understand the importance of doing this research.
We also know there has been a response to some of the needs of mothers with disabilities in Ontario which we can assume to be largely attributable to the Accessibility for Ontarians with Disabilities Act (AODA) but it's such a limited response and not based on a real understanding of this specific need of mothers with disabilities.
At all three levels of government there are huge gaps in data collection and research and no policies to speak of. As a consequence there is little to no funding and few programs being directed at the problems.
And this is despite what we DO know from the data that does exist, which is that the very poorest women in Canada today are single mothers with disabilities. Instead of supporting these women by providing parenting assistance, adaptive tools and other resources, we assume they are inadequate parents and threaten to take their children away– it's shocking! from them instead of supporting them. Family Courts are backed up with something like 75% of people having to represent themselves because they cannot afford a lawyer.
The West Coast LEAF report sets the bar high, where it needs to be, with some clear direction in the area of parental and sexual and reproductive rights. We're really interested in the findings and recommendations and in including them in a national initiative that we are beginning this Mother's Day with the launch of Fast Facts on Mothering and Disability, which will be followed by a series of Information Sheets on Reproductive Rights, Mothering and Care Giving.
When we were preparing for the release of these Fast Facts we really struggled to find 'good' things to share FOR moms!
We would love to hear FROM some of you Moms out there. So please share your thoughts, your good experiences and the changes you hope for.

Fast Facts: Mothering and Disability
Mothers make up the vast majority of custodial parents in Canada and experience economic insecurity based on challenges which include maintaining paid work while also caring for their children and difficulties finding affordable child care.
These challenges are exacerbated for single mothers with disabilities. One third of all women with disabilities live below the poverty line and up to 75% are unemployed.
Canadian research has found that mothers with a mental health diagnosis were three times more likely to have been involved with the child protection system than mothers without a diagnosis.
Mothers with a range of impairments have reported that health professionals have suggested immediate termination of the fetus upon learning of their pregnancies.
Mothers with disabilities experience the threatened and actual loss of their children, as well as barriers to adoption, bringing their children home from the hospital, and maintaining custody of their children after a separation or divorce.
While a handful of parenting assistance programs exist, Canadian mothers with disabilities report that access is limited due to long waiting lists, inadequate funding, and limits to the duration of services.
As a result of these challenges, many mothers with disabilities report "doing without" home care support of any kind, or are forced to rely on informal supports such as family members and friends.
Sources:
Canadian Women's Health Network. (2001). Nurturing assistance: Support for parents with disabilities. Women's health and diversity: Part 2, 4(3). Retrieved from http://www.cwhn.ca/en/node/39590
DisAbled Women's Network Canada. (2010). Women with DisAbilities and Poverty Fact Sheet. Retrieved from http://www.dawncanada.net/enjeux/enjeux/fiches-dinformation/pauvrete/
Malacrida, C. (2007). Negotiating the dependency/nurturance tightrope: Dilemmas of motherhood and disability. CRSA/RCSA, 44(4), 469-493.
Malacrida, C. (2009a). Gendered ironies in home care: Surveillance, gender struggles and infantilisation. International Journal of Inclusive Education, 13(7), 741-752.
Prilleltensky, O. (2003). A ramp to motherhood: The experiences of mothers with physical disabilities. Sexuality and Disability, 21(1), 21-47.
Stienstra, D. (2012). About Canada: Disability Rights. Halifax: Fernwood Publishing.
Thomas, C. (1997). The baby and the bath water: Disabled women and motherhood in social contexts. Sociology of Health & Illness, 19(5), 622–643.
Track, Laura. (2014). Able Mothers: The intersection of parenting, disability and the law. Vancouver: West Coast Women's Legal Education and Action Fund.

National Educational Association of Disabled Students (NEADS)
Donations Accepted for the Christine Nieder Memorial Award
In March, 2015 the National Educational Association of Disabled Students (NEADS) announced a new award for Canadian graduate students with disabilities: the NEADS Christine Nieder Memorial Award. The award will commemorate the life and contributions of Ms. Christine Nieder, NEADS Board member, who passed away in July 2014. The award will be offered to one student per year in the amount of $1,000 or more, depending upon donations to the program, starting in the 2015 cycle of the NEADS Student Awards/Scholarships Programs.
This Award has been established for deserving graduate students with disabilities who demonstrate a passion for and commitment to their research, to engagement in their local, regional and/or national communities, and to disability advocacy. These criteria are chosen to be reflective of Christine's own passions and interests in her life.
Christine Nieder was a member of the National Educational Association of Disabled Students' (NEADS) board of directors and our National Graduate Experience Taskforce. When Christine passed way she had been a member of the NEADS Board since January 2012, was a key driver in the establishment of the Taskforce, and served on the Taskforce since its inception. She was instrumental in the final development of the National Graduate Student Experience Survey and other key elements of that project.
Christine Nieder presented the work of the Taskforce in several locations, most notably at the conference of the Canadian Association of College and University Student Services (CACUSS) in 2013. Her presence and contributions enriched the work of our organization on the national stage, particularly shown through her concerns and expertise for adaptive technologies and financial literacy. Christine was a dedicated advocate for the rights of post-secondary students and graduates with disabilities in British Columbia. The legacy that is her great work and passion will continue to be realized as the Graduate Experience project moves toward its completion.
Emily Duffett, NEADS Chair/Nova Scotia Director said this about the Christine Nieder Memorial Award: "Christine was an important part of the NEADS family who worked tirelessly on behalf of persons with disabilities. I am glad we can honour her legacy through helping other students with disabilities achieve their dreams."
Mahadeo Sukhai, Senior Advisor Leadership and Governance/NEADS Student Awards Chair added "Christine was a valued part of NEADS, and the National Graduate Experience Taskforce, as well as an important contributor to our work nationally and in British Columbia, and a good friend. We honour her legacy and her passion for research and volunteerism with this new award."
Donations are now being accepted to the Christine Nieder Memorial Award accepted through Canada Helps, a secure way to contribute to this important scholarship. Tax receipts will be issued for 100% of the value of your donation. Donate online here:
https://www.canadahelps.org/en/charities/national-educational-association-of-disabled-students-neads/national-educational-association-of-disabled-students-neads/
National Network for Mental Health (NNMH)
NNMH Appoints Ellen Cohen to CCD National Council of Representatives
Ellen Cohen – Board Member representing Ontario has been on the National Network for Mental Health (NNMH) Board of Directors since 2011 and has been an active member since 1996. Ellen has personal experience with mental health issues and is a supportive family member. Ellen has worked in the mental health field for over 20 years, predominantly in community and organization development where she worked with the Consumer Survivor Development Initiative from 1993-2002; facilitating and supporting the development of the Ontario infrastructure of Consumer /Survivor member driven and operated organizations. She went on to facilitate and organize the North East Ontario Consumer Survivor Network (NEON). Ellen has participated on many boards and has facilitated for committees and working groups on behalf of the Ontario Federation of Community Mental Health and Addictions. She is a founding member of the Canadian Coalition of Alternative Mental Health Resources (CCAMHR) and will be working to re-establish the CCAMHR this year. A recent graduate of the Social Service Worker program and Canadore College she also holds a BA in sociology and social welfare from Laurentian University.