Act Now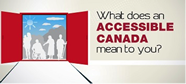 Empower U: Learn to Access Your Disability Rights Training on Canadian Human Rights, the Convention on the Rights of Persons with Disabilities (CRPD) and its Optional Protocol (OP) training aims to increase awareness of how to address discrimination using more familiar Canadian human rights laws such as Human Rights Codes and the newer international Convention on the Rights of Persons with Disabilities (CRPD). This is training for persons with disabilities by persons with disabilities. The training is part of a project funded by Employment and Social Development Canada and implemented by the Council of Canadians with Disabilities (CCD) in collaboration with Canadian Multicultural Disability Centre Inc. (CMDCI), Citizens With Disabilities – Ontario (CWDO), Manitoba League of Persons with Disabilities (MLPD) and National Educational Association of Disabled Students (NEADS). Read more.
Sign Up for our monthly digest
A monthly newsletter from CCD about what is happening in the community
CCD Voice of Our Own - Summer 2015
On the CCD Agenda

Member Groups News
On the CCD Agenda
Ready to Vote!
The Council of Canadians with Disabilities is helping Elections Canada (EC) inform Canadians about how to get ready to vote. EC's Ready to Vote, e-Bulletin (October 2015), is now available. Check it out to get the latest information on voting in the October 19, 2015 Federal Election and share it throughout your networks.
Voter's Checklist
This voter's checklist gives tips to keep on track for voting:
Who Can Vote
You can vote if you are a Canadian citizen, at least 18 years old on election day and can prove your identity and address.
Register to Vote
You have to be registered to vote.
Register at your Election Day polling place.
It is possible to register at your polling place, just before you vote. To register and vote, you must present proof of name and address accepted at the polls – see full list.
Get Your ID Ready for Voting
When you vote, you will need to show ID to confirm your identity and address.
Show 1 piece of government-issued ID with your photo, name and current address (e.g. driver's licence or some provincial or territorial ID card. Check the EC list to verify which ones are accepted.).
Or
Show 2 pieces of ID. Both must have your name and 1 must have your current address (e.g. health card and a utility bill).
Or
Take an oath. Show two pieces of ID with your name and have someone who knows you attest to your address. They must show proof of identity and address, and be registered in the same polling division. They can attest for only one person.
OR
Take a completed letter of confirmation of residence to the poll and show one piece of ID with your name.
Having a piece of ID that includes an address is difficult for some Canadians: people who live in a seniors' residence, long-term care facility, or shelter; people who live on the streets but use the services of a shelter or soup kitchen; students living on campus; First Nations persons living on a reserve or Inuit hamlet.
If any of these describe your living situation, you can prove your address using a letter of confirmation. You can have the letter of confirmation form completed by the administrator of a First Nations band or reserve, an Inuit local authority, a student residence, seniors' residence, long-term care facility, shelter or soup kitchen. Alternatively, EC also accepts a letter from the administrator printed on their organizational letterhead.
Voting
On Election Day at your polling place, which will be open for 12 hours.
There are several ways to find the location of your polling place:
Your voter information card tells you where to vote.
Once the election is called, go to elections.ca and type your postal code into the Voter Information Service.
Call 1-800-463-6868 or TTY 1-800-361-8935.
EC's "Accessibility Policy and Service Offering" describes its approach to access for people with disabilities. It states, "Our long-term vision is for accessibility to be an ongoing process to provide inclusive, universal and flexible services that benefit everyone." EC explains the policy is a living document, which will be updated after the 2015 Federal Election.
Polling place accessibility
Information on the accessibility of your polling places can be found on your voter information card or at elections.ca.
Either your polling place will have an automatic door opener, or an election worker will be at the door to provide assistance.
If you need assistance at any time in the voting process, please ask an election worker and tell them how they can help.
You can also bring a support person, friend or family member to assist you. The voter with a disability makes the choice about who provides assistance.
Tools and services at the polling place to improve accessibility
Magnifier with light (4X).
Sign language interpretation (requested ahead of time).
Assistance in marking the ballot.
Tactile and Braille voting template.
Voting screen that lets in more light.
Braille list of candidates.
Large print list of candidates.
If you have comments about accessibility, fill out a feedback form at elections.ca, at your polling place or speak to an election worker at your polling place or call EC at 1-800-463-6868 or TTY 1-800-361-8935. CCD encourages voters with disabilities to give feedback to EC about where they need to improve their service and what is working well to ensure the continuation of good practices.
#DTCforAll
The Council of Canadians with Disabilities (CCD) and Independent Living Canada (ILC) are joining together to ask political leaders to commit to making the Disability Tax Credit (DTC) refundable. The two major national cross-disability associations, along with their networks of members from coast to coast, solicit the support of all Canadians for this initiative to reduce poverty among people with disabilities. Please sign the petition today!
But you are probably wondering - What does this mean for me? It means that whether you are employed or not, a refundable disability tax credit will help people with disabilities pay for the extra costs associated with disability. Currently, the majority of people who benefit from this program are those with full time jobs who pay taxes through their employment. But all people with disabilities need support to pay for these costs.
The Refundable Disability Tax campaign (#DTCfor All) needs your support to show politicians that Canadians with disabilities support this initiative. There is still time to sign the petition. So log on, sign up and be a part of a united community of people with disabilities.
Disabling Poverty, Enabling Citizenship – Canada's Federal Parties Have Their Say
The Council of Canadians with Disabilities (CCD), a national organization working for an inclusive and accessible Canada, sought commitments from Canada's major political parties on initiatives focused on disabling poverty and enabling citizenship:
Poverty alleviation (CCD identified a refundable Disability Tax Credit as a first step.) and increased employment opportunities,
Implementation of the Convention on the Rights of Persons with Disabilities and ratification of its Optional Protocol, and
Accessibility measures (such as a Canadians with Disabilities Act, enforceable access regulations for transportation and other areas in Federal jurisdiction, improved palliative care and other services, support for capacity building for the disability community).
CCD emphasized the need for measures to particularly address the lived experience of girls and women with disabilities and people with disabilities facing additional barriers, such as First Nations and Aboriginal people with disabilities and racialized people with disabilities. Parties were asked to respond by 1 October 2015.
"Every Federal Election since 1978, CCD has shared the Parties' commitments on our priority issues, so that people with disabilities and their families will be informed voters," states Tony Dolan, CCD Chairperson.
"What CCD heard from the Federal Parties indicates that while all have disability on their radar screen, some more than others view disability through a human rights lens and the human rights approach is what holds the most promise for achieving a Canada that is inclusive and accessible to persons with disabilities," states John Rae, CCD Second Vice Chair. The Green, Liberal and NDP Parties' responses to CCD were based upon a human rights analysis while the Conservative and Bloc Quebecois favoured an economic and jurisdictional approach, respectively.
Poverty Alleviation
This election CCD prioritized obtaining support for a refundable Disability Tax Credit to provide extra money to off-set the extra costs of disability for people with disabilities on low incomes. Elizabeth May wrote, "Greens will also convert the Disability Tax Credit (DTC) to a refundable credit as a first step in creating a GLI [Guaranteed Livable Income]." The Bloc indicated that it would study making the DTC refundable.
NDP Leader Thomas Mulcair promised "a national anti-poverty strategy with targets and timelines to reduce and eliminate poverty" and a review of existing income support programs for persons with disabilities "in order to coordinate benefits and increase accessibility." The NDP also made a commitment to accessible childcare, which helps parents meet their family and job responsibilities. Mr. Mulcair promised, "…my plan for affordable childcare, costing parents no more than $15 a day, will be based on principles of accessibility and inclusiveness. All children, including those with disabilities, should have the right to high quality early learning and care." Accessible childcare also benefits parents with disabilities, particularly women with disabilities as women continue to have significant responsibilities for children.
The NDP pledged to reform the appeal process for Canada Pension Plan Disability benefits, promising to make it fairer, more transparent and faster. Mr. Mulcair also indicated that his Party would "expand EI Sickness Benefits from 15 weeks to 45 weeks, while also making them more flexible."
The Green Party made a commitment to enforcing the Employment Equity Act and to discussing a work-sharing program for employees with disabilities and to collaborate with small and medium-sized businesses on the establishment of employer tax credits to support the full employment of persons with disabilities. Ms. May stated, "In 2015, no Canadian should be faced with discrimination or lack of access to employment opportunities or needed support because of their disability. Canada can and must do better for people with disabilities. I look forward to working with CCD to advance the human rights of Canadians with disabilities, and create a more equal society for all."
The Liberal Party Platform promised to "more than double the almost 11,000 Canadians who access Skills Link each year. This program helps young Canadians – including Aboriginal and disabled youth – make a more successful transition to the workplace."
The Hon. Candice Bergen, Minister of State for Social Development, shared with CCD Prime Minister Harper's media release, which announced "an increase in the maximum annual Canada Disability Savings Grant for low and middle-class families from $3,500 to $4,000."
Convention on the Rights of Persons with Disabilities
For CCD, a Canadians with Disabilities Act (CDA) could be a mechanism for implementing the Convention on the Rights of Persons with Disabilities (CRPD), which Canada ratified in 2010. In their letters to CCD, the NDP and the Green Party took a stand in support of a CDA. Moreover, the Green, Liberal and NDP committed to implement the CRPD, with the Green and the NDP vowing to ratify the CRPD's Optional Protocol. Elizabeth May elaborated the Green Party's plan for ensuring that people with disabilities enjoy human rights, "A Council of Canadian Governments – representing the provinces, territories, municipalities and indigenous governments – would meet and work closely with advocacy groups and stakeholders to develop a coordinated approach to advance the human rights of Canadians with disabilities."
Another priority for CCD has been the restoration of the Court Challenges Program, a vehicle for promoting equality, inclusion and citizenship. The Bloc, Green, Liberal and NDP support the program's renewal.
Access
Gilles Duceppe reported to CCD that the Bloc would transfer funds to the provinces for infrastructure projects, making the provinces and municipalities responsible for accessibility. The Green, Liberal and NDP parties shared information about how they would improve inclusion and participation for people with disabilities by increasing access to disability-related supports.
The Green Party advanced a national equipment fund to provide disability-related supports to enable participation in work and community life. The Greens promised to expand tax rebates for family caregivers and expand the criteria for the Compassionate Care Benefit, make the Caregivers Amount and the Family Caregiver Amount refundable and the Party supported the recommendations of the Employer Panel for Caregivers to create caregiver-friendly workplaces.
The Liberal Party made a commitment to make caregiving benefits available to any Canadian providing care to a seriously ill family member. Moreover, the Liberal Party Platform has committed to investing $3 billion to improve home care services.
The NDP will invest more than $2.7 billion over 4 years in affordable housing and homelessness programs and "invest up to $1.5 billion annually in funding for accessible public transit."
Mr. Mulcair reported to CCD that the NDP would improve access to palliative care, while also implementing the Supreme Court of Canada's decision in the Carter case (Assisted Suicide). The NDP promised to "consult widely with Canadians with disabilities to ensure that the law contains sufficient safeguards."
CCD asked the Federal Parties to share with Canadians where, if elected, they would expand the Federal Government's leadership role with respect to poverty alleviation, the CRPD and access for persons with disabilities, so that we could make this information known to Canadian voters.
"I encourage everyone to think about these responses before they cast their ballot and to vote for the Party that they believe has the best plans for improving access and inclusion for persons with disabilities, urges Dolan. "Accessibility and inclusion benefit all Canadians."

Member Groups News
Disability Alliance BC (DABC)
DABC Launches New Program: Tax AID DABC!
Disability Alliance BC (DABC) is thrilled to announce the launch of our new program, Tax Assistance and Information for People with Disabilities DABC (Tax AID DABC)!
Tax AID DABC is a free, confidential provincial program through which we can assist people receiving the Persons with Disabilities (PWD) designation or Persons with Persistent and Multiple Barriers (PPMB) designation with basic income tax filings and information/referrals on tax related matters. Haven't filed your taxes for numerous years? Don't worry, we can help.
Please feel free to refer people receiving PWD and PPMB with unfiled taxes to Tax AID DABC. For more information, contact Sam Turcott at 604-872-1278/1-800-663-1278 or taxaid@disabilityalliancebc.org, or visit Tax AID DABC's website at www.taxaiddabc.org.
Tax AID DABC is generously funded by the Vancouver Foundation.

Alberta Committee of Citizens with Disabilities (ACCD)
ACCD on the Web!
Website: www.accd.net
Facebook: www.facebook.com/ACCDisabilities
Twitter: www.twitter.com/ACCDisabilities
New Political Landscape in Alberta: Thousands of Albertans flocked to the Alberta Legislature on Sunday, May 25th to see history being made as Alberta Premier Rachel Notley and her cabinet of 11 ministers were sworn in to their new positions. The ceremony followed a historic victory for the New Democratic Party over the Progressive Conservatives, ending a majority government which spanned nearly 44 years.
ACCD is reaching out and speaking with MLAs new and old, informing them of current disability issues in our province and making sure that they consider the voices of Albertans with disabilities in their decision making.
Listed below are some of the changes being made by the NDP government in Alberta.
The minimum wage in Alberta will increase starting on October 1, 2015 from $10.20 per hour to $11.20 per hour (liquor server going to $10.70 per hour).
Minister of Health, Sarah Hoffman has accepted all recommendations in the Auditor General's report on mental health. This includes implementing and measuring the addictions and mental health strategy so people get the care and support they need.
MLAs David Swann (Liberal) and Danielle Larivee (NDP) have been asked to undertake a full-scale review of Alberta's addiction and mental health system.
The Alberta government is looking at its royalty system to identify what type of royalty structure the province should have. They are working under the principle that the owners of our oil and gas resources, the people of Alberta, deserve a royalty system that contributes to a strong, healthy economy with shared prosperity.
Bill 1, An Act to Renew Democracy in Alberta, was unanimously passed by the Alberta Legislature. The bill bans corporate and union donations to political parties effective June 15, 2015. Alberta now joins Quebec, Manitoba, Nova Scotia and the federal government in banning corporate and union donations.
Needless to say, these changes are making the business sector nervous; however the government is determined to carry out its campaign promises insisting it will work along with the business sector to take into consideration all sides of the issues. Time will tell what the outcomes of these changes will be. Stay tuned.
Eye on Accessibility: In partnership with the City of Edmonton occupancy inspection team, ACCD's accessibility assessment program takes us to many interesting buildings both new and old. Recently we visited the brand new two-storey Canadian Tire in South Edmonton Common. The largest Canadian Tire in existence, the store sports interesting features including a driving simulator to test out new tires, a huge 3-dimensional touch display to plan your summer deck and a LEGOLAND for the kids. Most importantly, the store demonstrates a commitment to accessibility and meets or exceeds the standards of the Alberta Building Code. ACCD is glad to see promising practices in universal design incorporated into this new building and congratulates Canadian Tire on their new store, set for grand opening June 11, 2015.
Service Dogs Act: The Service Dogs Act became law on January 1st 2009, and, together with the Blind Persons' Rights Act, ensures public access rights for assistance dog owners with disabilities in Alberta. Today, assistance dogs are helping more people with a wider range of disabilities than ever before.
Annual Open House: Our open house will be taking place on December 4, 2015 at ACCD's offices. Each year our open house is a time for meeting with old friends and newcomers, to let them know about the work ACCD and ADF are doing and what is to come in the future. We are eager to fill you in, so please join us at ACCD's office for food, drink and merriment!

Saskatchewan Voice of People with Disabilities Inc.
We Have Moved!!
The new office location is: Suite 201 Dewdney Ave. Regina, SK S4R 1H3. We are located in the beautiful Warehouse District in Regina

Manitoba League of Persons with Disabilities (MLPD)
MLPD Member Elected Secretary/Treasurer of CCD
The League was very pleased when MLPD member Carlos Sosa was elected as the Secretary/Treasurer of the CCD National Council of Representatives.
Carlos has been a co-chair of the MLPD but took a leave of absence from the MLPD Council to become the staff person for the MLPD's oral history research project. Carlos returns to the MLPD Council in October.
Carlos presented the results of the MLPD Oral History project at an international conference at the University of Winnipeg in October.
In addition to the MLPD, Carlos is also involved in various social justice, human rights and community development groups within Winnipeg.

Citizens with Disabilities Ontario
CWDO Welcomed Summer Students!
CWDO had two summer students: Tiffany Gervasi and David Adamson.
They worked on projects to help businesses be welcoming to people with disabilities, creating webinars, and other public education work. Issues that they worked on include physical activity, assisted suicide, employment, and election information for voters.
Tiffany's position was supported by Employment and Social Development Canada and Confederation College, Northwest Employment Works. David's position was supported by the Council of Canadians with Disabilities (Not Dead Yet/Toujours Vivant) and Confederation College, Northwest Employment Works.

Confédération des organismes de personnes handicapées du Québec
Pilot Project on Motorized Mobility Aids (MMA) and Traffic Safety
June 1, 2015 saw the start of a pilot project in Quebec aimed at modifying the Highway Safety Act to better define the status of motorized mobility aids (MMA) and the rights and responsibilities of their users.
Pedestrians ? Drivers ? Cyclists? Given the legal void surrounding MMA such as motorized wheelchairs and three/four-wheeled mobility scooters, a committee was established in 2011 by the Ministère des Transports du Québec to look into this matter, and in particular to help develop appropriate traffic safety regulations. COPHAN took part in this committee to ensure that the rights of the users of these devices were respected, and to promote their mobility needs.
The pilot project, as published at the start of this summer, takes into consideration several COPHAN demands. However, it still contains several regulations that are hard to defend and put into application. The provisions of the order were applied on July 1, 2015 and will be in effect for three years, after which the Ministère des Transports du Québec will adopt final regulations for integration into the Highway Safety Act. COPHAN will closely monitor the pilot project and the application of resulting regulations to ensure that they do not unduly hinder the rights of MMA users.
For further information or to consult COPHAN memoranda on this issue (French-language only), please go to: www.cophan.org.

PEI Council of Persons with Disabilities
Meet Deborah Wood Salter PEI Council's New Appointee to CCD National Council
My interest in helping Prince Edward Islanders and others with disabilities goes back more than three decades to when I was diagnosed with a chronic illness. Since that time, I have been involved with advocacy issues related to disabilities and have served on several health organization boards that represented local, provincial and national issues.
My graduate studies specialization was psychotherapy and I have applied this training in my work career and volunteer activities. I have served two terms as the PEI representative on the Canadian Counselling and Psychotherapy Association (2009-2013).
My professional career was with the Government of Canada - my last position was mental health policy officer in the national office of the Department of Veterans Affairs in Charlottetown.
I am currently in my third term on the Board of the PEI Council of Persons with Disabilities (2008-present). This has been a very rewarding experience being part of the dynamic Council and knowing that I have contributed to its growth and recognition throughout PEI and Canada.
I am entering my second year as a volunteer with the Hospice PEI Palliative Care Unit in Charlottetown. I feel very privileged to be part of our patients' lives.
I am very excited to be joining the Council of Canadians with Disabilities and am looking forward to talking and meeting fellow Council members.~ Deborah Wood Salter

Nova Scotia League for Equal Opportunities (LEO)
AGM
LEO held its Annual General Meeting (AGM) on September 11, 2015. The final report of the Abilities Now Youth Summit was launched that evening.
Coalition of Persons With Disabilities NL
Coalition Pleased to Share Its Successes for the Year
The Coalition of Persons with Disabilities-NL was pleased to share its successes for the past year with its membership at its Annual General Meeting, held on May 28, 2015. The Hon. Clyde Jackman, Minister of Seniors, Wellness and Social Development, brought greetings to the Coalition's members and announced the recipients of the Provincial Government's 2014 Inclusion Grants.
Jerry Weir, President of the Coalition, stated "We have had a busy year at the Coalition and we are here to celebrate our accomplishments. This past year, we worked on several major projects including Emergency Preparedness and Blue Zone Parking. These projects are vital in supporting inclusion of persons with disabilities but the overall impact of this work will also be of benefit to everyone in our communities". He went on to say that "these projects provided a platform to talk about attitudes toward persons with disabilities…to talk about choice, respect, dignity and fairness".
Kelly White, the Coalition's Executive Director, stated "since our creation in 1983, we have been through many changes and we have seen many changes around us. One thing that has remained unchanged, however, is the deep passion that we see every day about inclusion…as a necessity not just for persons with disabilities but for all of society."
The Annual Inclusion Awards were presented at the AGM. These awards are given to recognize the support and use of inclusive practices. Awards were presented as follows:
Organization/ Agency Award for Inclusion (Dual Recipients) - Fire and Emergency Services, Newfoundland and Labrador and the Royal Newfoundland Constabulary
Business Award for Inclusion - Steele Communications
Individual Award for Inclusion - Greg Hussey
Media Award for Excellence in Disability Coverage - Bonnie Belec, The Telegram
Council of Canadians Award for National Volunteerism – Myrtle Barrett
In addition, three scholarships were presented to high school students with disabilities who are pursuing post-secondary studies. Mark Hemmings from Conception Bay South and Jordan Singleton of Bay Roberts received the Husky Energy scholarships valued at $1250. Jennifer Brown of St. John's received the Scotiabank scholarship valued at $1000

NWT Disabilities Council
Council Reviews Action Plan
According to 2006 statistics, approximately 14% of the population in Canada lives with some form of disability. In 2008, the GNWT published an Action Plan for Persons with Disabilities. The NWT Disabilities Council has spent the past few months interviewing and surveying; service providers, caregivers and people with disabilities to get feedback as to the status of this Action Plan. We looked at the key areas identified in the plan: Housing, Income, Employment, Education and Disability Supports. We sought insight, to both areas of growth and areas of need, and have produced a report that summarizes the information and makes recommendations. This was an evaluation to see where we are and where we need to go. It is meant to start the conversation, to include the voices of people living with disability in that conversation and to help move towards a new relevant plan of action. A plan, with specific goals set to produce real and measurable outcomes, which will have a significant impact in improving the lives of people living with disability in the North. We look forward to sitting with all levels of government to discuss our findings and to move ahead toward full inclusion and participation for all citizens living in the NWT. The report will be available on our website. ~Denise McKee

Alliance for Equality of Blind Canadians
Congratulations Scholarship Award Winners!
For the fourth consecutive year, T-Base Communications has collaborated with the Alliance for Equality of Blind Canadians (AEBC) to provide scholarships to help fund the educational pursuits of students who are blind, deaf-blind, or partially sighted and enrolled in a post-secondary institution in Canada. "As the leader in providing education materials in a range of accessible formats, T-Base is thrilled to support students in their pursuit of an accessible education of their choosing," said Bruce Moszcelt, co-CEO of T-Base Communications.
This year, among the many impressive applicants, Rebecca Jackson, a full-time psychology major at Ottawa's Carleton University, was the successful recipient of T-Base's $2,000 scholarship. Rebecca is pursuing her degree in psychology in hopes of becoming an assistive technology specialist.
AEBC is also pleased to announce that it has awarded scholarships to two outstanding students in the amount of $1000 each. "Each year we are presented with many outstanding candidates who demonstrate their commitment to achieving a higher education as well as making a difference in the inclusion of blind Canadians in all aspects of social life,"
This year, Tyler Harris and Georgia Pike were the successful recipients of AEBC's 2015 Jennifer Laura Eve Wilson Memorial Scholarship. "Jennifer was someone who was always selfless, always there for someone in need. She showed courage in overcoming adversity. She took the challenges life put her way from the complications of Type 1 diabetes including visual impairment, and rose above them with her courage, inner strength and determination to make the world a better place for others. These annual AEBC scholarships continue her tradition of helping others," said Leo Bissonnette, National Director and Chairperson of the Student and Education Council Committee.
Tyler Harris is enrolled at McMaster University where she is pursuing her third year in Humanities II (Bachelor of Arts Honours in History) while also planning to minor in Philosophy. Georgia Pike, who is attending the University of Victoria, is following courses leading to a Bachelor of Arts with a major in Psychology.

Canadian Association of the Deaf- Association des Sourds du Canada (CAD-ASC)
Meet Frank Folino – CAD-ASC Representative to CCD
Frank Folino was born Deaf in Toronto and he graduated with Honours Bachelor of Arts (BA) in Political Science at York University with his research fields relating to the political economy and political power on Canadian federalism.
He joined as President for Canadian Association of the Deaf-Association des Sourds du Canada (CAD-ASC) since 2013 where he brings diverse skills, knowledge and abilities includes community outreach and engagement, advocacy, governance, change management and strategic planning, which promotes the linguistic human rights for Deaf people across Canada who uses American Sign Language (ASL)/English and Langue des Signes Québécoise (LSQ)/French.
He joined as Team Lead for Festival Outreach at Pride Toronto, a not-for-profit organization that hosts Pride Week, an annual festival held during the last week of June in downtown Toronto. Pride Toronto exists to celebrate the history, courage, diversity and future of Toronto's LGBTTIQQ2SA communities and is one of the leading cultural events of its kind in the world with a total economic benefit in 2009 of $136 million. In addition to his work at Pride Toronto, he is currently involved as an Associate Director at Toronto International Deaf Film and Arts Festival in Toronto that hosts bi-annually where it promotes cultural diversity and celebration of emerging "Deaf Cinema."
He received the volunteer award from Festivals and Events of Ontario (FEO) in March 2009, an organization that promotes economic tourism in Ontario for his huge efforts in promoting Pride Toronto and he also received Ontario Volunteer Service Awards from Ontario's Ministry of Citizenship and Immigration in June 2010 for his volunteer recognition in the Province of Ontario. He is also the recipient of Queen Elizabeth II Diamond Jubilee Medal.
He enjoys spending time with friends, traveling, adventure, learning & practicing French/LSQ, reading academic journals, and meeting new people across Canada and around the world.

DisAbled Women's Network Canada / Réseau d'action des femmes handicapées du Canada (DAWN-RAFH)
DAWN-RAFH Canada Celebrates 30 Years of Service to Women with Disabilities and Deaf Women
June 19, 2015 (Montreal) - Today the DisAbled Women's Network / Réseau d'action des femmes handicapées (DAWN-RAFH) Canada begins a year of celebrating 30 years of service to Canadian to women with disabilities and Deaf women.
Seventeen women with disabilities from across the country met in Ottawa from June 20-22nd, 1985 for an inaugural meeting that would lead to the formation of DAWN Canada. They were: Maria Barile, Susan Buchanan, Pat Danforth, Fran Dinn, Joanne Doucette, Irene Feika, Donna Hicks, Margaret Hiltz, Pat Israel, Paula Keirstead, Diane Leeming, Joan Meister, Cathy Moore, Marie-Blanche Remillard, Jillian Ridington, Marie St.-Germain and Barbara Smith.
The earlier work of the DAWN Canada women was largely focused on establishing local and provincial support groups and developing resources. The quantity and quality of publications and resources published and in some cases translated into several languages remains impressive.
In May 2007, with a firm commitment to operating as a Pan Canadian organization, we established a national head office at the Maison Parent Roback, a feminist collective in Montreal, and made an official name change to DAWN-RAFH Canada to reflect our name in both official languages. We remain the only national feminist disability organization in the country and one of only a handful in the world.
Under the leadership of our President Carmela Hutchison and our Board, and with the energy and vision of our National Executive Director Bonnie Brayton, and Staff, all of whom are women with disabilities, DAWN-RAFH Canada continues to represent the voices of women with disabilities and Deaf women, both nationally and internationally.
Just over a week ago we attended the eighth Conference of States Parties on the Convention on the Rights of People with Disabilities (CRPD) at the United Nations where our IN FOCUS initiative was named as one of ten Global Good Practices in addressing violence by Handicap International. It is clear from the outcomes that women with disabilities have got the responses at the ready – the real challenge is engaging leadership in our home countries to actually get behind us and the many organizations who are charged with actually providing prevention and response services.
In the year ahead we will be working with our own National Advisory Committee on Violence Against Women with DisAbilities and Deaf women, and the hundreds of network Partners we have connected with through the Blueprint for Canada's National Action Plan on Violence Against Women and Girls. We are committed to ensuring that our Federal, Provincial/Territorial and Municipal Governments honour the legislation and human rights treaties which are supposed to be protecting all women in Canada but have, until now failed miserably in this regard. Women in Canada today are NOT equal. Indigenous, LGBTQ, racialized, immigrant and refugee women and girls in Canada are NOT thriving!
According to the World Health Organization, there are over one billion people with disabilities in the world, more than half of whom are women, making us the largest minority group on the planet and here in Canada. We continue to live with the highest rates of violence and the lowest rates of employment. This is not a policy gap – this is a policy abyss!
As we proudly enter our third decade, we are launching a national call to action to the leadership of our country to work with us to address the alarming rates of violence that women with disabilities and Deaf women experience. The disconnection between legislation, policy and service delivery can and must be addressed.
DAWN-RAFH Canada will continue to develop tools, resources and curriculum to advance inclusive practice, to lead research, to inform policy and to raise issues that affect women with disabilities and Deaf women in Canada and around the world.
DisAbled Women's Network (DAWN-RAFH) Canada is a national, feminist, cross-disability organization whose mission is to end the poverty, isolation, discrimination and violence experienced by Canadian women with disabilities and Deaf women.

National Educational Association of Disabled Students (NEADS)
Update on the National Educational Association of Disabled Students' (NEADS) Graduate Student Experience Project
As the number of students with disabilities entering Canadian graduate schools continues to increase, faculty in graduate programs, disability service providers, and students, are having to develop new strategies to facilitate their success. There is a considerable need to better understand the overall experiences of disabled students in graduate studies, owing to the paucity of research on the experiences of this population.
The NEADS National Graduate Experience Taskforce was formed in response to these issues by the National Educational Association of Disabled Students (NEADS) in 2012. The Taskforce has the following goals:
To examine the experiences of, and barriers faced by, graduate students with disabilities across Canada;
To develop discussion papers outlining the current systemic issues for graduate students with disabilities;
To produce information which assists in the development of strategies that facilitate the success of students with disabilities in graduate programs;
To develop recommendations for the continued improvement of graduate experience for students with disabilities, which can be translated into policy at an institutional, provincial and/or national level.
The Taskforce is comprised of faculty from graduate programs in Canada, disability service providers, student financial aid administrators, graduate student services directors, community service agencies, assistive technology specialists, legal experts and graduate students with disabilities. Additionally, graduate deans and university senior administrators act in an advisory capacity to the taskforce.
Participating organizations and post-secondary schools engaged in the NEADS Graduate Student Experience Taskforce include:
National Educational Association of Disabled Students (sponsoring aegis). Council of Ontario Universities, Higher Education Quality Council of Ontario, Association of Universities and Colleges of Canada, Canadian Association of Graduate Studies, Canadian Association of College and University Student Services, Canadian Association of Student Financial Aid Administrators, Inter-university Disability Issues Association, University of Toronto, York University, Western University, Guelph University, University of New Brunswick, Simon Fraser University.
The work of the Taskforce consists of several phases. First, an online survey instrument was distributed to students with disabilities across Canada to profile the experiences of, and barriers faced by, graduate students with disabilities in master's and doctoral programs. This survey explicitly focused on the application/interview process; disability-related accommodations and relationship with the disability service provider on campus; the student-supervisor relationship; academic integrity and intellectual property, including conferences and publications; and, collaborations and interactions with faculty and peers. The survey results shaped a key informant interview protocol.
Canadian disability service providers, financial aid administrators, and graduate faculty constituencies were surveyed concurrently to obtain their perspectives on issues, barriers and accommodations for graduate students with disabilities. The Taskforce also undertook a detailed review of the legislative landscape in Canada, a comprehensive evaluation of the student experience literature, and a scan of relevant policies and best practices from across the globe.
The project's first discussion paper, Defining a New Culture: Creative Examination of Essential Requirements in Academic Disciplines and Graduate Programs, is now available on the Canadian Association of Graduate Students' website. Here is the full document in PDF format.
To date, members of the Taskforce, led by the Taskforce Chair, Dr. Mahadeo Sukhai, have presented at many regional, national and international conferences and meetings, including the Canadian Association of Graduate Studies (CAGS), the Society for Teaching and Learning in Higher Education (STLHE), the Higher Education Reform Conference 2014, the Canadian Association of Student Financial Aid Administrators (CASFAA), the Canadian Association of College and University Student Services (CACUSS), and at the Simon Fraser University Summer Institute. Most recently, Emily Duffet, NEADS Chair and Ainsley Latour, Director-At-Large presented the project's findings and recommendation framework during the 2015 Canadian Society for the Study of Higher Education at the University of Ottawa in the Christine Nieder Memorial session.
This innovative and timely project will provide significant background for policy and practice changes that will enhance the experience of the growing numbers of graduate students with disabilities in Canadian universities. The final project report of the NEADS Graduate Student Experience Project is expected to be released publicly in winter 2015/2016.

National Network for Mental Health (NNMH)
The International Initiative for Mental Health Leadership: The Best Learning Experience in 2015!
The International Initiative for Mental Health Leadership (IIMHL) (www.iimhl.com) is an international leadership forum that shares best and promising practices, innovation and research to support the best possible outcomes for people with experience of mental illness and their families. IIMHL is a collaboration of eight countries: Australia, Canada, England, Ireland, New Zealand, Scotland, Sweden and the US.
IIMHL organizes systems for international networking, innovation sharing and problem solving across countries and agencies. The overall aim is to provide better outcomes for people who use mental health and addiction services and their families.
Membership in IIMHL is free, and any leader in mental health and addiction can join to keep up with overseas developments by using this link: http://www1.iimhl.com/Join.asp
2015 Leadership Exchange - "Accelerating Change Toward Mental Health, Well-Being and Inclusion"
Jointly hosted by the IIMHL and the International Initiative for Disability Leadership (IIDL), this week-long learning event took place in Canada, in collaboration with the USA, from September 21 to 25, 2015, and consisted of two events: Leadership Matches and the Combined Meeting. The Leadership matches were held across Canada and the USA.
On September 21-22, 2015, participants were hosted by peers at host sites both in Canada and the USA for focused exchanges on thematic areas of discussion:
In the Midst of Transformation
Transformation of services to self-directed life style
Supporting Families Along the Road Less Travelled
Rotary Employment Partnerships
Resource Centre for Families Utilizing Individualized Funding
Evolution, Success and Challenges in Ongoing Individualized Support Arrangements.

People First of Canada
The Election Is On… Be Prepared and Get Heard!
By Kory Earle
The writ has been dropped, the election is on, and I'm very excited! So I wanted to take a moment to speak to you all about the importance of voting. It is no secret that I am a very political person. I believe in democracy. I believe in being involved in your community. I believe that voting is important if you want a voice in your community's future.
People First of Canada is working with Elections Canada to raise awareness about voting and to make sure everybody knows what to do to be ready to vote. Elections Canada has some great tools to help everybody make sure that their voting experience goes smoothly. The number one thing to do is to get registered. Once you are registered, Elections Canada will send you information on when and where you vote.
I want to especially encourage people with intellectual disabilities to vote. It is our right and we should use it. Many advocates who came before us worked hard to make sure that right was protected in the Charter of Rights and Freedoms.
But I also want to do more than that. I want to encourage people to be aware of what is happening in their communities. I want people to find out who their candidates are and what they stand for. I want people to be informed and involved and to use their voice and their vote this October.
I encourage you to get ready, get registered, and get your voice heard in October.

Thalidomide Victims Association of Canada
TVAC on the Web!
Website: http://www.thalidomide.ca/home/