Act Now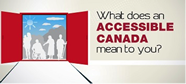 Empower U: Learn to Access Your Disability Rights Training on Canadian Human Rights, the Convention on the Rights of Persons with Disabilities (CRPD) and its Optional Protocol (OP) training aims to increase awareness of how to address discrimination using more familiar Canadian human rights laws such as Human Rights Codes and the newer international Convention on the Rights of Persons with Disabilities (CRPD). This is training for persons with disabilities by persons with disabilities. The training is part of a project funded by Employment and Social Development Canada and implemented by the Council of Canadians with Disabilities (CCD) in collaboration with Canadian Multicultural Disability Centre Inc. (CMDCI), Citizens With Disabilities – Ontario (CWDO), Manitoba League of Persons with Disabilities (MLPD) and National Educational Association of Disabled Students (NEADS). Read more.
Sign Up for our monthly digest
A monthly newsletter from CCD about what is happening in the community
Accessibility Legislation: What the Alliance for an Inclusive and Accessible Canada Heard
On June 21, 2108 the Federal Government tabled Bill C-81, An act to ensure a barrier-free Canada, or the Accessible Canada Act, to make our country more accessible and inclusive! People with disabilities have shared their views on how accessibility legislation could make Canada more accessible and inclusive. This information is available to help Canadians determine whether or not Bill C-81 presents a realistic roadmap that will successfully move Canada toward being a barrier-free country.
Prior to the tabling of the Bill, there was an extensive period of consultation, undertaken by both the federal government and the community of persons with disabilities. With support from the federal government, the Council of Canadians with Disabilities (CCD) and four other disability organizations (Canadian Association of the Deaf, Canadian Hard of Hearing Association, Communication Disabilities Access Canada, Spinal Cord Injury Canada) and 3 organizations from the Indigenous community (Association of First Nations, Native Women's Association of Canada, BC Aboriginal Network on Disabilities Society) had consultation projects which canvassed the community about their views on accessibility legislation.
CCD's consultation project, the Alliance for an Inclusive and Accessible Canada (the Alliance), was made up of 12 member organizations (Alliance for Equality of Blind Canadians, Alzheimer Society of Canada, Canadian Association for Community Living, Canadian Autism Spectrum Disorders Alliance, Council of Canadians with Disabilities, Canadian Mental Health Association, Canadian National Institute for the Blind, DisAbled Women's Network Canada, March of Dimes Canada, National Network for Mental Health, People First of Canada, Realize / Canadian Working Group on HIV and Rehabilitation) and 4 partner organizations (DeafBlind Ontario Services, Muscular Dystrophy Canada, Spina Bifida & Hydrocephalus Association Canada, National Educational Association of Disabled Students). Together, we consulted Canadians about a new federal accessibility law.
The Alliance summarized its findings in a report titled "Consulting Canadians about the New Federal Accessibility Law: Final Report", prepared by Djenana Jalovcic, Ph. D. The final report presented the following priorities that were identified during the Alliance's consultations.
The new federal accessibility law should:
Recognize diversity of people with disabilities and existence of multiple discrimination and marginalization due to the intersection of disability with other marginalized identities.
Target priority groups within the disability community that face multiple discrimination and marginalization.
Include measures that would eradicate poverty among persons with disabilities such as guaranteed income, refundable tax credit, changes in eligibility for various federal programs, employment security, expansion of benefits to include respite care and paid leave, and funding for assistive devices.
Be people centred and rights based to ensure that:
o Access to information in plain language, multiple formats and modes of communication is a right not a privilege
o Accessible information in multiple formats and multiple modes of communication (including interpreters) is available consistently in federally regulated physical and virtual places
o Accessible and affordable housing is made available for persons with disabilities
o Privacy, confidentiality and dignity are ensured for persons with disabilities when accessing federally regulated physical and virtual places and services
o Persons with intellectual disabilities are deinstitutionalized
Introduce a standardized and inclusive definition of disability that is aligned with CRPD, standardized eligibility criteria, and standardized programs, services and benefits.
Introduce enforceable accessibility standards to be used across the country, including mandatory use of universal design.
Be enforceable in legislation and regulations; it should not rely on voluntary compliance and complaints-based enforcement mechanisms.
Facilitate inter-jurisdictional collaboration, between federal, provincial and territorial, and municipal governments, to simplify procedures for persons with disabilities.
Ensure that persons with disabilities have equal and equitable coverage in all media.
Give authority to Ministers and Government agencies to order, issue orders and impose monetary penalties for non-compliance.
Ensure monitoring and reporting on the number and nature of accessibility complaints.
Ensure that the Canadian Human Rights Commission publishes detailed reports on the Employment Equity Act compliance audits; and that persons with disabilities could use information from audits to file human rights complaints.
Ensure that federal contractors are subject to the same reporting requirements as the public and federally regulated private sectors.
Ensure that the accessibility requirement in the Canada Elections Act requires all polling stations to be barrier-free, equipped with accessibility tools, have voting assistance, and provide the option to vote from home; and require election officers to report on the use of accessibility tools and measures taken to remove or prevent barriers.
Ensure that the "excessive demand" clause of the Immigration and Refugee Protection Act is repealed; and in the interim period require the Minister to publicly report on the number of persons with disabilities who apply for, who obtain and who are refused permanent resident status.
Provide support for federal inclusion of visual languages in federal jurisdiction by declaring American Sign Language (ASL) and Langue des Signes Quebecoise (LSQ) as official languages.
The Government of Canada should:
Use an inclusive and comprehensive approach, and a lens of diversity, accessibility, inclusion and intersectionality.
Use the whole – of - government approach to make accessibility part of responsibilities of every department and a requirement for procurement, infrastructure spending, and grants.
Ensure that the new accessibility law is understood among various stakeholders by providing awareness-raising and training sessions on the new law, disability and human rights that are designed and led by persons with disabilities and DPOs.
Sessions should be organized for all government employees, law enforcement officers, bank and transit staff, media, employers, etc.
Manage assistance programs to ensure equality and fairness across the country and create a single point of entry for all programs.
Ensure that persons with disabilities and DPOs are included in planning, implementation and monitoring of all policies, programs and services that are relevant for persons with disabilities including training and awareness sessions on the new federal accessibility law.
The Final Report, as well as the Alliance's four other reports, are available on the Alliance website: http://alliance-canada.org/en/alliance-reports/ .
Reports from other consultation projects are available on the Spinal Cord Injury Canada website at http://sci-can.ca/canadian-access-inclusion-project/consultationworkshop-reports.