Act Now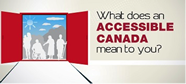 The Government of Canada is leading consultations to inform planned accessibility legislation.
In-person sessions are coming soon to your community. Now is the chance to have your say. Read more.
Sign Up for a Voice of Our Own
A quarterly newsletter from CCD.
Q&A with CRPD Shadow Report Committee Member Maureen Haan
It is The Canadian Council on Rehabilitation and Work's mission to promote and support meaningful and equitable employment of people with disabilities. As innovators and agents of change, they build partnerships, develop skills, share knowledge and influence attitudes.
Maureen Haan has been the President & CEO of CCRW since 2012. Under Maureen's leadership, CCRW has seen an increase in direct program service throughout Canada, as well as a more transparent, streamlining of understanding the business case of hiring a person with a disability. Maureen provides insight to employer engagement through CCRW best practices and proven results.
Maureen has been very active in the cross-disability sector, currently focusing on employment issues. She has been involved with numerous committees and groups that increase awareness of and access for the disability sector and the Deaf community, including The Centre for Research on Work Disability Policy (CRWDP), the Episodic Disabilities Network, the OASLI (Ontario Association of Sign Language Interpreters) and the AVLIC (Association of Visual Language Interpreters of Canada). Maureen started her career in the Deaf community, and is fluent in American Sign Language (ASL) after taking classes out of interest during university.
Maureen will meet with the CRPD Committee to increase their awareness of the issues that she elaborates on in this Q&A.
1. Describe your work with the CRPD Shadow Report Committee.
CCRW has led the area of employment for people with disabilities in the Shadow Report. We have worked with agencies who have similar outcomes to CCRW, focusing on ensuring work that is realized for people with disabilities is both equitable and meaningful. Retention has also been a part of the process.
2. How do you hope your work in Geneva might positively affect the implementation of the CRPD in Canada?
CCRW is excited to be present in Geneva. As the only national not-for-profit organization with the sole mandate of employment for people with disabilities, we will bring a grass-roots perspective to the meeting. We will be able to provide accurate information from the ground level on the real story for employment for people with any type of disability.
3. What would be the most important concluding observation(s) that the committee could offer your particular organisation?
We would like to see acknowledgement on what is working in Canada for the onboarding and retention of people with disabilities and employment. We also expect to see an outcome of a more cohesive group of non-government organizations who will work with the government to influence policy in a more unified fashion. In addition, we expect the Canadian government to listen to the experts delivering advocacy and services during policy development.
4. What do you look forward to most as your work with the Committee continues?
Ongoing strength within our sector. We have incredible skills and talents, and bringing those together in a defined role will only help to elevate areas of employment for persons with disabilities.
5. How will you use the concluding observations in your work in the future?
In the direct delivery of service to people with disabilities as well as in our ongoing work with policy development in the government arena.