Act Now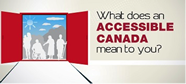 Empower U: Learn to Access Your Disability Rights Training on Canadian Human Rights, the Convention on the Rights of Persons with Disabilities (CRPD) and its Optional Protocol (OP) training aims to increase awareness of how to address discrimination using more familiar Canadian human rights laws such as Human Rights Codes and the newer international Convention on the Rights of Persons with Disabilities (CRPD). This is training for persons with disabilities by persons with disabilities. The training is part of a project funded by Employment and Social Development Canada and implemented by the Council of Canadians with Disabilities (CCD) in collaboration with Canadian Multicultural Disability Centre Inc. (CMDCI), Citizens With Disabilities – Ontario (CWDO), Manitoba League of Persons with Disabilities (MLPD) and National Educational Association of Disabled Students (NEADS). Read more.
Sign Up for our monthly digest
A monthly newsletter from CCD about what is happening in the community
A Voice of Our Own: Special Edition #7
Council of Canadians with Disabilities'
CCD Election Challenge
Liberals Release Platform
The Liberals have committed to work with the provinces and the territories to develop a national disability supports plan. They say that the investment of an additional $150 million in Labor Market Agreements for Persons with Disabilities is evidence of their commitment.
CCD has been advocating for a national disability supports plan. This message has been heard by the Liberals. CCD is waiting for commitments by other Parties on disability supports.
Sending out our critique of the political parties' record on disability issues.
The Liberals say:
"We have a ways to go. But the Liberal vision for an accessible and inclusive Canada is clear. Ten years from now, Canadians with disabilities will enjoy the same Canada as other Canadians enjoy-where the only difference between Canadians with disabilities and those without will be the disability itself, not the quality of life."
Disability Dimension in Federal Initiatives
The Liberal Party committed to having a disability dimension in initiatives supported by the federal government, such as: the New Deal for Cities and Communities and the 2010 Olympics. It has also committed to improving itself as a model employer. The Liberals have also committed to creating a national employer network. CCD has been seeking commitments from federal Parties on the aforementioned initiatives. A little more detail would have been welcome on how the Liberals plan to increase the number of people with disabilities who have jobs. Nevertheless these commitments are positive and CCD is waiting to see what other Parties will roll out on these issue areas.
"Securing Our Success"
The Liberal Party's platform has a chapter addressing disability called "An Accessible and Inclusive Canada. The bird's eye view of the platform shows the Liberal Party committed to:
Supporting Inclusion,
A 10 Year National Strategy,
Tax Assistance,
A Registered Disability Savings Plan,
Sustained Investment in Disability Supports,
A Disability Dimension in Federal Initiatives,
Combating Stigma and Raising Awareness,
Safeguarding an Accessible and Inclusive Canada.
Safeguards
The Liberals state that they will "review and strengthen legislative standards and expected outcomes through monitoring, enforcement and reporting." If the Liberals are elected, CCD will be sending them our plans for improvements in the transportation regulatory system and the Employment Equity Act.
The Liberals report they are considering a Canadian Inclusion and Accessibility Act. Now, all three parties seem to be heading in this direction. CCD has maintained that we have the tools that we need to accomplish inclusion and accessibility. What has been missing in the past is the will to use the tools that we have: Canada's Charter of Rights and Freedoms and the Canadian Human Rights Act. Like the other Parties, the Liberals do not provide any details about what a proposed Act would entail.
10 Year National Strategy
The Liberals have committed to a ten-year national strategy to realize their vision of an Accessible and Inclusive Canada.
The disability community has been calling for a long-tern national strategy on disability issues.
This is the first national strategy to be announced during this campaign. CCD is calling upon the other Parties to inform consumers about their intentions regarding a national strategy.
Education and Training
Responding to the community's emphasis on employment, the Liberals plan to:
Add $150 million over 5 years to employment assistance programs under the Labor Market Agreement for Persons with Disabilities. Dedicate $135 million to enhance access to advanced education for students with disabilities.
Treat workplace-based skill development for people disabilities as a priority.
Tax Assistance
The Liberal Party undertook to implement the recommendations of the Technical Advisory Committee on Tax. $675 million in new funding over 5 years, goes to the extended eligibility for the Disability Tax Credit and an increased maximum Child Disability Benefit of almost $600.000.
The Refundable Medical Expense Supplement maximum has been increased from $750 to $1000 annually.
Improving tax fairness for persons with disabilities has been an on-going priority for the Liberals. We have not heard from the other Parties on tax fairness.
Additional Points
STIGMA-The Liberals have committed to working with the disability community on awareness raising to address stigma.
REGISTERED DISABILITY SAVINGS PLAN-Affluent Canadians have a new way to save for family members with disabilities.
CAREGIVERS-The Liberals will continue to support those in the care giving role. People with disabilities are also caregivers.
Cross Disability
The Liberals have articulated a cross disability vision of Canada. They say, "The Liberal vision for people with disabilities is therefore a vision of a truly Accessible and Inclusive Canada-accessible and inclusive not just for persons with physical disabilities, but also for persons with psychological and other invisible disabilities. A Canada where-thanks to adaptation, technology and supports-all Canadians can live full lives with adequate opportunity, income and economic security"
What are other parties' plans for a cross disability approach to inclusiveness?
Investigate the Parties' Positions
The Parties' positions are available for further review at the following web sites:
Blog for disability rights.
Council of Canadians with Disabilities
CCD
926-294 Portage Ave
Winnipeg, MB
R3C 0B9
Phone: 204-947-0303
Fax: 204-942-4625
E-mail: ccd@ccdonline.ca
CCD, a national advocacy organization of persons with disabilities, works to build a disability-positive environment in Canada. Founded in 1976, CCD brings together national, provincial and territorial organizations of persons with disabilities to work on issues of concern to men and women with disabilities in Canada. Participation in the electoral process has been a priority for CCD since its earliest days. The CCD National Council of representatives endorsed the 7 issue areas addressed in this publication.
Share our election plan with others
Our Challenge
There are many ways to educate both the public and candidates during the Federal Election. Some consumers will be running in the election. Others will be working on campaigns. There will also be consumers who will be raising disability rights issues during the election. All these activities are important. The challenge is for consumers to be as visible as possible during the election. This visibility draws attention to the citizenship of persons with disabilities and what we need to achieve full participation. In these pages, you will find a discussion of key issues for consumers to raise during this election and some suggested activities.
Ask Candidates
Do you support a national investment in a Disability Supports Fund?
How do we develop a labor market strategy, addressing disability?
What would you do to eliminate the poverty experienced by persons with disabilities?
Do you support the development of accessibility regulations, not voluntary codes, to improve access to the federal transportation system?
How would you go about making disability a priority in all Federal initiatives?
More specifically, how would you go about making disability a priority in all Federal initiatives on Aboriginal issues?
Are you prepared to support measures that would get people with disabilities out of institutions and living in the community?
How did you make your campaign accessible?