Act Now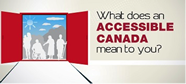 Empower U: Learn to Access Your Disability Rights Training on Canadian Human Rights, the Convention on the Rights of Persons with Disabilities (CRPD) and its Optional Protocol (OP) training aims to increase awareness of how to address discrimination using more familiar Canadian human rights laws such as Human Rights Codes and the newer international Convention on the Rights of Persons with Disabilities (CRPD). This is training for persons with disabilities by persons with disabilities. The training is part of a project funded by Employment and Social Development Canada and implemented by the Council of Canadians with Disabilities (CCD) in collaboration with Canadian Multicultural Disability Centre Inc. (CMDCI), Citizens With Disabilities – Ontario (CWDO), Manitoba League of Persons with Disabilities (MLPD) and National Educational Association of Disabled Students (NEADS). Read more.
Sign Up for our monthly digest
A monthly newsletter from CCD about what is happening in the community
A Voice of Our Own: April 2009
Volume 27, Issue 2
On the CCD Agenda
CCD Member Group Updates
Announcements
---
On the CCD Agenda
Women with Disabilities and Employment Insurance
Presented to House of Commons Standing Committee on the Status of Women by Marie White, CCD Chairperson
31 March 2009, Ottawa
On behalf of the Council of Canadians with Disabilities (CCD) a national human rights organization working for an inclusive and accessible Canada, I want to thank you for inviting me to present today and discuss the consequences and effects of the current Employment Insurance (EI) programs on Canadian women with disabilities. I was pleased to see that the Committee has consulted with Carmela Hutchison, the Chairperson of the DisAbled Women's Network of Canada (DAWN Canada), which is a CCD member group.
While I welcome the opportunity to discuss Canada's Employment Insurance program, I am compelled to note that for many people with disabilities labor market policy is not their main priority. Our End Exclusion web site informs Canadians that our issues are broad and overarching and include:
Canadians with disabilities are almost twice as likely to live in poverty compared to other Canadians.
Over two million Canadian adults with disabilities lack one or more of the educational, workplace, aids, home modification or other supports they need to participate fully in their communities.
According to the International Labour Organization the annual loss of global GDP due to the exclusion of persons with disabilities from the labour market is between US$1.94 trillion and US$1.37 trillion.
Social policy has been homeless in Canada
You see the interesting dichotomy around our issues is that no one disputes the fact that Canadians with disabilities remain marginalized, massively unemployed, lacking supports and disproportionately live in poverty. No one disputes the fact that Canadians with disabilities are likely to face discrimination on a daily basis. No one disputes the fact women with disabilities and persons with disabilities from other minority or marginalized groups often face even more daunting challenges. Yet at a national level, and in most provinces, we still have no clear plan in place to address the substantive inequities faced by Canadians with disabilities.
I contend that social policy is homeless in Canada and we need a vigorous social policy agenda to address our overarching issues including poverty, employment and disability-related supports. Hopefully, the work of this Committee is a signal that Canadian social policy issues will be getting needed attention.
Economic Inequality of Women with Disabilities
There are approximately 2 million women or 13% of all women in Canada who have disabilities (Statistics Canada 2006).
In Canada, women have a lower economic status than men. Women with disabilities have a lower economic status than women without disabilities. The causes are many and varied.
Women earn less than men and less on average than women without disabilities (which can be approx $5000 difference).
Women's care-giving work is largely unpaid. It is often wrongly assumed that people with disabilities are care recipients and not care givers. Like nondisabled women, women with disabilities engage in unpaid work and care giving that contributes to the well-being of families and communities.
Women have unequal access to capital, land and borrowing opportunities.
Job segregation continues. (In 2001, nearly half of all women with disabilities in the labor force worked in the occupations of sales, service or administration. And only 4% of women workers with disabilities were in management positions, compared with 7% of men with disabilities and 8% of women without disabilities (Statistics Canada 2006).)
Women with disabilities tend to have less education than their nondisabled counterparts. In 2001, for women with disabilities, 15 and older, 10% had a university degree compared with 19% of women without disabilities (Statistics Canada 2006).
Over 55% of working-age adults with disabilities are currently unemployed or out of the labour market. For women with disabilities the rate is almost 75% (End Exclusion 2007).
In general, due to the barriers associated with living with a disability in Canada, when it comes to economic independence, women with disabilities fare worse than women without disabilities and men with disabilities. The disadvantage with disabilities means that Canada's social safety net, including EI, is of critical importance to this community.
At least 40 per cent of Canadian women pay no income taxes either because their work is unpaid or their income from paid work is too low. Many other women have incomes that fall into the lowest tax bracket. That means most women have benefited little—if at all—from the push for tax cuts in spite of it often being government's vehicle of choice for progress.
Employment Insurance Benefits—Assisting Vulnerable Canadians
EI is a very important instrument in Canada's public policy regime. In this time of recession, EI has increased significance for all Canadians, including people with disabilities—women and men. Since the beginning of this period of economic downturn, CCD has been reminding Members of Parliament that Canada has a duty to ensure the economic and social security of the most vulnerable Canadians, including persons with disabilities.
EI—Not Accessible and Inclusive to Women with Disabilities
EI is not an accessible and inclusive program for women with disabilities. It is a national disgrace that Canada's "most vulnerable groups—older workers, part-time workers, recent immigrants, new entrants to the labour market, persons with disabilities and low-wage workers generally—are excluded from EI. So are the self-employed (Caledon 2008 p.3)."
Gender Discrimination
Monica Townson and Kevin Hayes in "Women and The Employment Insurance Program" argue that the Employment Insurance program is structured in a way that does not take into account women's patterns of participation in the labour force. For example, they point out that the EI system does not adequately take into account women's reasons for being unemployed. Men tend to be unemployed because they lose their jobs. Women leave their jobs. They provided the following example as one which highlights the gender discrimination in the EI system:
In hearing the 2000 case of Kelly Lesiuk, a Manitoba nurse who had been denied benefits, the EI Umpire expressed the view that, "the eligibility requirements demean the essential human dignity of women who predominate in the part-time labour force because they must work for longer periods than full-time workers in order to demonstrate their labour force attachment… Since women continue to spend approximately twice as much time doing unpaid work as men, women are predominately affected. Thus, the underlying message is that, to enjoy equal benefits of the law, women must become more like men by increasing their hours of paid work, notwithstanding their unpaid responsibilities (Townson and Hayes, 2007 p. 9)."
The barriers are even greater for women with disabilities. As a group, women with disabilities have a weak attachment to the labour force. Unemployment is higher for women with disabilities than it is for either nondisabled men or women without disabilities as was highlighted earlier.
Recommendations
CCD joins with other human rights organizations, such as the Feminist Alliance for International Action (FAFIA) and the Canadian Labour Congress (CLC), in recommending that the Government of Canada increase access to EI benefits:
That the Government of Canada should
take action to bring more women, particularly women with disabilities, into standardized employment with social benefits.
amend the eligibility rules for Employment Insurance to improve access for women with non-standard employment patterns.
ensure maternity leave with pay is made available to women who do not qualify for Employment Insurance, such as self-employed women.
reform the EI program by lowering eligibility requirements. The minimum time worked requirement for all types of EI benefits should be reduced to 360 hours in either a 12 month qualifying period or 3 years of insurable employment that averages 360 hours in the previous 5 years.
eliminate the two week waiting period.
That the Government of Canada, in consultation with the women's and disability communities, should expand the acceptable reasons for voluntarily leaving jobs and remove the penalties on subsequent claims.
And should increase EI benefit levels. For example, the CLC has recommended 60% of insurable earnings based on the worker's best 12 weeks, eliminating benefit reductions due to reduced hours before layoff. FAFIA has recommended that maternity benefits be increased to 70% of insurable income calculated on the basis of the best 12 weeks of income in the last year.
Sickness Benefit
Many women have chronic illnesses—fibromyalgia, chronic fatigue syndrome, MS, arthritis, asthma, etc—that are intermittent, resulting in an ability to work sometimes but not at other times. Women who experience chronic illnesses often find that they are scrutinized with regard to intimate details about their disability, personal accountability, the validity of their claims about having a disability (Driedger and Owen 2008).
Employers continue to be resistant to flexible work arrangements, such as working at home, flexible hours, job sharing (FAFIA 2008). Thus, for women, EI sickness benefits are also of critical importance.
A qualifying worker can receive the EI Sickness Benefit for 15 weeks. In the area of Sickness Benefit, Canada lags behind other countries. The inadequate duration of the benefit puts Canadians at increased risk of slipping into poverty. Michael J. Prince in "Canadians Need A Medium-Term Sickness/Disability Benefit" points out that:
There is a serious weakness in Canada's social foundation of income security. Much more than a crack, the problem concerns the absence of a social insurance program for millions of working Canadians whose work and earnings are interrupted because of illness or disability (Prince 2008 p. 1).
That the Government of Canada should reform the EI Sickness Benefit to provide 52 weeks of coverage.
Commitments to Canadian Women and Canadians with Disabilities
Through international and domestic law, Canada has made commitments to Canadian women with and without disabilities. Canada has ratified the Convention to Eliminate Discrimination Against Women (CEDAW) and participated in the signing ceremony at the United Nations for the Convention on the Rights of Persons with Disabilities (CRPD). The CRPD, in Article 6. addresses the concerns of women with disabilities. It states,
States Parties recognize that women and girls with disabilities are subject to multiple discrimination, and in this regard shall take measures to ensure the full and equal enjoyment by them of all human rights and fundamental freedoms.
States Parties shall take all appropriate measures to ensure the full development, advancement and empowerment of women, for the purpose of guaranteeing them the exercise and enjoyment of the human rights and fundamental freedoms set out in the present Convention.
Disability Rights Supported by Principle of Substantive Equality
The Canadian Charter of Rights and Freedoms and the Canadian Human Rights Act promise equality and nondiscrimination to Canadian women with and without disabilities. Disability rights are founded on the principle of substantive equality. CCD argues that substantive equality means that governments are obligated to institute positive measures to redress the barriers and conditions that create social and economic disadvantages and exclusion from the labour market.
National Action Plan
CCD and the broader disability community have endorsed a national action plan on disability which sets out four key areas for needed action—disability-related supports, poverty, unemployment, and initiatives to improve access, inclusion and full citizenship. We seek a social fabric which includes and respects all—and the EI system is a thread in this fabric.
CCD believes that Canada should be a country where all can live in dignity. Canada should be a country where having a disability does not mean that you will live your whole life in poverty.
We seek parity and inclusion—not charity and exclusion.
Disabling Poverty/ Enabling Citizenship
By Laurie Beachell
CCD National Coordinator
This is the title of a CCD project funded by the Social Sciences and Humanities Research Council through their Community-University Research Alliance (CURA) stream. CCD has provided an overview of this project's objectives in an earlier edition of Abilities. This article will share CCD's current perspective on poverty and disability.
Clearly there is no dispute. Canadians with disabilities disproportionately live in poverty. In fact some would say that poverty and disability are largely synonymous: poverty can lead to disability and disability can lead to poverty. In response to this fact, there is a patchwork of local/provincial/territorial and federal programs that overlap, grab back, and build on each other but fail to provide adequate income and basic supports. In addition to the public programs there are a variety of private disability insurance income supports. For many, the complexity and interplay of programs not only fails in many instances to provide a living income, but it also creates new barriers and more disincentives to employment. The disincentives are most evident when income support programs have tied to them other disability support benefits such as drug coverage or home care. Poverty becomes entrenched when additional earned income exemptions remain low.
CCD's View Re: Poverty and Disability
CCD believes that poverty results from paternalistic beliefs and discriminatory practices in employment, child care, education, training, housing, income maintenance programs and private life insurance plans. CCD, in all its work, applies a rights based approach and this analysis is also brought to our work on poverty. Disability rights are founded on the principle of substantive equality. Substantive equality goes beyond the idea of ensuring that every one is treated the same. Owing to different life conditions or the effects of historical discrimination, same treatment may not always produce equal results. For persons with disabilities substantive equality means that positive steps must be taken to ensure that policies, standards, programs and services are fully accessible and inclusive. CCD also argues that substantive equality means that governments are obligated to institute positive measures to redress the barriers and conditions that create social and economic disadvantages and poverty.
The CCD CURA project has adopted a working definition of poverty. We are using the definition contained in Quebec's An Act to Combat Poverty and Social Exclusion. "Poverty" means the condition of a human being who is deprived of the resources, means, choices and power necessary to acquire and maintain economic self-sufficiency or to facilitate integration and participation in society.
What Does This Mean For CCD's Recommendations to Government on Poverty?
CCD has always looked to the federal government for leadership on disability issues and this remains true in our efforts to address poverty. It was the Government of Canada that substantially reduced the poverty of Canada's seniors. Old Age Security and the Guaranteed Income Supplement (OAS/GIS) are proven vehicles that are socially accepted and have lifted many seniors out of poverty. Equally true, the Canada Child Tax Benefit has helped children and families living in poverty to have a better life. Also equally true, the new Registered Disability Saving Plan (RDSP) was created by the current government and is targeted to provide "financial security for children with severe disabilities." Yes, the RDSP is a targeted benefit that only has significant results if families can contribute to it and if they invest for the long-term, but the RDSP at its core is a federal initiative designed to decrease the unacceptable life of poverty many people with disabilities face.
Beyond the RDSP, CCD has been calling on the federal government to make the Disability Tax Credit (DTC) refundable for low income Canadians and to retain it as a tax credit for eligible persons to offset the additional costs of disability. Both the Liberal Party and the New Democratic Party in the last election committed to making the DTC refundable. CCD is calling on the Government of Canada to do likewise.
CCD also calls upon the Government of Canada in the short-term to extend Employment Insurance Sick Benefits from 15 to 52 weeks. This would be particularly helpful to those with episodic or cyclical disabilities.
In the long-term CCD believes that the Government of Canada should develop a national basic income program for those with severe and prolonged disability. Doing so would free up dollars at the provincial level for reinvestment in disability-related supports and services. Some argue that such a program is too costly. The Caledon Basic Income Proposal would cost about $6.1 billion annually. This seems like a huge amount of money but in truth it is equal to one percent of the Goods and Services Tax.
Bottom Line
Canada is a wealthy country even in times of recession. Canada's fragmented and inadequate income security safety net for persons with disabilities is a disgrace. Canadians and their governments generally agree that the poverty of Canadians with disabilities should be addressed. It will not happen overnight but lets get on with mapping the way forward. CCD is working to Build a More Inclusive and Accessible Canada. Our Canada is one where disability does not mean a life of poverty.
Disability Rights Promotion International: Breathing Life into Human Rights Principles
By Steve Estey
As Chair of CCD' s International Committee I have been involved in the work related to the development of the new UN Convention on the Rights of Persons with Disabilities for the past several years. Often when I get a chance to meet and talk with CCD members across Canada the conversation starts off like this: "Sure it's great about the UN Convention, Steve, but what difference does it make to me as a Canadian with a disability?"
It's a fair question, as it is a long way from the meeting rooms at the UN in New York to the inaccessible taxis of Halifax, or the uncaptioned newscasts of regional TV across the land or whatever barriers we may happen to face in our daily lives. One can easily forget that this UN stuff has to connect to the everyday lived experiences of us people with disabilities, or else it is not worth the energy.
This is exactly why I've been so pleased to be involved with the work of Disability Rights Promotion International – Canada (DRP–Canada). The essence of DRPI-Canada's work is to take the human rights principles enshrined in documents like the new UN Convention and to breathe life into them for you and for me every day as we seek to live our lives as Canadians with disabilities. CCD has been involved with DRPI–Canada since the very beginning of the work nearly five years ago. Recently the mid-term report of the project was published; here are some highlights:
DRPI Canada has developed and field tested a broad range of tools that can be used by persons with disabilities and to monitor disability rights in the four themes:
Monitoring Individual Experiences is central to the project's holistic approach to monitoring. It involves the collection of qualitative data through face-to-face interviews conducted by people with disabilities themselves (monitors). People with disabilities are asked to tell their own stories and identify the rights issues that are most important to them. Specific methodologies and tools have been developed to monitor the situation of people with disabilities including an Interview Guide, a Training Manual for Monitoring Individual Experiences and a Manual on Developing and Implementing a Disability Rights Monitoring project. The monitors from Toronto and Quebec City sites were trained at a five-day seminar held in November, 2007 in Toronto and the monitors from the other two sites (St. John's and Vancouver) will be trained over the next months. Local disability organizations are working closely together with our university researchers to analyze and synthesize the data from the four sites into reports to be used as advocacy tools by our community partners.
Monitoring Media—research is focused on investigating how the Canadian media portray people with disabilities with the aim to evaluate both how the mainstream media cover key issues concerning people with disabilities, and how the issue of disability rights is treated. Some of the main questions to be answered by our research in this theme include: How is disability defined by media? What are the perspectives from which the media addresses disability? (e.g. from a perspective of charity, medical aid, or service delivery)

Central to the work in the media theme has been the establishment of a panel of experts composed of people with disabilities with expertise in both media and disability issues. Presently there is little, if any, systematic monitoring of the media on this issue, and yet the media have a tremendous influence on how Canadians come to understand (or misunderstand) the myriad issues facing the disability community. Stories, such as the Robert Latimer case, come to frame the question of disability rights, and little investigation has been done on the impact. DRPI–Canada is currently in the process of testing the survey that comprises ten major Canadian newspapers as well as CBC-Television, CTV, and CBC-Radio over a five year period.
Monitoring Law and Policy—assesses the impact of laws, policies, and case law in protecting and promoting disability rights. Specific methodologies and tools were developed in order to collect, analyze and synthesize legislation, policy and case law at the federal level and provincial levels corresponding to the monitoring sites of the 'Monitoring Individual Experiences' theme. A law and policy template has been developed, grounded in various international human rights conventions, including the Convention on the Rights of Persons with Disabilities, to gather information addressing all categories of rights (civil, political, economic, social and cultural) about systemic protections of the rights of persons with disabilities.
Monitoring Survey Datasets—this research mirrors the approaches employed in the 'Monitoring Law and Policy' theme with, for example, a Qualitative Surveys Assessment Template to determine the kind of information collected by Canadian government national surveys on disability and the situation of people with disabilities. This template facilitates the identification of gaps in the existing surveys. It can also be used to identify changes in the design of population surveys which better monitor the disability rights outlined in United Nations human rights Conventions.
All of this work is being coordinated by a large team of researchers, community activists, lawyers, media experts and students across Canada as part of a five-year SSHRC-CURA (Community-University Research Alliances) grant. CCD has a strong presence in this work as a key partner based on the recognition that it gave a lot of substance and meaning to the claims of human rights for all espoused by the new CRPD.
No question, we are a long way from a world where we people with disabilities enjoy our human rights on the same basis as others. But to go back to the original question, in response to those who ask me what difference the new UN Convention can make; I would say that with the work being done by DRPI–Canada we are coming much closer to understanding in a systematic and comprehensive way just what those gaps are and how they impact on our lives.
This clear understanding is a next vital step along the road to the achievement of our rights. The work of DRPI-Canada goes hand in hand with the work on the UN Convention. One cannot succeed without the other; while together they have the power to change the world!
Pressure Mounting for Ratification of the Convention on the Rights of Persons with Disabilities (CRPD)
30 March 2009 was the second anniversary of Canada's participation in the signing ceremony for the Convention on the Rights of Persons with Disabilities, which took place at the United Nations. By signing, the Federal government signaled its intent to ratify the UN Convention on the Rights of Persons with Disabilities by following typical Canadian procedures, with an emphasis on Federal, Provincial, Territorial discussions that take place behind closed doors.
However, two years after the fact, with 50 other countries having ratified the CRPD, Canada is beginning to feel pressure to fast-track ratification. With so many countries having stepped forward to ratify the CRPD, Canada needs to evaluate the pace at which things are proceeding.
On 30 March 2009, to mark the historic anniversary, the Council of Canadians with Disabilities, joined many countries from around the world by calling once again for an expeditious ratification of the CRPD without reservation.
Indeed, last month at the UN, in Geneva, Canada received encouragement to move this process along more quickly from a number of countries, as part of the new "Universal Periodic Review" (UPR) of Human Rights, undertaken by the Human Rights Council.
At the UPR, Canada faced an international peer-review of our Human Rights record and it is significant that one of the key recommendations was swift ratification of the CRPD.
In its own submission, Canada reported that the Federal, Provincial and Territorial Governments are working toward ratification. Reports submitted to the UPR by Canadian NGOs, recommended that Canada fast-track the CRPD's ratification. During the review, the United Kingdom and Northern Ireland asked Canada to elaborate upon the analysis being undertaken with regard to ratification of the CRPD and to indicate when the analysis would be complete. In the final report issued by the Review, Chile and China recommended that Canada ratify the CRPD "as soon as possible."
Indeed last May, the House of Commons unanimously passed a motion in support of ratification of the CRPD. This motion demonstrates that all Canada's parliamentarians are prepared to have this country abide by the standards set in the CRPD. "With this high level of support for ratification, we are left to wonder why Canada has not announced a projected date when ratification will occur," states Steven Estey, Chairperson of CCD's International Committee and a former adviser to the Canadian delegation which helped draft the CRPD.
Since 30 March 2007, Canadian human rights organizations, trade unions, law societies, academics and groups of people with disabilities have been calling upon the Canadian government to quickly ratify the CRDP.
Last year, the National Action Plan on Disability, endorsed by over 100 organizations nation-wide, called upon the Federal Government to "Initiate a transparent process of work with the provinces/territories and the disability community to ensure ratification of the CRPD within the next two years."
"We continue to stand behind the actions we called for in the National Action Plan," states Marie White, CCD Chairperson. "The UN followed a very open and inclusive process, involving people with disabilities, when it drafted the CRPD in record time and we expect Canada to follow suit with ratification. We once again call on Canada to demonstrate the leadership it demonstrated through the Convention development process."
MP Critic for Persons with Disabilities Speaks Out On Anniversary
On 30 March 2009 in Ottawa, New Democrat Critic for Persons with Disabilities Judy Wasylycia-Leis (Winnipeg North) criticized the Harper government for delaying ratification.
"Two years ago today, when Canada signed the UN Convention, there was great hope that we were entering a new era of equality for persons living with disabilities. The commitment was clear; the words were there. But two years later, the Harper government hasn't ratified the Convention and its actions are ignoring that commitment and destroying that hope," said Wasylycia-Leis.
Despite Parliament unanimously passing a motion to ratify the Convention last May, the government claims to be holding off, pending provincial and territorial feedback Wasylycia-Leis revealed.
Investing in the Future through the Registered Disability Savings Plan
The Registered Disability Savings Plan (RDSP) is a long-term savings mechanism that provides one way for individuals, parents and others to save for the future financial well-being of a person who is DTC eligible. It is the first plan of its kind in the world. While the RDSP does not address short-term needs nor will it meet all of an individual's future income needs, it is still worth consideration, because it presents a new way for people with severe disabilities and their families to plan for the future. One special feature is that, for qualifying individuals, the Federal Government will put money into RDSP accounts.
A unique aspect of the RDSP is that it creates a way to leverage significant dollars from the Federal Government via the Canada Disability Savings Grant or the Canada Disability Savings Bond. For example, depending on the amount contributed and the beneficiary's family income, matching grants can be as high as 300%. If a beneficiary's family income is $77,664 or less, the Federal Government will match the first $500.00 contributed $3.00 for every $1.00 invested to a maximum of $1,500.00. On the next $1,000, the Federal Government will match $2.00 for every $1.00 contributed. Low and middle-income Canadians who cannot make a contribution can access an RDSP Bond of up to $1,000 a year. The lifetime Bond limit is $20,000. If you are DTC eligible and think you could use some extra cash in the future, consider opening an RDSP to get on the road to saving. You can open an RDSP up until the year you turn 59 and receive Grants or Bonds until they year you become 49.
There are a number of things that need to be looked at as you determine if the RDSP is right for you:
Do you qualify for the RDSP?
How do you open an RDSP?
How will you save money in the RDSP?
How do you get access to the RDSP Grant or Bond?
Are there any penalties for early withdrawals?
Where are some sources of additional information?
How will the RDSP affect social assistance payments?
Each of these points are examined below.
7 Steps for Saving with the RDSP
1. Qualify for the DTC
A qualified medical practitioner must complete the Canada Revenue Agency's (CRA) form T2201. This form explains that a person has a severe and prolonged impairment in mental or physical function in one of the following categories:
Vision, or
Marked restriction in one basic activity of living (speaking, hearing, walking, elimination, feeding, dressing, performing mental functions), or
Cumulative effect of significant restrictions, or
Life sustaining therapy.
The CRA determines who is eligible to receive the DTC. (For more information on the DTC, visit CRA's web site www.cra-arc.gc.ca/disability/)
Loss of DTC eligibility will trigger repayment of the last 10 years of Grant or Bond contributions made to the DTC.
2. Open an RDSP
Identify the holder of the RDSP
For a beneficiary under age 18, the holder can be a legal parent, a legal representative or a public department.
For a beneficiary over 18 years of age, the holder can be the beneficiary, him or herself, a guardian, a legal representative or a public department.
A Social Insurance Number or Business number is required.
Identify the Beneficiary
Beneficiary must remain DTC eligible
One beneficiary per plan
One plan per beneficiary
Social Insurance Number of beneficiary is required for opening a plan.
Select A Financial Institution
There are a number of difference banks that offer the RDSP

BMO (Tel: 1-800-665-7700)
Royal Bank (Tel: 1-800-463-3861)
CIBC (Tel:1-800-465-3863)
Les Fonds d'investissement FMOQ inc. (http://www.fondsfmoq.com/)

Each bank offering the RDSP has forms that have to be completed
3. Getting Money into the RDSP
An individual can invest in the RDSP
A Beneficiary can make contributions to his/her RDSP
No annual contribution limit
Lifetime contribution limit of $200,000
Allow funds to grow

Tax is not paid until the funds are withdrawn from the RDSP
Others Can Help You Save
A plan holder can contribute to the RDSP
With written consent from the plan holder, a third party can make a contribution
The Federal Government Can Help You Save
The Federal Government has created two mechanisms whereby it can contribute to RDSPs:
The RDSP Grant
The RDSP Bond
4. Accessing the Grant or the Bond
Fill Out the Forms
Complete the application form for the Grant or the one for the Bond
File a tax return
For beneficiaries under 18, the plan holder must file a tax return and apply for the Canada Child Tax Benefit, which is used to determine family income.
For beneficiaries over 18, he/she must file a tax return
5. Maintain the Plan for the Long Term
As the intent of the RDSP is long-term savings, penalties have been built in to discourage early withdrawals
Grants and Bonds must remain in the RDSP for a 10 year period
An early withdrawal will trigger a repayment of the Grant or Bond
6. Getting Help
Government Resources to Help You Understand the RDSP
There is more information available at
Community Resources to Help You Understand the RDSP
The community group PLAN has developed a web site with some tools to help people make decisions about the RDSP. (See: http://www.rdsp.com/) For example, there is a calculator that can assist you think about how your savings could grown.
The Winnipeg ILRC has developed a captioned video which provides an overview of the RDSP. (See: Registered Disability Savings Plan Info)
Bank Resources to Help You Understand the RDSP
7. Most Provinces/Territories Won't Penalize You for Saving
The following Provinces/Territories have announced that the will not penalize social assistance recipients who have RDSP assets and income:
Alberta
British Columbia
Manitoba
New Brunswick
Newfoundland and Labrador
Northwest Territories
Nova Scotia
Ontario
Prince Edward Island
Quebec
Saskatchewan
Yukon
---
CCD & Federal Budget 2009
On 26 February 2009, the Hon. Diane Finley, P.C. M.P. wrote to CCD sharing information about the Federal Government's most recent Budget. (See: Highlights from Budget 2009.) Since that time, CCD has written to a number of different Cabinet Ministers about initiatives announced in the Budget.
What CCD Did
CCD focused its attention on income tax provisions, training, housing, infrastructure development, Federal properties. In brief, CCD addressed the following:
Hon. James Flaherty, Minister of Finance
CCD reminded the Minister that the Budget did not address CCD's long-standing objective of a refundable disability tax credit for low-income Canadians.
Hon. Diane Finley, Minister of HRSDC and CMHC
Marie White, CCD Chairperson, wrote to the Minister calling for all new housing construction, built with public funding, to follow the principles of universal design. CCD asked the Minister to explain what measures would be put in place to ensure that people with disabilities receive a fair share of new training opportunities.
Hon. John Baird, Minister of Transport, Infrastructure, and Communities
CCD questioned the Minister regarding the criteria that would be attached to Infrastructure funding to ensure that Universal Design will be an overarching set of principles guiding all Infrastructure projects funded by Budget 2009.
Hon. Christian Paradis, Minister of Public Works and Government Services
The Minister was encouraged to undertake consultation with the disability community before modifying Federally owned properties.
What You Can Do
The Federal Government targeted funding for social housing, training, building and repairing community facilities and other initiatives. The Federal Government will channel this money to the Provincial and Territorial Governments to undertake the work of developing these projects. Individuals with disabilities can play a valuable role in making Canadian communities accessible and inclusive by writing to provincial politicians and asking them for assurances that any initiative coming out of Budget 2009 will be accessible to persons with disabilities.
CCD needs your help to ensure that people with disabilities get a fair share of the opportunities created by Budget 2009.
Write to your Premier and ask how the Province intends to ensure that people with disabilities will benefit from Provincial initiatives supported by Federal Budget 2009. Ask for assurances that no new barriers will be created. Some specific topics to include:

Ask if the Province is including an access requirement in all infrastructure projects.
Ask if all social housing will follow the principles of universal design.
Ask what targets the Province is setting for training people with disabilities.
Highlights from Budget 2009
Canada Skills and Transition Strategy
$8.3 billion for the Canada Skills and Transition Strategy, a two-year action plan for Canadians, unemployed workers and their families, with income support for the jobless and skills development for a range of needs.
Strengthening Benefits for Canadian Workers
HRSDC will be establishing an expert panel to consult on how best to provide self-employed Canadians with access to EI maternity and paternal benefits.
Enhancing the Availability of Training
There will be $500 million over two years for a Strategic Training and Transition Fund to meet the different training needs of an additional 50,000 workers whether they are EI eligible or not.
HRSDC is contributing an additional $20 million over two years to the Canada Summer Jobs Program for not-for-profit sector jobs, as well as $20 million over two years for federal public service employment programs.
Investments in Knowledge, Infrastructure and Post-Secondary Education
Up to $2 billion will be allocated to colleges and universities to repair, expand and retrofit facilities.
Housing Investments
Budget 2009 makes available $475 million for new social housing for seniors and persons with disabilities.
Tax Relief for Lowand Moderate-Income Canadians
Budget 2009 increases the basic personal amount and the top of the two lowest personal income tax brackets by 7.5% above the 2008 levels effective January 2009.
Other Measures for Persons with Disabilities
Budget 2009 makes the First-Time Home Buyers' Credit available to existing homeowners seeking to purchase a more accessible home that will be used by a person eligible for the Disability Tax Credit (DTC).
There is a also a commitment to make Federally owned buildings accessible.
---
Summer 2008—Claredon and Delia Took on Camping
By Claredon Robicheau
CCD Secretary and a Member of CCD Transportation Committee
(As spring and summer approach, Claredon Robicheau shares a personal reflection on the joys of accessible camping.)
Last winter brother Cedric and wife Maureen asked us to join them this summer at a campground in Yarmouth County. Although they owned a big camper that had been fitted with a 36'' door, we knew that there were many barriers to think about in order to make it a comfortable and relaxing venture.
The thought of camping was a pleasant thing to dream about. The thought of doing the marshmallow thing late at night, barbeques, having the outdoors as a living room, friendly visitors, playing cash poker under lamps and outdoor breakfasts made it worth it to invest time and money into the idea.
Cedric had been camping for 3 years and had a ramp going to the deck. So the first great idea was to purchase a huge tent. Of most importance was that we both now use personal lifts. The answer: folding beds that the lift could move around. Also a long electrical cord to charge our wheelchairs and plug our electric blankets. Ha, ha, not really roughing it but the first week of June can be cold at night and as you know we don't have the best circulation so need to warm those feet. Rather than tear a camper bathroom apart we got a commode for the tent. After all this, yes, you get a tent with two double beds,commode, two chairs and wives sleeping in the camper (they had a propane furnace). In order to keep it safe, we had cell phone communication.
Sitting outside at midnight with a full belly, melting marshmallows next to a campfire, PRICELESS....
---
Member Group Updates
BC Coalition of People with Disabilities (BCCPD)
Woodlands Survivors Continue Their Long Quest for Recognition and Compensation
The BC Coalition of People with Disabilities (BCCPD) continues to work closely with the We Survived Woodlands Group. The Group is comprised of former residents of the now closed Woodlands School, a provincially operated residential facility in New Westminster, BC. The group's members originate from across the province and have joined to seek compensation for the abuses they suffered while living at the facility under the care and protection of the provincial government.
Ombudsman Dulcie McCallum's 2001 report The Need to Know: Administrative Review of Woodlands School described the physical and sexual abuse that Woodlands residents suffered at the facility. Ms. McCallum found that the abuse was systemic. She made a number of recommendations including that the former residents have their abuses acknowledged and that a process of restitution be established that is respectful, non-confrontational and that does not re-victimize the former residents.
Despite these recommendations the Woodlands residents have been forced to go through a lengthy round of court hearings in an effort to obtain recognition and compensation for the terrible wrongs they experienced. There have been myriad appeals including one the survivors had to launch against a decision that will exclude those who were resident at Woodlands before August 1, 1974: about one-third of the class members. There has been no judgment on this appeal yet. This complex series of applications, appeals and counter appeals means that the Survivors' case will now not begin until January 2010.
The Survivors have never wanted to go to court. In 2005 they produced a brief urging the government to "do the right thing," and settle out of court. The brief has been endorsed by more than 200 groups. Tragically these efforts have not convinced the province to stop and listen to the Survivors' voices. The BCCPD feels privileged to be engaged in this quest for justice and will continue to do all it can to support the Survivors.
---
Alberta Committee of Citizens with Disabilities
Setting the Direction for Special Education: Phase 2
Last November, ACCD attended the Phase One consultation process of Setting the Direction for Special Education in Alberta, and we look forward to attending a second round of consultation—this time seeking input on special education policy, accountability, and funding. The purpose of the phase two sessions is to:
Affirm what was heard during Phase 1 Consultations (vision, mission, and principles)
Share the proposed system redesign to support achieving the vision
Provide feedback and further ideas on the new future, as described in the Discussion Guide for Phase Two (The discussion guide is available on-line at http://www.education.alberta.ca/department/ipr/settingthedirection.aspx
Provide advice on moving change forward
The Five Building Blocks for Change that were identified in Phase One will be used to focus discussion at the phase two meetings. The building blocks are
Setting high expectations for ALL students
Using strengths and abilities to drive programming
Building capacity for school-based staff and the learning team
Collaborating for learner success
Accessing learning resources and technologies for the 21st century
The third and final phase of the project will be the Minister's Forum on June 8 & 9, 2009 which will be an opportunity for Albertans to discuss the new framework as we work together to move forward this system re-design. During our first two consultation phases, we heard that we must make systemic changes where all students are provided the level of supports they require to have a meaningful educational experience. Fundamental to changing our practices is a shift in attitude—from thinking of special education as a separate part of our school system to building one inclusive education system that meets the needs of all students.
ACCD Undertakes Hotel Accessibility Initiative
Earlier this year, ACCD submitted a proposal to Alberta Seniors and Community Supports for assessing barrier-free hotels and hotel accommodations in Alberta. In February, we were pleased to hear that our proposal had been accepted, and work is already well underway on the project.
ACCD has been approached by an increasing number of people over the past few years who are concerned by the lack of accessible accommodations in Alberta's hotel industry. As an organization committed to the full participation of people with disabilities in society, we are excited by the opportunity to raise awareness about this issue.
When preparing the proposal, ACCD became familiar with many of the complicated issues concerning accessible accommodations. Some of the questions raised include:
Why do so few hotels in Alberta have accessibility accommodations?
Is the hotel industry aware of the accessibility needs?
Do the current building codes ensure the comfort and dignity of travelers within the disability community?
In the initial phase of the project, we are assessing how well hotels adhere to the Alberta Building Codes which came into effect in 2001 and 2006. Our goal is to conduct assessments of up to twenty hotels built within the last eight years. The information gleaned from our assessment will enable ACCD to make reasonable and achievable recommendations to the Barrier Free Committee, Safety Codes Council of Alberta.
The Alberta Disabilities Forum Respite Care Demonstration Project
The Alberta Disabilities Forum is a partnership of 42 provincial organizations that have come together to speak in a united voice on issues of importance to Albertans with disabilities.
On January 1, the Alberta Disabilities Forum began providing funding across the province for caregivers of persons with disabilities to identify their need for supports, programs, and services concerning respite care.
The ADF is asking family caregivers to participate in our pilot project by accessing Respite Care Services and providing feedback on the availability and the effectiveness of these services and be part of developing prospective solutions that could support them in their important role as caregivers. Between January 1, and May 30, 2009, we are providing $650 per family/caregiver to access these services.
Information gathered from caregiver's participation will be provided as policy recommendations for a Provincial Respite Care Program through Alberta Health and Wellness.
2008 CCD Award Winner
Congratulations to Donna Martyn—Alberta's 2008 recipient of the Council of Canadians with Disabilities Award!
When Donna was three years old, she contracted and survived polio. Then, in her late teens, she was diagnosed with a rare neurological abnormality and given a maximum of four years to live. That was forty years ago, and although her mobility and fine motor functions have been severely affected, Donna is still going strong! She uses a scooter for mobility and participates fully at work and in the community. In 1995, she received a 25-year service award as an employee of Edmonton Public Schools.
Donna's volunteer and community experience is vast, ranging from secretary of the board for the AFL Occupational Health Centre to serving on Edmonton's Disabled Transportation Services (DATS) review teams to membership in the business and professional women's club. As an advocate for the disability community, she has a particular interest in transportation issues. This interest was fuelled in 1998 when, after a speaking engagement, she was "stranded with no means of transportation."
To address the discrimination she faced that evening, she "launched a human rights complaint regarding discrimination by taxi services in providing an equivalent service to persons with disabilities." It took ten years, but just recently Donna's "relentless work, perseverance, and personal resources" have made 24 hours a day, 7days a week accessible taxi service a reality in the city of Edmonton.
Donna's community commitments have been matched over the years by her terrific and growing interest in politics. In 1987, she served as the newsletter editor for the provincial New Democrat women's caucus. This initial foray into the political scene evolved over the years. She took on increasingly responsible positions with the New Democrat Party, including President of the Edmonton Southwest NDP. In 2004, she was the NDP candidate for Edmonton-Riverview and in 2005 and 2008 she was the federal candidate for Edmonton Centre.
ACCD is honored to present the 2008 CCD Award to Donna Martyn. Congratulations. We wish you continued success in your endeavours!
All-Star Hockey Fun-raiser
On Monday, February 16, ACCD hosted its 13th annual All Star Hockey Fun-Raiser at the Clare Drake Arena in Edmonton. Once again, the Edmonton Police Services Faded Blues Hockey Club faced off against the Edmonton Eskimos Alumni team. Both teams were given a helping hand by the U of A Golden Bears and Pandas hockey teams.
This year's event had a few new twists, including Don Cherry impersonator Clark Robertson hosting the afternoon! The Fun-Raiser door prize and raffle also provided some extra excitement this year. Everyone who attended qualified to win the grand prize—a seven-day cruise by Norwegian Cruise Lines. And raffle tickets were a hot item, with an Edmonton-Vancouver VIA Rail round trip to be won. These new enticements were accompanied by the return of the ever-popular kids' puck pull, an excellent silent auction, and a 50/50 draw—and, of course, some entertaining hockey! More than 60 volunteers contributed to the day's success.
---
Saskatchewan Voice of Persons with Disabilities
Income Support Program for Persons with Disabilities
The Task Team has been working for the past three months on developing, what we think should be an all inclusive program. It is now time to take it to the consumers.
March 30th, April 1st and April 6th are the dates of consultations which will take place in Regina, Saskatoon and Prince Albert.
After the consultations, we have been instructed by the Minister to have an income program ready for government to review no later than May 19th.
There will be a number of recommendations that are associated with the program as money is not on the table at this time. The Task Team does recognize that in order for this to work, money has to be discussed; therefore, adequacy will be one of the recommendations. We are also suggesting at least two more phases in developing this program.
The project regarding women who are being abused is moving along. We are currently looking at translating the "Living in Harmony" booklet into Cree, Dene and Saulteau. A workshop is being planned for May to train First Nations/Metis women to mentor women with disabilities who are being abused.
Seeking More for Girl Power
The "Girl Power Camps" are now finished; we have applied for additional funding to host 10 more camps in the province. The Camps were so successful that we are now being inundated with requests for more.
---
Manitoba League of Persons with Disabilities
MLPD Continues Implementation of Our Strategic Plan
Since our last submission to "A Voice of Our Own" in January, 2009, the MLPD continues work on the implementation of our strategic plan. To this end, we revitalized our membership committee and participated in an awareness event at the University of Manitoba to acquaint students and staff about the MLPD. In addition, we re-constituted our Transportation Committee with a focus on Handi-Transit issues. The committee met to develop priority issues which were brought forward to the City of Winnipeg. Prominent issues relate to Handi-Transit's cancellation policies, scheduling of trips, driver training, etc.
On March 19, 2009, the MLPD participated in a community forum sponsored by the Joint Community/Government Committee on Employment Support for Persons with Disabilities. Discussion focused around a number of issues including: The possibility of developing and implementing a Disability Act in Manitoba, the development of a revised disability strategy in our province, transportation, housing and Employment and Income Assistance for persons with disabilities.
Other MLPD Happenings
The MLPD continues to work on poverty, housing and transportation issues. The Ethics Task Group is involved in ongoing work with the College of Physicians and Surgeons of Manitoba on revisions to their statement on withholding and withdrawing life-sustaining treatment. In conjunction with other groups (including CCD), we are also exploring a possible intervention into an inquest into the death of Brian Sinclair, a First Nations man with disabilities who died in a Winnipeg hospital emergency room without receiving the treatment he needed. The MLPD was represented at a workshop on the Registered Disability Savings Plan facilitated by HRSDC.
To mark our 35th anniversary, the MLPD held an open house for its members and community organizations on April 16, 2009. MLPD activities were highlighted, and several past and current members spoke personally about what participation in MLPD has meant to them. The MLPD will hold our annual general meeting on Friday, June 19 at the Winnipeg Public Library.
---
Citizens with Disabilities Ontario
Upcoming Webinars
Make sure you have a seat! Register early. All Webinars are held in Auditorium 1, in the CWDO IDEAL Conference Centre. Log-in information follows.
May 7th at 7:30 pm EDT
Presenter: Stefanie Marinich-Lee. Development of the CWDO Response to the Proposed Accessible Employment Standards. This is your chance to make sure that your views are before the decision makers. A section by section review, in an interactive, on-line forum resulting with the document that CWDO will present to the Standards Committee. Click here to register for Developing a Response. Secure your seat and have your voice heard. http://www.formdesk.com/odell/Webinar_Dev_Response_Emp_Stds_Register
May 21st at 7:30 pm EDT
Presenter: Tracy Odell. What Did I Say? Improving attendant services through effective communications. Have you ever had trouble making your needs and preferences clear to your attendant? How can you ensure quality control for your services? Join a consumer-led presentation on strategies for improving communications. Click here to register for What Did I Say. http://www.formdesk.com/odell/Webinar_What_Did_I_Say_Register
June 18th at 7:00 pm EDT
Presenter: Tracy Odell. Wheel-Trans Tips and Tricks: Consumer advice for making the system work FOR you. Whether you are new to Toronto's Wheel-Trans or have been using the service for years, there will be a tip for you. This consumer-led presentation will help you get the most out of the service with less aggravation. Click here to register for Wheel-Trans Tips and Tricks. http://www.formdesk.com/odell/Webinar_WT_Tips_Register
MORE WEBINARS ARE BEING PLANNED. Watch www.cwdo.org for scheduled dates.
In June
James Hunsberger on Aging with a Disability. Watch for more details.
Presenter to be confirmed. Cell Phone Applications. What is a "smart phone" and can I use it? What applications of a cell phone best suit my needs? If my service provider does not have the phone I need, can I purchase it and use it anyway? Do cell phones work with my disability? Can I use "video relay" with any cell phone and any service provider? Get the answers to these and many, many more questions. Reserve your seat and send your own questions about cell phones to CWDO to be answered during this most informative session.
In July – August
Dr. Marcia Rioux and colleagues from York Unversity's Critical Disability Studies Master's and Doctoral programs will present a series on the UN Convention on the Rights of Persons with Disabilities. What is good, bad and unfortunate about the UN Convention? Will it make a difference in my life? Why is it important to ratify the Convention? Watch www.cwdo.org for details about this series and the specific dates and presenters as they become known.
Melissa Graham on What First Time Students with Disabilities going to University or College Should Know. The do's, the don'ts. The tricks discovered and developed by students with disabilities currently attending Ontario universities. Learn how to make the best of university from students who have been there and done that. Watch www.cwdo.org for more details.
How to Participate
Follow these easy steps:
Register for the Webinars you want to attend by clicking on the link above.
At the day/time of the event, go to the Ideal Conference Centre at http://ideal-group.org/cwdo/ (We will send you a reminder if you registered.)
Download the plug in following one of the options provided.
Scroll down to Auditorium 1
Enter the room by typing in your name and city or town
Click "Log-in". No password required.
Are Webinars Accessible?
Yes! The IDEAL Conference Centre is accessible for people with disabilities, including those using JAWS. Captioning and other supports can be provided for those who pre-register. It's meant for everyone. Together we are stronger.
---
PEI Council of People with Disabilities
The past year has been one of transitions and changes for the PEICOD. At our AGM the membership voted to change the name of the organization from PEI Council of the Disabled to the PEI Council of People with Disabilities. The name change has been well received and now the new branding has begun.
The Council has also completed their Strategic Planning process that consisted of three full day workshops with staff, Board members, membership and stakeholders. Many new issues arose but many were identified to be the issues the Council has been working on for over 30 years, such as: housing, income support, employment and access to transportation and community services.
One of the new objectives that were discussed was a Location Review of all three Council offices. We are pleased to announce that the review is completed and two new spaces have been secured. Now all three offices are store front properties, on the ground floor with ample free parking for consumers and based on universal barrier free design.
Working to ensure there is Accessible Housing
The Council has been working with City Councilors in both Summerside and Charlottetown to have By-Laws created that state that any multi-unit housing building will include a percentage of accessible units. There is still discussion around the number of units per building. After a review of existing By-Laws across the country we feel the ratio should be 1 accessible unit for every 12 unit building. The City of Charlottetown is considering 1 unit every 20 unit building. There should be By-Laws in place by the end of the year and this will increase the number of accessible units across the province expediently.
Unfortunately, many people living with a high level of disability on PEI are still living in manors that have been design 50 years ago to house terminally ill seniors. The current Provincial Government has undertaken a Manor Replacement Program that will see seven new facilities built across the province. The Council has been at the planning table to ensure that these new facilities address the needs of the under sixty population with disabilities that are going to continue to live in the manors. Ideally, the province would be constructing independent living centers but they do not see this as an option due to low numbers of users and lack of resources. The Council has consulted with individuals and other disability organizations to guarantee that their voices are heard and their concerns are addressed.
Access to Public Transit
After three years of intense lobbying we are pleased to announce that the Charlottetown public transit system is finally accessible. All current buses have working accessibility features and the Provincial Government has assured us that no new transportation applications will be considered unless they have Accessibility Plans and these applications will be vetted by the Council.
The Council is one of the founding members of the Public Transit Coalition of PEI and has been very active on this committee that is pushing for an Island wide public transit system. We were part of the planning committee that released the Entra Report, which outlined the feasibility of a provincial public transit system. As always, our focus is access and we have guarantees that any system will adhere to services standards that address access for all Island citizens.
Partnering to create Poverty Reduction
Poverty is the one all encompassing issue that faces people living with disabilities on PEI. Sixty-five percent of all households living on income support are headed by an Islander living with a disability. Therefore, the Council has been working with other community groups and coalitions to pressure the Government to develop a Poverty Reduction Strategy that addresses core causes and to develop reduction action plans. We are a founding member of the PEI Working Group for Livable Income and a member of the Poverty Reduction Network that is chaired by local MP Shawn Murphy. We attend all meeting and workshops that address the issue of poverty, such as the Eradicate Poverty Now workshop where we had a chance to speak directly to the Premier and the Minister of Health about poverty and how it affects all aspects of a person's life. There is much work to be done and the Council will be at the table to ensure that Islanders with disabilities are represented in all discussions and political actions.
Council addressing Access to Services
Over the last year, the PEI Government has undertaken a comprehensive review of all disability services offered on PEI. The Council co-chaired the Oversight Committee and had representation on all working groups including housing, transportation and employment. The process was lengthy and detailed but all involved believe it will identify gaps in services as well as some duplication of services. The outcomes will be outlined in the final report that is due to be released at the end of next month.
We are also working with the PEI Food Security Network as a member of the Access Committee. This group is looking at the limits and vulnerabilities of our current food distribution system and how it affects Islander and people with disabilities. The committee held three workshops to explore the issues and as a result we now have a solid plan of how to move forward and develop community partnership to address the issues.
---
Nova Scotia League for Equal Opportunities
NSLEO Works with Provincial Partners on Labour Market Strategy
In January of 2009, a significant number of groups from the disability community began to work with government to develop a framework for an integrated labour market strategy for persons with disabilities. The goal is not only to increase the numbers of persons with disabilities entering the workforce, but to ensure that they have adequate supports and services to remain and progress in Nova Scotia's labour market. This strategy is an initiative of the provincial department of Labour and Workforce Development as part of the transition plan for the devolution of LMA and LMDA funds from the Federal Government. NSLEO is pleased to be involved in this process and is currently in talks with the department with regard to the possibilities for broadening this strategy model into a comprehensive disability strategy for Nova Scotia.
NSLEO Presents Annual Position Paper to Caucus
February of 2009 saw the presentation and release of NSLEO's annual position paper to all three Nova Scotia caucuses. The initiative is designed to ensure that disability issues remain in the forefront with all Members of the Legislative Assembly and to continue to cultivate productive relationships with elected officials. This year's paper continued to stress the importance of increasing support for affordable/accessible housing, accessible transportation, community living options for persons with disabilities, technical aids and assistive technology, and disability supports.
We decided this year to stress the importance of implementing some larger strategic changes that would have a long lasting effect on the lives of persons with disabilities in this province. We indicated that our priority was to see the development of a comprehensive disability strategy that would address disability supports and services from an holistic perspective. The implementation of such a strategy would result in more efficient and effective provision of supports and services and in fewer people being left behind or falling through the cracks.
In addition, we chose to promote our recommendations from the human rights perspective this year. In particular, we focused on the "departmental housing" of disability programs, services, and issues within the Department of Community Services. We asked for the Disabled Persons Commission to be moved to the Department of Justice so that disability issues would be removed from a department that is largely perceived as charitable and perpetuating dependence. We stated that moving the Commission would send a strong message that Nova Scotia is committed to protecting and promoting the human rights of persons with disabilities and to facilitating the greatest independence possible.
The 2009 position paper appeared to be well received, and all political parties indicated they were interested in working with us and with the disability community to make Nova Scotia a more inclusive province. The position paper can be found on the NSLEO website at www.novascotialeo.org.
NSLEO Steps Up Press Profile
Since the presentation and release of our position paper, NSLEO has decided to increase its profile in the press. We issued a press release on the issues covered in our position paper, and we intend to increase the number and frequency of press releases. In the immediate future we will target homelessness and disability along with long term care financial assessments and seniors with disabilities. It is our hope that by increasing the number of press releases we will be successful in bringing greater attention to the issues which face persons with disabilities on a daily basis. All too often, these issues are buried and receive little attention. It is our goal to increase the coverage of the issues so that the public becomes more aware of the persistent nature of many of the barriers to inclusion in Nova Scotia and in Canada.
Accessible Housing: Building the Foundation for Inclusive Communities
This is the theme for our 2009 Access Awareness Week activities through the Partnership for Access Awareness Nova Scotia. Although the theme appears to focus on the building of accessible housing, we are also focusing on a broader theme. We want to ensure that Nova Scotians begin to understand that this also applies to persons with disabilities being able to access supports for community living rather than being forced to live in institutions because no community option is available. This theme is also intended to capitalize on, and bring attention to, the funding for affordable housing in the Federal Budget. We want to ensure that these housing dollars are put toward accessible units so persons with disabilities have access to adequate accessible housing in this province. The week's events will feature a breakfast of inclusion where we will bring together government officials and housing industry professionals to learn about and to discuss the necessity for accessible housing.
NSLEO Joins Forces with People First of Nova Scotia and Nova Scotia Association for Community Living
As of March 21, 2009, NSLEO has joined a task force on deinstitutionalization in this province. Unfortunately, Nova Scotia is not making a great deal of progress toward deinstitutionalization, so we have joined forces with People First of Nova Scotia and the Nova Scotia Association for Community Living to develop a strategy to move this agenda forward. It is our hope that we will be able to incorporate this into any provincial disability strategy and that we will be able to make significant progress with regard to moving people out of institutions and into their communities.
---
Northwest Territories Council of Persons with Disabilities
Accessible Computer
The NWTCPD (Yellowknife office) held an open house in conjunction with its 30th anniversary celebration on February 6, 2009. Government officials, dignitaries and the public were in attendance. The Council used the celebratory event to officially launch its 'accessible computer'.
Funded through a grant gratefully received from the Yellowknife Community Foundation, the computer features a hi-resolution 47 inch LCD screen/monitor, zoomtext magnifier and screen reader and a wireless large print keyboard. It is hoped that voice recognition software will further increase functionality for vision impaired people in the near future. Intended to bring 21st century technology to a wide spectrum of people with disabilities living in the north, the accessible computer meets the mission statement of the NWTCPD of "promoting awareness, opportunities, choices and participation in all aspects of life in the Northwest Territories."
Supplementary Health Benefits Program
The Government of the Northwest Territories (GNWT) announced in December 2008 that it intended to re-structure the Supplementary Health Care Benefits Plan under which many northern seniors and people with disabilities receive medications, prescriptions and medical equipment and services. The new plan, a consolidation of several plans into one comprehensive plan, would be accessed through a determination of 'net household income'. The proposed plan allows for two levels of coverage, dependant on income, with cost of living adjustments, dependant on home community location.
Critics of the plan quickly complained of the lack of consultation by the government prior to announcing the plan, loss of access or coverage by some current users due to varying family circumstances, inappropriate income determinations and gaps in coverage which would result in undue hardship for some northerners.
Heated debate in the legislature described the consensus government as dictating policy to its constituents. The community at large protested the government action through rallies outside the legislature building, despite -35º C temperatures, letter writing campaigns to the Premier and the Minister of Health and through petition signing.
On February 6, 2009 the government backed down when the Minister of Health announced a postponement of the program to September 1, 2009. The postponement would, as the Minister said "provide the time needed to respond to the gaps and engage stakeholders in making the changes. We will do this by holding public meetings with stakeholders and the general public."
Human Rights Victory
The struggle for human rights equality took a small step forward in November 2008 when the NWT Human Rights Commission agreed that a 'service fee' of $6.00 for requesting a 'special vehicle' was discriminatory. The service fee was charged in addition to the cost of the taxi fare.
A complaint, supported by the NWTCPD, was initiated in July 2007 by Bill Burles, a wheelchair user with spina bifida, after a local taxi company, City Cabs, charged the fee for use of its wheelchair accessible taxi. This fee significantly increased the overall cost of a taxi ride anywhere in the city and was being paid only by people with a disability.
After hearing arguments from both sides, the adjudicator found in favour of Mr. Burles for 'injury to feelings, dignity and self-respect'.
---
Alliance for Equality of Blind Canadians
2009 Conference Set for Vancouver
AEBC's 2009 Conference, with the theme "Inclusion Today," is set for May 1 to 3 at the Westminster Quay. We will hold workshops on Friday afternoon and most of Saturday on such topics as access to transportation, the landscape of employment, accessible communications, and the national strategy. Voting on resolutions and elections for board positions will begin late afternoon on Saturday and continue on Sunday morning.
The Inn at Westminster Quay is a very unique, boutique hotel as it is the only hotel in the Lower Mainland that is built over the Fraser River offering exciting river views from every guestroom. The facility offers a Fitness Centre, sauna, Jacuzzi and a 2-mile boardwalk on the waterfront.
Adjacent to the hotel are the Skytrain transportation system and the Westminster Quay Public Market, with restaurants, food fair, clothing outlets, and souvenir shops. The convenience of our location offers easy access to New Westminster's newest attraction the Starlight Casino.
For further details, write info@blindcanadians.ca.
CNIB Has Turned Its Back on Blind Canadians, Consumer Group Charges
March 17, 2009—The CNIB, which was founded in 1918 to assist blind Canadians, "Continues to turn its back on those Canadians it was established to assist," charges the Alliance for Equality of Blind Canadians, a national organization of rights holders who are blind, deaf-blind and partially blind.
The recent appointment of a sighted CEO is only the last in a long line of decisions that have harmed the very citizens the CNIB exists to help. A lack of consultation with blind Canadians, fundraising campaigns that demean their clients, and now the appointment of a sighted CEO have left blind Canadians feeling frustrated and in search of alternative sources of the services we need.
Until last year, CNIB's bylaws required that its President/CEO must be a blind person. However, in September that provision was repealed, and "predictably, CNIB's new CEO is sighted, with no firsthand experience living with blindness."
"This is yet another backward step," charges Robin East, President of the AEBC. "Without in-depth experience living as we do as blind Canadians, we have no reason to expect that the new CEO will reverse CNIB's misguided approach to serving those Canadians it was founded to assist," adds East.
At one time, CNIB was also a major employer of blind Canadians. "But the percentage of blind employees within CNIB has steadily declined over the years and is now less than ten percent," says East. "Replacing a blind person as CEO with a sighted person in CNIB's top job simply sends the wrong message, especially in these tough times" adds East.
The CNIB's approach to fundraising over the years has also upset many blind Canadians. The CNIB has often resorted to portraying blind people as pitiful in order to raise money. According to East, "blind Canadians are working hard to change negative attitudes about blindness, and yet the CNIB is perpetuating the myths and misconceptions we're trying to dispel."
"It is time that CNIB began listening to blind Canadians and refocused its priorities on the individuals that it was established to serve blind persons in Canada," comments East.
Continued Emphasis on Fighting Poverty
On Monday, February 9, AEBC's 1st Vice President John Rae spoke on a panel at the "Sick and Tired of Being Sick and Tired: Taking Action on Poverty" forum in Toronto. Following is an article on this important report that appeared in The Mirror on February 10, 2009:
POVERTY: The poor are sick and tired, study says more money in people's pockets creates more opportunities

By LISA QUEEN
February 10, 2009

Being poor will make you sick or send you to an early grave at alarmingly higher rates than if you are a middleor upper-income earner.

That was a key finding of a report released Monday at a community forum on health and poverty held at the YMCA in downtown Toronto.

While the report, called Sick and Tired, looked at the health risks faced by welfare and disability recipients and the working poor across Ontario, Toronto's high levels of poverty result in more low-income earners suffering from medical problems, Toronto medical officer of health Dr. David McKeown said.

About 25 per cent of Toronto residents live below the poverty line, twice the provincial average. A third of Toronto children are living in poverty compared to 19 per cent nationally.

Looking at different income increments, the report found residents living in rich neighbourhoods are less likely to suffer from health problems than those living in middle-income areas, who in turn are less likely to be sick than residents of poor communities, McKeown said.

The study found the median household income for social assistance recipients is $13,000 a year compared to $21,000 for the working poor and $80,000 for the non-poor.

For almost every measurement from suicide and depression to heart problems and arthritis welfare recipients and the working poor are more at risk of health problems and death than the non-poor, said Andy Mitchell, one of the report's three-member research team.

"When you have a higher income, you know how to get things done for yourself and your family," he said, adding higher-income earners are more adapt at navigating medical and bureaucratic systems.

Raising a poor person's annual income by just $1,000 enables them to escape hundreds to thousands of chronic health conditions. "To me, that was very powerful," Mitchell said.

Meanwhile, while new immigrants come to Canada healthier than Canadian-born residents, they become sicker as a lack of opportunities forces them into poverty, the study found.

The report's authors admit their findings tying poverty to health risks are nothing new. But as the economy worsens, they are calling on the province to address the issue in its spring budget.

"The budget is an opportunity for the province to make a down payment on a poverty reduction strategy," said Michael Shapcott, director of community engagement at the Wellesley Institute, which helped fund the study.

The report also laid out 10 recommendations including urging Queen's Park to establish an independent panel to set social assistance rates that reflect the actual cost of living in Ontario communities and demanding the federal government introduce a national poverty reduction strategy with concrete targets and timelines.

John Rae, first vice-president of the Alliance for Equality of Blind Canadians, and Mike Yale, co-chairperson of the ODSP (Ontario Disability Support Program) Action Coalition, are hoping politicians don't shelve the report like so many studies in the past.

"Too many of the disabled community are marginalized and live in poverty. These reports confirm that fact again and again and again," Rae said.

"We're looking for action, not just more studies. It (this study) confirms if you put money in people's pockets, it creates more opportunities to buy better food, to buy health care, to participate in the community, to go to entertainment. These things all benefit people's lives."

Yale, a North York resident, also doesn't want to see the study gather dust. "It won't mean anything unless it becomes part of government strategy," he said. "When a family has to decide between feeding itself or buying a winter coat, it is a serious problem and the government, in my view, hasn't shown it is serious about dealing with the disability pension."
AEBC Comments on the Proposed Ontario Information and Communication Accessibility Standard
On November 17, 2008, the Ontario government released the proposed Accessible Information and Communications Standard for a 60-day public review period. The draft standard outlines how businesses and organizations will be required to provide accessible public information in various formats such as online, print, verbal and digital.
In January, the AEBC submitted comments in response to the proposed standard. To read these comments, visit http://www.blindcanadians.ca/press_releases//index.php?BriefID=50.
Celebrating Louis Braille's Birth
In January, in recognition of the 200th anniversary of Louis Braille's birth, the AEBC sent the following press release to various media outlets across the country:
Blind activists celebrate Braille—the Original 'Blackberry'

2009 is the 200th birthday of Louis Braille, the inventor of the 'Braille' method of writing and reading for people who are blind (15 January 2009). Across Canada throughout 2009, members of the Alliance for Equality of Blind Canadians (AEBC) and other disability rights organizations will celebrate the 200th birthday of Louis Braille and his method of writing and reading.

Braille is a blind person's pathway to literacy and independence," says Robin East, President of the AEBC, a national organization of blind consumers. "With today's technology it is easier to produce Braille than ever before".

Braille is said to be rooted in a demand by Napoleon for a silent system of communication between soldiers that could be used in the dark. Louis Braille applied the concept to invent his system of raised dots on paper, symbolizing letters and numbers. Since 1821, the Braille system has granted independence in reading, writing, mathematics and music for tens of thousands of blind persons around the world.

Some claim that Braille is no longer needed because computer technology now makes it possible to translate most text into speech through screen-reading software. John Rae, AEBC's 1st Vice President, disagrees. "All of this technology is wonderful," Rae says. "However, Braille remains critical today, as there are situations where you cannot take the technology with you, or the technology doesn't function for some reason. As long as you have a slate and stylus with you and you know how to use it, you are in business." A slate and stylus are lightweight utensils that a person can carry in a pocket or purse, and use to write notes just like a sighted person would with a pen and paper.

Marc Workman, AEBC's National Secretary, is currently a graduate student at the University of Alberta in Edmonton. "There are different levels of Braille," he explains. "The first level, uncontracted Grade one Braille, should be taught or at least introduced, to all people who are vision impaired, even if at the present time the person has enough sight to read large print, as Braille becomes more important later in life. "Both Braille and technology are necessary in today's world if a blind person is going to compete successfully in the education system or the workplace," says Workman. "If the school system is turning out blind students who can not read and write without the use of technology, it is the same as turning out sighted students who don't know how to use a pen and paper."
AEBC Questions Use of Infrastructure Dollars
Following release of the 2009 federal Budget, the AEBC wrote the Minister of Finance to inquire on how the dollars allocated for infrastructure projects might be used to assist Canadians with a disability.
February 11, 2009

The Honourable James Michael Flaherty
Minister of Finance - Parliament Buildings Ottawa, ON K1A 0M6

Re: Use of Infrastructure Funding

On behalf of the Alliance for Equality of Blind Canadians / L'Alliance pour l'Égalité des Personnes Aveugles du Canada (AEBC), I am writing to ask a number of questions regarding the possible use of infrastructure dollars contained in your recent budget.

We believe these funds could play a positive role in the lives of Canadians with disabilities. For example:

Can some of these funds be used to make the local built environment more physically accessible for persons with disabilities?
Can a portion of the funds available to colleges and universities be used to retrofit existing buildings to make them more accessible for students with disabilities?
Can a portion of the funds available to colleges and universities be used to purchase adaptive equipment for use in an on-campus library?
Can an organization use any of these funds to purchase new equipment for its staff?
Will there be any requirements that organizations purchase equipment that is usable by all, including persons with disabilities? Today, some organizations are purchasing new IT systems that are not usable by members of the blind community.

At the same time, assuming some of these funds can be used for projects such as these and others, it will be important for information about these funds to include a mention that they can be used to improve access for Canadians with various disabilities, including persons who are blind, deaf-blind and partially sighted, so that organizations take our needs into account when they are developing projects.

We look forward to receiving more details on the infrastructure program, and how its funding can be used.

Thank you for taking our concerns into account as this Program is further developed.

Sincerely, Robin East, President AEBC

Copies: The Honourable Diane Finley, Minister of Human Resources and Skills Development, Council of Canadians with Disabilities
---
Thalidomide Victims Association of Canada
A "Justice and dignity for the Thalidomiders worldwide" petition, which is titled "Justice and dignity for the Thalidomiders Worldwide", is presently circulating around the World to support the cause of Thalidomide victims. To add your support go to: www.PetitionOnline.com/ICTA/.
Please see below the text supporting the petition:
To: The German Chancellor

The thalidomide tragedy was Europe's worst man-made disaster outside of war or genocide since 1945. It came about because a greedy pharmaceutical company put profit ahead of humanity and because German politicians colluded with the profiteers to give the drug the best possible launch pad. Early warning signs were ignored and even discredited, evidence of birth defects was dismissed and thousands more babies were damaged needlessly. The German state allowed the survivors to have their rights trampled underfoot while Chemie Grunenthal continued to prosper. This was a company that had its roots in the Nazi death camps and was staffed by unrepentant, former Nazis. This was their last, unpunished crime against humanity. It is time that the German Government recognised its own culpability and made a settlement with thalidomide survivors wherever they are and whoever they are. We believe that not doing so continues to heap shame on the German people.
I THANK ALL OF YOU WHO WILL ACCEPT TO SIGN THE PETITION, and ask you also to enter your country: Canada, in the address section.
On behalf of all Thalidomide survivors, I thank you in advance for your solidarity!
Mercedes Benegbi,
Survivor of the Thalidomide tragedy
Executive Director for the Thalidomide Victims Association of Canada
Member of the International Contergan/Thalidomide Alliance
---
Announcements
Jim Derksen to Be Hounoured by University of Manitoba
Jim Derksen will receive an honourary degree from the University of Manitoba on May 26 in the morning convocation. The Disability Studies Graduate Program Committee nominated him for this honour in 2004. Mr. Derksen will speak at the convocation, which is for those who graduate with undergraduate degrees in the Faculty of Arts. It will be a large high-profile event. The honourary degree recognizes Mr. Derksen's work for disability rights over the past 30 years. As the nomination letter stated, "Jim Derksen's life teaches of the possibilities of all people, the need for openness to a variety of ways of living and doing, and the learning that can be gained from listening. The Graduate Program Committee of Disability Studies wholeheartedly supports this nomination. It offers the university an opportunity to honour the leadership of people with disabilities in Canadian society as found in Jim Derksen. An honorary degree will illustrate the University's commitment to inclusion and accessibility and its own support for Disability Studies."
---
Historic Expedition to North Pole
In April 2009, two lawyers from Thunder Bay, Ontario, David Shannon and Christopher Watkins, crossed the polar ice by sledge to the geographic North Pole. This unique expedition was historic because it was the first time that a person with quadriplegia due to a spinal cord injury, and a person with a significant form of arthritis reached the North Pole. This monumental event happened one century after Europeans first reached the North Pole. David Shannon is a member of CCD's International Development Committee. One hundred years after Robert Peary planted a U.S. flag at the North Pole, David Shannon planted a wheelchair access flag at the Pole. "This sign represents all peoples who have faced challenges or adversity in their lives and have dreamed of overcoming them. If we as people, work together in our homes, our cities, our countries and in our global village, there is no dream that cannot be realized," stated Mr. Shannon. For more on the expedition visit www.teamindependence.ca.
---
Correction Notice
In the last edition of the Voice of Our Own, the article "Passport to Freedom" was incorrectly placed under the heading Citizens with Disabilities Ontario. This article should have been placed in the Announcement section.