Act Now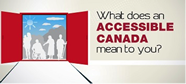 Empower U: Learn to Access Your Disability Rights Training on Canadian Human Rights, the Convention on the Rights of Persons with Disabilities (CRPD) and its Optional Protocol (OP) training aims to increase awareness of how to address discrimination using more familiar Canadian human rights laws such as Human Rights Codes and the newer international Convention on the Rights of Persons with Disabilities (CRPD). This is training for persons with disabilities by persons with disabilities. The training is part of a project funded by Employment and Social Development Canada and implemented by the Council of Canadians with Disabilities (CCD) in collaboration with Canadian Multicultural Disability Centre Inc. (CMDCI), Citizens With Disabilities – Ontario (CWDO), Manitoba League of Persons with Disabilities (MLPD) and National Educational Association of Disabled Students (NEADS). Read more.
Sign Up for our monthly digest
A monthly newsletter from CCD about what is happening in the community
CCD Voice of Our Own - Winter
On the CCD Agenda
Highlights of the Last 12 Months
On December 1, 2016 in Ottawa, Hon. Minister Carla Qualtrough, Minister of Sport and Persons with Disabilities, and Hon. Minister Stéphane Dion, Minister of Foreign Affairs, held a press conference at the Council of Canadians with Disabilities' meeting about the Convention on the Rights of People with Disabilities (CRPD). Minister Qualtrough and Minister Dion announced that Canada would ratify the CRPD's Optional Protocol in 2017. This will be a wonderful way to ring in Canada's 150th year for Canadians with disabilities! Read more.
Jewelles Smith, CCD Chairperson, was a member of the Canadian civil society delegation, which travelled to Geneva, for the 16th session of the UN Committee on the Rights of Persons with Disabilities, as the Committee was developing its List of Issues concerning Canada's Initial Report. Read more.
In March, James Hicks, CCD National Coordinator, and Tony Dolan, CCD Past Chairperson, met with the Hon. Carla Qualtrough, Minister of Sport and Persons with Disabilities, where we discussed our expectations related to the implementation of the CRPD, and how a Canadians with Disabilities Act and a robust disability lens are mechanisms to incorporate in an implementation strategy. We stressed that as civil society organizations are partners in the CRPD implementation process, the Federal Government has a responsibility to build the capacity of disability organizations.
Prior to the tabling of Bill C-14 An Act to amend the Criminal Code (medical assistance in dying), Rhonda Wiebe and Dean Richert, the Co-Chairs of the CCD Ending of Life Ethics Committee, and James Hicks met with the Minister of Justice, the Hon. Jody Wilson-Raybould, to discuss our views on how to protect people made vulnerable and who may be pressured to accept an assisted suicide during a period of weakened resiliency. Dean emphasized that the Government of Canada could face Charter challenges to its medical assistance in dying legislation if it does not contain robust protections for people who are made vulnerable by health, social and economic conditions. During the meeting, we emphasized the disability community's expectation that the Vulnerable Persons Standard be included in the new legislation. Read more.
On April 19, 2016 John Rae and Anne Levesque appeared as witnesses before the Standing Committee on Access to Justice and Human Rights, to discuss a modernized Court Challenges Program (CCP). Before its cancellation by the previous government, the CCP funded court cases concerning language and equality rights. Since the CCP's cancellation, CCD has been calling for the re-instatement of this important Program, which gives voice to Canadians who are struggling to overcome barriers to equality. In its submission to the Committee, CCD emphasized that a modernised CCP must be accountable to the community of official language minorities and equality seeking Canadians and that a modernized CCP should uses its funding in a manner that ensures that all of its members can fully participate, effectively and directly in the organisation and that all of its services are accessible to persons with disabilities. Read more.
Two individuals and the Council of Canadians with Disabilities filed a legal action in the BC Supreme Court today to challenge a BC law that forces psychiatric treatment on people without their consent. The case alleges that the law violates the Canadian Charter of Rights and Freedoms. Read more.
In September 2016, John Rae, 1st Vice Chair of the Council of Canadians with Disabilities (CCD), presented in Toronto before the House of Commons Government and Operations Committee. He addressed the proposed change to the postal service from the perspective of people with disabilities. Read more.
When the federal government consulted Canadians regarding infrastructure, CCD held a meeting where people with disabilities answered the government's consultation questions. CCD submitted a summary of the discussion. Read more.
Natalie Spagnuolo is a member of CCD's Social Policy Committee. She is a doctoral candidate in Critical Disability Studies at York University and a Joseph-Armand-Bombardier Doctoral Fellow of the Social Sciences and Humanities Research Council of Canada. Natalie represented CCD during the National Youth Forum on disability, organized by the Office for Disability Issues. The forum, which took place in Ottawa on November 1st, was part of a broader consultation process that will inform the new federal disability legislation. Read more.
On Thursday, November 17, 2016 in Montreal, Bob Brown, Co-Chair of CCD's Transportation Committee, attended the federal government's roundtable discussion on planned accessibility legislation, as it relates to transportation. The federal government regulates air, rail, interprovincial marine and bus transportation. Among other recommendations, CCD will urge the adoption of comprehensive accessibility regulations. Read more.
CCD Members
• Disability Alliance BC
• Voice of Albertans with Disabilities (VAD)
• Saskatchewan Voice of People with Disabilities (SVOPD)
• Manitoba League of Persons with Disabilities (MLPD)
• Citizens with Disabilities — Ontario
• Confédération des Organismes de Personnes Handicapées du Québec (COPHAN)
• Nova Scotia League for Equal Opportunities (NSLEO)
• PEI Council of People with Disabilities
• Coalition of Persons with Disabilities--NFLD and Labrador (COD)
• NWT Disabilities Council
• Alliance for Equality of Blind Canadians
• Canadian Association of the Deaf (CAD)
• DisAbled Women's Network Canada (DAWN Canada)
• National Educational Association of Disabled Students (NEADS)
• National Network for Mental Health (NNMH)
• People First of Canada
• Thalidomide Victims Association of Canada