Act Now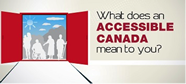 Empower U: Learn to Access Your Disability Rights Training on Canadian Human Rights, the Convention on the Rights of Persons with Disabilities (CRPD) and its Optional Protocol (OP) training aims to increase awareness of how to address discrimination using more familiar Canadian human rights laws such as Human Rights Codes and the newer international Convention on the Rights of Persons with Disabilities (CRPD). This is training for persons with disabilities by persons with disabilities. The training is part of a project funded by Employment and Social Development Canada and implemented by the Council of Canadians with Disabilities (CCD) in collaboration with Canadian Multicultural Disability Centre Inc. (CMDCI), Citizens With Disabilities – Ontario (CWDO), Manitoba League of Persons with Disabilities (MLPD) and National Educational Association of Disabled Students (NEADS). Read more.
Sign Up for a Voice of Our Own
A quarterly newsletter from CCD.
Canada to Ratify CRPD's Optional Protocol
December 23, 2016
Canada to Ratify CRPD's Optional Protocol
On December 1, 2016 in Ottawa, Hon. Minister Carla Qualtrough, Minister of Sport and Persons with Disabilities, and Hon. Minister Stéphane Dion, Minister of Foreign Affairs, held a press conference at the Council of Canadians with Disabilities' meeting about the Convention on the Rights of People with Disabilities (CRPD). Minister Qualtrough and Minister Dion announced that Canada would ratify the CRPD's Optional Protocol in 2017. This will be a wonderful way to ring in Canada's 150th year for Canadians with disabilities!
The CRPD is an international UN treaty that sets standards for countries on how to meet the basic human rights of people with disabilities. It covers equality, accessibility, independence, and the right to life. It also addresses cross-cutting issues (issues that can occur in conjunction with disability), such as poverty, mental health, and issues for girls and women who have disabilities. Canada ratified the CRPD in 2010, but the previous government chose not to ratify the Optional Protocol. The disability community fought for six years for the Optional Protocol to be ratified.
The ratification of the Optional Protocol means that individuals who have exhausted domestic remedies for discrimination can approach the CRPD committee for further assistance. CCD member Steve Estey, who chaired the meeting, noted that Minister Dion was the first Minister of Foreign Affairs to show genuine interest in disability rights and the well-being of the disability community since Lloyd Axworthy had in 1996.
Minister Dion noted that they had already started consultations with the Provincial and Territorial Governments along with First Nations. He expressed that the ratification of the Optional Protocol will give Canada greater credibility in asking other countries to do more for their citizens who have disabilities. He said, 'Canada is back for people with disabilities around the world.' This allows Canada to reclaim its place as a world leader in human rights.
The Optional Protocol allows the CRPD Committee to receive and examine information from individuals or groups who wish to address human rights violations. The Protocol also allows the Committee to undertake inquiries concerning systematic violations of the CRPD. Once a country has ratified the CRPD, its citizens have the option of submitting serious violations of the CRPD to the Committee.
The ratification of the Optional Protocol was a long-standing issue for disability rights groups. Even if the topic of a meeting has been homelessness, LGBT rights or mental health, the Optional Protocol was always discussed and members pushed for its ratification. Now, we can focus our attention to improving how Canada monitors the implementation of the CRPD.
We are very pleased with the decision. 2017 will be a great year for Canada.
-30-
For More Information Contact:
Jewelles Smith, CCD Chairperson, Email: jewelles.smith@gmail.com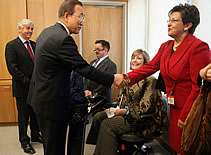 Canadian Foreign Minister Lawrence Cannon, far left, observes as U.N. Secretary-General Ban Ki-moon, second from left, meets members of the Canadian delegation including Steven Estey, center, with the Council of Canadians with Disabilities; Traci Walters, second from right, with Independent Living Canada; and the Canadian Association for Community Living President Bendina Miller, far right, at the United Nations in New York, Thursday March 11, 2010. Canada ratified the U.N. Convention on the Rights of Persons with Disabilities, a historic first international treaty that comprehensively recognizes the rights of persons with disabilities. (AP Photo/Bebeto Matthews)