CCD is a national human rights organization of people with disabilities working for an accessible and inclusive Canada. Learn more.
Act Now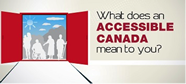 Empower U: Learn to Access Your Disability Rights Training on Canadian Human Rights, the Convention on the Rights of Persons with Disabilities (CRPD) and its Optional Protocol (OP) training aims to increase awareness of how to address discrimination using more familiar Canadian human rights laws such as Human Rights Codes and the newer international Convention on the Rights of Persons with Disabilities (CRPD). This is training for persons with disabilities by persons with disabilities. The training is part of a project funded by Employment and Social Development Canada and implemented by the Council of Canadians with Disabilities (CCD) in collaboration with Canadian Multicultural Disability Centre Inc. (CMDCI), Citizens With Disabilities – Ontario (CWDO), Manitoba League of Persons with Disabilities (MLPD) and National Educational Association of Disabled Students (NEADS). Read more.
Sign Up for a Voice of Our Own
A quarterly newsletter from CCD.
December 18, 2021
"If you want to go fast go alone; if you want to go far go together. Now, at CCD we are moving together and we are going to go far in our efforts to create an equitable, accessible and inclusive Canada created by the many voices and viewpoints of our intersectional community. I want to thank everyone involved in CCD for their hard work this year and I look forward to going far with you in 2022 and beyond. Happy Holidays to everyone." ~ Heather Walkus, Acting Chair, 1st Vice Chair.
"Thank you for everything you do nationally and in your home province. I look forward to connecting with you on our Governance work over the coming year to build up CCD's effectiveness. May this season and the year to come bring you the best." ~ Tracy Odell, 2nd Vice-Chair.
"It is the holiday season and the dawn of a new year, a new year can bring new changes and new ideas, on behalf of myself, and the Executive Committee of the Council of Canadians with Disabilities, we extend happiness and peace throughout this season and all year round.
Thank you to the staff, the member organizations, and the strong citizens living with disabilities for continued support and input. You are very valued.
As one, we are a voice, as two, we are a concern, as a group, we become an action.
Happy Holidays!" ~ Ian Young, Secretary.
Pat Danforth has visions of not sugarplums but debits and credits. She is very busy balancing our books but she takes time off from that task to say,
"Wishing everyone a happy holiday season and all the best in the New Year," ~ Pat Danforth, Treasurer.
"As the holidays approach, may the magic of the holiday season fill your home with joy and peace. Best wishes for happy holidays and a magnificent New Year. Take care of yourselves and stay safe," Frank Folino, Member-at-Large on Executive Committee. Read more
November 25, 2021
The Council of Canadians with Disabilities (CCD), a national human rights organization of people with disabilities working for an equitable, accessible and inclusive Canada, is very concerned about the approach taken on Medical Aid in Dying by the Canadian Psychiatric Association (CPA) in its Position Statement. CCD joins others in calling upon the CPA to reform its Position Statement on MAiD. Read more
November 24, 2021
The Beth MacLean decision has sent a powerful message across Canada about Nova Scotia's systemic discrimination against people with disabilities. Following this landmark decision, the National Organizations are writing this letter in support of the Disability Rights Coalition's call for immediate action to end the human rights emergency in Nova Scotia. Read more
More on Our Issues
December 14, 2021
November 26, 2021
November 25, 2021
November 24, 2021
October 6, 2021
September 17, 2021