Act Now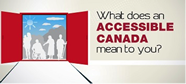 The Government of Canada is leading consultations to inform planned accessibility legislation.
In-person sessions are coming soon to your community. Now is the chance to have your say. Read more.
Sign Up for a Voice of Our Own
A quarterly newsletter from CCD.
Voting at an Elections Canada Office
After the election is called, you can vote at any EC office across the country.
For more information, go to http://www.elections.ca.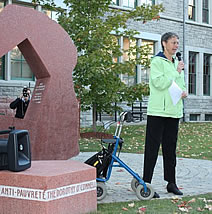 Marie White, a former Chairperson of CCD, addresses anti-poverty rally.