Act Now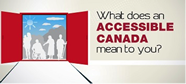 Empower U: Learn to Access Your Disability Rights Training on Canadian Human Rights, the Convention on the Rights of Persons with Disabilities (CRPD) and its Optional Protocol (OP) training aims to increase awareness of how to address discrimination using more familiar Canadian human rights laws such as Human Rights Codes and the newer international Convention on the Rights of Persons with Disabilities (CRPD). This is training for persons with disabilities by persons with disabilities. The training is part of a project funded by Employment and Social Development Canada and implemented by the Council of Canadians with Disabilities (CCD) in collaboration with Canadian Multicultural Disability Centre Inc. (CMDCI), Citizens With Disabilities – Ontario (CWDO), Manitoba League of Persons with Disabilities (MLPD) and National Educational Association of Disabled Students (NEADS). Read more.
Sign Up for our monthly digest
A monthly newsletter from CCD about what is happening in the community
About CCD
CCD is a national human rights organization of people with disabilities working for an inclusive and accessible Canada.
Mission
The Council of Canadians with Disabilities (CCD) is a social justice organization of people with all disabilities that champions the voices of people with disabilities, advocating an inclusive and accessible Canada, where people with disabilities have full realization of their human rights, as described in the UN Convention on the Rights of Persons with Disabilities.
Mandate
The Council of Canadians with Disabilities (CCD) unites advocacy organizations of people with disabilities to defend and extend human rights for persons with disabilities through public education, advocacy, intervention in litigation, research, consultation and partnerships. CCD amplifies the expertise of our partners by acting as a convening body and consensus builder.
CCD's Priorities Include:
Disability-related supports
Poverty alleviation
Increased employment for persons with disabilities
Promotion of human rights
Implementation of the UN Convention on the Rights of Persons with Disabilities (CRPD)
Technology developed according to the principles of universal design
Air, rail, bus and marine transport that is accessible to persons with all types of disabilities
CCD seeks to achieve these priorities through law reform, litigation, public education and dialogue with key decision-makers.
CCD Believes In:
Citizenship—People with disabilities have the same rights and responsibilities as Canadians without disabilities. Socially made barriers, which prevent participation and discriminate against people with disabilities must be eliminated.
Consumer Control—People with disabilities must be involved in all stages of the development of disability services and policies and in all decision-making that affects their lives.
Equality and Human Rights—The Charter of Rights and Freedoms guarantees equal benefit and protection under the law and the Canadian Human Rights Act prohibits discrimination based upon physical or mental disability. All legislation must conform to the demands of the Charter.
Universal Design—The environment should be designed to be usable by people with various disabilities.
CCD's Volunteers Contribute to an Inclusive and Accessible Canada by:
Self-representation—Speaking out to: the courts, decision-makers, the media, Parliamentary Committees.
Sharing Expertise—Working to create new policy, such as a National Action Plan on Disability.
Knowledge Development—Researching issues of concern to persons with disabilities, such as poverty, home supports, accessible transportation regulations and income support.
Extending Disability Rights—Doing Charter-based, test-case litigation to bring about disability-positive public policies in education, employment, health care and transportation.
Battling Barriers—Working to prevent the creation of new barriers; for example, launching a Canadian Transportation Agency case against VIA rail when it purchased inaccessible train cars.
Law Reform—Participating in legislative reviews: Human Rights Act, the Transportation Act and the Employment Equity Act.
Networking—Collaborating with major sectors of society to promote disability rights; for example, participating in the Voluntary Sector Initiative, a joint government and community project examining technology, research, volunteerism and policy development.
Partnership Development—Joining forces with other groups to build strong initiatives, such as policy development forums on key issues of concern to persons with disabilities.
What Community Leaders Say About CCD
"Inclusion of disability under the Canadian Human Rights Act was no easy matter: and it was a pivotal moment in the history of our movement. The Charter is a significant and valuable tool in the struggle for equality rights.

We knew we had to get this one right. It was doubtful there would ever be a second chance because of the overwhelming hurdle created by the Canadian constitutional amending formula. We needed Charter protection at the get-go. People with disabilities and their organizations initiated a tremendous Charter inclusion lobby.

I remember we were so close to getting the all-important approval and the bureaucrats came back to us and said..."we can sell inclusion of physical disability but there are questions about intellectual and mental disability." There was a lot of pressure on the movement to get what you can now and continue the fight another day. I'm proud to say we resisted that temptation."

—Michael Huck, a former CCD Chairperson.
"CCD has been a strong, clear and consistent voice for the dignity and equality of persons with disabilities over the past 30 years. It has played a key role by bringing disability issues before Parliament and the Supreme Court of Canada. I have been very proud to have been associated with CCD and to have played a small role in its work."—Harry Beatty, lawyer.

"We are so fortunate to have a strong, vibrant National Assembly like CCD in Canada where our headquarters is located. CCD is a great supporter of DPI's work internationally and has taken a lead role in Canada as we move towards a UN Convention on the Rights of Persons with Disabilities. Congratulations on 30 good years, CCD, and our best wishes for 30 more."

—Venus Ilagan, Past Chairperson Disabled Peoples' International.
"It is not very often that a woman from a log cabin in the woods of Ontario, who thought she had no more influence than her own family, could end up doing policy work at the UN. CCD gave me the confidence and skills to be able to do that."

—Francine Arsenault, a former CCD Chairperson.
"Over the years it has been my honour to serve CCD as its legal counsel on several occasions. From that vantage point, I have been present when CCD's disability-friendly model of equality was first adopted by other equality seeking groups, and then adopted by the Supreme Court of Canada in the Andrews case. I have seen CCD challenged aggressively and not back down. I have seen CCD threatened and subjected to financial duress, but carry on regardless. Without the vision, courage and determination CCD has demonstrated over the last 30 years Canadians with disabilities would have few if any of the rights they currently enjoy."

—David Baker, lawyer.
"CCD has been instrumental in convening meeting places where people with disabilities and other experts have been able to have important discussions, sharing insights, brainstorming and strategizing around how to secure the citizenship, human rights and well-being of people with disabilities. Throughout, CCD has ensured that the voices of people with disabilities have been heard and respected. Congratulations on your 30th anniversary, 30 years well spent indeed!"

—Cam Crawford, Roeher Institute.
"On the international stage, one of the most significant contributions CCD has made is the ongoing support to Disabled Peoples' International (DPI). CCD has been a leader in the most important events shaping the evolution of disability rights both in Canada and abroad."

—Steve Estey, Chairperson CCD International Committee.
"CCD continues to be a crucial association of Canadians with disabilities. Through tough times and through better times, over the past 30 years, CCD has been a resolute voice in advancing a vision of equality, human rights, dignity and full citizenship. We are closer to that vision today, though with so much more to do of course, due to the efforts of CCD."

—Michael J. Prince, University of Victoria.
"Through 3 decades of visionary leadership, solidarity building and human rights advocacy the Council of Canadians with Disabilities has been an inspiration to people with intellectual disabilities and their families; to all of us who advocate for a Canada of equality and inclusion. Thank you CCD."

—Michael Bach, Canadian Association for Community Living.
"CCD's vision and tireless advocacy efforts, developed in consultation with Canadians with disabilities, enabled persons with disabilities to have a voice of their own, and to move the agenda forward from the Medical Model to the Independent Living Model."

—Paul Young, a former CCD Chairperson.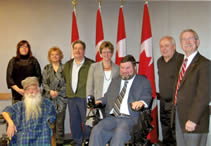 CCD shares its views on policy reform with Federal Ministers. For example, in January 2011, CCD, along with others in the disability community met with Minister Diane Finley and Minister Steven Fletcher. From left to right: Jim Derksen (CCD), Shelly Rattai, Rose Flaig, John Young, Minister Finley, Minister Fletcher, Ross Young and Ken Burford.