We Need Your Support
Donations are tax deductible and you will receive a charitable tax receipt for 100% of your gift.
Support CCD's work on the Carter case: Help To Live Not Die.
Act Now
You Presence is requested at CASHRA2013.ca Early bird registration ends April 18, so register online. Read more.
Sign Up for a Voice of Our Own
A quarterly newsletter from CCD.
International
CCD's approach to international cooperation is based upon human rights and our disability rights principles of equality, consumer-control, self-representation, citizenship, and empowerment. Canadians with disabilities focus on the need to remove barriers to participation that individuals with disabilities face within their communities. CCD's International Development Committee provides leadership on international issues.
Recent Work
March 27, 2013
On Thursday 14 February 2013, at the Munk School of Global Affairs, Steve Estey, Chair of CCD's International Committee, participated in a panel presentation along with David Shannon (Nova Scotia Human Rights Commission) and Penny Hartin (World Blind Union). Steve reviewed CCD's recommendations to the Government of Canada regarding the CRPD. Read more.
More on International
March 22, 2013
January 30, 2013
January 10, 2013
November 27, 2012
November 5, 2012
June 6, 2012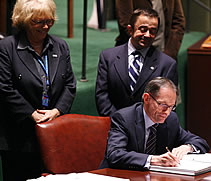 Canada signs the Declaration on the Rights of Persons with Disabilities at the United Nations. Members of the Canadian Delegation Steve Estey, Chair of CCD's International Committee, and Dulcie McCallum observe Canada's ambassador make this historic commitment.
May 12, 2008
As twenty countries have ratified the Convention on the Rights of Persons with Disabilities (CRPD), it now has the force of international law. Steve Estey, the Chairperson of CCD's International Development Committee joined other colleagues from the global disability rights movement at a UN ceremony to promote greater societal awareness of the CRPD, which provides guidance to countries on how to ensure people with disabilities experience full enjoyment of their human rights. Read more.