Act Now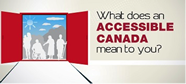 Empower U: Learn to Access Your Disability Rights Training on Canadian Human Rights, the Convention on the Rights of Persons with Disabilities (CRPD) and its Optional Protocol (OP) training aims to increase awareness of how to address discrimination using more familiar Canadian human rights laws such as Human Rights Codes and the newer international Convention on the Rights of Persons with Disabilities (CRPD). This is training for persons with disabilities by persons with disabilities. The training is part of a project funded by Employment and Social Development Canada and implemented by the Council of Canadians with Disabilities (CCD) in collaboration with Canadian Multicultural Disability Centre Inc. (CMDCI), Citizens With Disabilities – Ontario (CWDO), Manitoba League of Persons with Disabilities (MLPD) and National Educational Association of Disabled Students (NEADS). Read more.
Sign Up for our monthly digest
A monthly newsletter from CCD about what is happening in the community
International Development Policy
The World Health Organization (WHO) estimates that up to 10% of the world's population has a disability and it is estimated that 80% of these people with disabilities live in developing countries. People with disabilities are in every sector of the world's population, regardless of class, race, gender, or religion. They are overrepresented amongst the poor and disadvantaged. In developing countries, the potential of people with disabilities to contribute is overlooked. Countries that ignore the potential of people with disabilities to contribute to their societies are losing the skills of 10% of their population. Women with disabilities are doubly disadvantaged. They receive less education than men with disabilities and few opportunities for employment. They are the poorest members of society.
Canada's foreign and development policies need to address the concerns of persons with disabilities. CCD works with the Canadian government to ensure that decision-makers understand that disability is a human rights issue and that initiatives for people with disabilities are primarily about equality and human rights.
The needs and concerns of people with disabilities must be addressed by the Canadian International Development Agency (CIDA). The concerns of people with disabilities relate directly to CIDA's priorities: basic needs and poverty, women, human rights, the environment, good governance and building the capacity of civil society.
Peace Is A Disability Issue
On June 24, 1982 at Peace Memorial Park, Hiroshima, Japan, Disabled Peoples' International (DPI) adopted its Peace Statement. The CCD Council adopted the Peace Statement at a National Council Meeting on January 19-20, 1985.
DPI Peace Statement
Disabled people all over the world know from their deepest personal experience, the capacity of war to cast its mantle of death and destruction over life and limb. The ability of modern weapons of war to devastate a people, to sear human memory with permanent scars of personal tragedy, to shatter the dreams and hopes of children, to maim and injure, is nowhere more eloquently proclaimed than here, the Peace Memorial Park in Hiroshima.
Every day the absolute sanctity of human life is asserted by the aspirations of this planet's 500 million disabled people. The creation of disability and the ending of life by the waging of war is an abomination. Yet the accumulation of the engines of war gains pace.
The talents of human kind are turned from the satisfaction of people's needs to the invention of more and more horrific devices of destruction.
The products of human labors, wrested from the earth with all the ingenuity of generations of men and women, are dissipated in gigantic stockpiles of armaments which are of benefit to no one. The power of cooperation amongst individuals and the organizing capability of the human race are squandered in the creation of gigantic war complexes whose sole intent is the destruction of people.
HOW LONG CAN THIS OBSCENITY CONTINUE?
We, the representatives of the world's disabled people, have come to Hiroshima to make known our resolute condemnation of the arms race. We affirm, in the strongest terms, our determination to join with others and take our rightful place in the forefront of the worldwide movement for disarmament.
Disabled Peoples' International says:
LET ALL OF US JOIN TOGETHER IN A WORLDWIDE MOVEMENT FOR PEACE.

LET US CALL FOR ALL NATIONS' ECONOMIES TO BE TRANSFORMED FROM WAR ECONOMIES TO PEACE ECONOMIES.

LET US INSIST THAT THE $600 BILLION NOW SPENT ON ARMAMENTS IS DIVERTED TO SOCIALLY USEFUL PROJECTS.

LET US DEMAND THAT THE WORLD LEADERS NOW, IN THIS MOMENTOUS EPOCH, WHERE WE HAVE THE POWER TO DESTROY AND CRIPPLE, BEGIN THE ENORMOUS TASK OF REDIRECTING OUR RESOURCES, OUR PRODUCTIONS, OUR TALENTS AND OUR ABILITIES FROM THE CREATION OF THE WEAPONS OF WAR TO THE CREATION OF INSTRUMENTS OF LIFE.
The Disabled Peoples' International calls on all people to affirm this movement.
Recent Work
January 30, 2013
To ensure that the funds Canada commits to the World Bank have an impact on people with disabilities, CCD encourages Canada to promote at the World Bank, policies that advance access and inclusion. In particular, CCD recommends that Canada's appointees to the World Bank promote a twin-track approach to disability and development, consultation with people with disabilities affected by World Bank programming and safeguards grounded in human rights, with a particular emphasis on the Convention on the Rights of Persons with Disabilities. Read more.
June 4, 2010
I am writing to express our deep concern that the Canadian Council for International Co-operation (CCIC) – after decades of partnership with CIDA - may now be defunded. The Council of Canadians with Disabilities (CCD) is a member of CCIC and has been for many years. We work with CCIC to ensure that those focused on international development work are aware of the needs of persons with disabilities in the developing world. It is through the good work of CCIC members that persons with disabilities, often the most marginalized in developing societies, get the benefit of both humanitarian aid and development program initiatives. CCD cannot do this work alone. We need organizations like CCIC that help coordinate development agency work. Read more.
More on International Development Policy
January 25, 2003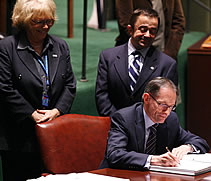 Canada signs the Declaration on the Rights of Persons with Disabilities at the United Nations. Members of the Canadian Delegation Steve Estey, Chair of CCD's International Committee, and Dulcie McCallum observe Canada's ambassador make this historic commitment.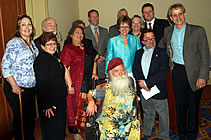 HRSDC Minister Diane Finley, Defense Minister Peter MacKay, NDP Disability Critic Judy Wasylycia-Leis, Liberal MP Mike Savage, Liberal MP the Hon. Carolyn Bennett and Bloc MP Yves Lessard joined leaders from the disability community at a CCD celebration of Canada's ratification of the CRPD.