Act Now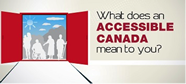 The Government of Canada is leading consultations to inform planned accessibility legislation.
In-person sessions are coming soon to your community. Now is the chance to have your say. Read more.
Sign Up for a Voice of Our Own
A quarterly newsletter from CCD.
Government of Canada Urged To Show Continued Leadership and Sign UN Convention on the Rights of Persons with Disabilities
For Immediate Release
February 20, 2007
The Council of Canadians with Disabilities (CCD), Canadian Association of Independent Living Centres (CAILC), the Canadian Association for Community Living (CACL), and Amnesty International and over 40 civil society organizations call upon the Government of Canada to show continued leadership and join with other countries in a signing ceremony in New York at the end of March.
Canada has indicated that it will not participate in the March 30, 2007 signing ceremony of the UN Convention on the Rights of Persons with Disabilities. This decision is out of step with both Canada's active role in the development of the UN Convention and the Federal Government's stated commitment to advance and promote the rights of persons with disabilities.
The disability community, in alliance with broad civil society, is calling on the Federal Government to participate in the signing ceremony. Historically, Canada has exercised its prerogative to sign international conventions; we see no need for differential treatment in this instance.
The UN Convention on the Rights of Persons with Disabilities was adopted by the UN General Assembly, with the support of Canada, on December 13, 2006. Once Signed and Ratified by 20 UN Member States it will be the only legally binding international Convention that secures the rights of persons with disabilities. Moreover it is the first human rights convention of the 21st century and becomes the 8th core UN human rights treaty.
Canada's participation in all meetings of the Ad Hoc committee to draft this historic document has been exemplary and a source of pride for all. "We are surprised, in light of our history of leadership to learn that the Government of Canada will not participate at this Ceremony. This is a critical moment in the life of the new Convention, and we should be there" stated Marie White Chair of CCD.
"While we appreciate and support the need for ongoing consultations with Provincial and Territorial Governments in regard to ratification, we believe sufficient consultation has taken place during the development of this Convention to enable Canada to become signatory to the Convention," stated Michael Bach Executive Vice President of the Canadian Association for Community Living.
"The breadth and scope of the organizations that are signatory to the attached Open Letter to the Prime Minister demonstrate the broad support for this new Convention and for the promotion of the human rights of persons with disabilities," said Alex Neve Secretary General of Amnesty International, Canada's English speaking branch.
Paul-Claude Bérubé observed that, "The disability community is heartened by the broad support of civil society organizations."
-30-
For Further Information Contact:
Marie White, Laurie Beachell, CCD, 204-947-0303 (wk), 204-981-6169 (cell)
Michael Bach, Anna MacQuarrie, CACL, 416-661-9611 (wk), 416-209-7942 (cell)
Paul Claude Bérubé, Traci Walters, CAILC, 613-563-2581