Act Now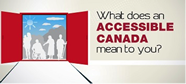 Empower U: Learn to Access Your Disability Rights Training on Canadian Human Rights, the Convention on the Rights of Persons with Disabilities (CRPD) and its Optional Protocol (OP) training aims to increase awareness of how to address discrimination using more familiar Canadian human rights laws such as Human Rights Codes and the newer international Convention on the Rights of Persons with Disabilities (CRPD). This is training for persons with disabilities by persons with disabilities. The training is part of a project funded by Employment and Social Development Canada and implemented by the Council of Canadians with Disabilities (CCD) in collaboration with Canadian Multicultural Disability Centre Inc. (CMDCI), Citizens With Disabilities – Ontario (CWDO), Manitoba League of Persons with Disabilities (MLPD) and National Educational Association of Disabled Students (NEADS). Read more.
Sign Up for our monthly digest
A monthly newsletter from CCD about what is happening in the community
The Landmine Crisis: Designed to kill and injure, to impede
(taken from a newsletter by the MLPD INTERNATIONAL COMMITTEE, December 1994) Anti-personnel landmines (APM) are having a catastrophic human and economic impact around the world today. APMs are a major cause of disability during and after a war. Most of the countries experiencing the impact of APMs are developing countries that do not have the means to clear the landscape of this hazard nor the means to provide full and adequate rehabilitation for people who are, and continue to be, victimized by these hidden weapons. Of all the remnants left in the aftermath of conflict, anti-personnel landmines are the most widespread and pernicious. Unlike other types of weapons, uncleared mines constitute a unique and malignant threat to whole societies. Designed to kill and injure, to impede movement, and to sow seeds of uncertainty and chaos during the time of war, they continue to fulfill their destructive mission long after the conflict ends. Landmines can not tell between soldiers and civilians, between tanks and tractors, between adults and children. As one Cambodian general said, landmines are silent sentries that never miss and never sleep. They also never make peace. They are perpetually at war, killing and maiming in spite of peace treaties and cease-fire agreements. Anti-personnel landmines are small, inexpensive munitions designed to detonate either by being stepped on directly or by pulling a trip-wire connected to them. Mines are easily obtainable often for less than $3 each. Modern APMs are almost entirely made of plastic and are no larger than 6 centimeters across, making them extremely difficult to detect. APMs detonate when subject to 7 kilograms or more of pressure. Their object is to maim rather than to kill. The philosophy is that it takes two good soldiers to remove one who is wounded.

Victims of Landmines
The greatest victim of landmines is society itself. The presence of planted landmines within a country constitutes one of the most significant barriers to sustainable development in the world today. They particularly affect agriculture. On the Zambia-Zimbabwe border, in the face of starvation and malnutrition, one million acres of land has been almost totally deserted because it was so heavily mined during the Zimbabwe war. Angola, a country that once produced 90 per cent of its own food, today produces only 3 per cent due to an estimated 9 million mines scattered over the country-side. Over $32 million worth of food aid has been required to offset the loss of production in Angola so far this year. Landmines are commonly hidden in farmers' fields, on roads and paths, along power lines and in power plants, under shade trees and in houses and buildings. In a mined area one can never be sure if any step, any attempt to enter a building, to cultivate a field, or walk along a path may result in death or maiming. The most obvious loss to society is its human resource. For subsistence economies the increasing disablement of its active population is disastrous. If effective rehabilitation is available, an amputee can serve a useful role in the community. But all too often financial realities mean that this is not the case. Unless resources are directed to landmine victims for their complete rehabilitation, both physically and emotionally, they will have no choice but to become dependent upon an already overburdened society. With regard to returning refugees, mines have been known to prevent the repatriation and severely endanger the safety of the process. The repatriation of Afghan refugees from Pakistan to Afghanistan has been accompanied by huge increases in the number of landmine victims. Equally, the voluntary return of Somalia refugees from Ethiopia to Northern Somalia in 1991 led to a dramatic increase in landmine injuries, particularly of children between the ages of five and fifteen.

Extent of the Problem
It is estimated that there are more than 110 million landmines planted and active in 64 countries around the world. Between 2 and 5 million more mines are being laid each year. According to the International Committee of the Red Cross (ICRC), more than 800 people per month are killed by (APMs), most of them innocent civilians, and thousands more are maimed. In Angola alone there are over 20,000 amputees, half of whom are civilians including many children. The United Nations estimates that most of the one million land mine victims in Afghanistan are children. This is because the Soviets scattered the "butterfly", a type of mine that looks like a toy than a bomb. The effect was unintended: the "butterfly wings" were designed to break the mine's fall as it fell from a plane. An estimated 160,000 landmines are present in Central America including approximately 129,000 in Nicaragua, 20,000 in El Salvador, 4,000 in Costa Rica, 4,000 in Honduras, and 3,000 in Guatemala. Cambodia has 10 million mines and because of these weapons it has more than 30,000 amputees. This comprises approximately one in every 236 people in the entire country. The ratio of disablement within the population makes Cambodia the country with the highest percentage of disabled people in the world. Mines are continuing to claim 300 victims each month in the country. It is estimated that many amputees wait up to 10 years for a prosthesis. Africa is the most mined region in the world, with 18 to 30 million mines laid in 18 countries. Currently Angola is suffering the worst problem, with hospitals reporting up to 25 casualties a day. Medical and rehabilitative services cannot hope to deal with this many cases. One survey in Mozambique found that although landmines resulted in only 4 per cent of hospital admissions, they used up 25 per cent of the surgical time and services.

Costs Involved
Landmines exact an enormous toll financially. The same landmine that many may bring a vendor $3 in revenue will cost the international community between $300 and $1000 to clear. At a minimum, therefore, the 110 million landmines currently buried worldwide will cost approximately $33 billion for clearance alone. Last year, the international community allocated approximately $70 million to clear roughly 100,000 landmines. During the same period, however, roughly 2 million more landmines were laid which significantly negated the demining effort. Mine clearance costs do not take into account the costs associated with programs to treat victims of landmines. It is estimated that each mine victim who survives will incur lifetime costs associated with surgery ad prosthetic care of approximately $3000 - $7000. This amounts to over $750 million for the current number of victims. If landmines are left uncleared, however, the will cost the international community untold millions of dollars in additional humanitarian aid, and these costs will be compounded because the presence of landmines will prevent countries from re-establishing themselves economically. Last year the United Nations sought a total of $2.5 billion in humanitarian aid for 16 countries, of which 13 have serious mine problems. De-mining alone is not the solution to the global problem. The 2 million new landmines currently being laid each year will add roughly two decades to the time it will take to rid the world of this plague. The best and most effective way to halt this proliferation is to ban the production, use, and transfer of all anti-personnel landmines completely. More than 85 per cent of all uncleared landmines are purchased or transferred from roughly 40 mine producing countries. Although Canadian production of anti-personnel landmines is minor relative to the world's major producers, Britain, France, Italy, the United States, China, and the former Soviet Union, Canada can do more to reduce the human suffering and economic costs associated with APM use. The MLPD International Committee along with other NGOs would like to urge Canada to lobby the United Nations toward a comprehensive examination of the effects of landmines on civilians, and to foster measures that will alleviate the suffering of victims of landmines and their families. Canada should furthermore support proposals for a ban on production, stockpiling, trade, and use of anti-personnel landmines. We urge each of you as Canadians to express your concern over this issue and your agreement in calling for a ban by writing to David Collenette (Minister of Defense) and Andre Ouellet (Foreign Affairs) House of Commons, Ottawa, Ontario K1A 0A6.

The Campaign Calling for a Ban
An international campaign calling for a ban on landmines was launched in 1992. The ban calls for:
An international ban on the use, production, stockpiling, and sale, transfer or export of anti-personnel mines; and
The establishment of an international fund, administered by the United Nations, to promote and finance landmine awareness, clearance, and eradication programs worldwide; and
Countries responsible for the production and dissemination of anti-personnel mines to contribute to the international fund.
The MLPD International Committee is calling on people with disabilities, development agencies, and others to endorse the ban, to join the campaign, and to urge the United Nations to establish a voluntary trust fund for mine clearance and mine victim assistance programs. It was the voices and lobbying of concerned people that brought about a ban on the use of chemical weapons. Likewise we must continue to lobby for such a ban on these hideous weapons. As people with disabilities, we feel the urgent need to call for a stop to the senseless disabling of innocent victims, and equally important, the provision of resources to help those disabled to be fully rehabilitated into their societies. International Day for Disabled Persons On December 3, the International Day for Disabled Persons, the MLPD International Committee along with Project Peacemakers and others organized an educational event to draw attention to the landmines issue. Forty people attended this session with some very good exchange of information and sharing from various perspectives. Most of the information shared will be documented and made available in the new year. The consensus at the end of the day was to continue to raise our voices and demand for a safe environment where people can live fully and with confidence. If you are interested in more information please do not hesitate to contact Susan Deane at 943-6099. This newsletter is published by the International Committee of the Manitoba League of the Physically Handicapped, which is a volunteer committee working to understand and support disabled people in developing countries in the context of a mutual relationship. All correspondence and contributions may be addressed to: The Editor, International Committee MLPD, 200-294 Portage Avenue, Winnipeg, Manitoba, R3D 0B9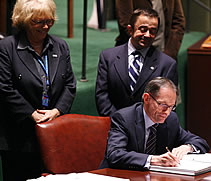 Canada signs the Declaration on the Rights of Persons with Disabilities at the United Nations. Members of the Canadian Delegation Steve Estey, Chair of CCD's International Committee, and Dulcie McCallum observe Canada's ambassador make this historic commitment.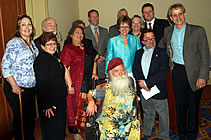 HRSDC Minister Diane Finley, Defense Minister Peter MacKay, NDP Disability Critic Judy Wasylycia-Leis, Liberal MP Mike Savage, Liberal MP the Hon. Carolyn Bennett and Bloc MP Yves Lessard joined leaders from the disability community at a CCD celebration of Canada's ratification of the CRPD.