Act Now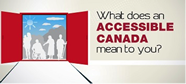 Empower U: Learn to Access Your Disability Rights Training on Canadian Human Rights, the Convention on the Rights of Persons with Disabilities (CRPD) and its Optional Protocol (OP) training aims to increase awareness of how to address discrimination using more familiar Canadian human rights laws such as Human Rights Codes and the newer international Convention on the Rights of Persons with Disabilities (CRPD). This is training for persons with disabilities by persons with disabilities. The training is part of a project funded by Employment and Social Development Canada and implemented by the Council of Canadians with Disabilities (CCD) in collaboration with Canadian Multicultural Disability Centre Inc. (CMDCI), Citizens With Disabilities – Ontario (CWDO), Manitoba League of Persons with Disabilities (MLPD) and National Educational Association of Disabled Students (NEADS). Read more.
Sign Up for our monthly digest
A monthly newsletter from CCD about what is happening in the community
Canada and the Global Landmine Crisis: Update
Foreign Affairs Context Paper
The proliferation of land mines across the globe is a tragedy of crisis proportions. More than 110 million anti-personnel land mines, or AP mines, are currently deployed in some 70 countries, most of them in the developing world. More people have died from AP mines than nuclear weapons and poison gas-90 percent of them civilians, many of them children. On average, 500 new victims are added to this toll each week. The suffering extends far beyond those who are maimed and killed: AP mines terrorize entire communities and prevent hundreds of thousands of refugees from returning to their homes and farmlands.
Through painstaking work under a variety of programs, the international community clears about 100 000 AP mines annually. However, these efforts cannot begin to keep pace with the two to five million new AP mines that are deployed each year.
Canada's Approach
The AP mine crisis requires a global, systematic and integrated approach focusing on stopping AP mine use, production, and transfer - thereby capping the problem-while enhancing clearance efforts and helping the victims of these weapons.
1. The Push for a Global Ban: The "Ottawa Process"
Little more than two years ago, the idea of a ban on AP mines was considered utopian. Now, it is on the brink of occurring. In December 1 996, 156 countries in the UN General Assembly committed themselves to "pursue vigorously an effective, legally- binding treaty" banning AP mines as soon as possible. Significantly, no state voted against this resolution and only 10 states abstained. In a critical mass of states, the political will to act has arrived.
Canada is leading an international effort to develop a treaty- banning AP mines and is supported by a broad and growing coalition of countries from every region of the globe, as well as NGOs and international agencies such as the United Nations and the International Committee of the Red Cross. At the conclusion of a major international conference held in Ottawa, October 3-5, 1996, Foreign Affairs Minister Lloyd Axworthy challenged the world community to work with Canada in preparing the ban treaty and invited all willing governments to return to Canada in December 1997 to sign it. The objective of the treaty is to establish a new international norm against these weapons. The process for developing this treaty has been established. It is a process which is flexible, transparent and open to all countries supportive of a ban. The first event will be hosted by Austria and will take place in Vienna, February 12-14, 1997. Subsequent meetings will take place in Austria (May), Belgium (June), Norway (autumn) and back to Canada. Special emphasis is being placed on ensuring support for the active participation of the widest possible range of countries, particularly mine-affected and developing states.
In the course of 1997, Canada and its numerous partner countries in the "Ottawa Process" will be working in all multilateral, regional and bilateral fora to ensure the largest possible number of states will participate in the treaty negotiation process and be prepared to sign the treaty when it is opened for signature in Canada in December.
2. AP Mine Clearance and Assistance to Victims
Canada provides both technical expertise and funding for international mine clearance operations. Canadian Forces experts have made substantial contributions to mine clearance operations around the world and have been instrumental in developing indigenous mine clearance capabilities in Angola and Cambodia. Canada has provided an initial contribution of $200 000 to the UN Voluntary Trust Fund for Assistance in Mine Clearance. In additional the Canadian International Development Agency has contributed over $9 million for mine clearance in Afghanistan, Cambodia, Angola and Bosnia-Herzegovina since 1993. Canada also provided $2 million to the International Red Cross. These funds will be used to fund medical treatment, including rehabilitation and artificial limbs for land mine victims.
3. Domestic Activities
Recognizing that Canada could better provide international leadership on this issue if it was prepared to take bold steps domestically, the Ministers of Foreign Affairs and National Defense announced in January 1996 a comprehensive unilateral moratorium on the production, export, and operational use of AP mines. This measure was supplemented on October 2, 1996, when the Minister of National Defense announced Canada's plan to destroy its stockpile of AP mines. On November 28, 1996, it was announced that two thirds of that stockpile had already been destroyed at National Defense bases in Dundurn, Saskatchewan and Petawawa, Ontario.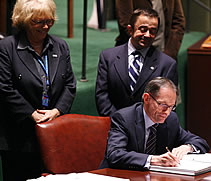 Canada signs the Declaration on the Rights of Persons with Disabilities at the United Nations. Members of the Canadian Delegation Steve Estey, Chair of CCD's International Committee, and Dulcie McCallum observe Canada's ambassador make this historic commitment.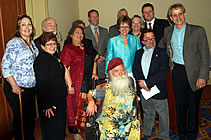 HRSDC Minister Diane Finley, Defense Minister Peter MacKay, NDP Disability Critic Judy Wasylycia-Leis, Liberal MP Mike Savage, Liberal MP the Hon. Carolyn Bennett and Bloc MP Yves Lessard joined leaders from the disability community at a CCD celebration of Canada's ratification of the CRPD.