Act Now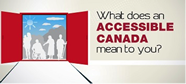 The Government of Canada is leading consultations to inform planned accessibility legislation.
In-person sessions are coming soon to your community. Now is the chance to have your say. Read more.
Sign Up for a Voice of Our Own
A quarterly newsletter from CCD.
Canadian Council for International Co-operation (CCIC) May Be Defunded
June 3, 2010
Hon. Beverley Oda
Minister of International Cooperation
200 Promenade du Portage
Gatineau, Quebec
K1A 0G4
Email: Oda@parl.gc.ca

Dear Madam Minister,
I am writing to express our deep concern that the Canadian Council for International Co-operation (CCIC) – after decades of partnership with CIDA - may now be defunded. The Council of Canadians with Disabilities (CCD) is a member of CCIC and has been for many years.
We work with CCIC to ensure that those focused on international development work are aware of the needs of persons with disabilities in the developing world. It is through the good work of CCIC members that persons with disabilities, often the most marginalized in developing societies, get the benefit of both humanitarian aid and development program initiatives. CCD cannot do this work alone. We need organizations like CCIC that help coordinate development agency work.
Humanitarian agencies and development groups look to the Council as a key source of information, analysis and proposals on foreign aid and to be a voice for the sector. CCIC also manages the most widely subscribed to Code of Ethics for development groups operating overseas. For more than 40 years, the Council has also been a close collaborator of CIDA – for example in working together on special proposals on civil society and aid effectiveness in Accra in 2008 and more recently in facilitating information and coordination with civil society actors in the response to the Haiti Earthquake. CCD seeks to ensure through CCIC that reconstruction initiatives in Haiti ensure accessibility. Much has been destroyed in Haiti and the incidence of disability has dramatically increased as a result of the earthquake, however, an opportunity now exists to ensure that all schools, hospitals, community spaces are built fully accessible to persons with disabilities. CCD looks to CCIC to champion this initiative along with many others.
The Council supports aid agencies and those doing international development cooperation to do their job better. CIDA should be supporting the Council.
Sincerely,

Marie White
National Chairperson
Steve Estey
Chairperson
CCD International Committee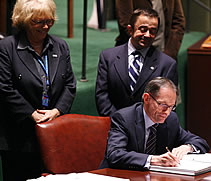 Canada signs the Declaration on the Rights of Persons with Disabilities at the United Nations. Members of the Canadian Delegation Steve Estey, Chair of CCD's International Committee, and Dulcie McCallum observe Canada's ambassador make this historic commitment.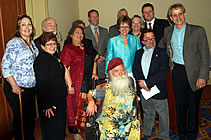 HRSDC Minister Diane Finley, Defense Minister Peter MacKay, NDP Disability Critic Judy Wasylycia-Leis, Liberal MP Mike Savage, Liberal MP the Hon. Carolyn Bennett and Bloc MP Yves Lessard joined leaders from the disability community at a CCD celebration of Canada's ratification of the CRPD.