We Need Your Support
Donations are tax deductible and you will receive a charitable tax receipt for 100% of your gift.
Support CCD's work on the Carter case: Help To Live Not Die.
Act Now
You Presence is requested at CASHRA2013.ca Early bird registration ends April 18, so register online. Read more.
Sign Up for a Voice of Our Own
A quarterly newsletter from CCD.
Canada and the CRPD
Canada has ratified the CRPD. Ratification means that a country agrees to abide by the standards set in a Convention.
Recent Work
March 27, 2013
On Thursday 14 February 2013, at the Munk School of Global Affairs, Steve Estey, Chair of CCD's International Committee, participated in a panel presentation along with David Shannon (Nova Scotia Human Rights Commission) and Penny Hartin (World Blind Union). Steve reviewed CCD's recommendations to the Government of Canada regarding the CRPD. Read more.
March 22, 2013
Without self-representative groups of persons with disabilities, our experience and our needs cannot be adequately and legitimately described, appropriate solutions cannot be developed, and difficult challenges cannot be taken up. Read more.
More on Canada and the CRPD
January 10, 2013
November 27, 2012
November 5, 2012
June 6, 2012
July 4, 2011
June 9, 2011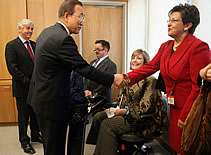 Canadian Foreign Minister Lawrence Cannon, far left, observes as U.N. Secretary-General Ban Ki-moon, second from left, meets members of the Canadian delegation including Steven Estey, center, with the Council of Canadians with Disabilities; Traci Walters, second from right, with Independent Living Canada; and the Canadian Association for Community Living President Bendina Miller, far right, at the United Nations in New York, Thursday March 11, 2010. Canada ratified the U.N. Convention on the Rights of Persons with Disabilities, a historic first international treaty that comprehensively recognizes the rights of persons with disabilities. (AP Photo/Bebeto Matthews)