Act Now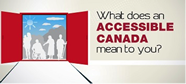 The Government of Canada is leading consultations to inform planned accessibility legislation.
In-person sessions are coming soon to your community. Now is the chance to have your say. Read more.
Sign Up for a Voice of Our Own
A quarterly newsletter from CCD.
Canada and the CRPD
Canada has ratified the CRPD. Ratification means that a country agrees to abide by the standards set in a Convention.
Recent Work
December 21, 2018
The Council of Canadians with Disabilities (CCD) celebrates Canada's accession to the Optional Protocol. We recognize that accession reinforces the commitment that the Federal, Provincial and Territorial governments have made to ensuring that people with disabilities have full enjoyment of their human rights, as elaborated in the CRPD, which Canada ratified in 2010. CCD called upon Canada to accede to the Optional Protocol because the mechanism strengthens the human rights protections that are available to people with disabilities in the CRPD, and we congratulate you on this important advance. Read more.
May 23, 2017
In light of the importance that the CCD attaches to the OP we have taken the time to consult with a number of international law experts on the matter along with our own membership, and what follows is a synthesis of their views and our own, in a process that very much mirror's the drafting of the treaty all those years ago. Read more.
December 23, 2016
Minister Qualtrough and Minister Dion announced that Canada would ratify the CRPD's Optional Protocol in 2017. Read more.
More on Canada and the CRPD
June 22, 2015
February 28, 2014
August 2, 2013
June 3, 2013
May 8, 2013
March 27, 2013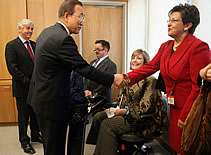 Canadian Foreign Minister Lawrence Cannon, far left, observes as U.N. Secretary-General Ban Ki-moon, second from left, meets members of the Canadian delegation including Steven Estey, center, with the Council of Canadians with Disabilities; Traci Walters, second from right, with Independent Living Canada; and the Canadian Association for Community Living President Bendina Miller, far right, at the United Nations in New York, Thursday March 11, 2010. Canada ratified the U.N. Convention on the Rights of Persons with Disabilities, a historic first international treaty that comprehensively recognizes the rights of persons with disabilities. (AP Photo/Bebeto Matthews)