Act Now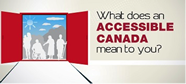 Empower U: Learn to Access Your Disability Rights Training on Canadian Human Rights, the Convention on the Rights of Persons with Disabilities (CRPD) and its Optional Protocol (OP) training aims to increase awareness of how to address discrimination using more familiar Canadian human rights laws such as Human Rights Codes and the newer international Convention on the Rights of Persons with Disabilities (CRPD). This is training for persons with disabilities by persons with disabilities. The training is part of a project funded by Employment and Social Development Canada and implemented by the Council of Canadians with Disabilities (CCD) in collaboration with Canadian Multicultural Disability Centre Inc. (CMDCI), Citizens With Disabilities – Ontario (CWDO), Manitoba League of Persons with Disabilities (MLPD) and National Educational Association of Disabled Students (NEADS). Read more.
Sign Up for our monthly digest
A monthly newsletter from CCD about what is happening in the community
Do you want Parliamentarians and the Government of Canada to Take Action on Implementing the UN Convention on the Rights of Persons With Disability?

Let us know your Organization's support by Monday February 7!
The Council of Canadians with Disabilities (CCD) and the Canadian Association for Community Living (CACL) are inviting disability organizations across Canada to voice a call to Parliamentarians and the Government of Canada to take leadership on implementing the UN Convention on the Rights of People with Disabilities (CRPD).
Based on consultations with the disability community over the past year we have drafted a Call for Action. We are issuing an Open Letter to Canadians, Parliamentarians and the Government of Canada to Take Action Now! The Letter will be published in the Abilities Magazine to be released March 14 and will get wide distribution.
Please email ccd@ccdonline.ca or inform@cacl.ca to endorse this Call for Action, if you are willing to have your organization's name attached to it. We need to hear from you by end of day Monday February 7! Endorsing organizations' names will appear with the Open Letter (if there is space in the Abilities article, or online at CCD's and CACL's websites, and on copies that are issued).
Do you want to see the Convention made real? Let us know. Help raise the voice of the disability community for an accessible and inclusive Canada!

The Open Letter will issue the following Call for Action
A. National mechanisms for implementation, monitoring and reporting

To deliver on the intent of the CRPD and to meet the obligations in CRPD Articles 4, 33, 35, the Government of Canada should:
Establish a High-level Federal Focal Point and Coordination Mechanism to Implement the CRPD
Demonstrate Federal Policy Leadership on key priorities of the disability community (see below)
Create a Parliamentary Committee for input and leadership
Ensure an Independent Monitoring Mechanism – to measure progress and impact
Establish a process for Canada's first Comprehensive Report to the United Nations on progress made – to be submitted in 2012

B. A robust participation strategy
Design a robust participation strategy to ensure Canada meets its obligations in Article 4 to "consult with and actively involve persons with disabilities, including children with disabilities, through their representative organizations" in implementing the CRPD.

C. A national framework for implementation
Design a National Framework for Implementation, or a National Action Plan, to ensure Canada meets its obligations in Article 33(2) and to provide the vision and overarching framework for successful implementation of the CRPD. A detailed implementation action plan would identify necessary mechanisms for collaboration, benchmarks for monitoring and reporting, and strategies for priority areas for action the disability community has identified, including:
Access to disability supports
Poverty alleviation
Labour force participation
Accessibility and inclusion
Canada's international leadership
D. A public and transparent review process
Canada included a reservation on Article 12 with its ratification and has not yet signed or ratified the Optional Protocol. The Government of Canada should establish a clear timeframe and process to review its position on Article 12 and the Optional Protocol.
Our Immediate Call-to-Action for the Government of Canada and Parliamentarians:
1. The Government of Canada should

Create an advisory panel, with representation from national disability organizations, to explore how to move forward the actions identified here. The creation of such a panel would be a first step in meeting Canada's obligations to the CRPD.
2. Parliamentarians should:
Endorse and support the convening of Parliamentary hearings on the CRPD. The hearings should be convened as soon as possible and should include representatives from disability organizations as key witnesses.

A Background Paper to this Call is available – Email us if you would like a copy.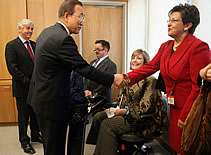 Canadian Foreign Minister Lawrence Cannon, far left, observes as U.N. Secretary-General Ban Ki-moon, second from left, meets members of the Canadian delegation including Steven Estey, center, with the Council of Canadians with Disabilities; Traci Walters, second from right, with Independent Living Canada; and the Canadian Association for Community Living President Bendina Miller, far right, at the United Nations in New York, Thursday March 11, 2010. Canada ratified the U.N. Convention on the Rights of Persons with Disabilities, a historic first international treaty that comprehensively recognizes the rights of persons with disabilities. (AP Photo/Bebeto Matthews)