Act Now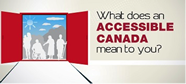 The Government of Canada is leading consultations to inform planned accessibility legislation.
In-person sessions are coming soon to your community. Now is the chance to have your say. Read more.
Sign Up for a Voice of Our Own
A quarterly newsletter from CCD.
Government of Canada Tables in the House The Convention on the Rights of Persons with Disabilities Canadians with Disabilities Celebrate This Milestone Event
December 3, 2009

For Immediate Release

Today, Minister Peter MacKay, on behalf of the Government of Canada, tabled in the House the Convention on the Rights of Persons with Disabilities (CRPD). This is the final step in the process of Ratification of the Convention, one that has been eagerly awaited by Canadians with disabilities.
"Not since the inclusion of disability in the Charter of Rights and Freedoms have Canadians with disabilities seen such substantive attention given to the rights of persons with disabilities," said Steve Estey, Chairperson of CCD's International Committee. "This is truly a historic day for persons with disabilities and we applaud the Government of Canada's commitment to promoting and ensuring the rights of Canadians with disabilities," said Estey.
"Creation of the Convention on the Rights of Persons with Disabilities at the United Nations was a 5 year process and at every step of the way people with disabilities were centrally engaged in the discussions," stated Marie White, Chair of CCD. "The Government of Canada included people with disabilities in their official delegation to the United Nations during the development of the CRPD and they funded the disability community to provide advice on Articles of the Convention as they were developed. Our expectation is now that, once ratification is complete, they will centrally include us in the development of a national action plan to make real the promises of the Convention," said White.
December 3rd, 2009 International Day of Persons with Disabilities is truly a day of celebration for Canadians with disabilities. Our Government, by moving forward with the final steps of ratification of the CRPD, has made it clear that the issues of Canadians with disabilities are of national importance and deserve substantive attention.
"Disability has not been and is not a partisan issue. All parties in the House of Commons have supported development of the CRPD and ratification of it. Today Canadians with disabilities say thank you to all Members of Parliament and to all Parties who have worked over the years to bring us to this milestone moment in time," said Estey.
-30-
For More Information Contact:

Marie White, Chairperson, CCD – (709) 739-8233
Laurie Beachell, National Coordinator, CCD – (204) 947-0303 (Cell) (204) 981-6179
Steve Estey, Chairperson, CCD's International Committee – dpisteven@gmail.com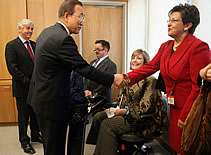 Canadian Foreign Minister Lawrence Cannon, far left, observes as U.N. Secretary-General Ban Ki-moon, second from left, meets members of the Canadian delegation including Steven Estey, center, with the Council of Canadians with Disabilities; Traci Walters, second from right, with Independent Living Canada; and the Canadian Association for Community Living President Bendina Miller, far right, at the United Nations in New York, Thursday March 11, 2010. Canada ratified the U.N. Convention on the Rights of Persons with Disabilities, a historic first international treaty that comprehensively recognizes the rights of persons with disabilities. (AP Photo/Bebeto Matthews)