Act Now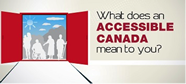 Empower U: Learn to Access Your Disability Rights Training on Canadian Human Rights, the Convention on the Rights of Persons with Disabilities (CRPD) and its Optional Protocol (OP) training aims to increase awareness of how to address discrimination using more familiar Canadian human rights laws such as Human Rights Codes and the newer international Convention on the Rights of Persons with Disabilities (CRPD). This is training for persons with disabilities by persons with disabilities. The training is part of a project funded by Employment and Social Development Canada and implemented by the Council of Canadians with Disabilities (CCD) in collaboration with Canadian Multicultural Disability Centre Inc. (CMDCI), Citizens With Disabilities – Ontario (CWDO), Manitoba League of Persons with Disabilities (MLPD) and National Educational Association of Disabled Students (NEADS). Read more.
Sign Up for our monthly digest
A monthly newsletter from CCD about what is happening in the community
A Call to Action: UN Convention on the Rights of Persons with Disabilities
Council of Canadians with Disabilities & Canadian Association for Community Living
Making Domestic Implementation Real and Meaningful
A CALL TO ACTION
March 11, 2011, marks the first anniversary of Canada's ratification of the UN Convention on the Rights of Persons with Disabilities (CRPD). The CRPD is the first international human-rights instrument of the 21st century. It reaffirms that persons with disabilities throughout the world should enjoy the protection of all human rights and fundamental freedoms.
The Council of Canadians with Disabilities (CCD) and the Canadian Association for Community Living (CACL), through consultation and dialogue with the disability community and civil society, are joined by over 130 organizations, thus far, in calling for the Government of Canada, Canada's parliament, provincial and territorial governments, and legislative bodies to work with persons with disabilities, disability organizations, and all other Canadians on the full implementation of the CRPD, to take all appropriate actions to remove barriers experienced by Canadians with disabilities in their effort to participate in all aspects of society.
In the speech from the throne of 2008, the Government of Canada committed to "ensure that all Canadians share in the promise of this land, regardless of cultural background, gender, age, disability or official language. This Government will break down barriers that prevent Canadians from reaching their potential."
We call on the Government of Canada to make further progress toward this commitment by providing strong leadership for the implementation of the CRPD.
The Government of Canada and the Canadian disability community both played leading roles in the creation of the CRPD. As a result, the CRPD has a Canadian feel to its content and underlying values.
By ratifying the Convention, Canada has reaffirmed its commitment to take progressive steps to improve the living conditions of Canadians with disabilities. Now is the time for action. It's time to take the practical steps necessary to implement the CRPD and to make substantial progress toward building an inclusive and accessible Canada.
We call on the Government of Canada to take the following actions in order to deliver on the intent of the CRPD, begin implementation and fulfill the obligations laid out in the CRPD.
Develop national mechanisms for implementation, monitoring and reporting.
Establish a high-level federal focal point and coordination mechanism to implement the CRPD.
Demonstrate federal policy leadership on key priorities of the disability community (see below).
Create a parliamentary committee for input and leadership. n Ensure an independent monitoring mechanism to measure progress and impact.
Establish a process for Canada's first Comprehensive Report to the United Nations on progress made. This report will be submitted in 2012.

A Robust Participation Strategy
Design a robust participation strategy to ensure that Canada meets its obligations in Article 4 to "consult with and actively involve persons with disabilities, including children with disabilities, through their representative organizations" in implementing the CRPD.

A National Framework for Implementation
Design a National Framework for Implementation, or a National Action Plan, to ensure that Canada meets its obligations in Article 33(2) and to provide the vision and overarching framework for successful implementation of the CRPD. A detailed implementation action plan would identify necessary mechanisms for collaboration, benchmarks for monitoring and reporting, and strategies for priority areas for action the disability community has identified, including:
Access to disability supports: Disability supports are the foundation for meaningful citizenship and effective participation in all aspects of life. Many articles of the CRPD contain elements of disability supports.
Poverty alleviation: Canadians with disabilities face shameful rates of poverty. Canada must find the mechanisms and political will to address this problem.
Labour force participation: Canadians with disabilities are under-represented in the labour market because of inadequate disability supports and lack of appropriate accommodations. CRPD Article 27 contains many measures that, if implemented, can change this situation.
Accessibility and inclusion: Accessibility, in its broadest sense, and effective participation and inclusion in society are key principles in the CRPD.
Canada's international leadership: Through the Canadian International Development Agency (CIDA) and active involvement in CRPD-related work, Canada can demonstrate its continued commitment to being an international leader on disability.

A Public and Transparent Review Process
The Government of Canada should establish a clear timeframe and process to review its position on Article 12 and the Optional Protocol.

As a State Party to the CRPD, Canada is obliged to take active measures for implementing the CRPD—including monitoring and reporting on those measures. CCD, CACL and our supporting partners believe the measures outlined in this letter are feasible, have practical value and are consistent with the provisions of the CRPD. They provide a starting point for establishing the fundamentals of an implementation plan and monitoring process.
Tony Dolan, CCD, and Bendina Miller, CACL
CCD & CACL
JOINING THE CALL TO ACTION:
Abilities In Motion
Ability Tax Group
AbleLiving Services Inc.
AIDS Coalition of Cape Breton
AiMHi - Prince George Association for Community Living
Alberta Association for Community Living
Alberta Committee of Citizens with Disabilities
Alexander Society for Special Needs
Alliance for Equality of Blind Canadians Alzheimer Society
of Perth County
Anchor Industries Society
A.P.P.A.L. (Association des personnes avec problèmes auditifs des Laurentides)
ARCH Disability Law Centre
Association for Community Living - Manitoba
Autism Resource Centre
BC Association for Community Living
BC Blind Sports and Recreation Association
BC Coalition of People with Disabilities
Canadian Abilities Foundation
Canadian AIDS Society
Canadian Amputee Golf Association (CAGA)
Canadian Association for Community Living
Canadian Association of the Deaf
Canadian Down Syndrome Society
Canadian Hard of Hearing Association(CHHA) - National
Canadian Hard of Hearing Association - BC Chapter
Canadian Hard of Hearing Association - Edmonton Branch
Canadian Hard of Hearing Association - Hamilton Branch
Canadian Hard of Hearing Association - Moncton Branch
Canadian Hard of Hearing Association - North Shore Branch
Canadian Hard of Hearing Association - Ontario Chapter
Canadian Hard of Hearing Association - Orillia & District Branch
Canadian Hard of Hearing Association - Toronto Branch
Canadian Hard of Hearing Association - Yellowknife Branch
Canadian HIV/AIDS Legal Network
Canadian Labour Congress
Canadian Mental Health Association - Delta Branch
Canadian Mental Health Association - NWT Division
Canadian Multicultural Disability Centre Inc.
Canadian Neuropathy Association
Canadian Paraplegic Association
Canadian Working Group on HIV and Rehabilitation
Cerebral Palsy Association of Manitoba
Cerebral Palsy Foundation (Saint John)
Chronic Pain Association of Canada CIHR
Canadian HIV Trials Network Citizen Advocacy of Ottawa
Coalition of Persons with Disabilities -Newfoundland and Labrador
COCQ-SIDA (Coalition des organismes communautaires québécois de lutte contre le sida)
Community Living Association Lanark County
Community Living Elgin
Community Living Ontario
Community Living Timmins-Integration Communautaire
Council of Canadians with Disabilities
Cowichan Therapeutic Riding Association
Dignitas International
Disabled Individuals Alliance
DisAbled Women's Network (DAWN) - Réseau d'action des femmes handicapées du Canada
Epilepsy Association of Calgary - Central Alberta Office
First Nations Child and Family Caring Society of Canada
Friedreich's Ataxia Made Easier Groupement des Associations de Personnes Handicapées de la Rive-Sud de Montréal Inc. (GAPHRSM)
HIV & AIDS Legal Clinic (Ontario)
Hope Association for Community Living - Tillicum Centre
Independent Living Centre - London & Area
Independent Living Resource Centre - Newfoundland
Independent Living Resource Centre - Winnipeg
Interagency Coalition on AIDS and Development (ICAD)
International Network on the Disability Creation Process (INDCP)
Island Deaf and Hard of Hearing Kinsmen Foundation of British Columbia and the Yukon
L'Arche Canada
L'Arche Comox Valley
L'Arche Greater Vancouver
L'Arche Homefires, Wolfville, N.S.
L'Arche North Bay
L'Arche Ottawa
L'Arche Saskatoon
Learning Disabilities Association of Peterborough
Lifestyle Options Retirement Communities
Literacy Link Eastern Ontario
Lupus Foundation of Ontario
Lutheran Community Care Centre of Thunder Bay
Manitoba League of Persons with Disabilities
Multiple Sclerosis Society of Canada
Muscular Dystrophy Canada
National Educational Association ofDisabled Students (NEADS)
National Network for Mental Health
Neil Squire Society
New Brunswick Association for Community Living
Newfoundland and Labrador Association for Community Living
Nova Scotia Association for Community Living
NWT Disabilities Council
Opportunities for the Disabled
Ottawa Community Coalition for Literacy
Parents for Community Living K-W Inc.
Paul Menton Centre for Students with Disabilities, Carleton University PEI Association for Community Living PEI Council of People with Disabilities People First NWT
People First of Canada
People First Society of Alberta and Calgary Community Living Society
Persons United for Self-Help in North-western Ontario (PUSH Northwest) Planned Lifetime Advocacy Network(PLAN)
Port Alberni Association for Community Living
Positive Women's Network
Premier's Council on the Status of Disabled Persons New Brunswick
Prince George Brain Injured Group Society RDSP Resource Centre
Reach for the Rainbow
Regina and District Association for Community Living
Regroupement des Usagers du Transport Adapté de Sherbrooke Métropolitain (RUTASM)
Réseau international sur le Processus de production du handicap (RIPPH)
Richmond Centre for Disability Saskatchewan Abilities Council Saskatchewan Association for Community Living
Saskatchewan Equip KIDS International
Saskatchewan Voice of People with Disabilities
Schizophrenia Society of Saskatchewan
Scleroderma Association of B.C.
Second Wave Victoria
Seneca House Inc.
South Saskatchewan Independent Living Centre
South Shore Community Service Association (Bonny Lea Farm)
Speak-images
Special Olympics Saskatchewan - Saskatoon
Spina Bifida & Hydrocephalus Association of Northern Alberta
Spinal Cord Injury Treatment Centre(Northern Alberta) Society (SCITCS)
Sturge-Weber Foundation (Canada) Inc. Sunrise Youth Group
Support Services for Students with Disabilities - Yukon College
Thalidomide Victims Association of Canada
Valley Autism Support Team
Vista Centre
Voice of the Cerebral Palsied of Greater Vancouve
Waterloo Regional Down Syndrome Society (WRDSS)
Yellowknife Association for Community Living
Yukon Association for Community Living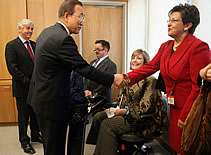 Canadian Foreign Minister Lawrence Cannon, far left, observes as U.N. Secretary-General Ban Ki-moon, second from left, meets members of the Canadian delegation including Steven Estey, center, with the Council of Canadians with Disabilities; Traci Walters, second from right, with Independent Living Canada; and the Canadian Association for Community Living President Bendina Miller, far right, at the United Nations in New York, Thursday March 11, 2010. Canada ratified the U.N. Convention on the Rights of Persons with Disabilities, a historic first international treaty that comprehensively recognizes the rights of persons with disabilities. (AP Photo/Bebeto Matthews)