Act Now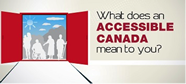 The Government of Canada is leading consultations to inform planned accessibility legislation.
In-person sessions are coming soon to your community. Now is the chance to have your say. Read more.
Sign Up for a Voice of Our Own
A quarterly newsletter from CCD.
Air
Air travel and airports are federally regulated. CCD has worked to remove obstacles to mobility in this mode of travel.
Recent Work
January 31, 2013
Within this document there are both proposals that we support and are pleased to see moving forward and there are proposals that raise significant concerns for us. Read more.
December 4, 2008
On November 20, 2008, CCD won the removal of another long-standing barrier to mobility and travel—air carriers' practice of charging additional fares to people with disabilities whose disabilities necessitated the use of an extra seat in-flight. Read more.
More on Air
March 1, 2008
January 10, 2008
June 1, 2007
October 27, 2005
January 1, 1999
January 12, 1997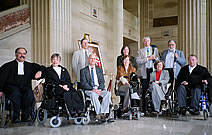 CCD wins VIA Rail case at the Supreme Court of Canada on March 23, 2007.