We Need Your Support
Donations are tax deductible and you will receive a charitable tax receipt for 100% of your gift.
Support CCD's work on the Carter case: Help To Live Not Die.
Act Now
You Presence is requested at CASHRA2013.ca Early bird registration ends April 18, so register online. Read more.
Sign Up for a Voice of Our Own
A quarterly newsletter from CCD.
Minister of Transport/CTA
CCD shares its expertise on accessible transportation with the Minister of Transport and the Canadian Transportation Agency.
Recent Work
January 27, 2011
Claredon Robicheau summarizes some current issues in the federal mode of transportation. Read more.
January 25, 2011
Marie White and Claredon Robicheau discuss transportation barriers and how CCD is addressing these. Read more.
June 2, 2010
Today, Pat Martin, NDP MP for Winnipeg Centre, will introduce a Private Member's Bill calling for an accessibility audit of federally regulated transportation systems. This initiative results from a high school student competition called Create Your Canada, where students were asked to draft a bill to change the way our country works. Sam Unrau, a Grade 12 student with disability at Argyle Alternative High School in Winnipeg, is the winner of the competition and his proposed Bill focuses on requiring the Government of Canada to undertake an accessibility audit of all federally regulated transportation systems. Read more.
More on Minister of Transport/CTA
January 20, 2010
October 15, 2009
April 1, 2005
February 1, 2005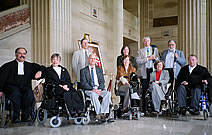 CCD wins VIA Rail case at the Supreme Court of Canada on March 23, 2007.