Act Now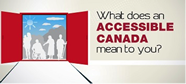 The Government of Canada is leading consultations to inform planned accessibility legislation.
In-person sessions are coming soon to your community. Now is the chance to have your say. Read more.
Sign Up for a Voice of Our Own
A quarterly newsletter from CCD.
Resources
For more information on the topics addressed by CCD's Transportation Committee, consult the following sites:
The CTA is a regulatory agency with the authority to require transportation service providersÑair, rail, marineÑto remove undue obstacles to the mobility of persons with disabilities.
The Codes of Practice describe aspects of accessibility for transportation providers.
Transport Canada is the Federal Government department responsible for developing regulations and policies for the national transportation network.
This component of Transport Canada develops policies to promote accessible transportation without undue obstacles to mobility.
This voluntary Code of Practice for the intercity bus industry includes a complaint process and mediation.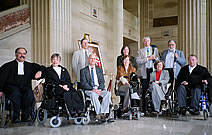 CCD wins VIA Rail case at the Supreme Court of Canada on March 23, 2007.